Who are California's most notorious killers?
Sam Little, the convicted murderer who earlier this year claimed he had killed at least 90 women across the U.S., has confessed to slayings in at least 37 cities stretching back decades, according to an FBI timeline made public Tuesday.
Here's a look at some of the other notorious killers that have terrorized California:
---
Joseph James DeAngelo, the suspected Golden State Killer
A serial rapist terrorized a swath of Northern California in the 1970s, breaking into dozens of women's homes in attacks that spanned three years and sparked fear throughout the suburbs of Sacramento and Contra Costa counties.
The crimes then moved south through Oakland, and Santa Barbara and Orange counties.
More than 40 years later, prosecutors in Santa Ana announced in August they had charged a man in those horrific crimes. Joseph James DeAngelo Jr., who already faces 13 counts of murder as the suspected Golden State Killer, is also accused of 13 counts of kidnapping to commit a robbery as well. He will stand trial in Sacramento County.
The killer is believed to be responsible for 45 rapes and more than 120 residential burglaries between 1976 and 1986.
---
Lonnie Franklin Jr., a.k.a. the 'Grim Sleeper'
The series of killings began in South Los Angeles in the summer of 1985 and continued with some frequency until 1988, when a woman was raped and shot. She lived to describe her attacker as a black man in his 20s, 5 feet 8 to 5 feet 10, about 160 pounds, soft-spoken and articulate, with neatly trimmed hair and a pockmarked face.
For more than 13 years, the killer had no known slayings until the body of a teenage girl was discovered in Inglewood in March 2002, a lull in attacks that led to his description as "The Grim Sleeper."
On July 7, 2010, Los Angeles police arrested Lonnie David Franklin Jr. at his home in South L.A. in connection with the killings. On May 5, 2016, after a day and a half of deliberations, jurors found Franklin guilty on 10 counts of murder in the killings of nine women and a 15-year-old girl. Jurors later decided Franklin should be put to death.
---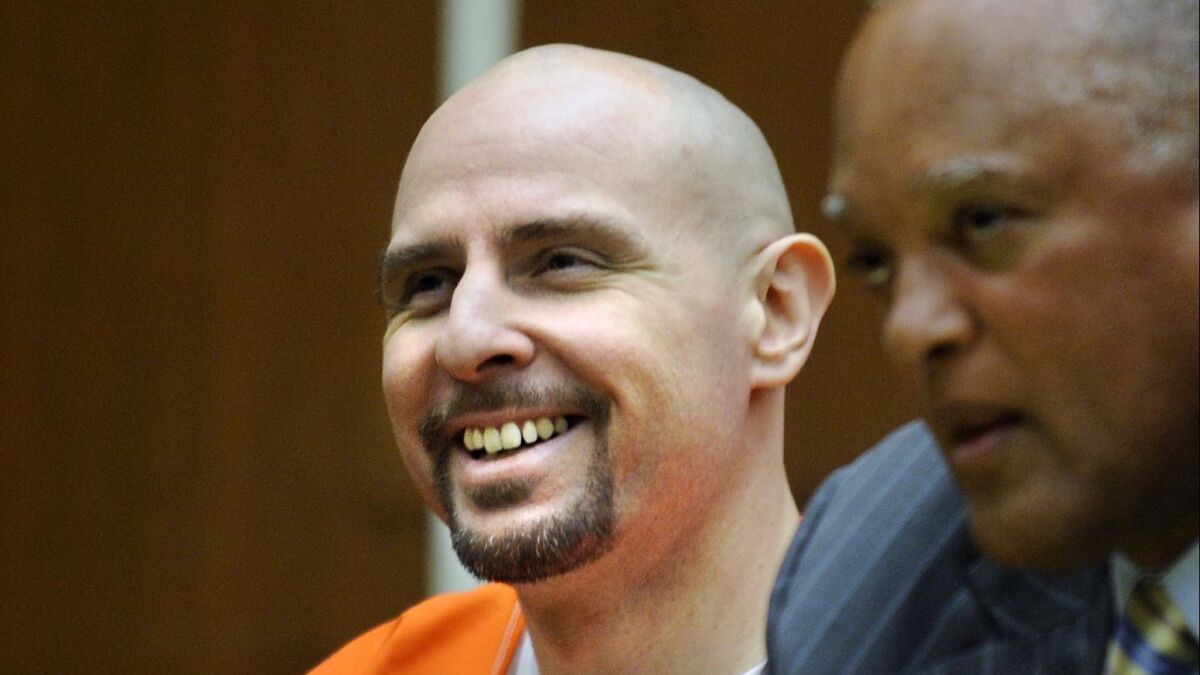 Timothy Joseph McGhee
A northeast Los Angeles gang leader described by police as a "monster" who boasted in rap lyrics about his hatred of police and his love of killing. McGhee, a member of the Toonerville gang, was sentenced to death in January 2009 for the murder of two rival gang members and the girlfriend of a third.
A jury in 2007 convicted McGhee of murder in the gang-related shootings of three people between 1997 and 2001. Jurors also found McGhee guilty of the attempted murder of four other people, including two Los Angeles police officers caught in a predawn ambush in Atwater Village as they chased three other Toonerville gang members.
---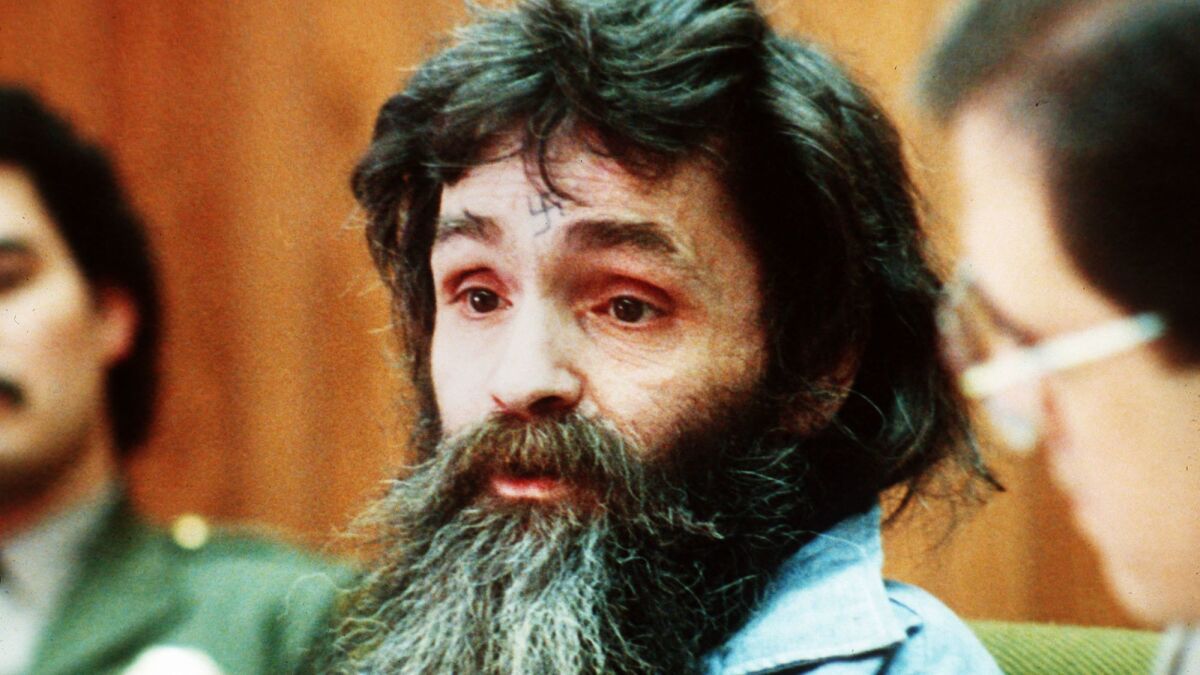 Charles Manson
On an infamous summer night in 1969, Manson and his young followers entered a Benedict Canyon mansion and murdered five people.
A maid arrived at the rented home of director Roman Polanski and his pregnant wife, actress Sharon Tate, and found Tate and four others dead, "their bodies scattered around a Benedict Canyon estate in what police said resembled a ritualistic mass murder," The Times reported.
---
Bruce Jeffrey Pardo
Police say Pardo opened fire at a 2008 Christmas Eve party at a Covina home and then set the house ablaze, killing nine people. Several hours later, Pardo killed himself at his brother's home in Sylmar.
---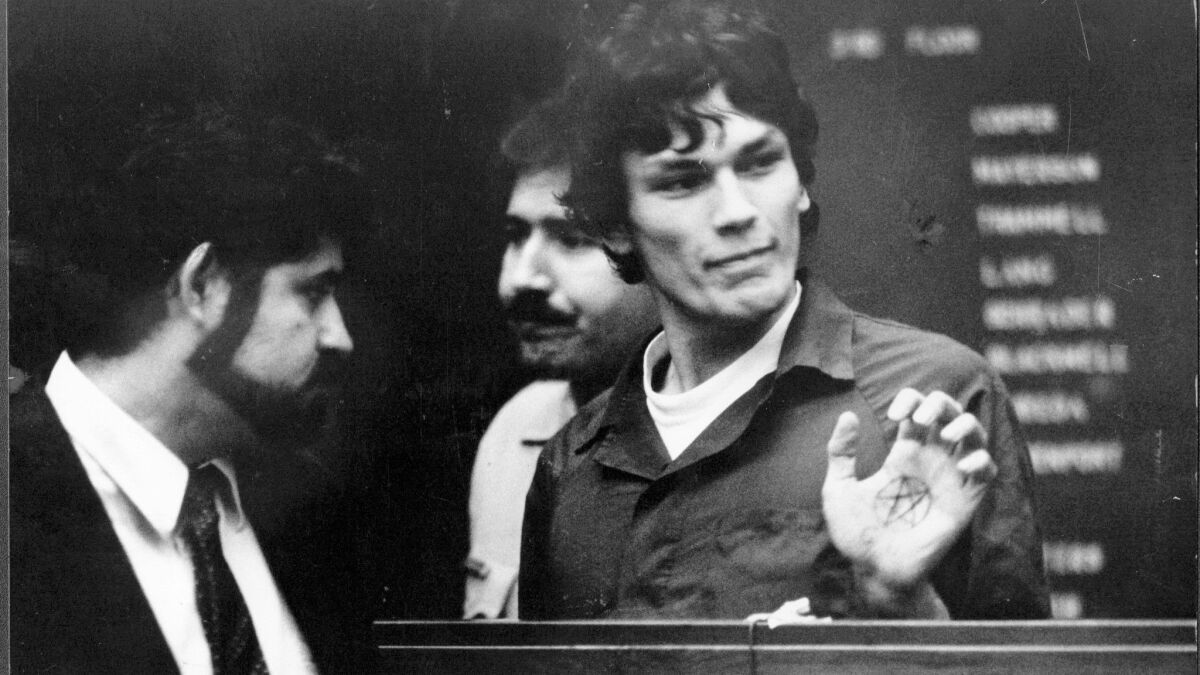 Richard Ramirez a.k.a. the 'Night Stalker'
A Los Angeles jury convicted Richard Ramirez in 13 killings that terrorized Southern California in the mid-1980s. He was sentenced to death and remained on death row in San Quentin from 1989 until his death in June 2013.
Ramirez went on a months-long rampage of sexual assault and murder that generated widespread fear throughout Southern California.
In most of the cases, Ramirez entered homes in the early morning hours through open windows or doors.
Some of the victims were found strangled, others had their throats slashed, but most had been fatally shot.
Spray-painted pentagrams — a distinctive Satanist symbol — were also found on the walls of some victims' homes.
---
Angelo Buono Jr.
Angelo Anthony Buono Jr. is one of the men known as the "Hillside Strangler." He and his cousin Kenneth Bianchi were convicted of kidnapping, raping, torturing and killing girls and women from late 1977 to early 1978. They committed their crimes in the hills above Los Angeles.
---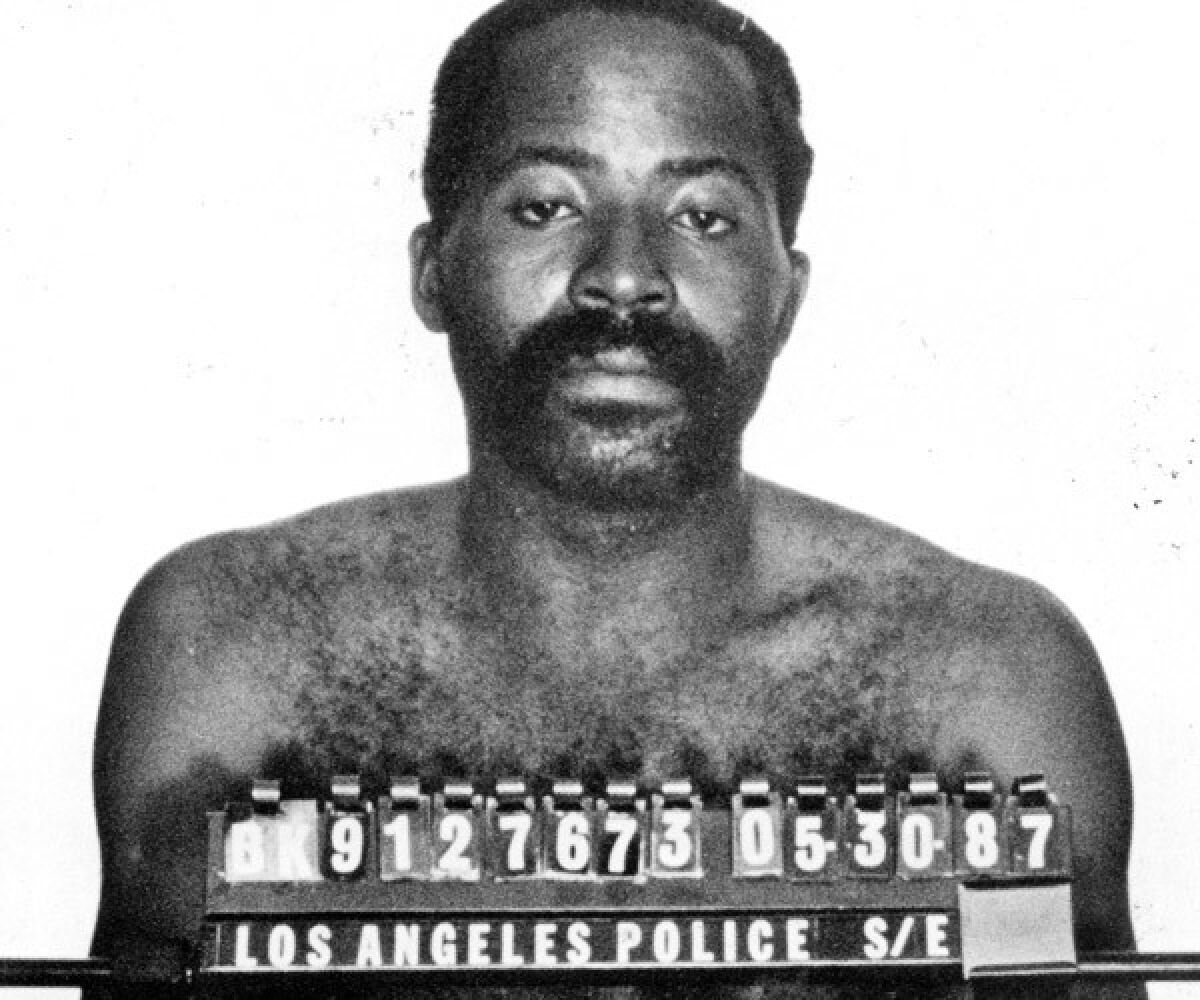 Louis Craine
Louis Craine, an unemployed construction worker, was portrayed by his defense attorneys in court as an illiterate man with a fourth-grade education and an IQ of 69, unable to kill anyone. Yet in 1989, with the help of testimony from members of his own family, he was convicted of the first-degree murder of four women who were strangled.
---
Daniel Lee Siebert
In 1987, while awaiting trial in connection with four murders in Alabama, Daniel Lee Siebert confessed to killing two women in South Los Angeles, offering details that authorities said only the killer would know.
Although investigators said that Siebert admitted to as many as 13 killings across the United States, he was not a suspect in any of the other deaths initially attributed to a killer dubbed the Southside Slayer.
Authorities said their attention was drawn to Siebert by police in Talladega, Ala., who learned that the suspect in five murders there had formerly resided in Southern California, working as a painter and frequenting the Hollywood area.
Siebert died in prison, at 53, in 2008.
---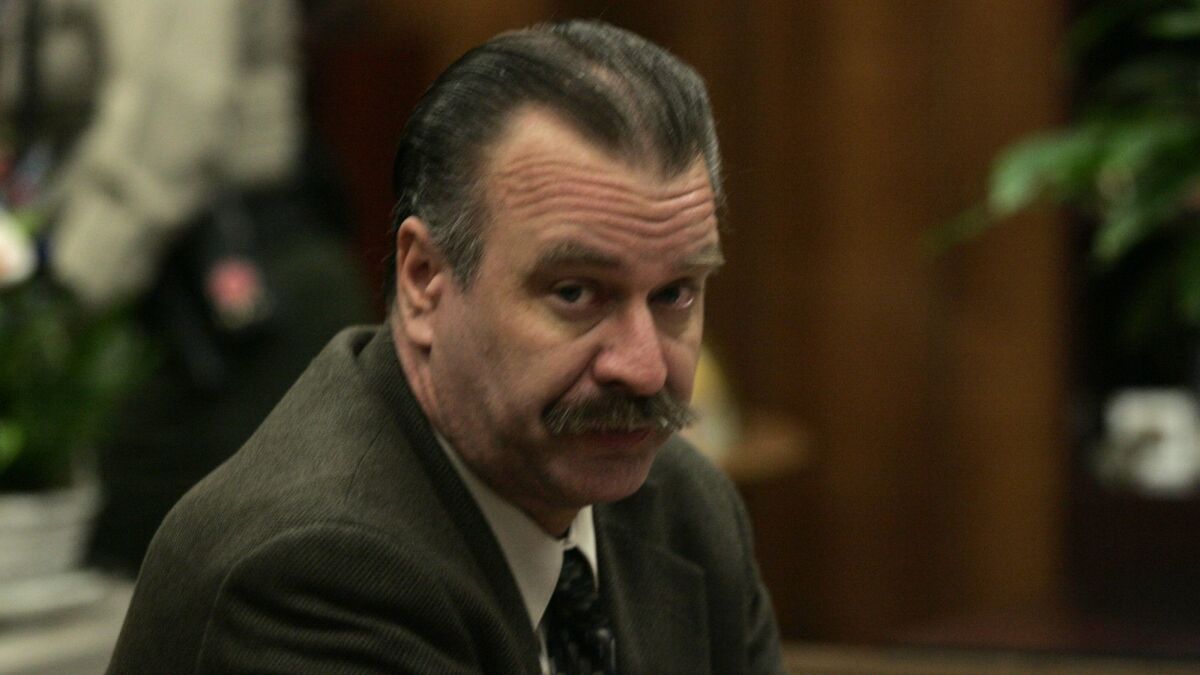 Wayne Adam Ford
Wayne Adam Ford stunned authorities when he walked into the Humboldt County Sheriff's Department on Nov. 3, 1998, and confessed to killing four women. He arrived carrying one victim's severed breast in his pocket. The Arcata trucker confessed to slaying the women and dumping their body parts across the state.
---
Michael Hughes
Michael Hughes was a former security guard who targeted vulnerable women on the streets, some of whom had drug problems, according to authorities. In 1998, he was convicted of killing four women, three of whom were dumped in alleys in a commercial area of Culver City. They had been choked to death.
He was sentenced to life in prison without the possibility of parole.
A decade after his conviction, prosecutors accused Hughes of strangling four additional victims, ages 15 to 36. Hughes was identified through a cold-hit DNA link. Most of the victims' bodies were dumped outside and found by passersby.
He was convicted on Nov. 3, 2011, in three of those deaths: Yvonne Coleman, 15; Verna Patricia Williams, 36; and Deborah Jackson, a.k.a. Harriet McKinley, 32.
On June 22, 2012, Hughes was sentenced to death for killing Coleman, Williams and Jackson.
---
Cary Stayner
Cary Stayner killed three women who were staying at a motel where he worked as a handyman on the outskirts of Yosemite National Park. He was sentenced to death. Separately, he was convicted of beheading a nature guide.
---
Chester Dewayne Turner
From 1987 to 1998, Chester Turner raped and strangled his victims, most of them South Los Angeles women who were addicted to crack cocaine. He strangled eight with his bare hands. Four of the killings took place within six blocks of Turner's home. The last two victims died on skid row, after Turner had moved downtown. Turner is currently on California's death row.
---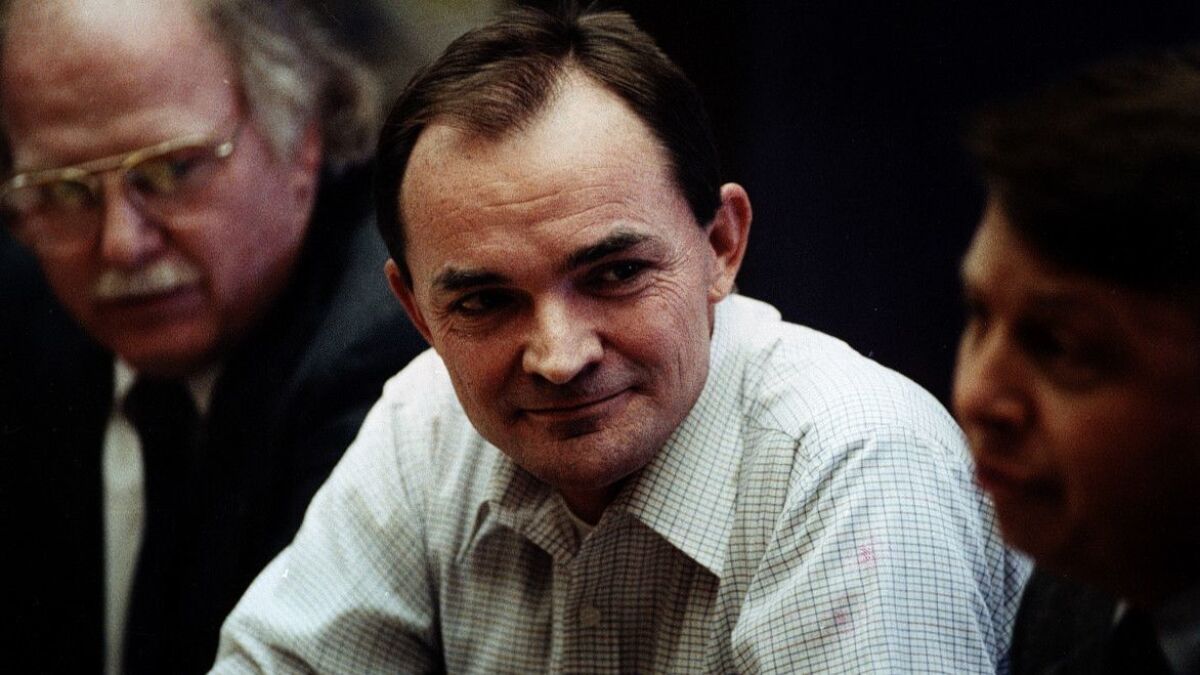 Randy Kraft
Randy Kraft, a computer programmer, was convicted and sentenced to death in 1989 for strangling 16 hitchhikers, mostly from Orange County, after drugging and sexually assaulting them.
---
William Bonin, a.k.a. the 'Freeway Killer'
William George Bonin, known as the Freeway Killer, kidnapped, robbed, raped and murdered a total of 14 teenage boys between 1979 and 1980.
Bonin was executed on Feb. 23, 1996, at San Quentin State Prison. Bonin was the first California inmate to be executed by lethal injection.
---
Vincent Brothers
Vincent Brothers, a former elementary school vice principal in Bakersfield, was convicted in 2007 of the fatal shootings of his wife, three children and mother-in-law. He was sentenced to death.
According to prosecutors, Brothers crafted an elaborate alibi in advance, visiting relatives in North Carolina and Ohio just before the killings. With no physical evidence placing Brothers at the crime scene, the prosecution used odometer readings and dead insects found in a rental car to prove that he had secretly driven from Ohio to Bakersfield to commit the crimes.
---
Juan Corona
The onetime farm labor contractor was found guilty twice and sentenced to life in prison without parole in the early 1970s for hacking to death 25 transients and itinerant farmworkers near Yuba City.
---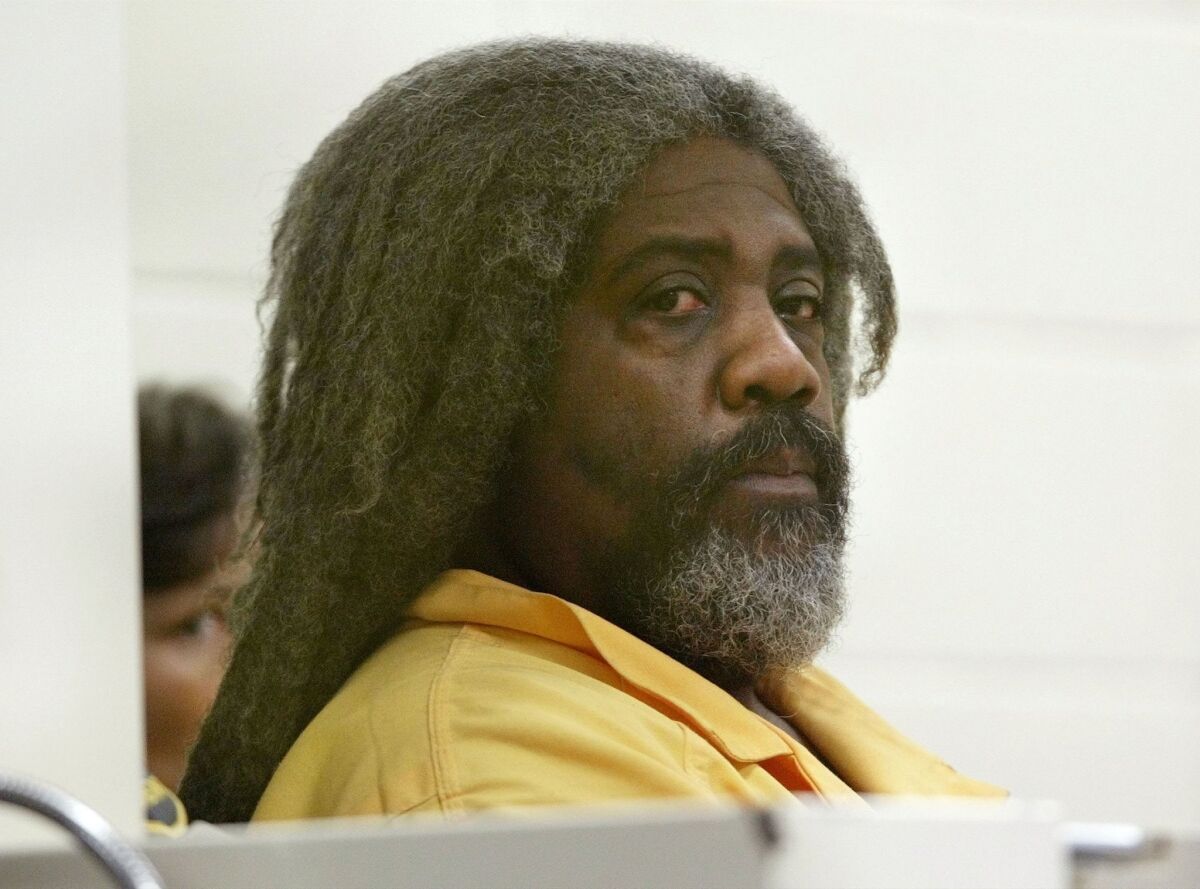 Marcus Wesson
Marcus Wesson was found guilty in 2005 of killing nine of his children in Fresno. Their bodies were discovered in a back bedroom, stacked youngest to oldest, ages 1 to 25.
The mayor called the case Fresno's Sept. 11. Police called it Fresno's worst mass murder. National media carried headlines: "House of Horrors" and "Suffer the Little Children: Murder in Fresno."
---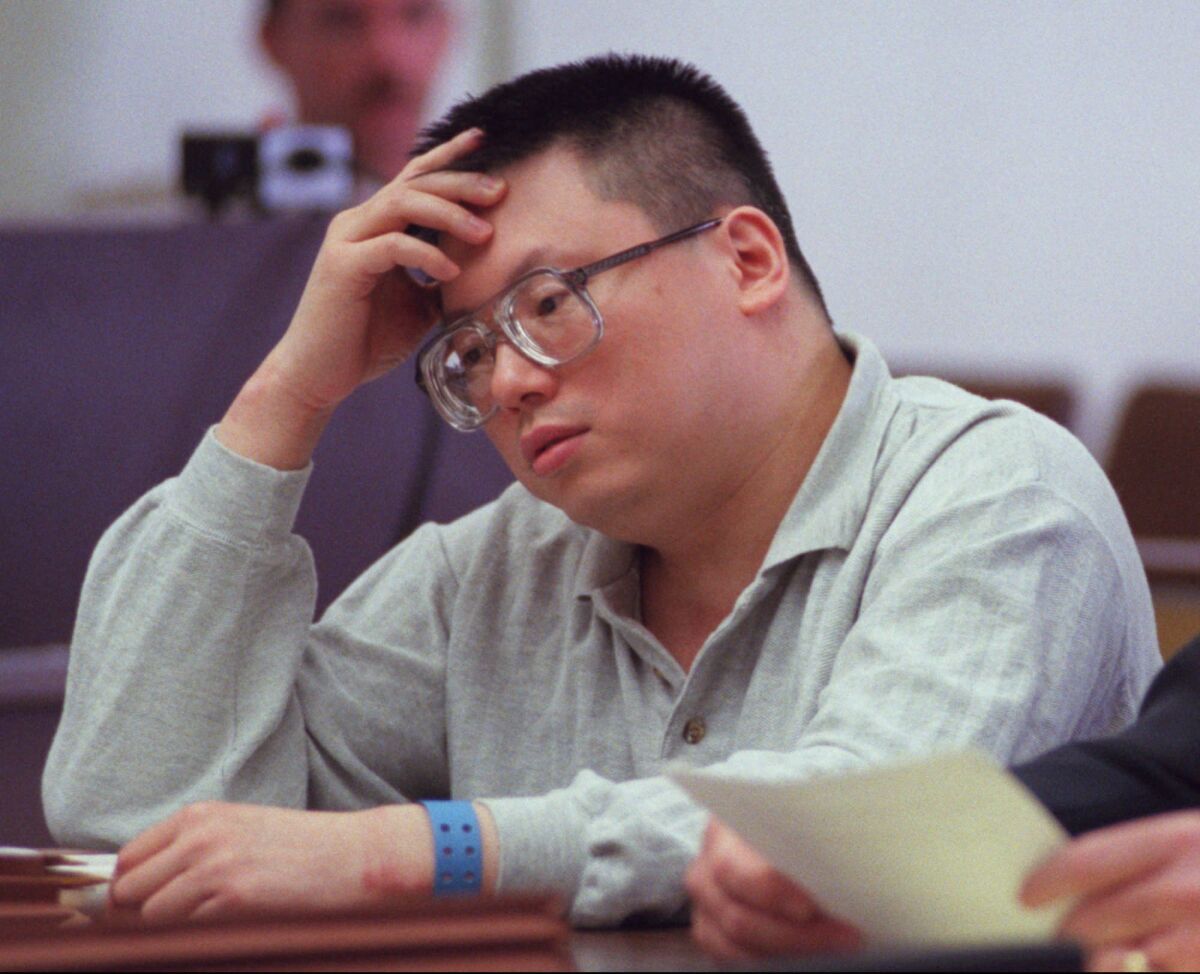 Charles Ng
Charles Ng was convicted and sentenced to death for killing six men, three women and two infant boys in a kidnapping and sex-slavery ring in Northern California.
Ng's victims were killed between 1984 and 1985 at a rustic cabin in Calaveras County near the Sierra Nevada foothills. There, authorities found more than 40 pounds of charred human remains scattered around the property, and at one point they estimated that as many as 19 people may have perished.
Ng was accused along with co-defendant Leonard Lake, who killed himself by taking poison shortly after being arrested.
The stories shaping California
Get up to speed with our Essential California newsletter, sent six days a week.
You may occasionally receive promotional content from the Los Angeles Times.