Desecrated in macabre ways, the ancestral remains of Catalina's Native Americans finally come home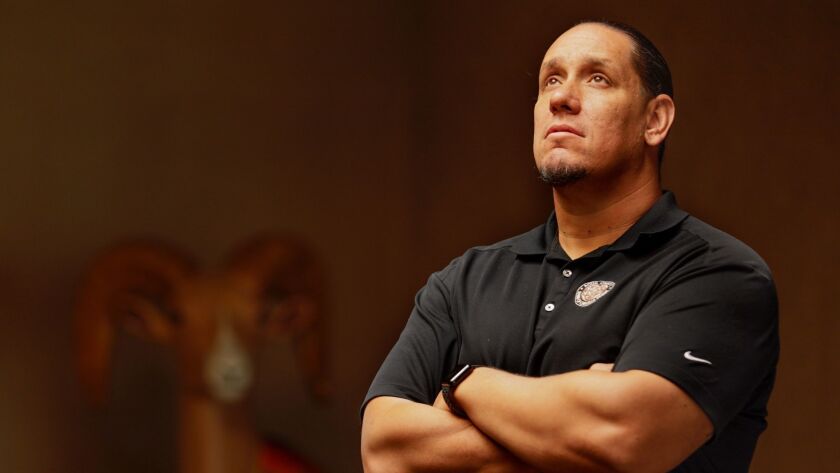 Reporting from Catalina Island —
Nearly a century ago, an amateur archaeologist and showman named Ralph Glidden dug up Native American burial sites on Catalina and other Channel Islands off Southern California's coast.
To him, the human remains and relics were treasures to be displayed in the so-called Indian Museum he opened as a tourist attraction overlooking Avalon Harbor. It was a macabre place — and to Native Americans, highly offensive — with windows edged with toe, ankle, wrist and finger bones, shelves lined with skulls held up by leg and arm bones, and ceilings decorated with vertebrae and rosettes of shoulder blades. What Glidden didn't use in the museum he sold.
The museum closed in 1950, and many of those Native American remains — an array of skulls, bones and an estimated 30,000 teeth — sat in storage for decades, overlooked by researchers and far removed from living descendants.
But over the last year, the bones finally received what the Gabrielino-Tongva Tribe considers a proper burial.
In a private ceremony in July 2016, the remains of 200 ancestors, some excavated by Glidden, were reburied on a bluff in the heart of Catalina, surrounded by green hills essentially unchanged from when the Gabrielino-Tongva roamed the 76-square-mile island. A few weeks later, the remains of an additional 2,000 previously held in collections including Glidden's were reburied on UCLA property in the Santa Monica Mountains.
Mistreated, forgotten and now reclaimed by the Gabrielino-Tongva, the remains tell a story that mirrors a broader trend as local tribes use their growing political influence and the legal authority of the Native American Graves Protection and Repatriation Act to take back remains and artifacts held by museums and universities for proper care and burial.
Wendy Teeter, curator of archaeology at UCLA's Fowler Museum, said the ceremonies — which have not previously been disclosed publicly — were "the largest repatriation of Native American remains in California history."
The Gabrielino-Tongva Tribe worked with UCLA to rebury the remains after they were analyzed by a team of experts including Teeter and Cindi Alvitre, a member of Los Angeles' Gabrielino-Tongva Tribe and an expert on the genealogy of Native American artifacts exhibited in museums after 1900. (The burial sites are not open to the public and their locations will not be disclosed, in accordance with the tribe's wishes.)
In some cases, tribes with lucrative casinos are beginning to build formidable museums of their own, sidestepping powerhouse universities and public showcases such as the J. Paul Getty Museum, the Natural History Museum of Los Angeles County and the Autry Museum of the American West.
Most of the state's Native Americans continue to live in poverty. Yet, for the tribes that own large casinos, particularly those within easy driving distance of the region's major cities, gambling has yielded an enormous payout, allowing them to fulfill broad cultural aspirations.
"Tribes with the resources to do it first focused on health, education and infrastructure," said W. Richard West Jr., chief executive officer of the Autry. "Now, they have turned to reclaiming ancestral remains, preserving artifacts and telling their own stories in big, new museums."
"I don't see them as competition," he said. "In fact, I envision a lot of exciting collaborative efforts in years to come."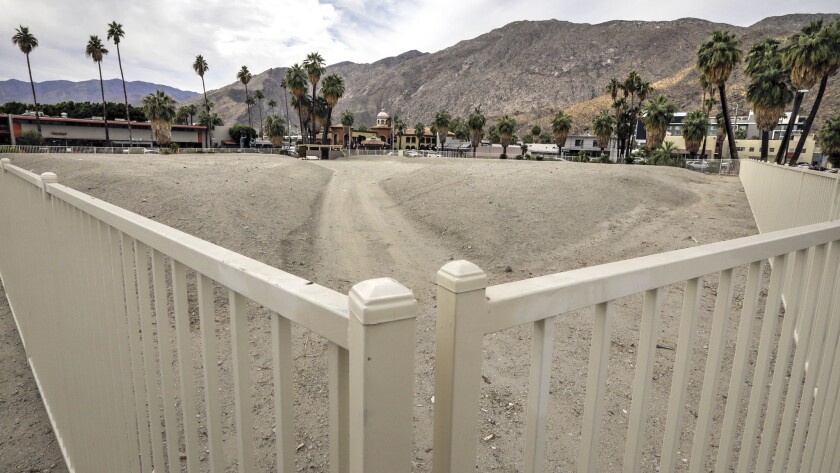 Last month, the Agua Caliente Band of Cahuilla Indians announced plans to build an $80-million cultural center in downtown Palm Springs, with a 48,000-square-foot museum, gardens, and a spa and bathhouse built over hot mineral springs. The tribe is already preparing to swap collections with the National Museum of the American Indian in Washington and to create a Cahuilla Indian curriculum for the Palm Springs Unified School District.
The new museum is expected to open in 2020 on land owned by the federally recognized 480-member tribe, which controls half the property in Palm Springs and operates two 18-hole championship golf courses. It will be funded by the tribe's two casinos and other businesses in the area.
"We'll probably lose money on this project, but it's a higher priority than building a hotel or another casino," said Jeff L. Grubbe, 40, chairman of the Agua Caliente tribe. "It's important for the world to know who we really are: a people who lived here for centuries and prospered due to the strength and inspiration provided by our history, cultural traditions and spiritual connections to the land and water."
"This museum," he added, "is going to be a modern version of what our elders called the roundhouse — a special place to share our history, knowledge and culture with others."
Palm Springs Mayor Robert Moon says he is "super excited" about the cultural center, which will be surrounded by a $450-million redevelopment project that includes restaurants, shops and hotels.
Less than two decades after California voters approved Indian gambling, 61 of the state's 109 federally recognized tribes operate gambling establishments of various sizes with combined revenue of about $7 billion annually.
For tribes that had been forced to live for generations in poverty on desolate lands, the booming casino industry has meant enhanced wealth and investment and improvements to tribal infrastructure, education and healthcare. Some tribes, including the Morongo Band of Mission Indians, which operates a lucrative casino just north of Palm Springs, have used their revenue to buy back ancestral lands.
Elsewhere, the Pechanga Band of Luiseño Indians of Temecula has used casino profits to build a state-of-the-art curation laboratory to clean, catalog and store its collections of pottery, basketry and other historic artifacts.
Earlier this year, the Wishtoyo Foundation, a nonprofit Native American organization, announced plans to build a multimillion-dollar museum and cultural center on Chumash Indian ancestral lands near Newhall Ranch, a city of 58,000 residents planned to rise in northern Los Angeles County.
The Gabrielino-Tongva Tribe, which does not operate a casino, is working with Cal State Long Beach to create a leafy Gabrielino-Tongva-style retreat on campus, near where the bones of about 100 Native inhabitants unearthed during a freeway construction project in the 1950s were reburied in 2016.
Four Paiute-Shoshone tribes in Owens Valley are in preliminary discussions to develop a curation laboratory and cultural center that would be largely funded by the Los Angeles Department of Water and Power.
Kathy Jefferson Bancroft, tribal historic preservation officer for the Lone Pine Paiute-Shoshone Reservation, says the facility is needed to "properly care for remains and artifacts continually unearthed by work crews along the Los Angeles Aqueduct system."
Bancroft's ancestors irrigated villages east of the Sierra Nevada range until the late 1800s, when U.S. troops were sent to protect settlers and the land and water they had effectively stolen from the Native Americans.
Oral histories of tribal members and Cavalry records offer insights into a horrific massacre in 1863, when settlers and soldiers chased 35 Paiute Indians into Owens Lake to drown or be gunned down.
The exact location of that incident was unknown for more than a century, a time in which the aqueduct system drained most of Owens Lake to slake the thirst of the growing metropolis, about 120 miles to the south. Torrential rains on the alkali playa in 2009 revealed bullets, musket balls, Cavalry uniform buttons and Paiute artifacts to be discovered by archaeologists surveying the area in preparation for dust mitigation projects.
They are the kind of cultural items that Native Americans worry will be lost to history in universities and mainstream museums.
Such was the case with skulls, bones and teeth excavated by Glidden and reburied during solemn ceremonies in 2016. After Glidden's museum closed, he sold his disorganized collection to the Wrigley family, whose chewing gum wealth had allowed it to buy up most of Catalina Island. The Wrigleys donated the remains to the Catalina Island Museum, which over the years stored some under lock and key in an island warehouse and doled out portions to UC Santa Barbara and UCLA's Fowler Museum.
Native American leaders have long complained that collectors' unlawful removal of artifacts from tribal and public lands destroys priceless cultural connections, along with scientific data that allows archaeologists to better understand the earliest inhabitants of North America.
Yet tracking down Native American remains and artifacts and finding a proper place to put them is an ongoing crisis, experts say.
"Just a month ago, I discovered human remains in 12 boxes at the San Bernardino County Museum that had been left behind and forgotten years ago by a visiting professor," Teeter said. "Apparently, no one ever bothered to see what was inside them."
Twitter: @LouisSahagun
---
The stories shaping California
Get up to speed with our Essential California newsletter, sent six days a week.
You may occasionally receive promotional content from the Los Angeles Times.