'Santa, how do you know where I live if I don't have a house anymore?' After fire, a tough Christmas for kids in Paradise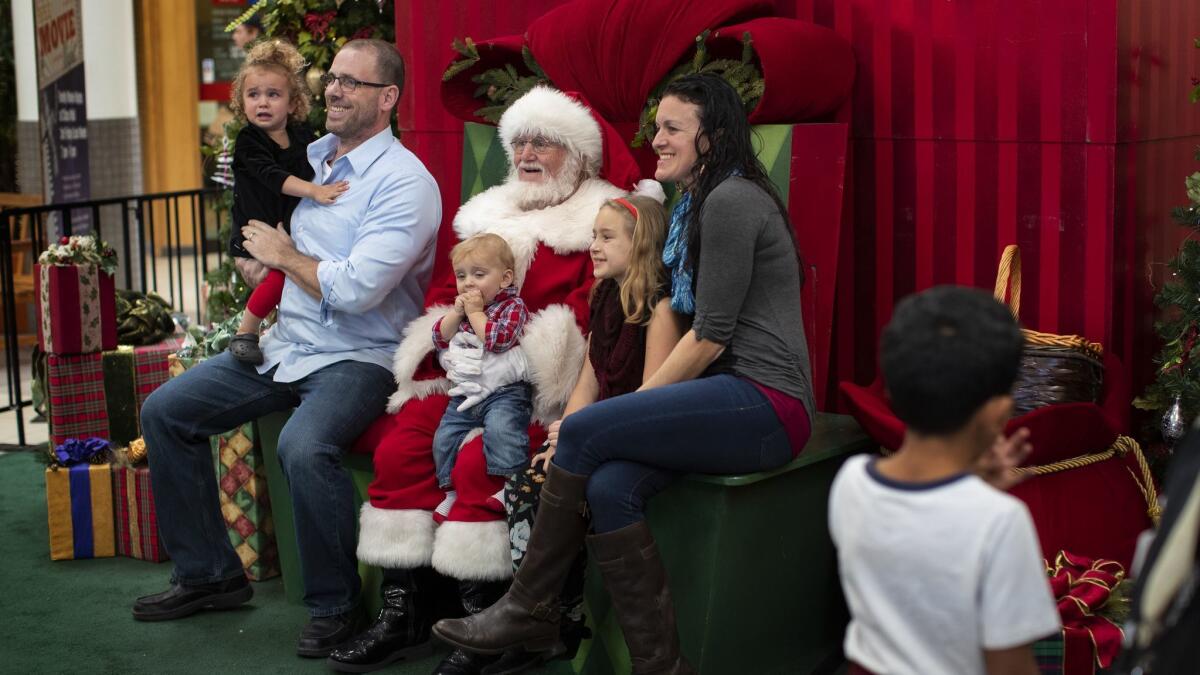 Reporting from CHICO, Calif. —
The sideline that helps James Hoskins bring in a little extra money this time of year quickly became a deeply emotional experience after he donned a furry red suit and jet-black boots and took his seat at the Chico Mall.
Asked what they wanted for Christmas, Camp fire evacuees' children on Saturday clamored for dolls, video games, cell phones and new homes to replace the ones destroyed by the deadliest and most destructive wildfire disaster in California history.
What they get from his red sack is a candy cane, a sleigh bell attached to a brightly colored ribbon and a 50% discount at the malls' Santa photo concession. Relying on his standard assurance, Hoskins, 70, adds, "Santa will see what he can do."
One little girl left him stumped, but not for long.
When faced with the question, "Santa, how do you know where I live if I don't have a house anymore?" he replied, "No problem. I've got GPS to help me find you."
After a three-week evacuation, chats with Santa represented a semblance of holiday spirit for these children. Their parents found there a brief respite from worries about what the Camp fire had taken from them in the nearby Sierra foothill city of Paradise, and their losses still to come. The worst fire in California history charred more than 153,000 acres, destroyed nearly 14,000 houses and killed 88, with 49 people still missing.
Signs of Christmas around this economic hub near Cal State Chico made Suzanne Mason, 30, wistful for family gatherings in Paradise with family and neighbors sharing the dinner table and gifts.
Mason is among thousands of residents left homeless by the hellish firestorm that roared through Paradise Nov. 8.
"Holiday spirit is hard to come by this year," Mason said, trying not to cry as her 4-year-old daughter, Jaycee, settled into a chair beside Santa and smiled into the camera.
Her daughter's wishes: an iPad and a home where her Barbie dolls could be comfortable again.
Down the hall from Santa's corner, thousands of people a day were registering for disaster assistance at a recovery center jointly operated by the California Governor's Office of Emergency Services and the Federal Emergency Management Agency in a former Sears store.
As of Friday, more than 22,000 claims had been submitted by Butte County residents for FEMA assistance of some kind, and more than $30 million had been approved, said Michael Hart, a spokesman for the agency.
At the far end of the mall, crews were hastily toting desks, chairs, text books and a variety of teaching aids — some of them salvaged from portions of Paradise campuses that survived the fire — into store spaces that would be used as alternate classrooms for middle and high school students.
Paradise Unified School District officials hoped to see as many as 650 students in the makeshift classrooms when school resumes Monday.
So goes Christmas for residents of Paradise this year.
Hoskins, a resident of Louisville, Ky., and a card-carrying member of the International Brotherhood of Real Bearded Santas, has made a point of volunteering to assist in disaster zones including Hurricane Katrina, which decimated New Orleans in 2015.
"All the kids from the fire zone are asking for homes — and my heart sinks when I hear it," said Hoskins, a retired certified public accountant who specialized in risk management.
"I can't do that," he said. "But Santa tries hard to make all wishes come true."
Sign up for Essential California for news, features and recommendations from the L.A. Times and beyond in your inbox six days a week.
You may occasionally receive promotional content from the Los Angeles Times.