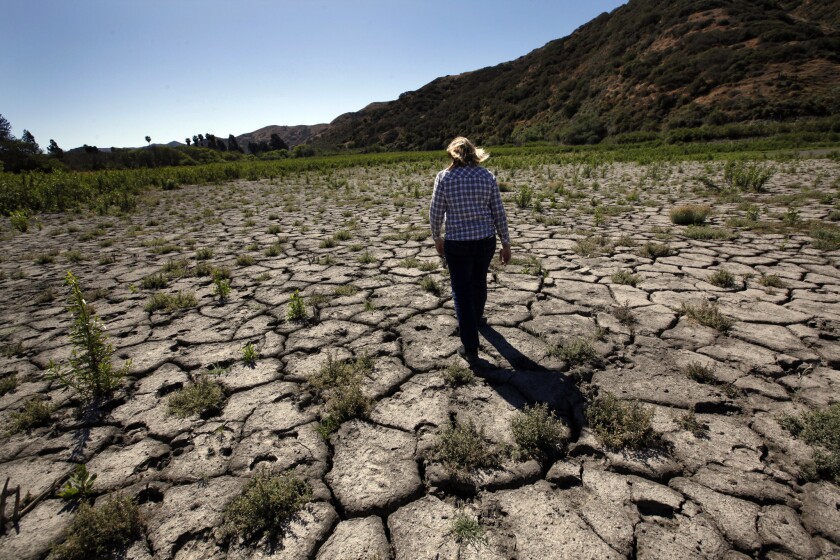 Reporting from AVALON, Santa Catalina Island —
This quaint resort town has a reputation for making visitors feel as if they're an ocean apart from the troubled megalopolis 22 miles to the east.
So it figures that the tourists in Hawaiian shirts and flip-flops strolling past Avalon's restaurants, bars and trinket shops seemed unruffled by the news that has riveted the attention of residents and business owners: As of Tuesday, the utility serving the island has imposed Stage 3 rationing, requiring everyone to slash their water use by 40% to 50%.
Drought is not new to the 4,500 residents who rely both on modern desalination plants and a complicated relic of old wells, pumps, tanks and miles of 10-inch pipelines to serve their water needs and those of the 700,000 tourists who visit each year.
During a drought in the late 1970s, water supplies plummeted and even the best restaurants used paper plates to avoid washing dishes.
In recent months, islanders have already cut their water consumption by 40%, even though restrictions called for cutbacks of roughly half that.
Residents living in Avalon's eclectic mix of funky and fancy homes already harvest the water that dribbles from air conditioner condensers and funnel runoff from their three-minute showers into buckets to quench flowers' thirst.
Contractors mix cement with water floated in by barge. Hotels ship laundry to the mainland. And some of the finest restaurants in town mop floors with the water customers leave in their glasses or abandoned Evian bottles.
Those conservation efforts, coupled with the recent installation of a second desalination plant in Avalon, had made it possible for Southern California Edison to delay the tougher restrictions, even as the island fell well below the point that could have triggered additional cutbacks.
Now, with the reservoir at the seriously low 139 acre-feet level, and meteorologists predicting more drought, the time has come to cut back again, said Ron Hite, Catalina district manager for Edison.
"The only way to eliminate Stage 3," he said, "is rain."
With the new restrictions, all ratepayers served by the island's desalination plants are required to reduce usage by 40%, and those served solely by groundwater resources must cut back by 50%.
...We're getting punished by Edison.
Norris Bishton, attorney representing the Hamilton Cove Home Owners Assn.
Some of the angriest responses to Edison's rationing plan are from 188 ratepayers in Hamilton Cove, a luxury condominium complex with panoramic views of the Pacific Ocean that is served by groundwater resources and, therefore, required to reduce water usage by 50%.
In a protest filed with the California Public Utilities Commission, they argued that the plan was unfair because Hamilton Cove was built by a developer who gave the island's first desalination plant to Edison in the early 1990s.
Since then, Hamilton Cove's real estate taxes helped pay for the second desalination plant installed in December, and its residents have reduced their water usage by more than 40%.
"After doing all that, we're getting punished by Edison," said Norris Bishton, the lawyer representing the Hamilton Cove Home Owners Assn. "That's not fair or logical."
In rejecting the protest, the utilities commission said the rationing plan is intended to preserve dwindling groundwater supplies and does not discriminate against any class of customers.
Edison and the Catalina Island Co. are collaborating on potential long-term water supply solutions that include drilling for water in bedrock hundreds of feet beneath Avalon's golf course.
The Island Co. owns about 11% of the land mass, and about 1% is owned by private individuals and the city of Avalon. About 88% of the 75-square-mile island is owned by the nonprofit Catalina Island Conservancy.
The Island Co. imports water for its upscale Island Spa Catalina, a resort destination that advertises a soaking pool, jacuzzis and treatments such as scalp and foot messages that are "followed by a refreshing rain shower rinse."
Another business, the Avalon Grille, this week will start using bottled water for food preparation.
But switching to paper plates and plastic utensils again isn't in the plans, Island Co. CEO Randy Herrel said.
Twitter: @LouisSahagun
To read the article in Spanish, click here
ALSO
The upcoming vote on a Banning Ranch development will set the Coastal Commission's direction
On death row, condemned inmates offer surprising views on effort to end death penalty in California
New laws regulating raves don't always apply, sometimes with tragic results
---