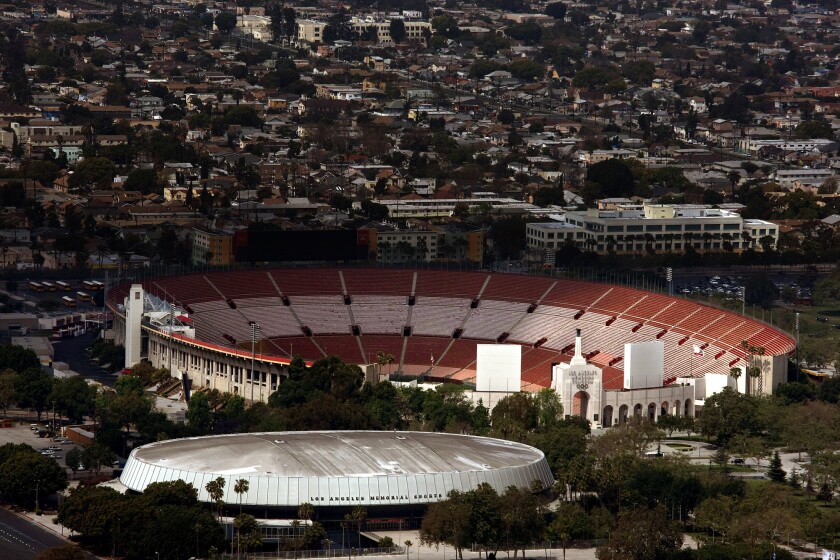 A California appellate court has reinstated key parts of a government lawsuit that seeks millions of dollars in damages from two rave concert promoters and their companies in connection with the Los Angeles Memorial Coliseum corruption scandal.
A three-judge panel of the Court of Appeal unanimously reversed a lower-court decision that dismissed civil complaints against the promoters and their firms, alleging unfair competition and conspiracy to defraud.
The lawsuit by the Coliseum Commission and a pending criminal case against the promoters grew out of a Times investigation in 2011.
The appellate ruling enables the commission to pursue profits that Insomniac Inc. and Go Ventures Inc. made from about three dozen rave concerts at the stadium complex, said Charles Slyngstad, an attorney for the commission.
The stadium authority is a joint operation of the state and the city and county of Los Angeles.
Slyngstad said a precise total of the concert profits was not immediately available but is likely to be millions of dollars. The ruling did not address the dollar amount.
Apart from their companies, the promoters — Pasquale Rotella of Insomniac and Reza Gerami of Go Ventures — could be held liable in the civil case for nearly $2 million in payments their firms made to a former Coliseum events manager, Slyngstad said.
The appellate judges upheld the lower court's decision in 2013 to throw out other claims of fraud, negligence and violations of the state False Claims Act.
In an emailed statement, Gary Jay Kaufman, an attorney for Insomniac and Rotella, said Wednesday he was pleased the appellate court affirmed the decision to dismiss those allegations.
"We have the utmost confidence that we will ultimately prevail on all remaining claims," Kaufman said. "Neither Insomniac nor Mr. Rotella did anything wrong and we continue to believe that this lawsuit was ill-conceived, politically motivated and publicity driven."
An attorney for Gerami said he had no comment.
The ruling comes as the promoters and the former events manager, Todd DeStefano, prepare to stand trial next month on charges in connection with an alleged bribery and conspiracy scheme. All have pleaded not guilty.
Others charged in the criminal case include former Coliseum technology manager Leopold Caudillo Jr. and a former stadium contractor, Tony Estrada.
Caudillo, who faces a separate trial, is accused of illegally directing Coliseum funds to a company he co-founded. He has pleaded not guilty and is due back in court in May, according to the district attorney's office.
Estrada, who is a fugitive, has been charged with paying $385,000 in kickbacks to former Coliseum General Manager Patrick Lynch, with most of the money funneled through a Miami bank. Lynch has pleaded guilty to criminal conflict of interest and returned the money to the commission.
The Coliseum scandal erupted after The Times, citing records and interviews, reported that DeStefano received payments from Insomniac while he oversaw the company's concerts as a government employee. Subsequent Times reports showed that he collected similar payments from Go Ventures as well as other companies that rented the historic Coliseum property.
DeStefano is charged with taking at least $1.9 million from the promoters in exchange for helping them stage raves at the Coliseum and companion Sports Arena and contain their costs.
DeStefano is also a defendant in the civil proceeding. His attorney, Michael Nasatir, said in an email Wednesday that the allegations are "baseless" and the evidence "will clearly show that Todd DeStefano was a valuable employee and is innocent of any wrongdoing whatsoever."
Twitter: @PringleLATimes
---