Expert test-taker in college admissions scheme pleads guilty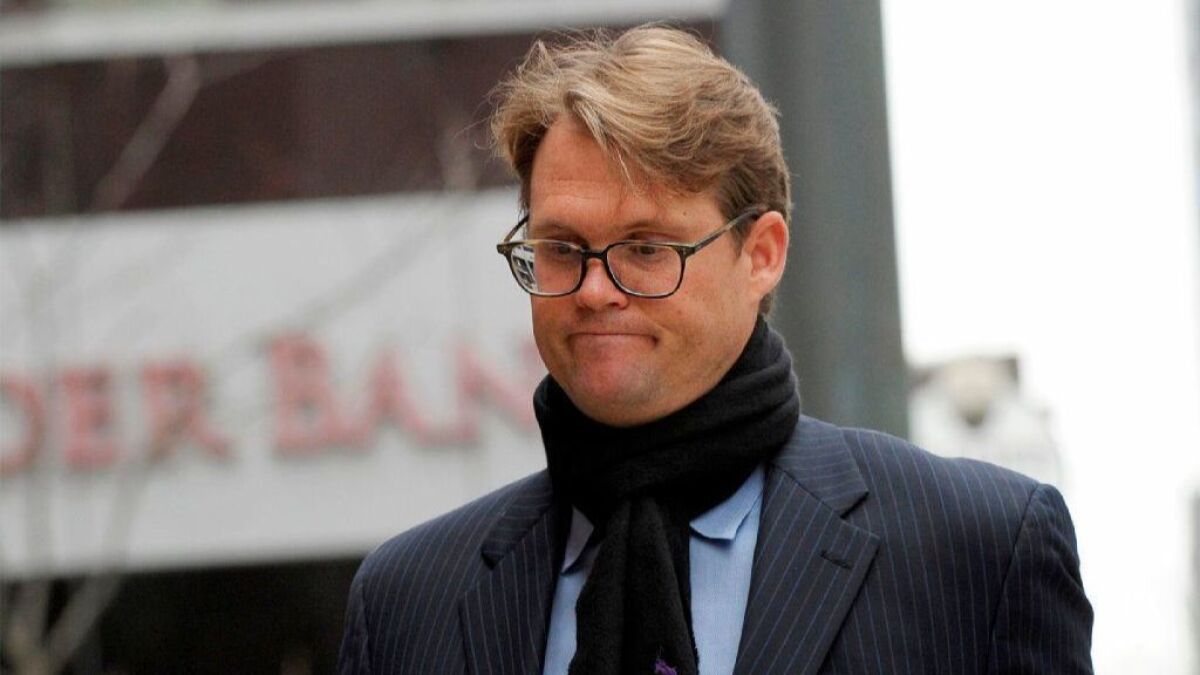 To his clientele of financiers, vintners, heiresses and actresses, William "Rick" Singer sold guarantees. In Mark Riddell, he had someone who could deliver them.
A 10-point increase in your child's ACT score? "Done deal. Done."
A 400-point boost on the SAT? "The score will be whatever we need it to be."
For $15,000 to $75,000 a test, Singer, the scheme's admitted mastermind, would bring in Riddell — whom he called "brilliant," his "expert test-taker" and a man capable of "magic." Riddell would fly from his Florida home to testing centers in Vancouver, Canada; Houston; and West Hollywood. He ensured the children of Singer's clients received whatever score on the SAT or ACT their parents desired, prosecutors alleged.
Riddell took the tests for some of them, sat beside others and told them the answers, or corrected their responses after they'd turned them in, prosecutors say.
Riddell, a resident of Palmetto, Fla., pleaded guilty Friday in Boston federal court to conspiracy to commit mail fraud and honest services mail fraud and conspiracy to commit money laundering. He agreed to forfeit $240,000. He will be sentenced July 18.
Even as he implicated Riddell in a defrauding of the some of the country's top universities, Andrew Lelling, the U.S. attorney in Massachusetts, acknowledged Riddell's brilliance.
Riddell, a 36-year-old Harvard graduate and administrator at an exclusive Florida prep school, didn't have any inside information.
"He was just smart enough," Lelling said, "to get a near-perfect score on demand or to calibrate the score."
Among the tests Riddell fixed was an SAT taken by the daughter of actress Felicity Huffman, prosecutors say. Huffman, who has agreed to plead guilty to fraud conspiracy, paid $15,000 for Riddell to correct her daughter's answers after she'd finished the test.
The actress admitted her guilt Monday and said she had "betrayed" her daughter and every student who was admitted to college through their honest work. Huffman said her daughter knew nothing of the scheme.
"This transgression toward her and the public I will carry for the rest of my life," she said in a statement.
Of the 33 parents charged in Singer's scheme, 20 paid for Riddell to doctor their children's tests, prosecutors say.
Until his arrest last month, Riddell worked as the director of college entrance exam preparation at IMG Academy, a prep school in Bradenton, Fla., whose alumni list boasts such elite athletes as tennis players Serena Williams, Andre Agassi and Anna Kournikova.
Singer, the Newport Beach college admissions consultant who masterminded the scheme, paid Riddell around $10,000 per doctored exam, plus travel costs, prosecutors said.
Riddell had been rigging tests for the children of Singer's clients since at least 2011, when he took the SAT for the older son of David Sidoo, a Vancouver businessman and former Canadian Football League player, prosecutors alleged. Sidoo has pleaded not guilty to charges of fraud conspiracy and money laundering conspiracy.
Using a fake ID that bore his face and the name of Sidoo's son, Riddell — who was 28 at the time — took the SAT for the boy in September 2011, prosecutors say. But because Sidoo's son had scored only 1460 out of 2400 points possible on an earlier test, Riddell was told not to aim too high, according to an indictment charging the boy's father with fraud conspiracy.
Riddell scored a 1670 — enough for Sidoo's son to be admitted to Chapman University. Several months later, Sidoo allegedly paid for Riddell to take his son's graduation exams, too.
The next year, prosecutors say, Riddell took the SAT for Sidoo's younger son using another fake ID and scored a 2280 out of 2400. The boy was later admitted to UC Berkeley.
Eventually, Singer dispensed with the fake IDs by bribing administrators at testing sites to turn a blind eye, prosecutors said. During one test in 2015, they said, Riddell sat beside the daughter of a Bay Area financier and helped her complete her SAT. Afterwards, Riddell and the girl "gloated," prosecutors said, "about the fact that they had cheated and gotten away with it."
The girl, the daughter of Manuel and Elizabeth Henriquez, was later admitted to Georgetown. Her parents have been indicted on charges of fraud conspiracy and money laundering conspiracy.
In some instances, Riddell was hamstrung by low exam scores the children of Singer's clients had received on earlier tests, and Singer — wary of inviting scrutiny — didn't allow Riddell to dramatically inflate them, wiretapped conversations with parents show.
In August 2018, a Napa Valley vintner complained to Singer that Riddell had netted his daughter an SAT score of 1380 out of 1600, which placed her in the 96th percentile, according to a transcript of the conversation quoted in an FBI affidavit.
"If you had wanted to," said the vintner, Agustin Huneeus Jr., "I mean, [my daughter's] score could have been 1550, right?"
"No," Singer shot back. "'Cause I would have got investigated for sure based on her grades."
Huneeus has agreed to plead guilty to one count of fraud conspiracy.
Singer marketed Riddell to parents as his secret weapon, according to wiretapped conversations quoted in the FBI affidavit.
"Nobody, nobody can do this," he told Gregory and Marcia Abbott, a couple who split time between New York City and Aspen, Colo.
"He is brilliant," he said to Marjorie Klapper, a Menlo Park mother who co-owns a jewelry business.
Riddell can "nail a score — he's that good," Singer told Gordon Caplan, a Connecticut lawyer.
"I can make scores happen," Singer told Caplan, "and nobody on the planet can get scores to happen."
Sidoo, the Canadian businessman who hired Riddell to take tests for both of his sons, had so much confidence in Riddell's ability, court documents say, that he called Singer to say his older son was applying to business school and would need to take the Graduate Management Admission Test, or GMAT.
He asked Singer if his son could score a 2100 on the test, which is actually scored between 200 and 800, according to Sidoo's indictment.
"They don't have a 2100 for the GMAT," Singer allegedly told him. "But I would do my best to get it for ya."
Times staff writer Jenny Jarvie contributed to this report.
---
Life is stressful. Our weekly mental wellness newsletter can help.
You may occasionally receive promotional content from the Los Angeles Times.