Felicity Huffman, other parents agree to plead guilty in college admissions scandal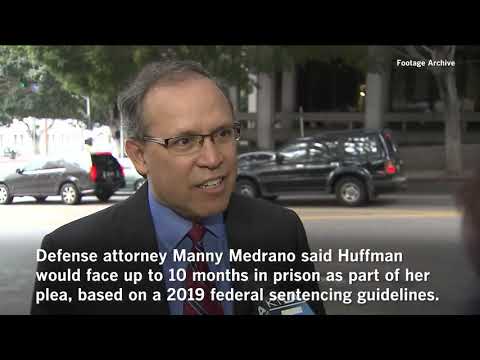 Felicity Huffman and a dozen other wealthy parents agreed to plead guilty after being swept up in the far-reaching college admissions scandal.
Felicity Huffman and a dozen other wealthy parents swept up in the far-reaching college admissions scandal have agreed to plead guilty after being charged in the scheme, according to court records.
The actress and 12 other parents, including Los Angeles marketing guru Jane Buckingham, will plead guilty to one count of conspiracy to commit mail fraud and honest services mail fraud. Bay Area real estate developer Bruce Isackson will plead guilty to one count of money laundering conspiracy and one count of conspiracy to defraud the IRS. His wife, Davina Isackson, will plead guilty to one charge of conspiracy to commit fraud.
Michael Center, the former men's tennis coach at the University of Texas at Austin, will also plead guilty to one count of conspiracy to commit mail fraud and honest services mail fraud. Center is accused of accepting $60,000 in cash and a $40,000 donation to his tennis program to ensure a student was admitted as a recruited athlete.
The admissions scheme centered on William "Rick" Singer, owner of a for-profit Newport Beach college admissions company. Parents are accused of paying the firm to help their children cheat on college entrance exams and to falsify athletic records, enabling their children to secure admission to elite schools — including UCLA, USC, Stanford, Yale and Georgetown — according to court records.
Thirty-three parents have been charged in the case, and others are expected to follow through this week with plans to plead guilty.
Prosecutors said Huffman paid $15,000 for a 36-year-old Harvard graduate to correct her daughter's answers on the SAT, giving the girl's score a 400-point boost over a previous score. Huffman later discussed pursuing a similar scheme for her younger daughter, according to court records.
Her husband, actor William H. Macy, has not been charged by federal prosecutors.
The court documents mention Macy much less than Huffman, but they suggest Macy knew about many of the activities.
Manny Medrano, a defense attorney and former federal prosecutor, said that based on 2019 federal sentencing guidelines, Huffman would face from four to 10 months in prison as part of her plea.
Because she has no criminal history and her financial contributions to the college admissions scam are small, her sentencing recommendation is low, Medrano said. Prosecutors have said they will ask for a comparatively shorter sentence for the actress.
Full coverage: Dozens charged — including Hollywood actresses — in connection with college admissions scheme »
In a statement Monday, Huffman acknowledged her guilty plea.
"I am in full acceptance of my guilt, and with deep regret and shame over what I have done, I accept full responsibility for my actions and will accept the consequences that stem from those actions. I am ashamed of the pain I have caused my daughter, my family, my friends, my colleagues and the educational community," she said.
"I want to apologize to them and, especially, I want to apologize to the students who work hard every day to get into college, and to their parents who make tremendous sacrifices to support their children and do so honestly. My daughter knew absolutely nothing about my actions, and in my misguided and profoundly wrong way, I have betrayed her."
Buckingham, who once authored a book titled "The Modern Girl's Guide to Sticky Situations," wanted desperately for her son to attend USC. So the Los Angeles marketing maven — once called the Martha Stewart of the younger generation — turned to Singer to help her son score high on the ACT standardized test, prosecutors alleged.
In a phone call on July 12, 2018, Buckingham told Singer that her son had developed tonsillitis and his doctor had advised against allowing him to travel. The plan was for her son to take the ACT at the test center in Houston, but he wasn't able to get there, federal authorities said.
Buckingham asked Singer whether it would be possible to get a copy of the exam for her son take at home — so that he would believe he had taken the test — while someone else took it on his behalf in Houston. Singer said he would make it happen.
Ultimately, Buckingham's son received a score of 35 out of a possible 36 on the ACT.
Under federal sentencing guidelines, she faces at least eight months in prison.
The Isacksons are accused of paying Singer $600,000 to get one daughter into UCLA and another into USC through bribes and other deceitful moves, court records show.
The couple began conspiring with Singer in 2015 to have their older daughter admitted to college as an athletic recruit, according to court records. Their first choice was USC, but plans to sneak the teen into the school were thwarted when her application was inadvertently sent into the normal admissions process, leaving a member of the athletic department who was allegedly working with Singer unable to complete the deal, according to an FBI affidavit.
Singer then turned to UCLA, sending a fake athletic profile he had concocted in May 2016 to Ali Khosroshahin, a former USC women's soccer coach, who passed it on to Jorge Salcedo, the former head men's soccer coach at UCLA, prosecutors say. Khosroshahin and Salcedo have been indicted on charges of conspiracy to commit racketeering.
The girl was admitted to UCLA. Unlike other students who sneaked into schools as faked athletes and then simply did not join the teams, the Isacksons' daughter found herself in over her head on the UCLA women's soccer roster.
For passing their daughter off as a recruited athlete, they transferred shares of Facebook stock valued at about $250,000 to a charity operated by Singer, the FBI affidavit says.
Singer used his charity to pay Salcedo $100,000 and Khosroshahin $25,000 for securing Isackson's admittance, prosecutors say.
The Isacksons then paid Singer an additional $350,000 to rig their younger daughter's college entrance exam and to pass her off as an experienced rower to get her into USC as a member of the crew team, according to court documents.
The Los Angeles Times has reviewed a copy of the plea agreement that spells out the terms of the cooperation deal between prosecutors and Bruce Isackson. If, after hearing what Isackson knows, prosecutors decide he has provided "substantial assistance," they will ask the judge in his case to sentence Isackson to a shorter prison term than called for by sentencing guidelines, the agreement shows.
The agreement does not specify what sentence prosecutors may request, but they could ask the judge to spare Isackson prison time completely.
As part of his agreement with prosecutors, Bruce Isackson must pay the Internal Revenue Service nearly $140,000 in restitution. The payment appears to be because Isackson wrote off his payments to Singer's organization as a charitable donation.
A source familiar with the Isacksons' plea agreement said investigators wanted the couple to provide them with more information about other parents involved in the scheme as well as the role that coaches played. Prosecutors want to firm up their existing case and find potential new targets among parents and university officials.
The couple could be called to testify against Salcedo and other coaches. So far, Salcedo is the only coach at UCLA to have been charged in the scam. He resigned in the wake of bribery allegations. The source said the Isacksons also could be used as witnesses in trials against other parents to explain Singer's methods and parents' motives.
UCLA women's soccer coach Amanda Cromwell, who oversaw the team the Isacksons' daughter joined, has not returned calls or emails seeking comment.
Prosecutors say the other parents who have agreed to plead guilty in the wide-reaching scandal are:
Augustin Huneeus
Gordon Caplan
Peter Jan Sartorio
Stephen Semprevivo
Devin Sloane
Gregory and Marcia Abbott
Robert Flaxman
Marjorie Klapper
Huneeus, who owns a portfolio of vineyards in Napa and elsewhere, conspired to bribe a senior assistant athletic director and the water polo coach at USC to get his daughter into the university as an athlete recruit, according to the complaint. He is accused of paying $300,000 in the cheating scheme.
Caplan, former co-chair of law firm Willkie Farr & Gallagher, made a $75,000 payment under the guise of a charitable donation. Prosecutors said the money was paid to one of Singer's accomplices to correct the girl's answers on the ACT.
Sartorio, a packaged foods entrepreneur based in Menlo Park, is accused of paying Singer $15,000 for a surrogate to take a college entrance exam for his daughter.
Semprevivo, the chief strategy and growth officer at Agoura Hills-based Cydcor, a company that provides outsourced sales services, agreed to pay Singer $400,000 as part of a bribe to the Georgetown tennis coach to facilitate admission for his son — who did not play tennis competitively — prosecutors said.
Sloane, the founder and general manager of Los Angeles-based water company WaterTalent, paid $250,000 to Singer, who portrayed his son as an Italian national team water polo player and doctored photos to support the fake story, court documents say.
Prosecutors said Gregory Abbott, chairman of a food and beverage packaging company, and his wife, Marcia Abbott, paid Singer $125,000 to inflate their daughter's scores on college entrance exams. Singer's alleged accomplice, 36-year-old Harvard graduate Mark Riddell, corrected their daughter's answers on the SAT and later fixed her answers on two SAT subject tests.
Flaxman, a Laguna Beach real estate developer, is accused of paying Singer $75,000 to have Riddell correct his daughter's answers on the ACT, boosting her score by eight points.
Klapper, a Menlo Park resident who co-owns a jewelry business, allegedly paid Singer $15,000 to have Riddell fix her son's answers on the ACT. When he scored — with Riddell's help — a 30 out of 36, Klapper emailed Singer: "Omg."
Those who have signed plea agreements face recommended sentences of a few months to a year and a half in prison, prosecutors said.
Sign up for Essential California for news, features and recommendations from the L.A. Times and beyond in your inbox six days a week.
You may occasionally receive promotional content from the Los Angeles Times.