Ex-Stanford student whose parents paid $6.5 million under scrutiny from prosecutors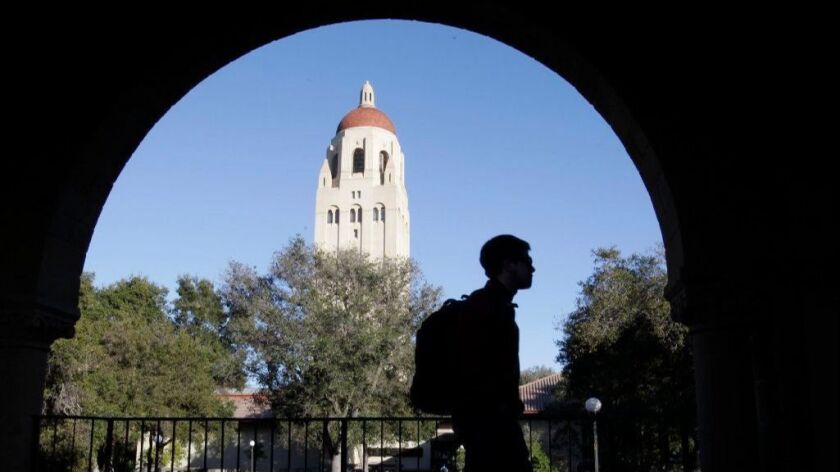 Federal prosecutors have sent a letter to a former Stanford student whose parents paid $6.5 million to the mastermind of the college admissions scheme informing her she is a possible target of their investigation, a person familiar with the investigation said.
Yusi Zhao and two other people whose parents allegedly used the services of Newport Beach college consultant William "Rick" Singer received the letters, said the source, who spoke to The Times on the condition of anonymity. Singer has pleaded guilty to four felonies and admitted to masterminding a scheme to get the children of wealthy families into top colleges through bribes, fake credentials and rigged tests.
Neither Zhao nor her parents have been charged in the case that has ensnared 50 people, including Hollywood actresses and financiers.
A lawyer for Zhao's mother said Thursday that the family believed the seven-figure payment to Singer was a charitable gift to fund scholarships, staff salaries and programs for needy students at Stanford.
The lawyer, Vincent W.C. Law, said that Zhao's mother had "been taken advantage of" and that her daughter was the "victim" of Singer's deception.
Law did not immediately respond to a request for comment Friday. A spokeswoman for the U.S. attorney in Massachusetts declined to comment.
Target letters are used to inform a person that a grand jury is reviewing evidence that could be used to charge him or her with a crime, said Charles La Bella, a former federal prosecutor and former deputy chief of the Department of Justice's fraud section. La Bella is not connected to the case.
La Bella, now a defense attorney for Barnes & Thornburg in San Diego, said such letters "tickle a conversation. It basically means: Look, you're a target, and if you want to come in and tell your side of the story, by all means — come on in and explain why you shouldn't be indicted."
Some who receive target letters are ultimately not charged.
Two other children of Singer's clients have received target letters, including the daughter of Napa Valley vintner Agustin Huneeus Jr., the person familiar with the investigation said. Huneeus has agreed to plead guilty to a fraud conspiracy charge. His attorneys did not immediately respond to a request for comment.
The Times could not determine who received the third target letter.
Huneeus paid Singer $50,000 to have his daughter's SAT score inflated in March 2018, prosecutors say, and six months later, the vintner allegedly agreed to pay $250,000 more to have her falsely recruited to USC as a water polo player.
The athlete profile Singer submitted to a USC athletics admissions committee included a photograph of a different girl because Huneeus' daughter had not sent one for Singer to doctor in time, according to an FBI affidavit filed in federal court.
On a call recorded by the FBI and included in the affidavit, Huneeus fretted to Singer that "some article comes out" revealing USC's water polo team "is selling seats into the school for 250 grand." Singer reassured him it wouldn't.
Two months later, Singer called Huneeus at the direction of investigators and said his foundation was being audited by the Internal Revenue Service. He wanted to be sure their stories dovetailed, he told Huneeus, and reminded him to say the $300,000 went not toward a higher SAT score and seat at USC for his daughter, but to "underserved kids."
"Dude, dude," Huneuus replied, according to the affidavit. "What do you think, I'm a moron?"
The Times revealed Wednesday that Zhao's parents were behind the $6.5-million payment, which had been mentioned by U.S. Atty. Andrew Lelling when the case was unsealed in March but never attributed to a particular client of Singer's.
The 33 parents charged in the scandal so far are accused of paying $15,000 to $75,000 per child for rigged college entrance exams, and $100,000 to $400,000 per child for an athletics recruiting scam.
To help ensure Zhao was admitted to Stanford, Singer fashioned a fake profile that described her as a competitive sailor despite there being no indication she competed in the sport, people familiar with the case said.
It is unclear with whom Singer worked within the university. Stanford's former sailing coach, John Vandemoer, has pleaded guilty to a charge of racketeering conspiracy and admitted in federal court to conspiring with Singer to slip the children of his clients into Stanford.
Law, the Zhaos' attorney, said Thursday that Zhao's mother made the $6.5-million payment to Singer's foundation in April 2017 "in the same nature" as donations that other wealthy families routinely make to universities.
"This generous act was not only done for the good of the school and its students, but also done out of the love and support of Yusi by a caring mother," Law said.
Zhao's mother believed that Singer's foundation was legitimate when she made the payment and that the money was earmarked for scholarships, salaries for Stanford employees and programs for needy students, he said.
The charity, Key Worldwide Foundation, has since been exposed as a fraud, a vehicle Singer used to launder payments from parents and pay bribes to coaches, a university official and administrators of college entrance exams.
Full coverage: Dozens charged in connection with college admissions scheme »
---
For reporting and exclusive analysis from bureau chief John Myers, get our California Politics newsletter.
You may occasionally receive promotional content from the Los Angeles Times.