After 108 years, Dearden's is closing its stores. For many Latinos, it was more than just about housewares
Maria Luisa Escobar remembers when she got to Los Angeles and had to furnish her first apartment, way back in 1979.
The housekeeper had just arrived from El Salvador. She lacked legal status and made very little money. No store would extend her credit.
Then she found Dearden's on 7th and Main Street.
"I got a queen size bed so I'd be set when the time came to find a husband," she said.
The downtown furniture store gave Escobar and thousands of other Latino immigrants a chance to buy their first sofas, refrigerators and television sets.
Now after 108 years, the chain is shutting all its stores — in Los Angeles, Chino, Van Nuys, Huntington Park and elsewhere.
"It really hurts," said Escobar, 71, who still goes to Dearden's for nearly everything in her home.
Generations of low-income Latinos came to rely on the store, and their loyalty wasn't just about housewares.
"Other places may not have treated them with the respect they deserve," said Chief Executive Ronny Bensimon. "Here, we always catered to them and made them feel like kings."
Dearden's cashed their checks, made their travel arrangements, processed their utility bill payments, gave their children scholarships, arranged delivery of purchases they made — stoves, bedroom sets — to their families in Mexico, El Salvador and Guatemala.
In the 1980s, when immigrants had to show they had been in the United States for years to qualify for residency, many submitted the only proof they had: their Dearden's credit payment history. Workers combed the store's records to dig up those statements, which often did the trick.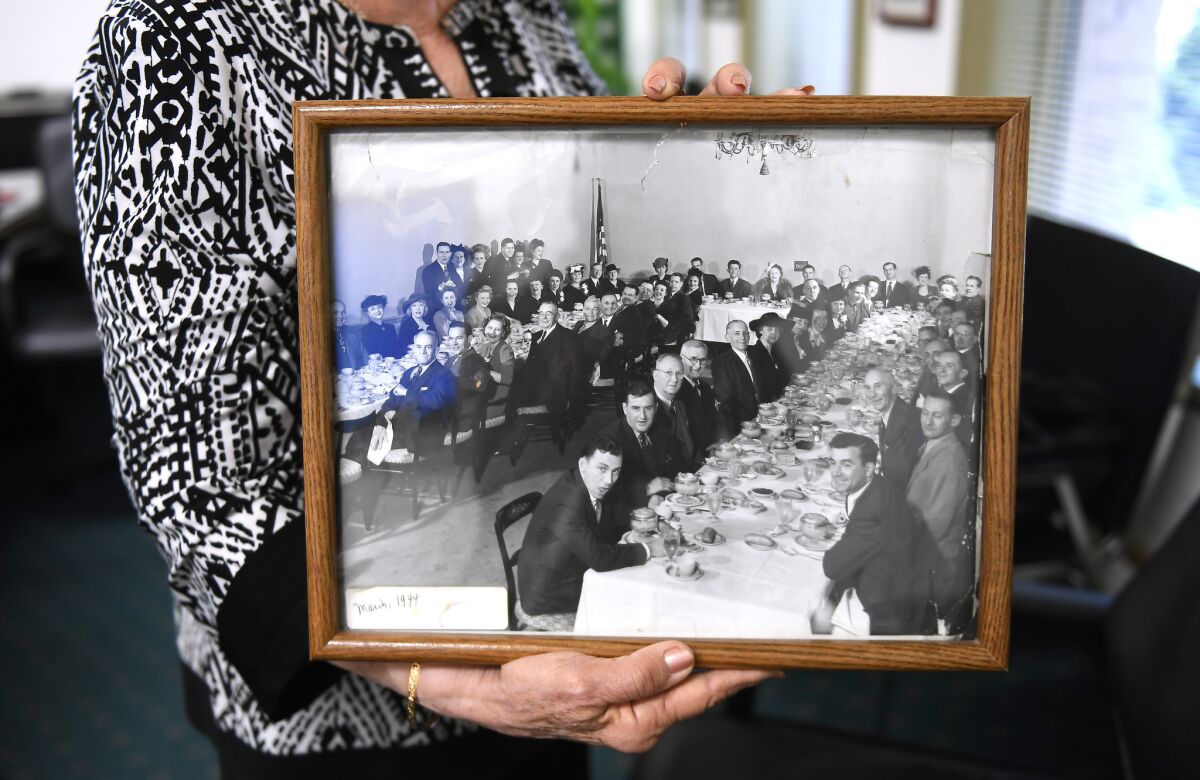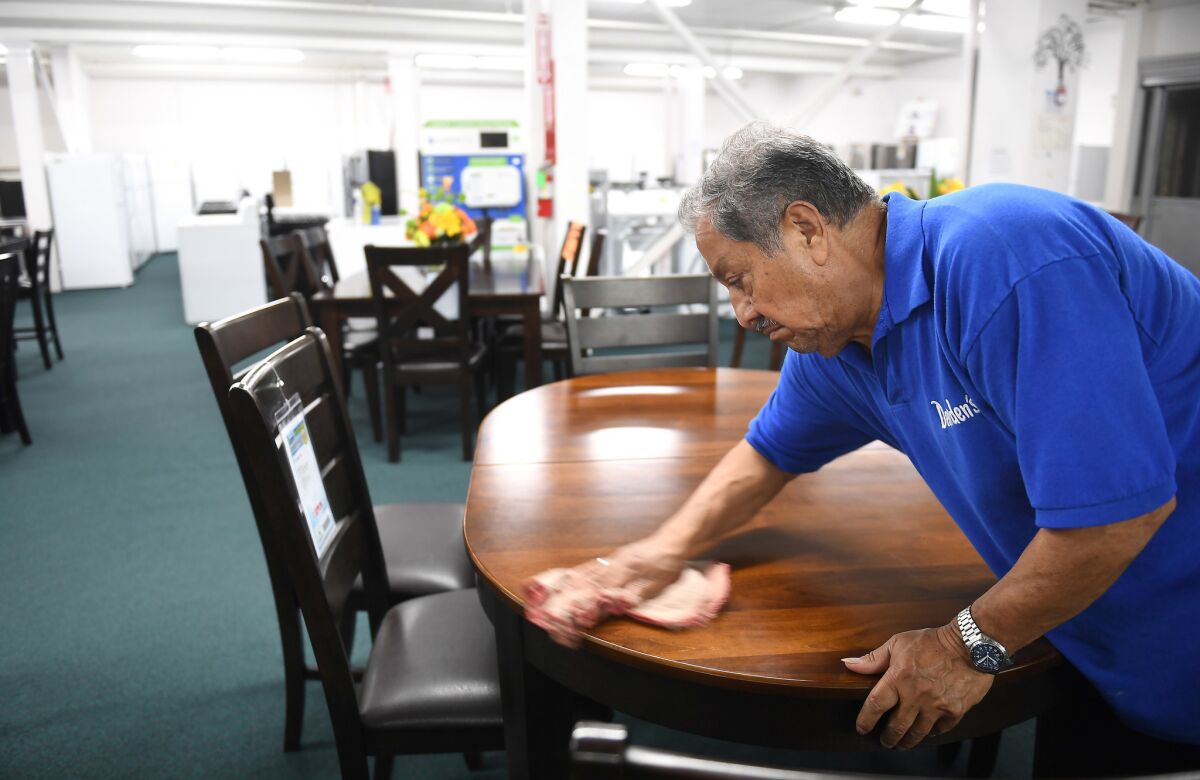 On the sales floor, employees were expected to look their best: high heels and dresses for the ladies, suit jackets and ties for the men.
Bensimon's mother, Raquel, who led the company for nearly two decades, used to gather the staff Saturday mornings to review:
"Never call a customer by their first name. Always say, Ms., Mr. and gentleman."
For a long time, the effort paid off.
While dozens of other stores on Main Street's furniture row folded, Dearden's still filled 150,000 square feet. It emerged from several economic downturns to become part of an elite group of downtown businesses that had made it past the century mark. In 2006, the chain employed nearly 500 workers and its sales topped $100 million.
In 2008 though, the furniture chain founded by Englishman Edgar Dearden in 1909 was hit hard by the economic recession. Since then, said Bensimon, it's been a perfect storm of losses and rising costs.
More than half of all sales used to be in electronics. But they've lagged. So have plane-ticket purchases. The stores aren't getting as many new customers and the old ones aren't buying as much.
"It seems like in today's climate, a lot of our customers are hiding," Bensimon said. "They don't want to risk flying home and they're holding off on purchases."
On a recent afternoon, workers at the downtown L.A. store hung large signs on the windows announcing its August closure.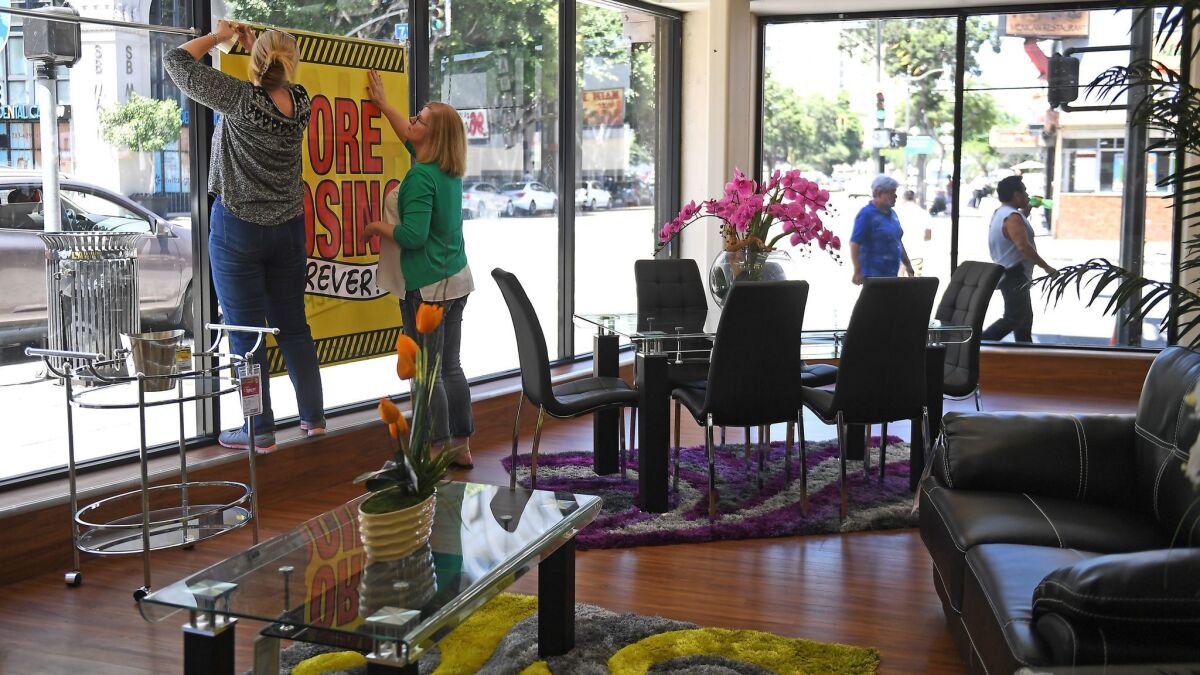 Frank MacLean Jr., director of sales and merchandising, worked his way around the first floor with a price gun, doing markdowns.
He's been at the store 30 years. His father, Frank MacLean, has worked there for 44.
"We've been a family," MacLean said. "Birthday parties, quinceaneras, Dodger nights — everyone has really cared for each other."
In 1962, his father, a Panamanian, was hired as a salesman for his Spanish skills.
Back then, Latino garment workers used to cash their paycheck at Dearden's. They formed a line that went out the door and down Main Street.
"They'd come in and look around to see if they liked something," Raquel Bensimon said.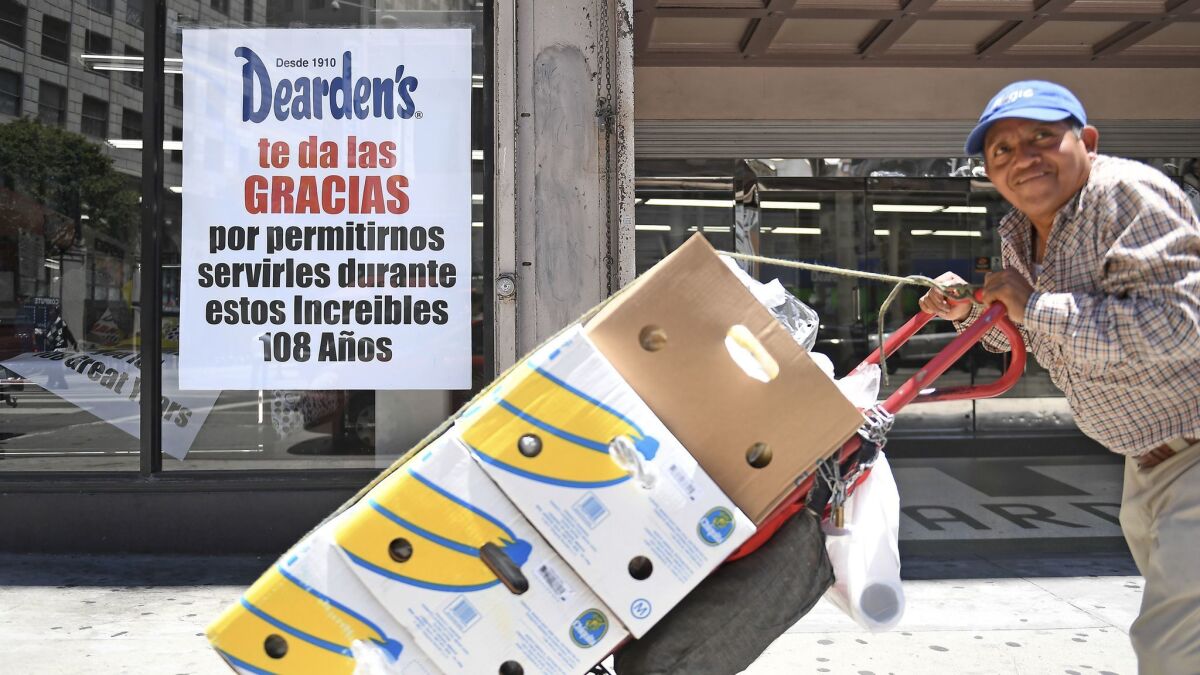 Those who couldn't pay cash went to the credit desk to apply. Dearden's workers were trained to be prudent, but also to listen. If a customer had a low-paying job or no credit history, they asked about relatives living at home — sisters, cousins, parents who could help with monthly payments. Some immigrants had hardly any work history, but qualified because they and their spouses worked four to five low-wage jobs.
"It was amazing," Raquel Bensimon said. "So many didn't have papers, but they were the most honest people anybody could do business with."
As time went on, the chain carefully followed its clientele's needs and tastes.
Dearden's opened branches in La Puente, Commerce and Anaheim, filling them with merchandise proven to entice Latinos: overstuffed sofas with nailhead trim and chunky legs; king-size beds with carved headboards; dining room sets with easy-to-clean dark finishes of espresso, cappuccino, tobacco and cherry.
The chain began to sell pots and pans, perfume, jewelry, bunk beds — lots of bunk beds — and baby furniture.
"That's where many of our customers got their start," Bensimon said. "In the baby department."
Brigido Navarro, who works as a cook, used to get hand-me-downs or buy his furniture at thrift stores. Then 15 years ago, he was approved for $600 in credit at Dearden's. Now his credit has risen to $4,000.
"A fortune," Navarro said.
He visited the store one last time on a recent afternoon with his wife and Alisa, his 2-year-old. The little girl bopped around the sales floor, climbing up and down sofas, as the couple bought a rug cleaner, speaker system and suitcase.
"This is not easy," Navarro said as he prepared to walk out. "This place has been very good to our family."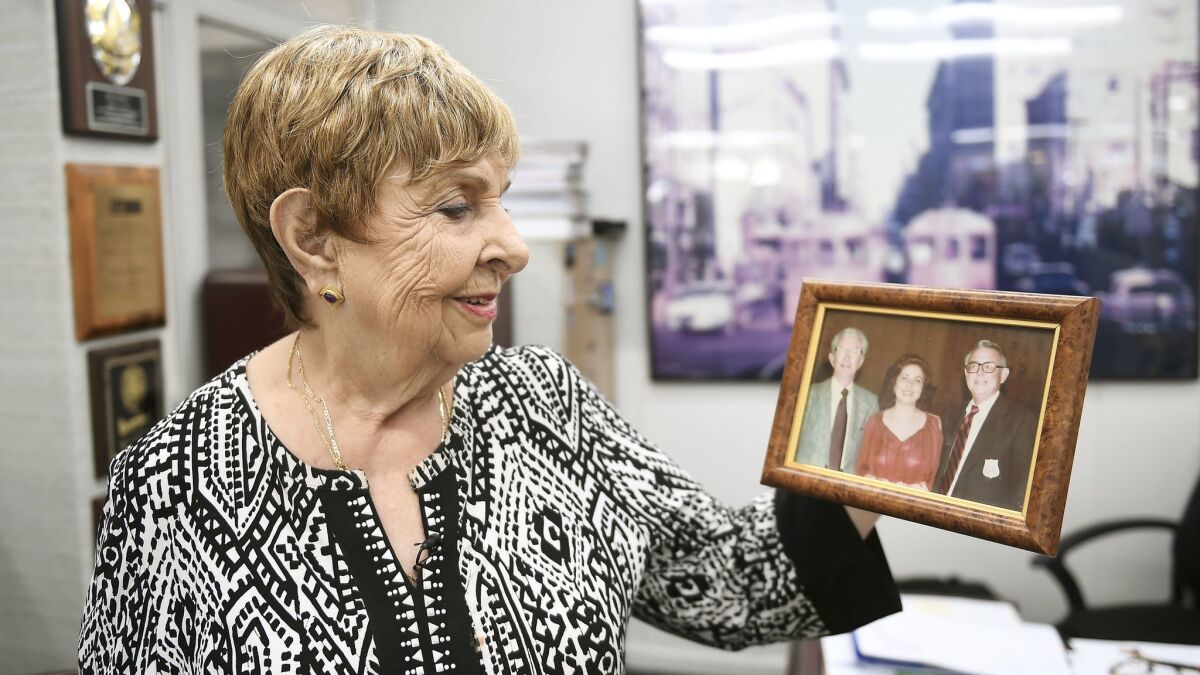 esmeralda.bermudez@latimes.com
ALSO
111 terminally ill patients took their own lives in first 6 months of California right-to-die law
Judge tosses conviction; says new jury could hear evidence questioning L.A. sheriff's deputy's credibility
Man arrested after allegedly pulling a gun following a Cudahy council meeting
---
The stories shaping California
Get up to speed with our Essential California newsletter, sent six days a week.
You may occasionally receive promotional content from the Los Angeles Times.