Man arrested after allegedly pulling a gun following a Cudahy council meeting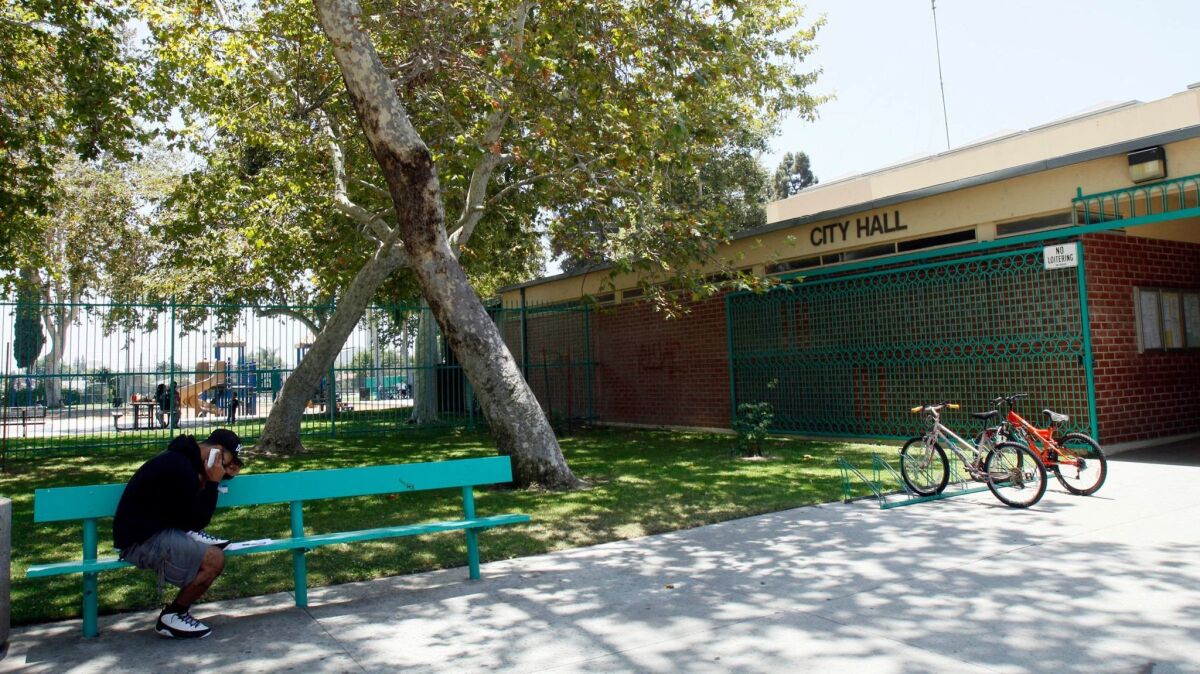 A man who came to the Cudahy City Council meeting Monday night with a pro-President Trump group protesting the city's sanctuary status was arrested after he brandished a gun during an argument, authorities said.
Thomas Green, 51, of Culver City flashed a gun from inside a white car at a gas station at Clara Street and Wilcox Avenue, about a block from the park where the council meeting took place, the Los Angeles County Sheriff's Department said in a statement.
Deputies were waved over about 9 p.m. by a group of people standing near the vehicle during the argument, authorities said.
Green was arrested on suspicion of brandishing a firearm and booked at the East L.A. Sheriff's Station. He was later released, and his gun was held for evidence, authorities said.
All of the car's occupants were detained.
Riding with Green was Harim Uziel, a vocal pro-Trump activist who has become a regular, disruptive presence at public meetings throughout the Southland. In May, Inglewood police escorted Uziel out of U.S. Rep. Maxine Waters' town hall meeting after he and another Trump supporter loudly fought with pro-immigration activists.
Before deputies called him out of the car in Cudahy on Monday night, Uziel live-streamed authorities surrounding the vehicle, guns drawn. His group was escorting other protesters who had been followed to the gas station after the council meeting, he said on Facebook Live.
"My friend here that I'm carpooling with has a concealed carry weapon, and he showed it to those guys," Uziel said.
"We did show a gun. Oh, may the Lord protect us and keep us safe," he added. "I got my hands up. Don't shoot."
An hour after Green's arrest, in a "separate and unrelated incident" while deputies were still at the gas station, a man threw a large, glass beer bottle at the deputies, hitting one of their vehicles and nearly hitting the deputies, according to the Sheriff's Department.
Raymond Diaz, 24, of South Gate was identified as the bottle thrower and was arrested on suspicion of assault with a deadly weapon, authorities said. He was booked at the East L.A. Station and was being held in lieu of $50,000 bail, plus an outstanding $30,000 warrant for driving under the influence.
City Council meetings in Cudahy, which has a large Latino immigrant population, have been tense in recent weeks as activists — many of them clad in Trump gear — have shown up and used public comment periods to decry illegal immigration.
In May, Trump supporters showed up to a council meeting with signs that said such things as "ICE Hotline Call Now!" They were greeted by counter-protestors with their own signs — "Deport all white supremacists back to Europe!" — and someone holding a Mexican flag.
After the council meeting, the scene outside devolved into a screaming match and was broken up by a sheriff's helicopter hovering close overhead.
Many of the pro-Trump protesters travel to cities across the Southland. Uziel is frequently joined at protests in largely immigrant cities by Arthur C. Schaper, the president of the Beach Cities Republicans who was profiled by The Times.
Schaper was arrested at a Huntington Park City Council meeting earlier this month on suspicion of two misdemeanor counts of disturbing a public meeting and disobeying a police officer, according to the Huntington Park Police Department.
Schaper said he filed a claim Tuesday against the city of Huntington Park, alleging he was wrongfully arrested and that officials were incorrect in saying he was out of order during the meeting.
Twitter: @haileybranson
ALSO
How real are the 'cost savings' in generous DWP union contract? We run the numbers
L.A. City Council poised to approve raises of up to 22% for DWP workers
Sacramento County sheriff's robot locates suspect who shot deputy in the face during fight
UPDATES:
June 28, 10:50 a.m.: This article was updated with information about Arthur Schaper's claim against the City of Huntington Park.
This article was originally published at 9:10 p.m., June 27.
The stories shaping California
Get up to speed with our Essential California newsletter, sent six days a week.
You may occasionally receive promotional content from the Los Angeles Times.