Durst's health problems not an issue, attorney says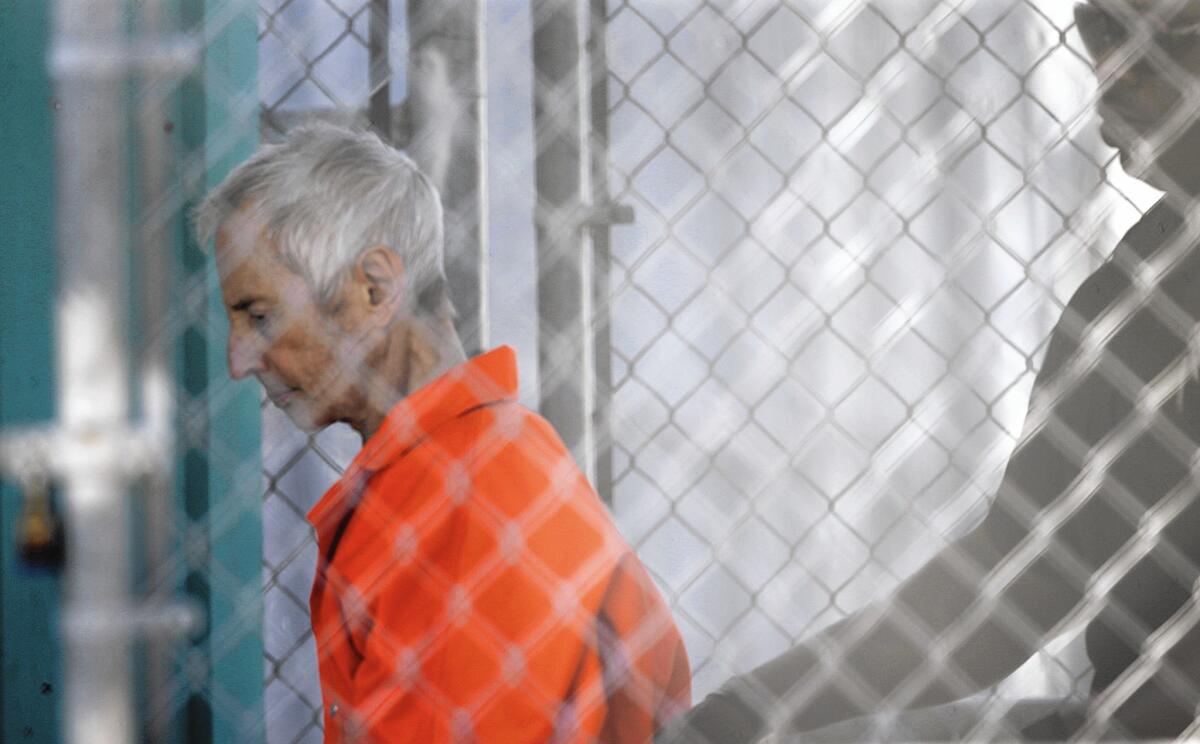 Reporting from NEW ORLEANS —
The scrawny figure shuffled into court last week, shackled and limping.
Wearing a yellow jailhouse jumpsuit, he twisted his neck, which had been surgically fused.
His shaved head — a prison haircut — revealed a bulge where doctors last year installed a shunt to drain fluid from his brain.
Robert Durst's health problems have been on prominent display during his court appearances since the New York real estate scion's arrest last month. New details about his conditions have emerged during ongoing legal wrangling between Orleans Parish prosecutors and his defense.
Authorities listed blood pressure, sleep aids and other medications found in the 71-year-old's local hotel room following his March 14 arrest. Prosecutors said he suffers from an "acute mental health condition" that requires he be housed in a prison's mental health unit. Durst's attorneys have described him in court papers as "frail" but dispute claims that he suffers from any serious mental condition.
It is unclear what role, if any, Durst's medical issues will have in his prosecution on weapons charges in Louisiana and a murder charge in Los Angeles. But the eccentric multimillionaire's health has played a significant part in at least one of his prior court cases.
Last summer, after Durst was caught urinating on candy at a CVS Pharmacy near his Houston condo, his attorneys successfully argued that he was suffering the after-effects of recent surgery, calling it a "medical mishap."
Durst's lead attorney, Houston-based Dick DeGuerin, said his client's "urgency in urination" resulted from having two surgeries in close succession: one for esophageal cancer and another to install the shunt in the right side of his head to relieve hydrocephalus, or "water on the brain."
Durst ultimately pleaded to a lesser misdemeanor, criminal mischief, and paid a $500 fine and restitution, according to court records.
Before the two surgeries last year, Durst also had his cervical spine fused, DeGuerin said, and suffers chronic pain treated with the painkiller hydrocodone, and now a different painkiller in jail.
His neck cracks audibly when he turns it, DeGuerin said, and Durst could be seen twisting his neck in court last week.
Durst's most recent legal troubles began when he was arrested at a Canal Street hotel by Louisiana State Police after being stopped by two FBI agents and found in possession of a .38-caliber revolver and marijuana. He was wanted by Los Angeles police in connection with the slaying of Susan Berman, a friend who had been found shot in the head in her Benedict Canyon home 15 years earlier after investigators began looking into Durst's involvement in the 1982 disappearance of his wife, Kathleen.
The man believed to be worth more than $100 million has waived extradition to California, but Louisiana authorities are prosecuting him as a convicted felon in possession of a firearm and for possessing a firearm with a controlled substance. If convicted as a first-time offender, Durst could be sentenced to up to 10 and 20 years for each charge.
Along with the gun and drugs, investigators said a search of his hotel room recovered the sleep aid melatonin, a muscle relaxant, and pills for high blood pressure, blood flow and acid reflux.
Durst's health became a legal issue after his arrest, when Orleans Parish sheriff's officials who manage the jail tried to move him to their mental health unit at a state prison 70 miles west: the Elayn Hunt Correctional Center in St. Gabriel, La.
Durst had been medically screened during intake. The jail's warden, Col. Michael Laughlin, recommended in an affidavit submitted by prosecutors that Durst be moved to the mental health unit, where the sheriff has contracted with state prison officials to house inmates with acute mental illness.
Laughlin said Durst should remain there until he is "determined to no longer be a risk to himself." Details of jail nurses' assessments of Durst were submitted to the court under seal.
"Mr. Durst has a medical condition — that is well-established," Assistant Orleans Parish Dist. Atty. Mark Burton argued during a brief hearing last month, insisting Durst had an "acute mental health condition."
DeGuerin protested that his client suffered from Asperger's syndrome, a mild form of autism, but was not mentally ill and should not be moved.
"His competency is not in question," DeGuerin said.
Durst was previously found competent to stand trial for the 2001 murder of a neighbor who he admitted to killing in self-defense, dismembering and dumping off the coast of Galveston, Texas. DeGuerin successfully defended Durst, who was acquitted by a jury in 2003.
This time, Orleans Criminal District Court Magistrate Judge Harry Cantrell Jr. ruled that Durst could be transferred to the center's mental health unit, where he was placed on suicide watch — his attorney called it a "precaution" for the "high-profile" inmate by the sheriff's office, which is operating under a federal consent agreement.
Durst is expected to stay at the facility for the rest of his time in Louisiana, DeGuerin said. Durst has praised conditions there, where he was removed from suicide watch late last month, which allows Durst to move around the facility more freely, DeGuerin said. He is now allowed recreation time and a traditional inmate uniform instead of one made of paper, the lawyer said.
"He's very complimentary of the doctors and nurses and medical personnel" at the prison, DeGuerin said.
As of Monday, with his 72nd birthday approaching April 12, Durst was "doing fine, as well as can be expected for a man of his age and his health who's had brain surgery. He's up to the fight," DeGuerin said.
DeGuerin said Durst still suffers from a variety of conditions: a slight limp due to neuropathy in his leg as well as hearing and short-term memory loss.
The attorney said Durst's leg numbness partly contributes to why he appears to shuffle in and out of court.
"Part of the shuffling," the attorney said, "is because he's in leg irons."
Sign up for Essential California for news, features and recommendations from the L.A. Times and beyond in your inbox six days a week.
You may occasionally receive promotional content from the Los Angeles Times.