Q&A: The huge L.A. school construction project is done, so what does it add up to?
To understand the magnitude of the building program in the Los Angeles Unified School District, look directly to the south. Long Beach has the state's third-largest system with 84 schools assembled over more than a century. Yet in just 20 years, in a challenging urban setting, L.A. Unified built 131 new campuses and expanded 65 existing ones, the largest such effort in the nation.
The district now has 1,180 schools for kindergarten through 12th grade.
Here's more about what was accomplished, what was learned and why it cost so much.
---
What are the basic facts and figures?
New schools: 131
Campus expansions: 65
Cost of new construction: $10 billion
Span of program: 1997 to 2017
New seats: 170,000
Last school on year-round calendar: Bell High School, in 2016-17
Final new school: Maywood Center for Enriched Studies, $160 million
LAUSD's costly 20-year construction project ends with opening of $160-million Maywood campus »
Which of the new schools is most memorable?
The last one to be built, Maywood Center for Enriched Studies, incorporates most of what L.A. Unified and its contractors have learned about building efficiently and providing access to the outside community.
But two others are especially striking. The Cortines School of Visual and Performing Arts looms above the Hollywood Freeway like an alien spaceship. The Robert F. Kennedy Community Schools pay homage to the Ambassador Hotel, which was demolished to make way for the campus and is where Kennedy was assassinated in 1968. From the front, the main building resembles a futuristic mirage of the hotel. The hotel's Cocoanut Grove nightclub is reimagined as a Moorish-themed auditorium and its Paul Williams-designed coffee house is re-created as a teachers lounge.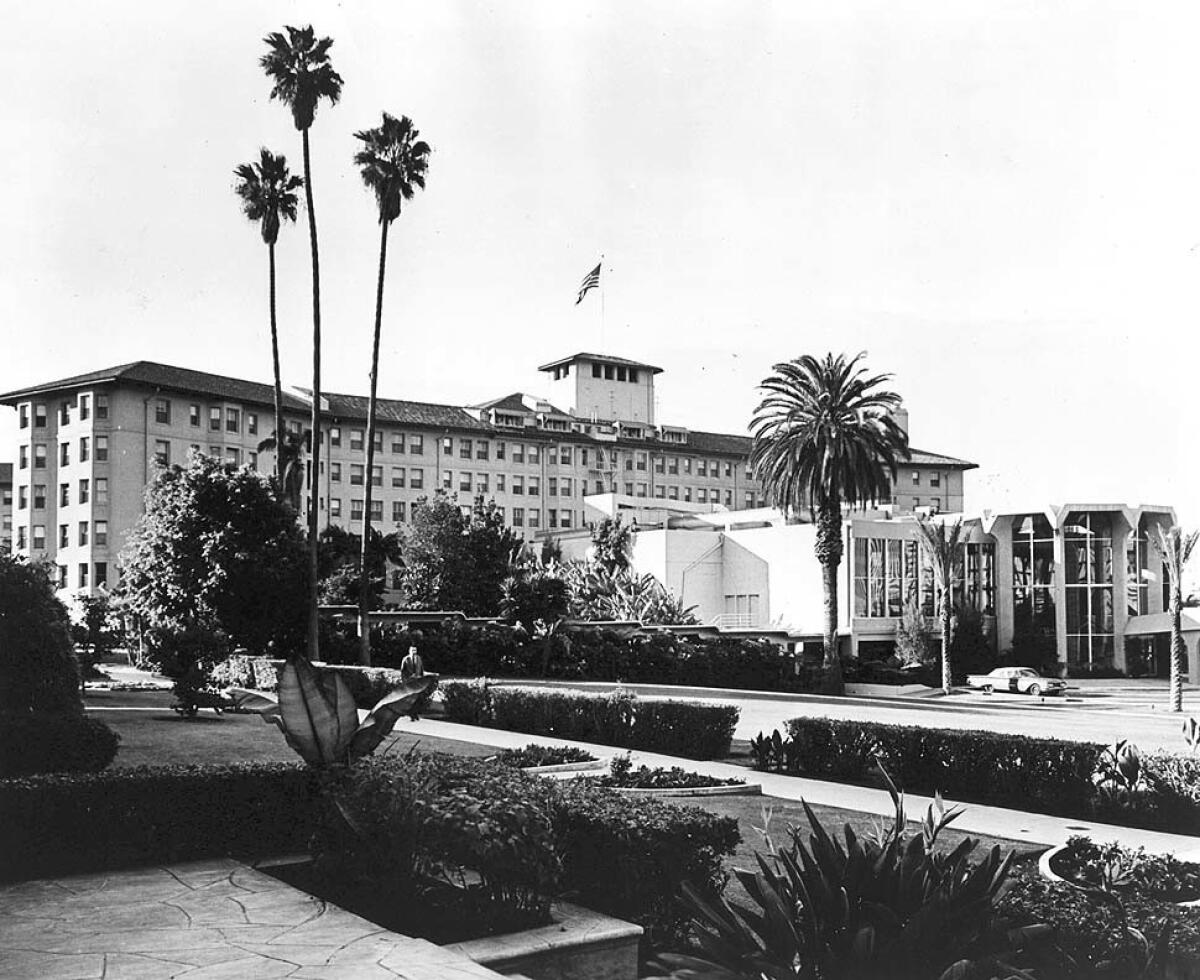 Which schools were the most expensive?
The most expensive project came in at $579 million, for the RFK Community Schools.
One cost factor was the lengthy legal battle with a development team originally led by Donald Trump, who wanted the site for "the world's tallest building." The district eventually won, but a school planned in the late 1980s did not open until 2012.
The construction began during a spike in building costs. A 2007 budget had estimated costs of $300 per square foot. An internal study then warned of an increase to $500. But bids came in at $700 and more. That peak cost drove up the budget from $309 million in 2007 to $570.5 million a year later. Construction prices then fell but too late to help.
The 25-acre Ambassador site holds six small schools. The most expensive project per square foot — $1,414 — was Jose A. Castellanos Elementary in Pico-Union.
The much larger $232-million Cortines school, which was built on the site of the old district headquarters, cost about $1,000 per square foot. But that price does not include more than $70 million spent to relocate the headquarters.
In general, L.A. schools also are expensive because the district pays union wages and, in a dense urban environment, land values are high, building codes are exacting and available sites often are contaminated or pose other challenges. (Archival photos from the Homestead Museum show the oil drilling that created later challenges at school sites.)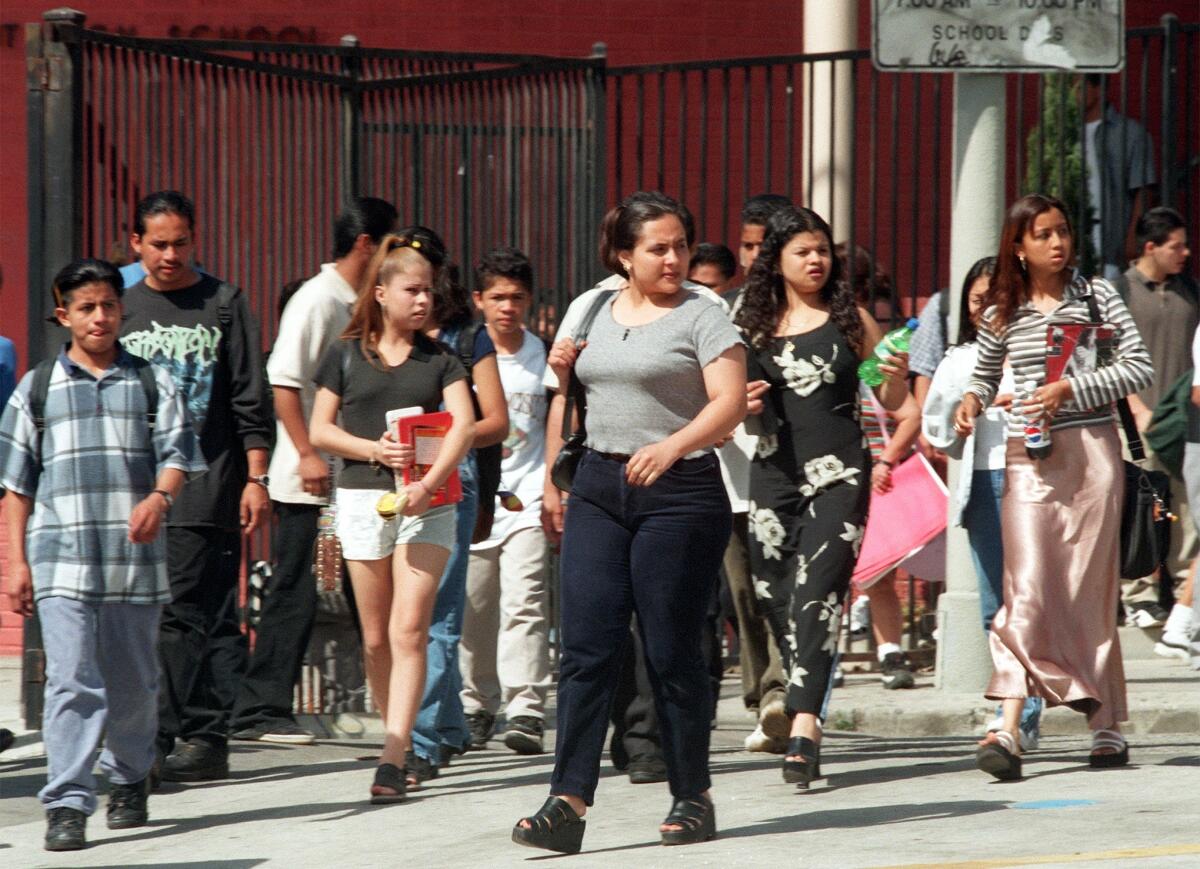 How bad was the overcrowding before the school construction?
In 2000, 77,000 students were yoked to a year-round schedule that shortened their academic year by about a month. Some 15,000 students rode the bus against their will, and district research showed that those who did fared worse on academic-achievement measures.
At the time, a new high school had not been built in 30 years.
Shuffling students on and off campuses year-round resulted in some crazy schedules. At Monte Vista Elementary, near downtown, students on "Track C" were in school for a month, then out for a month, back for two months, then off for a month.
Some teachers had to pack and unpack their classroom as many as five times a year, costing valuable instruction time. Properly cleaning and maintenance at year-round campuses was impossible.
At Washington Preparatory High School in South L.A., as at numerous high schools, not all courses were offered on every track. As a result, many students could not enroll in honors or Advanced Placement classes. Some students had to take extraordinary measures to get all the courses required to graduate, so they took courses out of sequence, during vacations or at evening adult school.
The Cortines School of Visual and Performing Arts looms above the Hollywood Freeway like an alien spaceship.
Did L.A. Unified overbuild?
Not according to district head of facilities Mark Hovatter.
At the start of the building program, he said, students were going to class in 10,000 "portable" units that carved up open space, playgrounds and athletic fields. Today, 8,000 still are in use. Most are reasonably well-equipped classrooms. All have air conditioning. But these structures have a recommended life of 20 years and some were installed 30 to 40 years ago, Hovatter said. They also tend to have higher energy costs than permanent buildings.
The district is growing in a few spots in Los Angeles, so some campuses probably will need more classrooms.
On the other hand, across the school system, many campuses have struggled with enrollment drops. Washington Prep, for example, last year served 958 students, compared with 3,644 students in 2001-2002. Independently operated charter schools have moved into vacant classrooms, but some campuses may have to close.
What did L.A. Unified learn along the way?
1. Don't build schools near freeways because it exposes students to harmful air pollution. The district built several early schools near freeways to save money.
2. Don't build on toxic sites. Early on, district officials authorized the purchase of toxic sites to save money and avoid taking homes. Several debacles changed their thinking.
3. Central kitchens, which serve the schools in a region, save money. It bears noting, though, that most new schools now have kitchens designed mainly to warm foods rather than cook them. And it's been difficult to warm students to these pre-prepared, reheated meals.
4. Limit the influence of politics. The construction division was set up to prioritize schools where they were most needed. An independent bond oversight committee reviewed and approved projects before they went to the Board of Education.
5. Color is an inexpensive design option. Many of the new school exteriors are architecturally unremarkable, and vivid colors mask the plainness.
What's left to be spent or built?
The district also spent about $10 billion in voter-approved bonds to repair and modernize existing schools. About $5 billion remains for that purpose, but it is far short of what's needed.
Will plans change now that there is a charter-backed school board majority?
The California Charter Schools Assn. recently sued L.A. Unified, seeking more bond money for local charter schools. So far, the district has prevailed, but the new board may choose to give charters additional funds.
Twitter: @howardblume
Sign up for Essential California for news, features and recommendations from the L.A. Times and beyond in your inbox six days a week.
You may occasionally receive promotional content from the Los Angeles Times.