These LAUSD students are not heading back to school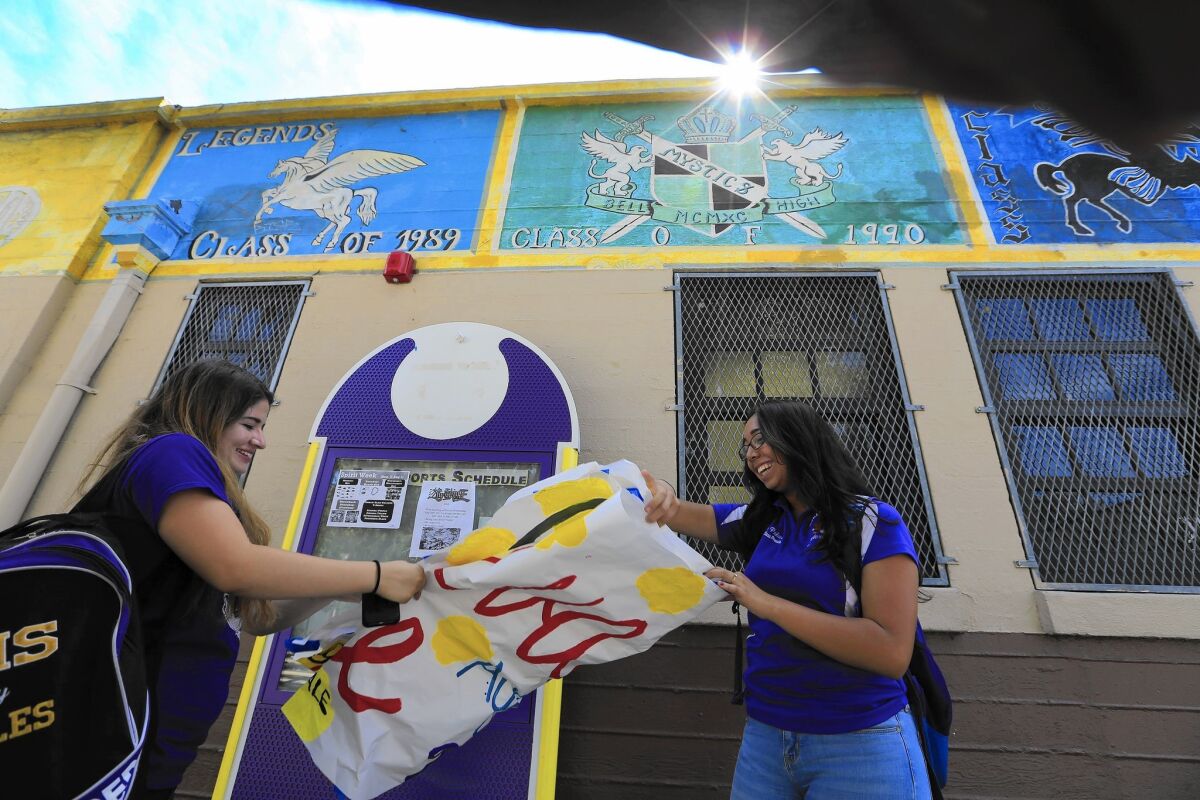 As thousands of Los Angeles students head back to school Tuesday, Sabrina Campos is already six weeks deep into her algebra, chemistry, English and history classes.
That's because she attends Bell High School — the last year-round campus in the Los Angeles Unified School District. Under the school's four-track schedule, Sabrina, a junior, began school July 1 while many of her friends were splashing in water parks, playing at Disneyland and visiting Mexico. Instead of one long summer vacation, Sabrina and her Bell classmates get two six-week breaks.
Bell is a throwback to what was once the much-maligned norm in L.A. Unified before the building boom. But as year-round schools fade, some students, teachers and administrators who have had to adjust to the unusual schedule are resisting joining the rest of the district.
"Year-round is better," Sabrina said. "We get more learning time — a lot more one-on-one tutoring. When everyone comes back, we're ahead of them."
Interested in the stories shaping California? Sign up for the free Essential California newsletter >>
In fact, Bell Principal Rafael Balderas likes his campus' current calendar so much that he plans to propose keeping it — even after a new school down the road is completed in two years and solves his overcrowding problem.
The two shorter breaks prevent students from forgetting as much as they do during the traditional 10-week summer vacation and allow him to bring more of them in for extra academic support, he said.
"It's an extra scoop of learning," Balderas said. "How else can you catch them up?"
The campus, located in the southeast city of Bell, is the last vestige of an era of explosive growth that pushed L.A. Unified's enrollment to 700,000 from 500,000 between 1980 and 2000. The growth caused acute overcrowding, with some schools tripling in size to 2,000 students.
District officials eased the crisis with massive cross-town busing, hundreds of portable classrooms and the advent of year-round school schedules. But each of the temporary solutions caused other problems.
The busing of thousands of children from overcrowded schools to those with space deprived them of opportunities to participate in after-school sports and other extracurricular programs. The cost of portable classrooms — which reached at least $13 million a year at one point — diverted dollars from instructional programs, according to David Tokofsky, a former L.A. Unified Board of Education member.
Communities organized protests, including a brigade of Southgate mothers in trademark red outfits. A bond measure to build new schools passed in 1997, but a turning point came in 2001, when California voters dropped the threshold of approval needed to 55% from 67%.
By 2002, 227 campuses were still on the year-round system — permitting campuses to squeeze in more students by dividing them into groups that attend school on staggered schedules, with one group on vacation at all times. More than 80% of the campuses used a multitrack system known as Concept 6, which resulted in 17 fewer school days — and quickly bred controversy.
A pair of 2002 studies by UCLA and Gallaudet University found that students on that shorter calendar performed substantially worse than those on traditional schedules. Further, those students were disproportionately Latino, low-income and learning English.
A successful lawsuit by civil rights attorney Connie Rice and others freed $750 million in state school construction dollars for Los Angeles. Subsequent bond measures have allowed L.A. Unified to complete 130 new campuses and many other additions under its $17-billion construction program.
Today, the overcrowding problem has been widely eased but not completely solved. Bell is still on a year-round schedule, about 20% of students remain in portable classrooms and two campuses may still require busing after officials determine final enrollment when the school year begins, said Mark Hovatter, the district's chief facilities executive.
"We believe there's a lot more building that needs to be done," he said.
One ongoing project is a new high school in Maywood a mile north of Bell set to open in two years. Balderas said he expects about 600 of his 3,100 Bell students to move to the new campus, which would allow his school to return to a traditional August-to-June calendar for the first time since 1981.
Balderas said, however, he's a firm believer in two shorter breaks rather than one long summer vacation. The double breaks, he said, allow his students to take more community college classes, receive more tutoring and better prepare for high school exit exams and Advanced Placement tests.
During a recent vacation, rising seniors Emily Romero and Dulce Penuelas both said they came in during their breaks for school activities, volunteer service and extra academic help. Dulce said she came to school every day for four of her six weeks off to take an extra calculus class after receiving a C in the subject the previous semester; she raised her grade to a B.
The extra support for Bell students costs $250,000 — about half from the district and half from a grant, Balderas said. But he said he believes it has helped the school continuously improve to an 85% graduation rate, 45.5% Advanced Placement exam pass rate and 24% reclassification rate of students to fluent English speakers.
John Rogers, a UCLA education professor, said that the school calendar Bell uses has not been systematically studied to see whether it produces more academic gains, but that expanded learning time is a crucial factor in student achievement.
Last year, Public Counsel and the ACLU Foundation of Southern California filed a class-action lawsuit challenging California's alleged failure to provide sufficient learning time to all students.
"To the extent that the calendar at Bell expands learning time, it's terrific," Rogers said. "Many high-poverty schools are losing days because there have been more and more cuts to extended learning time opportunities."
Balderas also said he is able to plan more teacher training during the double breaks. And Bell teachers say they see other benefits.
"Traditionally kids go into zombie mode during those longer breaks and it takes them longer to get back into the swing of things," said Lee Kimura, a government and leadership teacher.
Dulce said some families struggle with multiple school calendars — especially when it prevents Bell students from being able to babysit younger siblings on summer break.
Hovatter said that keeping schools open year-round is more expensive — with maintenance bills possibly 20% higher. But it was unclear what the price tag would be for Balderas' proposal to keep the double breaks.
Sabrina said she's all for her principal's plan — not the least of which is because it would continue to give Bell students a huge benefit during their two breaks in the spring and fall.
"There are no lines at Disneyland and the beaches aren't crowded," she said.
Twitter: @teresawatanabe
MORE ON EDUCATION:
College students move off campus as room and board costs rise
L.A. Unified looks for smoother tech operations this school year
Arne Duncan: Where California schools need to put their money
The stories shaping California
Get up to speed with our Essential California newsletter, sent six days a week.
You may occasionally receive promotional content from the Los Angeles Times.