Glendale considers lifting ban on artificial turf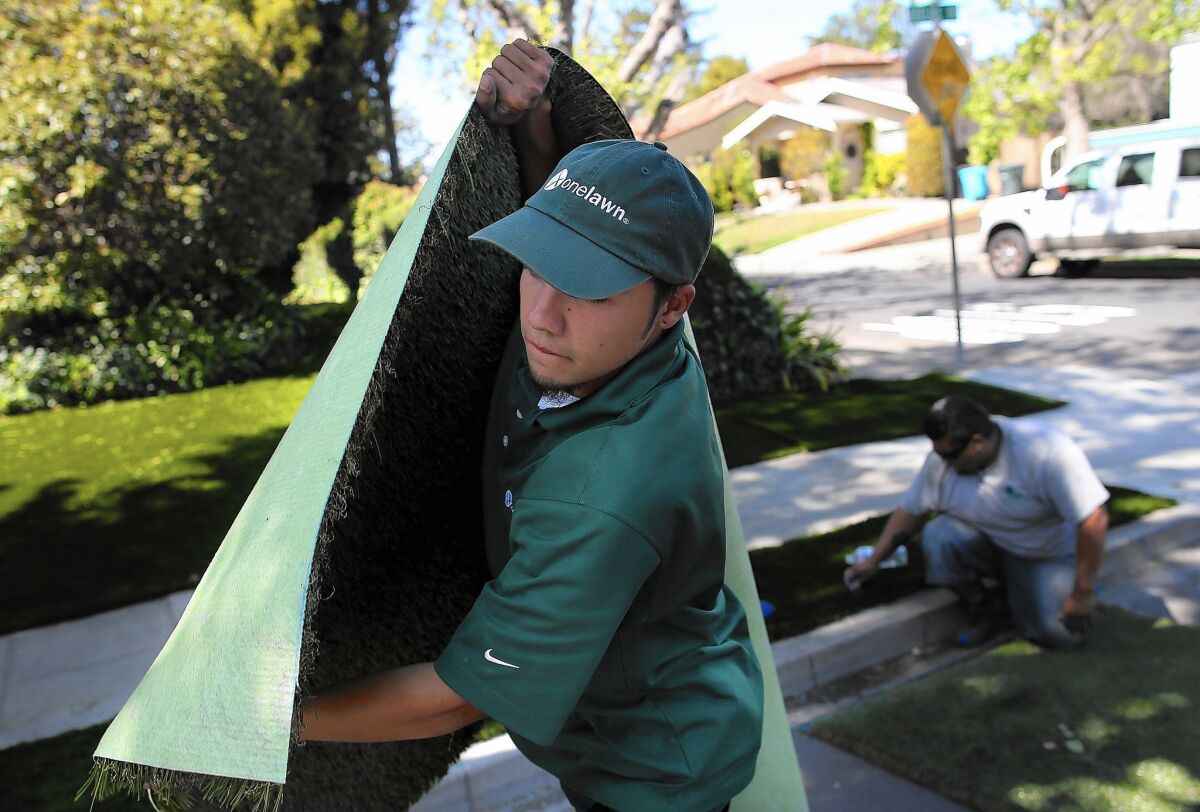 Several years ago, Glendale restricted fake grass to residential backyards, where they were out of sight from the street. Some residents applauded the action, saying artificial turf damaged the character and visual appeal of their neighborhoods.
But with the drought entering its fourth year, the city is considered lifting the ban as a way to conserve water.
Across California, once-maligned fake turf is getting a new look as residents and governments strive to use less water. Glendale is one of several cities in Southern California that restrict where artificial turf can be placed.
Some homeowner associations also have bans on the product, citing aesthetics. In response, Assemblywoman Lorena Gonzalez (D-San Diego) has proposed legislation that would allow residents governed by associations to use synthetic turf in their front lawns.
Glendale officials said the idea of lifting the ban is about the drought as well as improvements in the look of the fake grass.
"I think with the current technology of artificial turf, it is visually indistinguishable to real turf," said Mayor Ara Najarian. "Folks should be able to do what they want to do with their frontyards."
Supporters of artificial turf point out that it doesn't need watering and eliminates one of the biggest uses of water in a community.
Defenders of traditional front lawns contend the real stuff helps maintain a natural appearance in an urban environment.
"Real grass provides oxygen and promotes life in the soil and above it, creating a natural habitat for urban wildlife, birds, insects, etc.," Alek Bartrosouf, one of the founders of Coalition for a Green Glendale, wrote in an email. "[Artificial turf] will only remove what little natural resources of Glendale we have left."
But Najarian said the need to address the drought outweighs worries about artificial turf, such as contaminating soil.
There are plenty of other options for reducing front lawn water use, including drought-tolerant plants, said Peter Fuad, president of the Northwest Glendale Homeowners Assn.
The city offers a rebate program for residents looking to ditch their grass for less-water-guzzling vegetation.
Resident Bill Metzdorf went from using 850 gallons a day to about 250 gallons after he replaced his 3,000-square-foot frontyard with a drought-tolerant landscape. But the bill for the modification came to tens of thousands of dollars.
Fuad said he will address council members when they discuss the artificial turf issue. He waters his grass once a week, less frequently than the recently adopted city mandate to water just twice a week.
It's a reality he's accepted, as have others in his neighborhood, Fuad said.
"You can still have a lawn; you just have to cut back on water usage," he said.
Fuad is concerned that if artificial turf is approved for frontyards, homeowners might opt for "Home Depot specials" or cheaper-quality material.
Najarian likened the standards of getting artificial turf to those of installing new windows.
"We can easily resolve [this] through a permit process and require certain standards of the type of turf that goes in," he said.
City Manager Scott Ochoa said council members can choose several options, including doing nothing, spending a year or so researching and conducting outreach in the community for feedback about artificial turf, or coming back with a proposed code amendment lifting the ban as early as this summer.
Glendale wouldn't be the first area community to embrace artificial turf; it's allowed in Burbank and Los Angeles, where there's even an incentive program to make the switch.
Resident Doug Johnson replaced the grass in his backyard with artificial turf about six months ago and said his water usage is down.
A safety concern over fake grass is how hot it could get under a scalding sun, but that hasn't been an issue at his home, especially when someone has just gotten out of the swimming pool, he said. Another option would be to stay inside when it gets too hot, Johnson said.
He wants to swap out at least some of his frontyard and replace it with turf.
The fake grass still gives his kids a place to play, Johnson says.
"Kids can't play in cactus," he said. "If you want kids to get outside and play, you have to have grass or artificial turf."
---
Life is stressful. Our weekly mental wellness newsletter can help.
You may occasionally receive promotional content from the Los Angeles Times.