Shoppers, scientists flock to Little Saigon seller of duck eggs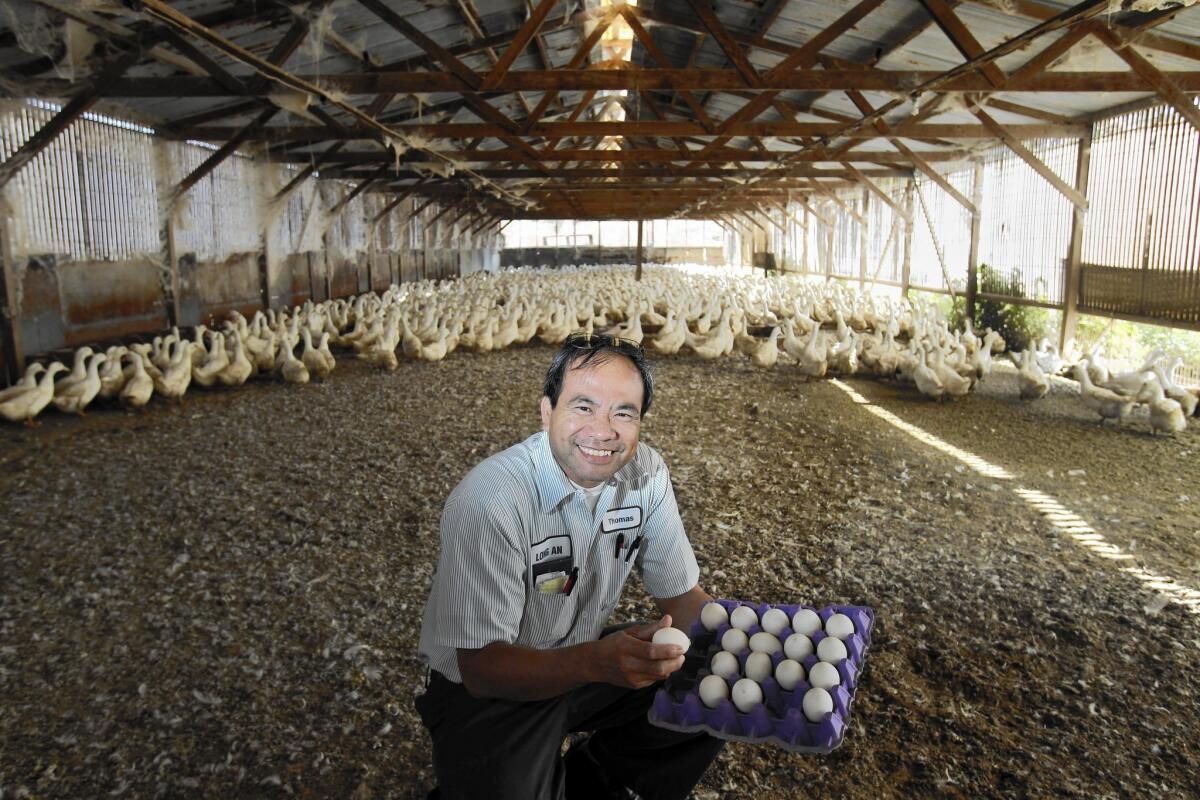 The two spots in front of Hot Vit Lon Long An are taken, so Sonny Ha squeezes his SUV into a tight opening at the curb in the middle of the bustling Little Saigon shopping district.
The handyman from Cerritos steps into the dimly lighted shop and places his order — two dozen duck embryos that will be eaten straight from the shell, often with a pinch of salt and pepper, a sprig of cilantro and a squirt of lemon.
Tap the top of the egg with a spoon, carve out a small opening and toss it back like a shot. "You throw in seasoning and take a sip," Ha says. "Delicious."
In an immigrant community where so much has been transplanted, Thomas Chin Dam — duck farmer, sugar cane grower and all-around entrepreneur — has built a modest empire on a simple street food he felt certain would awaken memories of a country left behind.
The duck embryos — hot vit lon in Vietnam, balut in the Philippines — arrive three times a week from Dam's duck farm in Ramona and are carefully matured in one of 30 incubators at his Westminster shop before being plunged in boiling water. He sells half a million of the delicacies each month — a quick snack for some, bar food for others and a go-to housewarming gift for many.
"Not everyone will accept it," Dam acknowledges. The thought of slurping a partially formed embryo can be off-putting and the lumpy texture challenging.
"But plenty of people buy it, eat it and they appreciate it, because what we grow up with stays with us for always."
::
The ducks and drakes squawk and waddle as Dam strides across his remote farm.
"Just look at them," he says with a wave of his arm. "They represent a flavor we remember from our childhood – the flavor we market to bring some of those memories back."
The Ramona Duck Farm, in San Diego County, has a steady population of 6,000 birds, mostly ducks, though quail scamper around as well.
Dam, who came to America from Vietnam as a 12-year-old refugee in 1975, started with a chicken farm nearly two decades ago, trying to earn a living making vaccines to send to Africa and South America to fight chicken pox.
But demand was low and Dam struggled. The 9/11 terrorist attacks changed his fate, however, when the government — fearful of biological attacks — stepped up its own vaccine orders.
With the vaccine business booming, and armed with a $1-million government contract, Dam, 51, bought the duck farm and hired the former landowner's brother, Roland Hortinela, as his manager. The Filipino brothers, both duck ranchers, supplied restaurants but their ducks produced so many eggs, they didn't know what to do with them. Dam decided to sell eggs as a food.
"We like ducks," says Hortinela, who immigrated from the Philippines and now lives on the property.
For many, it's an acquired taste, but to Hortinela, "it's not exotic. To us, it's familiar. We ate it when we were boys and later, as young men."
Bite by bite, Dam's duck egg business began to take off.
::
Each day, Dam drives from his home in Orange to his egg shop in the midst of Little Saigon, the oldest and largest Vietnamese American district in the country.
Inside, faded photos of duck eggs in different stages of development dot the wall. A woman, her head covered with a traditional conical hat, squats while scraping stalks of sugar cane. The stems arrive in large shipments from Dam's sugar cane fields near the Mexico border.
Steady customers and immigrant tourists alike stream in and out. Dam serves them fresh-squeezed sugar cane juice as they eye the price board: $24 dollars for a tray of 20 duck embryos; $19 for a tray of 20 salted duck eggs.
Thirty incubators, each with room for 1,000 rotating eggs, line the back of the store. Workers handle quality-control tests before the eggs are sold, separating imperfect ones and selling them off to pig farms for feed. The eggs fit for human consumption are stored in refrigerated lockers.
Dam's business has surged in different directions, such as vaccines for the military and supplies for medical research. Dr. Richard Schneider, director of the Laboratory for Developmental and Evolutionary Skeletal Biology at UC San Francisco, orders eight dozen duck eggs and five dozen quail eggs from the farmer each week for his graduate and post-doctoral students, spending at least $15,000 a month. Dam says he sells eggs to more than 1,000 colleges nationwide for medical testing.
But it's the hot vit lon that has won Dam legions of loyal fans.
On a recent Friday, three women pulled up in a station wagon, having driven from Los Angeles to get treats for a weekend housewarming party.
"In the immigrant stores, there are all sorts of things you see that make you long for the old days," says Lily Gutierrez, who grew up in the suburbs of Manila. "It brings back the good times."
Hoang Nguyen, a car salesman from Englewood, Colo., touring Dam's farm, is struck by the novelty of the duck trade, which Dam says earns him as much as $3 million a year.
"Duck eggs — who would have thought?" Nguyen mused. "I admire what he built because he followed his own taste."
Dam deflects the attention. "I like the fact that an egg can be a foundation for bigger things. But remember, I'm still a refugee — thankful to the American people who let us into America," he says. "If they didn't welcome us, we would have no learning. Instead, we are farming our ideas — and feeding people with it."
Twitter: @newsterrier
Sign up for Essential California for news, features and recommendations from the L.A. Times and beyond in your inbox six days a week.
You may occasionally receive promotional content from the Los Angeles Times.