Young American Jews walked off their Birthright tour of Israel. The protest sparked a debate at home
For many Jewish Americans, the question is not whether they will travel to Israel, but when.
Each year, tens of thousands of young people from around the world make the trip — their expenses paid by Taglit-Birthright Israel, a nonprofit that aims to foster their Jewish identity and a connection to Israel by introducing them to the country's everyday life, culture and history. Participants tour sites such as Israel's Holocaust memorial and the Western Wall, and spend part of the trip in the company of Israeli soldiers their age.
That ritual met with some controversy this year after a few participants walked off the program to protest what they considered Birthright's failure to adequately address the Israeli-Palestinian conflict. About a dozen American Jews abandoned their summer tours and joined up with other organized trips focused on the conflict and meeting Palestinian families.
Though small, the protest reverberated throughout Los Angeles' Jewish community, with some expressing outrage at using Birthright to make a political statement and others showing support for the activism.
Some of the protesters — members of a group called IfNotNow — claimed the trip "erased the Palestinian experience."
Elon Glickman grew up in Los Angeles, where he attended Jewish day school, summer camps and youth groups. Still, he said, he was not shown a full picture of the Israeli-Palestinian conflict until he landed at Oberlin College, where he met activists "working against the occupation."
"They would ask me my stance on settlements or the Green Line [the pre-1967 boundary that divides Israel and the West Bank territories], and I would say, 'What is happening?'" Glickman said. "That was one of the moments that I knew my community was hiding things from me about Israel-Palestine."
Glickman had hoped his tour in July would help him deepen his ties to Judaism and educate him on the conflict. But the 25-year-old walked away from the program on the sixth day.
"I was raised to believe Judaism is a religion of questioning and speaking truth to power," said Glickman, who joined IfNotNow two years ago. "I feel proud to be Jewish because of my role in this."
Los Angeles Rabbi Sharon Brous said the protest reflects a shift in American Jewish society, in which more people are speaking out against policies they see as unjust.
"In the American Jewish community, it is extremely difficult to engage and be active in a loving and critical way," Brous said. "So I understand why young people now are looking for ways to make their voices heard."
In an email, Birthright said the protesters "chose to leave their trips early as a means to generate publicity for their cause," adding that the group welcomes diverse views and questions as long as they are constructive and shared respectfully.
"Birthright Israel is an apolitical educational program that does not condone use of its platform to disseminate one-sided political or social agendas," a spokesperson said.
Rabbi David Wolpe is among those in the local religious community who found the protest inappropriate.
"I understand people want different kinds of experiences when they go to Israel," said Wolpe, rabbi at Sinai Temple in Westwood. "But I think when you sign up with a trip, you have an implicit and maybe explicit commitment to the experience of that trip. … I didn't see it as a right or left issue, I saw it as a good-faith issue."
Taglit-Birthright Israel was launched in 1999 by a group of Jewish philanthropists in collaboration with the Israeli government in response to concerns that the diaspora was not as engaged in Jewish life as previous generations, said Leonard Saxe, director of the Cohen Center for Modern Jewish Studies at Brandeis University.
Since then, the program has sent about 650,000 young adults from more than 50 countries on the 10-day tour.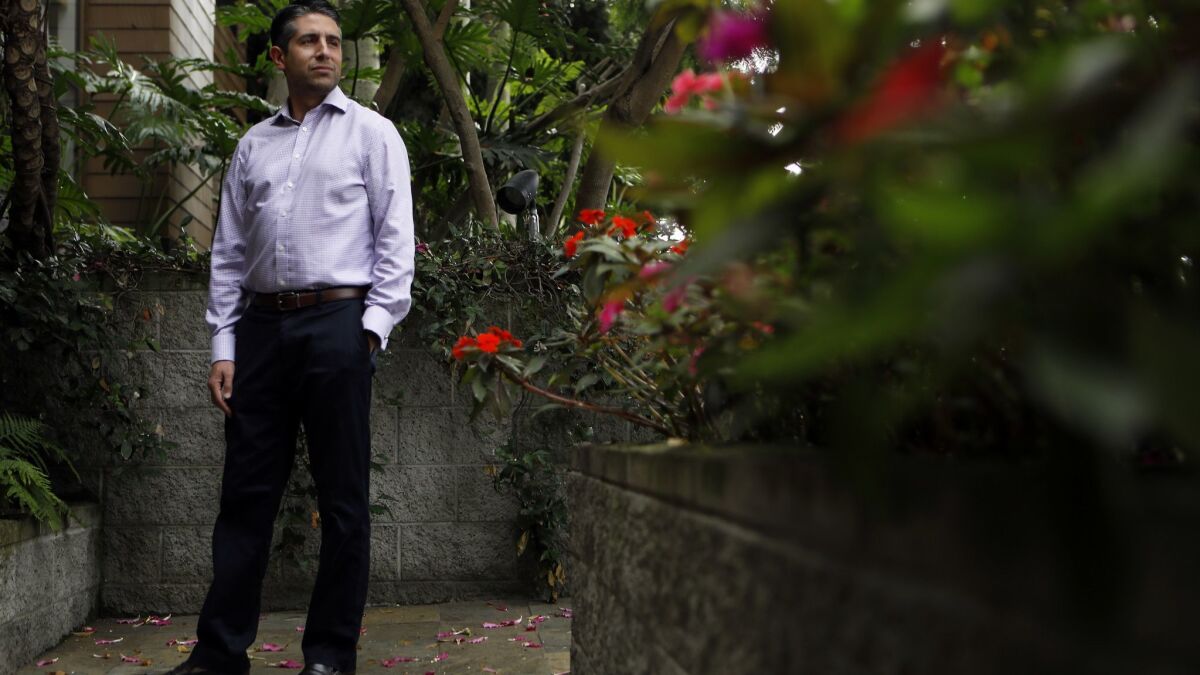 Some of those who quit the program said that they don't reject the concept of a trip such as Birthright, but believe it needs to be more inclusive and provide a range of perspectives.
Among the complaints was that the program had stopped dedicating part of the tour to meeting Israeli Arabs.
Birthright said it had only temporarily postponed programs that explore the "joint society between Jewish and Arab citizens of Israel" in the fall of 2017 to refine them and ensure they were as "productive and impactful as possible."
It began reintroducing the programs — part of a "social diversity module" that focuses on encounters between participants and Israeli Arabs, Druze, Ethiopian Jews, Haredi Jews and other members of Israeli society — in December 2017.
Birthright said its participants are required to engage in programming that addresses "the complex issues of the Middle East" and doesn't endorse any specific agendas, opinions or beliefs.
Co-founder Charles Bronfman noted that the program includes four hours devoted to discussing the Israeli-Palestinian conflict — in Israel, the West Bank and Gaza — as impartially as possible.
"I don't see the issue not being addressed," he told Israeli newspaper Haaretz.
In fact, the program is "not really meant to be an immersive educational experience about the ins and outs of the Israeli-Palestinian conflict," said Siamak Kordestani, an assistant director at the American Jewish Committee's Los Angeles office who attended Birthright in 2004.
Others who have taken the trip said that —with or without formal programming — meeting Israeli Arabs comes organically.
Houman Hemmati, one of the first people to attend Birthright in 1999, decided to extend his visit after the tour ended — an option many participants take advantage of. Birthright pays for a return flight even if an attendee chooses to leave at a later date.
Hemmati made his way to the Muslim Quarter in Jerusalem on his own, spending time with a family who lived in a home carved out of stones. The family members showed him around, he said, and discussed their daily lives.
"I wanted to explore things from a different perspective," Hemmati, 42, said. "The trip was focused on cultural and national, and to some degree, religious things. It was less so focused on politics and conflict. That wasn't what it was billed to be."
To him, the act of abandoning the tour was disrespectful.
"The mature thing to do is to vocalize, admit that they disagree in a professional manner, and then try to have it addressed. And if they can't have it addressed, to find a way which it can be done," said Hemmati, a biotech entrepreneur in Los Angeles.
One of those who quit the program last summer was Danielle Raskin, who started working with IfNotNow over the last year. The organization has launched a campaign called #NotJustAFreeTrip that argues Birthright "curates an experience that deliberately obscures the occupation and the truth about Israel from view."
Raskin applied in the spring, eager to see Israel at a time when it was at the forefront of the news — the United States had announced that a new embassy would open in Jerusalem and there had been a fresh round of violence in the Gaza Strip. The 23-year-old said she had hoped Birthright would discuss those issues.
Raskin and four others left on the last day, after what she described as more than a week of trying to "meaningfully engage with the occupation."
"We felt we needed to do something to publicly call them out," Raskin said.
The protesters contacted another Israeli tour group that takes participants into areas such as the West Bank city of Hebron. There, they met with Palestinians and saw the settlements firsthand.
Still, Raskin said, Birthright did leave her feeling more connected to her Jewish identity.
"It was a powerful, moving experience for everyone, and I think there is some value there," she said. "I just think people who go on Birthright should really be aware that it isn't going to provide them the kind of education that our generation deserves."
Twitter: @sarahparvini
The stories shaping California
Get up to speed with our Essential California newsletter, sent six days a week.
You may occasionally receive promotional content from the Los Angeles Times.