California Commute: L.A. pushing regulators to legalize ride-sharing services at LAX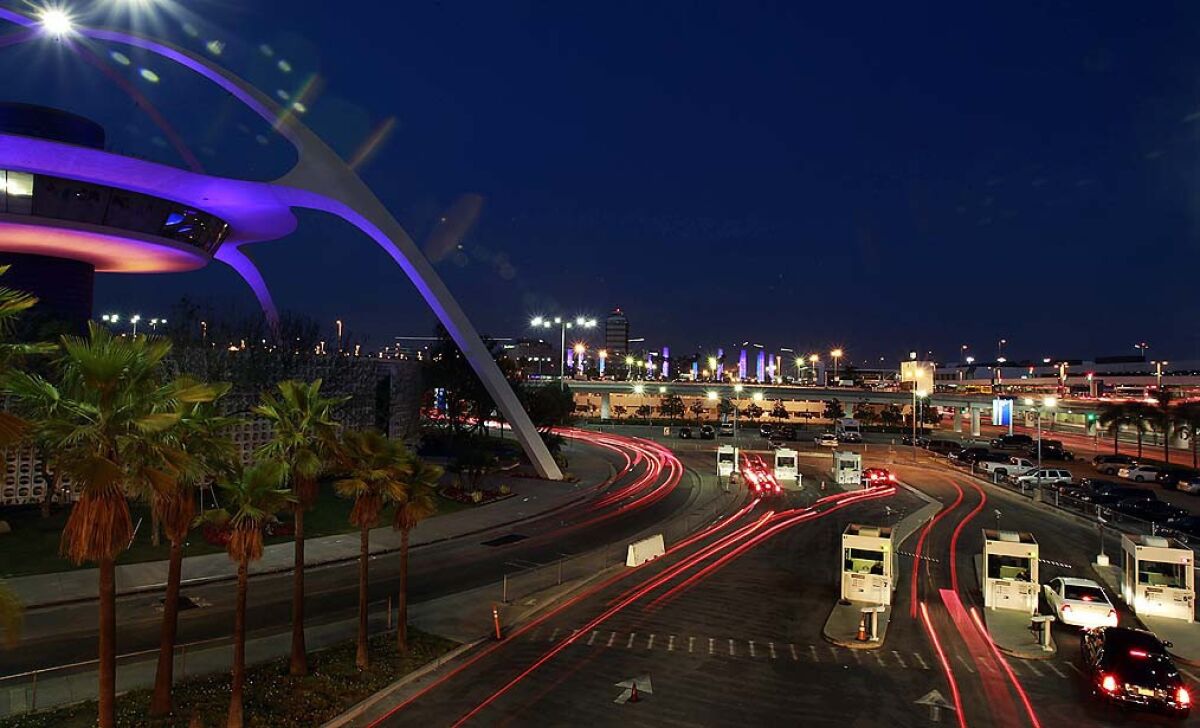 Michelle Lee walked out of Los Angeles International Airport, pulling her suitcase behind her, and boarded a boxy yellow-and-black parking shuttle.
As other travelers rummaged through bags for car keys and parking stubs, Lee pulled out her iPhone and opened the Uber app.
The ride-hailing company's standard airport message ("No UberX available") vanished as the shuttle left airport property, revealing a swarm of cars idling nearby on Century Boulevard. The bus stopped at a parking garage, and Lee summoned a car.
"It just strikes me as backward that you can't get an Uber at the airport," Lee, 28, of West Hollywood said as she stood on the curb. "This system works OK, but it's annoying to go through the extra steps."
That may soon change. More than a year after airport police began cracking down on ride-hailing services picking up passengers in the terminal area, Los Angeles city officials are pushing regulators to legalize Uber and Lyft. In his recent State of the City speech, Mayor Eric Garcetti promised that travelers would be able to hail a ride "by the summer."
The change could ease the traveler experience at LAX, but it would also add a new wrinkle to the war between ride hailing and the city's 2,361 taxis. Some politicians have voiced concerns about the plan, saying Uber and Lyft picking up passengers at the airport could decimate the cab industry's last remaining revenue stronghold.
"If the consumer can get a better price, I think that's something they should have the option to do," Garcetti said in an interview. "People ... should be able to get where they need to go as conveniently and as inexpensively as possible."
The typical taxi trip from LAX to downtown Los Angeles is more than $50, not including tip. A ride with Uber or Lyft is closer to $30, except during high-demand periods when prices are higher. Some argue dynamic fare pricing puts cab drivers at a disadvantage, because taxi fares are set by city officials and cannot fluctuate.
Any commercial company can drop passengers off at LAX, but only licensed livery drivers, shuttles and cabbies can pick passengers up. Travelers can hail a more expensive Uber or Lyft car, operated by a licensed livery driver, but the companies' low-cost lines such as UberX are not allowed.
In a draft agreement dated April 27, Los Angeles airport staff members suggested charging a $4 fee for each passenger who is dropped off or picked up using a ride-hailing service. Taxis pay a $4 fee, assessed by airport officials and passed on to the rider, each time they pick someone up. Drop-offs are free.
The document also proposes a "geofence" along the LAX perimeter that would tell the airport when ride hail drivers entered, dropped someone off, picked someone up and left again.
Drivers would be required to wait in a nearby parking lot for fares and then would be restricted to the departure level for pickups and drop-offs, meaning passengers who arrive at LAX would have to go up to the second floor to catch a ride. Drivers would also be restricted from parking and waiting within two miles of the perimeter.
Abate Teferi, 59, a driver with United Independent Taxi, said he supports Lyft and UberX working at LAX as long as drivers comply with the same regulations as cabs. Taxi drivers must wait in line for fares at a nearby parking lot and typically can work only six airport days per month.
"We want equal treatment," Teferi said. "We want the same standard for them." That would include, he said, a requirement that UberX drivers carry commercial insurance and pick up passengers at a designated curbside space.
For the regulations to become official, the Board of Airport Commissioners must approve the plan, and the airport must approve a licensing agreement with each ride hail company.
Airport commissioner Jackie Goldberg said she would have "a hard time" voting for regulations that didn't include requirements for better insurance policies and a fingerprint-based background check of Uber and Lyft drivers.
If airport commissioners approve the regulations, several members of the Los Angeles City Council will consider using their veto authority to overturn the decision, Councilman Paul Koretz said.
"If everything were regulated the same for cabs and ride-sharing, it wouldn't be as much of an issue," Koretz said. "These companies dodge most regulations, so we should expect them to do that here, too."
How the policies would be enforced is not clear, and a Los Angeles World Airports spokeswoman did not return a request seeking comment on that question.
In an email, a Lyft spokeswoman said the company cheered the "leadership of LAX" for "coming back to the table and working toward giving residents and visitors transportation choice." Uber did not return a request seeking comment.
For an example of ride hail regulations already in play, Los Angeles can look to north. At San Francisco International Airport, UberX, Lyft and Sidecar drivers pay $3.85 for each drop-off and pickup.
The airport also created a software program that records each time an Uber or Lyft driver enters airport property. The program has been licensed to the American Assn. of Airport Executives, a trade group, which plans to make it available for use by other airports, including LAX, by the end of this year.
Since last September, SFO has made $3.5 million in fees from ride-hailing services, spokesman Doug Yakel said, compared with $3.3 million from taxis over the same period.
Numbers like that are cause for concern among L.A. taxi supporters, who fear that more options for travelers will further erode taxi revenue. Los Angeles' nine licensed cab companies reported a 21% drop in trips in the first half of 2014 compared with the same period the previous year, the steepest decline on record.
The requirement that cab companies provide equal service to all Angelenos, including the disabled, is a public service worth protecting, Koretz said. City taxi officials in January approved a regulation that will require all cab companies to use an app that would allow passengers to hail rides via smartphone, similar to Uber or Lyft.
Even if airport pickups are approved, that may not be enough for some drivers, who complain that Uber's repeated slashing of per-mile fares makes it difficult to earn a living. The current rate, of 90 cents per mile, barely covers operating expenses, they say.
"Going to LAX is a bit of a hassle, and you're not paid any more to pick someone up," said Ryan Fleming, 30, of Lakewood, who drives for UberX part time. "If there were a premium associated with trips from LAX, it would behoove me to spend more time there."
Twitter: @laura_nelson
Times staff writer Peter Jamison contributed to this report.
Have an idea, gripe or question? Times staff writers Laura J. Nelson and Dan Weikel write California Commute and are looking for leads. Please send them along.
---
The stories shaping California
Get up to speed with our Essential California newsletter, sent six days a week.
You may occasionally receive promotional content from the Los Angeles Times.