Police arrest man accused of attacking conservative activist at UC Berkeley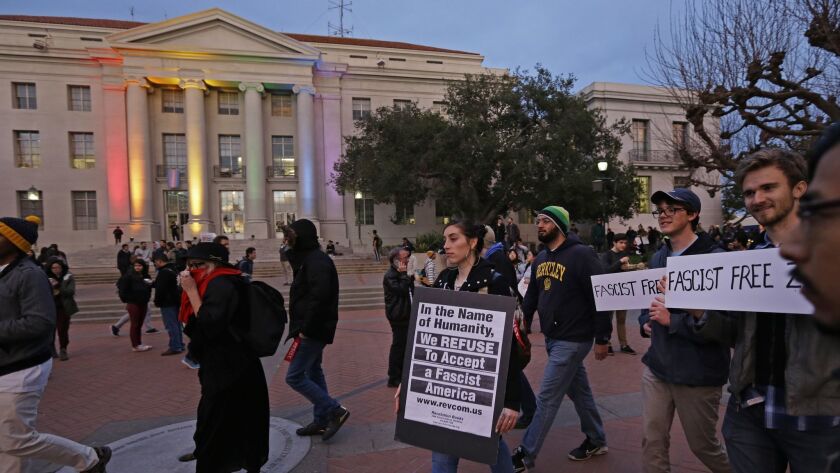 Police have arrested a man on suspicion of attacking a conservative activist on UC Berkeley's campus in an incident that was recorded and widely shared online.
Zachary Greenberg, who is not a UC Berkeley student, was arrested Friday and booked into jail, according to UC police. He is accused of punching Hayden Williams, also not a Cal student, on Feb. 19.
Many conservatives were angered that it took 10 days for police to make the arrest. President Trump's son Donald Trump Jr. tweeted earlier this week about the apparent delay: "Wonder if it would be the same if a conservative beat up a leftist on the Berkeley campus?"
Berkeley College Republicans posted a video of the incident on their Facebook page last week that has been viewed nearly half a million times. The video shows a man cursing and punching Williams in the face in Sproul Plaza, the main gathering place on campus.
"Another conservative was brutally assaulted on our campus while recruiting for Turning Point USA by a tolerant, inclusive liberal," the Republican club posted on Facebook. "This marks yet another incident where right-leaning individuals on the Berkeley campus have been put in danger for simply exercising their God-given rights to free expression."
Williams is a field representative for the Leadership Institute, a nonprofit organization that trains conservative activists, he told Fox News. He had been invited to UC Berkeley to help Turning Point USA recruit members, he said.
A sign on the table he manned on Sproul Plaza said "Hate Crime Hoaxes Hurt Real Victims," referring to the recent incident involving "Empire" actor Jussie Smollett, who is accused of staging an attack against himself in Chicago last month. Williams said he thinks his attacker was angered by the sign.
"Every time I've gone to help students at Berkeley for various clubs, there's always a student or a member of the campus community who will rip up our signs or flip over our table, but this is the first time it's really escalated to this level of violence," Williams said on Fox News.
UC Berkeley, the liberal enclave and birthplace of the free speech movement, has become a frequent setting for debates over the 1st Amendment and conservative beliefs in recent years. An event featuring right-wing provocateur Milo Yiannopoulos was shut down by angry protests in February 2017, which was followed by a controversial rescheduling of a visit by conservative commentator Ann Coulter.
"Let there be no mistake, we strongly condemn violence and harassment of any sort, for any reason. That sort of behavior is intolerable and has no place here," UC Berkeley Chancellor Carol T. Christ said in a statement. "Our commitment to freedom of expression and belief is unwavering."
Greenberg, 28, had been released on bail as of Friday night, according to jail records.
soumya.karlamangla@latimes.com
Twitter: @skarlamangla
---
The stories shaping California
Get up to speed with our Essential California newsletter, sent six days a week.
You may occasionally receive promotional content from the Los Angeles Times.