A timeline of how the Jussie Smollett case unfolded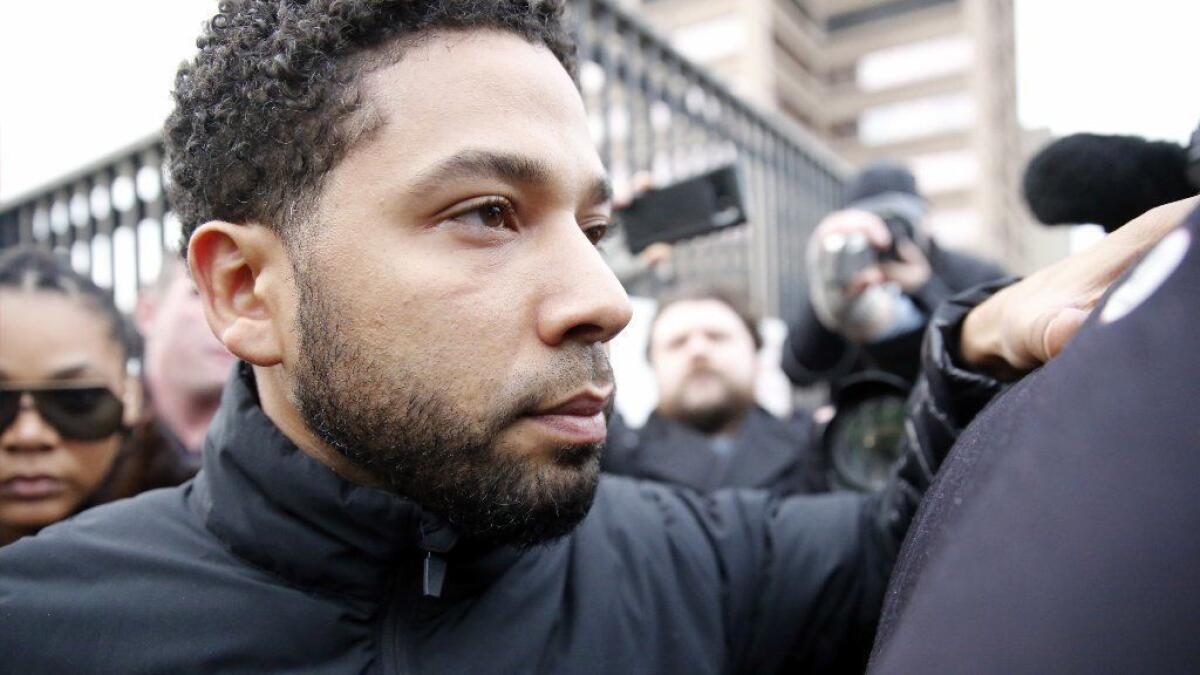 The saga of Jussie Smollett's alleged January attack in Chicago took a surreal series of twists and turns leading up to the March 26 announcement that all charges against the "Empire" actor had been dropped.
The actor, known for Fox's "Empire," showed up for an emergency court appearance during which prosecutors announced that all 16 charges would be dropped and Smollett would forfeit the $10,000 bond he posted when he turned himself over to authorities.
At a news conference in mid-March, Chicago police said Smollett orchestrated the attack he reported on Jan. 29.
The 36-year-old, who plays the openly gay musician Jamal Lyon on Fox's musical drama, told Chicago police in January that he was the victim of a racist and homophobic attack by two people while he walked in an affluent Chicago neighborhood.
At one point in the investigation, Smollett faced up to three years in prison.
FULL COVERAGE: Jussie Smollett »
Here's a timeline of how the case has unfolded:
Jan. 29 | Smollett files a police report on the attack
Smollett claims that around 2 a.m., two masked people approached him while he walked in downtown Chicago. The attackers hurled racial and homophobic slurs at him, hit him in the face, poured a mysterious chemical substance on him and looped a rope around his neck, according to a statement by the Chicago Police Department.
Authorities call the incident a possible hate crime. TMZ reports that the assailants also yelled, "This is MAGA country" (a reference to President Trump's "Make America Great Again" campaign slogan).
Chicago police expand their search that evening for camera footage of the alleged attack or of a vehicle.
Jan. 30 | Smollett leaves hospital as public condemns the attack
A spokesman for the actor tells The Times that Smollett "is out of the hospital and home recovering."
As news of the attack spreads, fans, politicians and celebrities express an outpouring of support for the actor.
"We send our love to Jussie, who is resilient and strong, and we will work with law enforcement to bring these perpetrators to justice," 20th Century Fox Television and Fox Entertainment said in a statement. "The entire studio, network and production stands united in the face of any despicable act of violence and hate — and especially against one of our own."
Later that day, Chicago police release photos of people of interest in the attack. Surveillance cameras in the area where the assault happened shows two individuals, though no encounter was captured, said Chief Communications Officer Anthony Guglielmi in a tweet.
Jan. 31 | Smollett's family releases a statement on the assault
Smollett's family publicly addresses the incident for the first time, calling the events "inhumane acts of domestic terrorism" and expressing gratitude that he came out of "this cowardly attack alive."
President Trump calls the incident "horrible," adding that it "doesn't get worse" when asked about it in the Oval Office.
Feb. 1 | Smollett publicly addresses the attack for the first time
The entertainer releases a statement about the incident, in which he says, "My body is strong, but my soul is stronger… thank you. The outpouring of love and support from my village has meant more than I will ever be able to truly put into words."
Smollett also addresses doubts about inconsistencies in his story and the little surveillance evidence.
"I am working with authorities and have been 100% factual and consistent on every level," he says. "Despite my frustrations and deep concern with certain inaccuracies and misrepresentations that have been spread, I still believe that justice will be served."
Feb. 2 | Smollett performs sold-out concert in first public appearance
Smollett plays to a full house at a sold-out show at the Troubadour in West Hollywood.
"I had to be here tonight," the R&B singer says to a crowd of cheering fans. "I couldn't let those [attackers] win. I will always stand for love."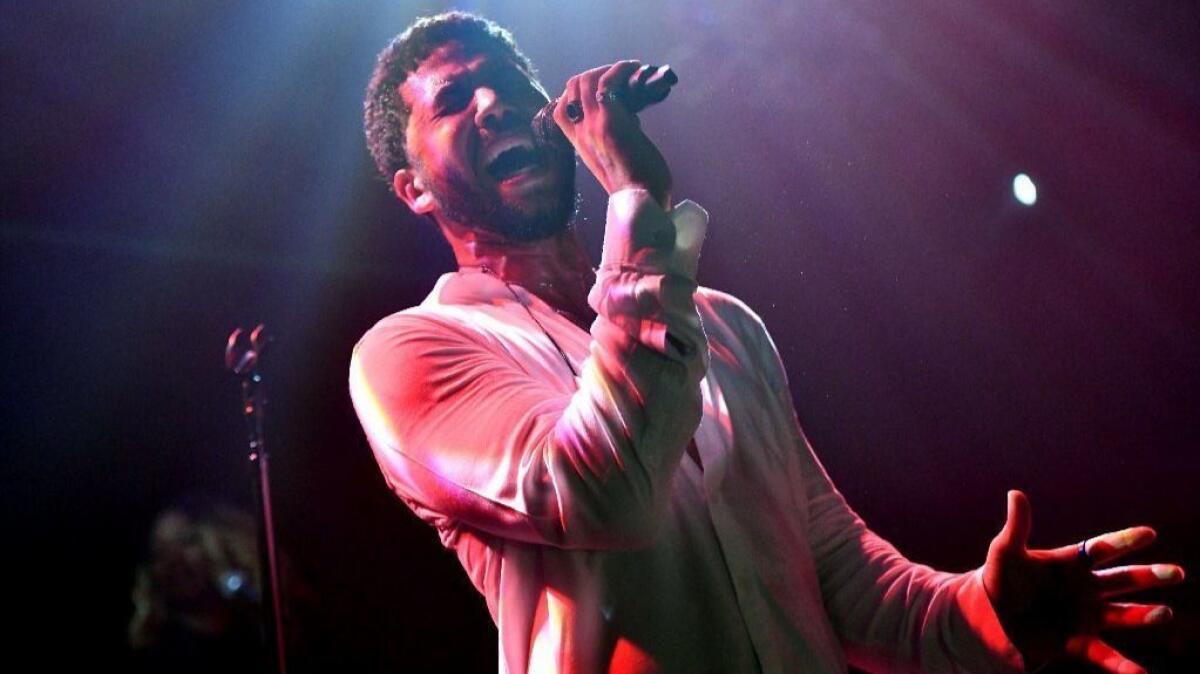 Feb. 11 | Police call Smollett's phone records 'limited and redacted'
The Chicago PD says Smollett turned in "limited and redacted" phone records that "do not meet the burden for a criminal investigation."
Police had asked the actor to hand over his phone because he had been conversing with his manager when the incident happened.
Feb. 13 | Two suspects are detained for questioning
Olabinjo and Abimbola Osundairo, brothers of Nigerian descent, are detained for questioning after landing in Chicago from a trip to Nigeria. Officers raid their home.
Feb. 14 | Smollett gives his first TV interview
Smollett sits down for his first TV interview on "Good Morning America" since he was allegedly attacked last month. He tells Robin Roberts how "pissed off" he is at people doubting his story.
Police reveal that one of the detained men has appeared on the show "Empire" and say that media reports about the Smollett attack being a hoax are inaccurate and unconfirmed.
Feb. 15 | Suspects are released without charges
Questioning of the brothers and their attorney resumes. Twelve hours after calling them "possible suspects," they are released without charges, officer Guglielmi says in a tweet.
Guglielmi denies reports claiming the attack was a scam and repeats that Smollett was being regarded as a victim.
Feb. 16 | Police say the investigation has 'shifted'
Chicago authorities say the investigation into Smollett's case has "shifted" after receiving details from the brothers questioned in the case, though no further elaboration was provided.
Later that day, the entertainer's lawyers released a statement saying that although Smollett felt "victimized" by suspicions of the attack being a hoax, the actor would still cooperate with police.
Feb. 19 | State attorney recuses herself from investigation
Kim Foxx, the Cook County state attorney, recuses herself from the investigation.
"Out of an abundance of caution, the decision to recuse herself was made to address potential questions of impartiality based upon familiarity with potential witnesses in the case," a statement from Foxx's spokeswoman said.
Feb. 20 | Smollett is criminally charged for filing false police report
Chicago police announce that felony criminal charges against Smollett were approved by the Cook County state attorney's office. The "Empire" actor is charged with disorderly conduct for filing a false police report, and his attorneys announce their plan to "mount an aggressive defense."
Earlier that day, Fox says in a statement that Smollett would not be cut from "Empire" despite speculation that he would be. Hours later, police authorities announce that Smollett is suspected of filing a false police report.
Feb. 21 | Smollett turns himself in and is arrested and released after posting bond
Smollett turns himself in and is arrested Thursday morning by the Chicago Police Department and is later released from Cook County jail after a judge sets a $100,000 bond. He is accused of staging the Jan. 29 attack against himself and for filing a false police report.
In a news conference shortly after the actor's arrest, police Supt. Eddie T. Johnson says that "Smollett took advantage of the pain and anger of racism to promote his career" and that the actor "was dissatisfied with his salary so he concocted a story about being attacked."
The "Empire" star denies the allegations and calls them "outrageous," his attorneys told the judge. The "Empire" actor could be sentenced to as many as three years in prison.
Trump criticizes Smollett on Twitter after hearing the news. Smollett returns to the set of "Empire."
Feb. 22 | Smollett's 'Empire' character is written off this season
Fox announces in a news statement that Jamal Lyon, Smollett's character on "Empire," will be written off this season's last two episodes.
"While these allegations are very disturbing, we are placing our trust in the legal system as the process plays out," executive producers say in the statement. "We are also aware of the effects of this process on the cast and crew members who work on our show and to avoid further disruption on set, we have decided to remove the role of 'Jamal' from the final two episodes of the season."
Fox, which just days prior expressed its support for the actor, says in the statement that the past few weeks have been "incredibly emotional for us all. Jussie has been an important member of our 'Empire' family for the past five years and we care about him deeply."
Feb. 28 | Brothers regret involvement in incident
In a statement issued by Gloria Schmidt, the attorney for the Osundairo brothers, she says the two men deeply regret their involvement in the incident and that they "understand how it has impacted people across the nation, particularly minority communities and especially those who have been victims of hate crimes themselves."
March 7 | Smollett is charged with 16 felonies
A Chicago grand jury indicts the "Empire" actor on 16 felony counts for allegedly making false reports to police about his attack. The indictment was made public the next day.
The actor is charged with eight counts for what he told the officer who responded to his reported attack and another eight for what he said to a detective. These additional charges come more than two weeks after prosecutors announced one felony count.
Mark Geragos, Smollett's attorney, says the charges are "prosecutorial overkill" and that his client "adamantly maintains his innocence."
March 12 | Cameras OKd in courtroom
A judge rules that cameras will be allowed inside the courtroom for March 14's court hearing with Smollett, and his attorneys agree.
Tina Glandian, one of Smollett's lawyers, says after the hearing that she agreed to cameras in court "so that the public and the media can see the actual evidence and what we believe is actually going to be a lack of evidence against Mr. Smollett."
Although his presence wasn't required, the actor arrives to court that morning because he wanted to "show up and show respect" to it, says a spokesperson for his attorney.
"He wants to hold his head up high, show confidence in his innocence," she adds, and "go the extra mile" to prove his innocence.
March 14 | Smollett pleads not guilty
The "Empire" actor pleads not guilty to 16 counts of disorderly conduct.
Glandian, his attorney, enters the plea on Smollett's behalf. Local TV news reports that the 36-year-old is allowed to travel to Los Angeles and New York to meet with his lawyers without court permission, but must notify authorities before he leaves the state.
Smollett's next court date is scheduled for April 17.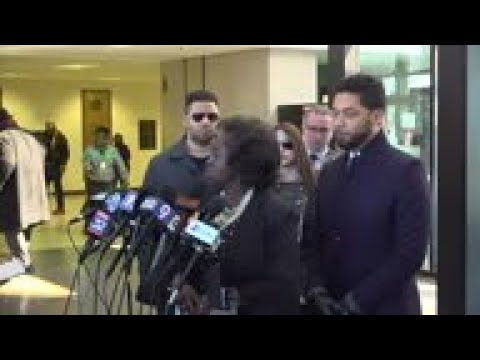 March 26 | All charges are dropped
The actor arrives in court in an unannounced emergency appearance where prosecutors from Cook County, Ill., drop Smollett's disorderly conduct charges.
"Today, all criminal charges against Jussie Smollett were dropped and his record has been wiped clean of the filing of this tragic complaint against him," his attorneys Tina Glandian and Patricia Brown Holmes say in a statement. "He was a victim who was vilified and made to appear as a perpetrator as a result of false and inappropriate remarks made to the public, causing an inappropriate rush to judgement."
Smollett forfeits the $10,000 bond he posted after his arrest.
Prosecutors say that that the dismissal was not an exonaration and Chicago Mayor Rahm Emanuel calls the it a "whitewash of justice." In a joint appearance with Emanuel, Johnson said that justice was not served and the city was still owed an apology.
March 28 | Chicago issues a bill
Chicago officials demand that Smollett pay $130,106 to cover the costs of police overtime in the investigation of the alleged attack. They give him until April 4 to pay.
April 4 | Deadline to pay bill passes; civil action threatened
Chicago's Law Department, declaring that Smollett had "refused to reimburse" the city for the police overtime, says it will draft a civil complaint and file suit against the actor to "pursue the full measure of damages."
Geragos, Smollett's attorney, responds with his own letter, saying Smollett "will not be intimidated" into paying the bill and characterizing the repayment demand as "a course of conduct intended to harass and irreparably injure Mr. Smollett."
Geragos also says that if the city takes civil action, he would demand access to the entire investigation file, including information that hadn't been previously disclosed to his team, along with depositions from the Chicago mayor, the police superintendent, the two brothers whom Smollett had allegedly enlisted to help with his scheme and their attorneys.
Get our L.A. Goes Out newsletter, with the week's best events, to help you explore and experience our city.
You may occasionally receive promotional content from the Los Angeles Times.