Officials looking to curb cruising on Whittier Boulevard once more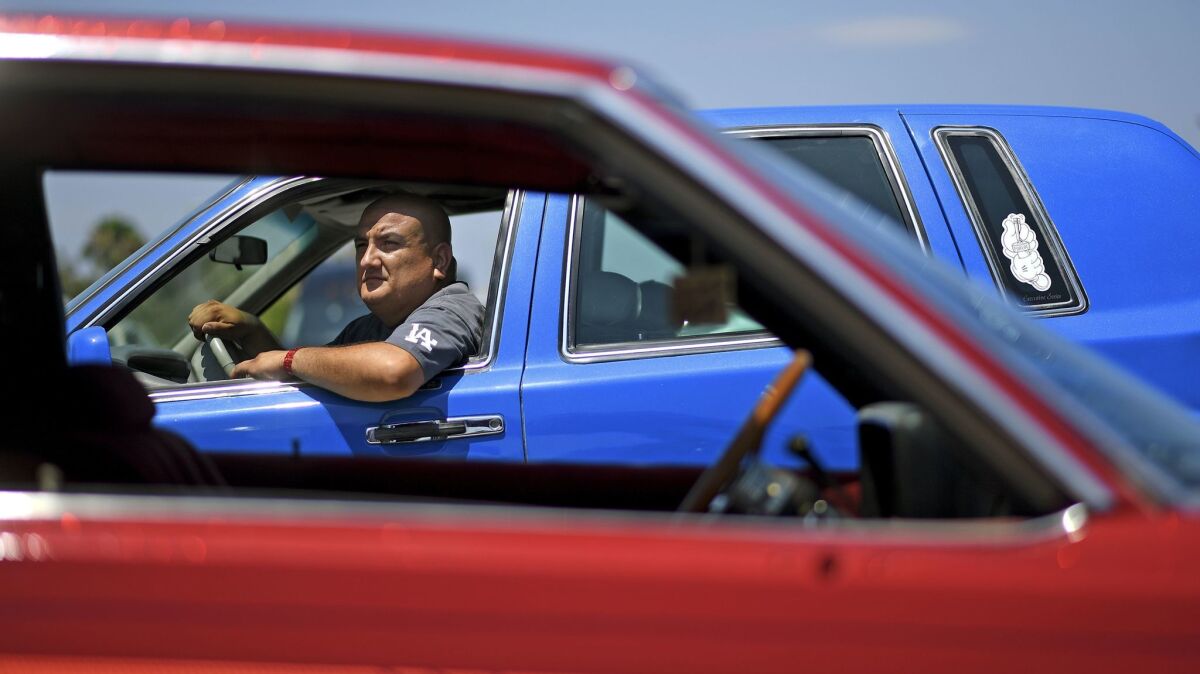 Lowriders and other cars have turned out in force this summer for cruising events on Whittier Boulevard in East L.A., a reminder of decades past when drivers would congregate to show off their wheels and parade down the boulevard.
But history appears to be repeating itself — with officials looking once again to enforce cruise control.
Last month, the Los Angeles County Board of Supervisors passed a motion, introduced by Supervisor Hilda Solis, to look into enforcement for non-permitted cruising events.
Solis said upward of 2,000 cars have turned out for cruising events, disrupting bus service and shutting down Whittier Boulevard and surrounding streets, despite a 1997 ordinance that prohibits such events.
"I understand that there are people who like to do that, I get it. But there are venues to do that where it's safe and people don't get hurt and everything can be monitored," Solis said. "I'm responsible for the safety of the residents, and I don't see that happening when 2,000 cars converge."
Violations at these events have included driving under the influence, parking in bus lanes and disabled parking stalls and blocking business driveways, according to Solis. The events have also displaced officers from their normal patrols, she said.
The county counsel, Department of Public Works, Sheriff's Department and California Highway Patrol were asked to report back with plans to deal with the events, including amendments to the county code to assist with enforcement efforts.
The 1997 ordinance defines cruising as "the driving of a motor vehicle two or more times within a six-hour period, in a particular direction, past a traffic control point so established on a portion of any street identified as subject to cruising controls by signs posted at the beginning and end of the controlled roadway."
"This has been on the books for some time," Solis said. "All I'm saying is now that businesses and residents are complaining, I have to look into it. I'm not just reacting to something that came out of nowhere."
Eli Garcia, one of the organizers of the cruising events, denied that thousands of cars have turned out. Garcia said these events have been ongoing since 2015, with enforcement action beginning only in the last two months.
At the last event, on June 24, the CHP and Sheriff's Department were waiting and pulling over cars, Garcia said. Authorities said cars would be impounded if they were caught driving once more past the same point, he said.
Organizers have tried to pick up trash after events and have reached out to business owners to try to address complaints, Garcia said. When advertising events, organizers have called for no burnouts or drinking, he added.
Garcia said he was hoping to find a compromise, either by limiting cruising events to once every few months or possibly charging attendees to help fund the police presence.
The 37-year-old La Puente resident said he remembers going to the boulevard as a kid and seeing all the lowriders, old cars and the family atmosphere.
"It's like a way of life for us," Garcia said. "It did die out for maybe 15 years or so. … We've started bringing it back and now all of a sudden Hilda Solis doesn't want anything to do with it."
On June 24, the CHP responded to a request for service regarding cruising on Whittier Boulevard. Forty-seven officers were assigned to fixed locations and to do roving enforcement along Whittier Boulevard, according to CHP public information officer Gina Jojola.
"We do not have the resources from our area office only to handle that amount of enforcement needed to make the community safe," Jojola said. "We pull from all our other area offices so we don't compromise our ability to provide the highest level of enforcement out there … These are major operations."
Twenty-four citations were issued for violations including unlicensed drivers, drivers not using seat belts and vehicle violations. Four vehicles were impounded, Jojola said.
Thousands have turned out for these events, Jojola said. Some of the blame is being placed on word spread over social media.
"These unsanctioned events have brought Whittier Boulevard to a literal standstill due to the far-reaching attraction of thousands of drivers — some as far away as the Bay Area — to these events as a result of social media," Jojola said in an email.
It's become a "highly publicized event" with a magnitude that the local area, especially Whittier Boulevard, cannot handle, Jojola said.
"There's good people that have amazing cars. But then you've got that 10% that want to show off and they want to just tear down Whittier Boulevard," Jojola said.
Sheriff's Lt. Samuel Arellano said the department has mostly dealt with concerns over spectators congregating in parking lots of local businesses.
"I think in the past it was a regular event and then it kind of went away for several years. … I want to say probably in June we started to experience a few cruising events, there haven't been that many," Arellano said. "Not like in the past, in the '80s when it was very popular."
Eddie Torres, president of the East L.A. Chamber of Commerce Board of Directors and a resident of East L.A., said the issue came to his attention about three months ago, when his brother couldn't go to CVS because the boulevard and parking lots were filled with cruisers.
Torres expressed concerns over what he says is an unsafe situation and a drain on resources.
"The budget for the county sheriff's and the highway patrol, they're not a bottomless pit," Torres said. "Those budgets came out of taxpayers' dollars and state funds, and we're depleting them on unnecessary action … It's a waste of our valuable resources and only going to hurt us in the long run."
The history of cruising dates back decades. In September 1979, barricades went up on Whittier Boulevard in East L.A. along the mile stretch between Atlantic Boulevard and Eastern Avenue. That stretch gained national attention thanks to the movie "Boulevard Nights."
Authorities at the time called the boulevard a "war zone," because of gang-related violence that had erupted around cruising, according to a 1979 Times article. Every Friday, Saturday and Sunday from 9:30 p.m. to 5 a.m., all vehicles were barred along that stretch. It is unclear how long it lasted.
In a 1986 Times article, authorities said almost every stretch of the 14-mile boulevard, from the Orange County line to East Los Angeles, has had a cruising problem at some point. Conflict between cruisers and police has continued over the years.
Now, as then, cruisers have no plans to go quietly.
"We're still planning on doing cruises. Before we just do it and piss them off, I'm trying to do some type of dialogue with them," Garcia said. "At the end of the day, nothing is going to stop us. We're still going to go cruising. We're just going to be shifting from place to place to place, and I think that's more dangerous."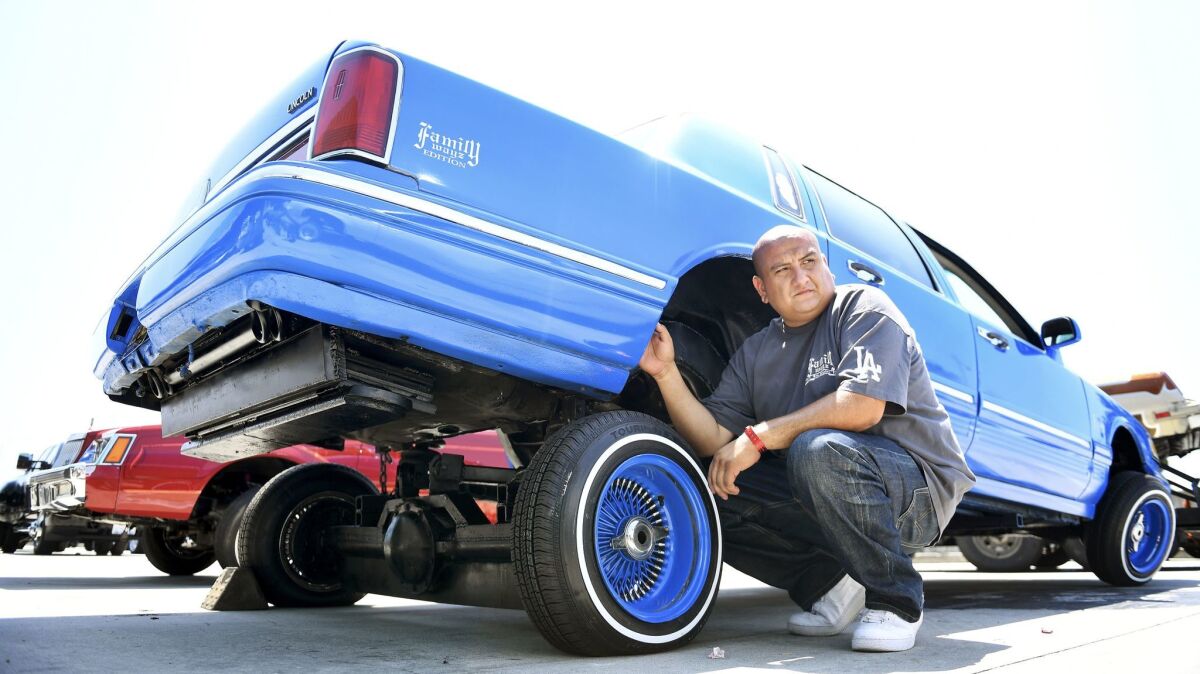 For more California news, follow @brittny_mejia
ALSO
O.J. Simpson is a 'sociopath, a narcissistic liar, a murderer, a thug, a kidnapper, a robber,' Fred Goldman says
Large shark seen off Coronado beach prompts warning
Massive Detwiler fire near Yosemite National Park is 40% contained
---
UPDATES:
4:11 p.m.: This article was updated with comments from an East L.A. resident.
July 24, 12:05 p.m.: This article was updated with additional details from the California Highway Patrol.
This article was originally published July 23 at 10:30 a.m.
The stories shaping California
Get up to speed with our Essential California newsletter, sent six days a week.
You may occasionally receive promotional content from the Los Angeles Times.