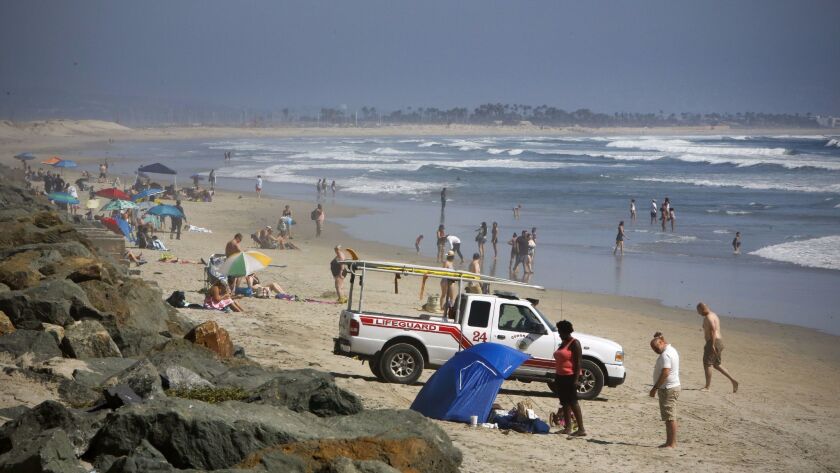 A surfer's sighting of a shark estimated to be longer than 10 feet prompted lifeguards to issue an advisory at Coronado's Silver Strand State Beach on Saturday.
The 24-hour advisory warns beachgoers within a mile radius of the potential threat but does not close the beach.
The surfer, a former commercial fisherman, spotted the shark about 8:10 a.m. between lifeguard Tower No. 1 and No. 0, about 80 yards from shore, said California State Parks Lifeguard Sgt. W. Jacob Pflepsen III.
The surfer advised another nearby surfer of the shark, and both paddled to shore.
The shark was longer than 10 feet and had a dorsal fine 12 inches to 16 inches tall. Lifeguards did not reveal what kind of shark it may have been, but said the species is predatory toward humans and may be a threat.
Lifeguards patrolled the water Saturday and will continue to do so Sunday.
"It is important to remember that sharks are a natural resource of California's coastline and shark attacks are rare in Southern California waters," Pflepsen said.
He emphasized that the incident was a sighting only and did not involve contact or aggressive behavior.
"We encourage all beach users to exercise due regard for their own safety, and swimming in the ocean is always at your own risk," he said. "Swimmers should always swim in front of open lifeguard towers and check with the lifeguard on duty for specific area hazards."
Davis writes for the San Diego Union-Tribune.
---