Migrant minor is held in adult detention facility for nearly a year after dental exam found he was likely 18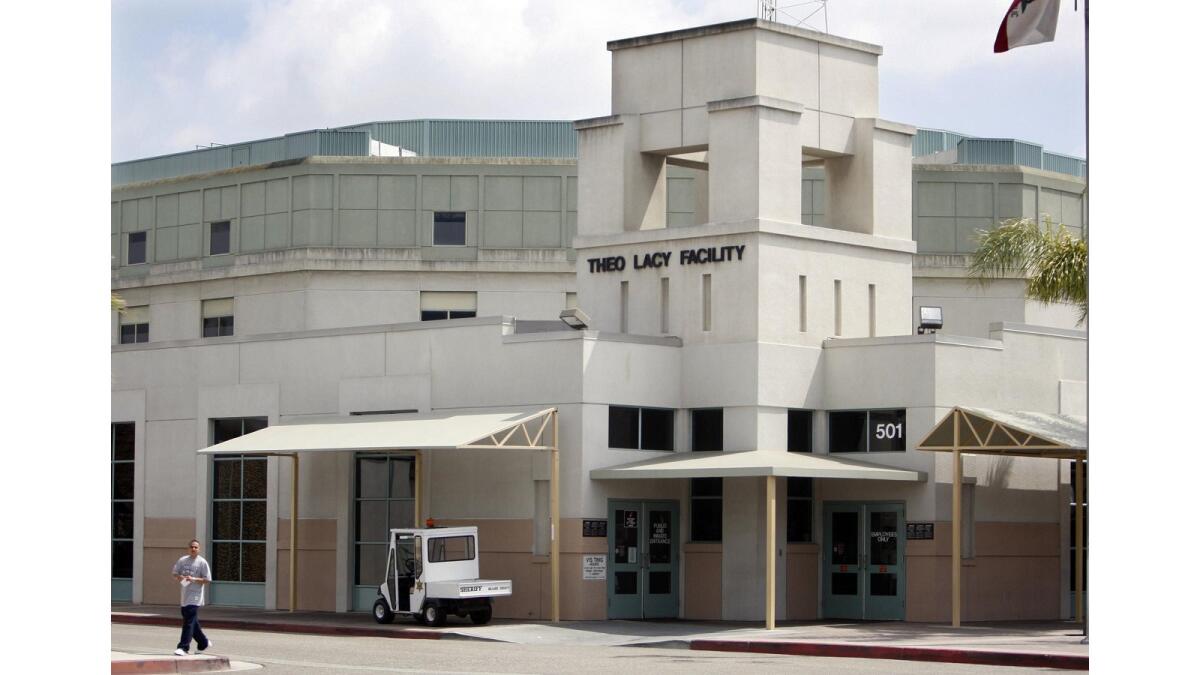 Soon after a young Guatemalan immigrant climbed over a border fence into California last year, he was detained, processed as an unaccompanied minor and placed in a youth shelter.
That changed when a dental exam showed an 85.8% probability that the young man was 18. At that point, the Office of Refugee Resettlement turned him over to Immigration and Customs Enforcement, which held him in Orange County jails with adult immigrant detainees.
After nearly a year, a birth certificate proved what lawyers had said for months: Jose is 17. Although he is back in the refugee office's custody, his case has renewed concerns over the use of dental forensics to determine age — and the mistaken placement of juveniles in adult detention.
"The fact that we're saying that the safety of these particular minors rests on a flawed probability is really concerning," said Lindsay Toczylowski, executive director of the Immigrant Defenders Law Center, which is representing Jose pro bono. "It's criminal to be taking kids and putting them potentially in danger."
Jose, whose lawyers asked that he not be identified for safety concerns, is among an unknown number of minors in the last decade who appear to have been placed in adult detention centers based on forensic testing, an issue raised in a report published in May by the news organization Reveal. The practice has long been controversial.
In 2007, a House Appropriations Committee report directed the Department of Homeland Security "to cease its use of and reliance on unreliable forensic testing of children's bones and teeth to determine their age."
A year later, the committee again expressed concerns that the practice "has led to the erroneous placement of children in facilities commingled with adults who may seek to prey upon" them.
The committee directed Homeland Security's inspector general to review ICE's age determination practices.
"Using radiographs of a person's bones or teeth … cannot produce a specific age due to a range of factors affecting an individual's growth," the Office of Inspector General report stated.
Despite those reservations, the forensic practice has persisted.
Federal officials said they currently don't have the data in an appropriate format to release regarding how often the assessment procedure has been used in the last year.
In a report for an attorney this year opposing the use of third molar estimates, Dr. Mike Bowers, a dentist who practices forensic odontology, stated that "dental aging should be considered an indicator of the biological maturity of a growing child. It was not developed to be used for individual age identification."
"The court system demands a clear determination, and the tool they're using is not capable of doing that," Bowers said.
Unaccompanied minors are given greater protections than adults when they are apprehended by immigration agents, including the right to have their case heard by an asylum officer, Toczylowski said. As a minor, Jose would have had access to legal services in the youth shelter to assist in applying for a special immigrant juvenile visa and asylum.
For Jose, being declared an adult had legal ramifications.
Jose told U.S. officials that he fled Guatemala seeking protection from gang members who had shot him in the stomach after he repeatedly refused to join. According to a Department of Homeland Security report, the teenager has a scar on his abdomen.
When he crossed the border into Calexico on Oct. 27, Jose did not have a birth certificate. He provided two different birth dates to the Guatemalan consulate in Los Angeles, neither of which showed up in the country's birth registry.
The Office of Refugee Resettlement turned to a dental exam.
Under the Trafficking Victims Protection Reauthorization Act of 2008, the Department of Health and Human Services worked with Homeland Security to develop age determination policies and procedures. The government is required to take into account multiple forms of evidence, including the "non-exclusive use of radiographs."
A "medical professional" experienced in age assessment methods is supposed to perform the exam, taking into account the individual's ethnic and genetic background. In the case of a skeletal X-ray, an examiner estimates an age based on bone development in the hand and wrist area. Dentists will make assessments based on development of third molars, or wisdom teeth, in both upper and lower jaws.
If an individual's estimated probability of being 18 or older is 75% or greater, and is considered along with other evidence, the Office of Refugee Resettlement may refer them to DHS, according to its policy guide.
"As no current medical assessment method can determine an exact age, best practice relies on the estimated probability that an individual is 18 or older," according to the office.
It is unclear what evidence aside from the dental exam was used to determine that Jose was an adult.
"As a matter of policy, in order to protect the privacy and security of the unaccompanied alien children [HHS] …will not comment on specific cases," an agency spokesperson said in a statement.
Beginning in November, Jose was held in the James A. Musick and Theo Lacy jails in Orange County, afraid to tell other immigrant detainees that he was a minor, Toczylowski said.
In December, without the aid of legal counsel, the teen told a judge he feared returning to Guatemala and was given an asylum application to fill out in English. Because he did not fill it out, the judge ordered him removed in January. Jose, who does not speak English, was not prepared to apply, Toczylowski said.
At the end of that month, he attempted to appeal the judge's decision, asking a fellow detainee to help him fill out the paperwork.
"I in desagree with the decicion of honorable Judge … because when I am deteinee I am a minor and I do not get asylum interviw," he stated.
The case reached Toczylowski after Jose's cousin in San Francisco shared the story with a lawyer. By that time, Jose had already been ordered removed from the country.
But because his mother had never registered his birth, the Guatemalan consulate could not issue a travel document for ICE to deport him.
Jose's family spent months working to obtain the birth certificate, which was authenticated by the L.A. consulate last Monday. It says Jose was born Oct. 26, 2000.
After wrongly spending a year in adult detention, Toczylowski said, Jose is "in danger of being re-detained by ICE once he turns 18 if we're unable to reopen his case."
"If he had been in [Office of Refugee Resettlement] custody, we would have already applied for asylum for him a long time ago and he'd probably already have his decision," Toczylowski said. "It would have all been totally different."
For more California news, follow @brittny_mejia
Sign up for Essential California for news, features and recommendations from the L.A. Times and beyond in your inbox six days a week.
You may occasionally receive promotional content from the Los Angeles Times.