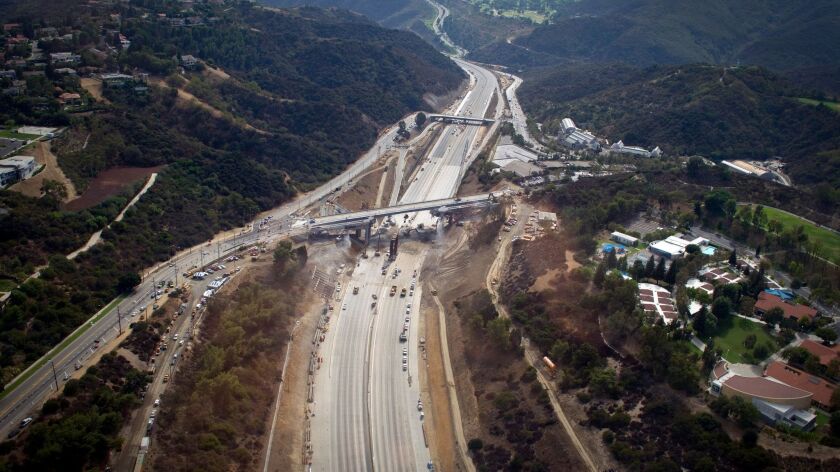 Good morning. It's Tuesday, Nov. 29, the day you can own the home that once housed the Los Angeles Times' powerbrokers — for only $50 million. Or just keep reading Essential California for what's going on around the state:
TOP STORIES
Taxpayers take a hit on the 405
The widening of the 405 Freeway through the Sepulveda Pass just got a lot more expensive. The Metropolitan Transportation Authority has agreed to pay nearly $300 million to the project's contractor. The settlement, approved by Metro's directors in closed session earlier this month, will increase the cost to more than $1.6 billion, about 55% higher than its original budget. And data show all the work has done little to improve traffic flow. Los Angeles Times
End to an infamous case
Another shoe dropped in the long-running L.A. County Sheriff's Department scandal. Two former deputies were sentenced to federal prison Monday for beating a mentally ill inmate and falsifying reports to cover up the attack. They are the latest department officials to face imprisonment in connection with the county's jail abuse scandal. Los Angeles Times
California pushes back on Trump
Donald Trump's allegation — without any proof — that there was widespread voter fraud in California and elsewhere sparked an angry backlash. Not only is Trump's statement untrue, officials said, but it hurts the integrity of the system. "Broad-brush allegations of voter fraud and illegal voting serve only to undermine the public's trust and confidence in the elections process and run the risk of further deflating voter participation," said Dean Logan, registrar of voters in Los Angeles County and president of the statewide association of elections officials. Los Angeles Times
L.A. STORIES
Surfer gang fortress: Work got underway Monday to demolish an illegal stone and wood shelter built by a group of territorial surfers who are accused of using intimidation and violence to keep non-locals away from the well-shaped waves at Lunada Bay in Palos Verdes Estates. Los Angeles Times
New museum: An inside look at Los Angeles' newest museum, from Guess co-founder Maurice Marciano. It's slated to open inside the famed Wilshire Boulevard Scottish Rite Masonic Temple and shares some similarities — some — to the Broad. Wall Street Journal
Star power: Meet an unlikely YouTube star, a Los Angeles sex education therapist. ABC News
Daily call: In San Pedro, a daily bugle call remains an old-fashioned form of patriotism. Daily Breeze
POLITICS AND GOVERNMENT
Issa survives: One of the GOP's most outspoken members of Congress, San Diego's Darrell Issa, has won his ninth term after fending off a challenge from a Democrat. It was the closest race of Issa's political career. San Diego Union-Tribune
Towering controversy: A conflict is brewing over plans for a 25-story luxury condo tower in Newport Beach. The politically powerful Irvine Co. has come out against the project, saying it could block views from apartments it owns. Orange County Register
Netflix tax: Always looking to raise more money, some California cities are now turning their attention to Nexflix and other streaming services for taxes. New York Times
Obama in California? How serious are the recurring rumors that the Obamas are moving to Rancho Mirage? Desert Sun
CRIME AND COURTS
Shooting aftermath: Who will gain custody of the child left behind by the San Bernardino terrorists? Washington Post
Kidnapping drama: A mystery surrounds the Redding woman who was abducted weeks ago and then found beaten on the side of the road on Thanksgiving Day. Police are looking for two women who may have kidnapped her, but many questions remain unanswered. ABC News
Star in trouble: "Breakfast Club" actor Anthony Michael Hall is facing a charge of felony battery with serious bodily injury after he allegedly shoved a neighbor to the ground and broke the neighbor's wrist, according to authorities. Los Angeles Times
DROUGHT AND CLIMATE
Good start: This is the wettest beginning of the rainy season in decades in Northern California. But as is so often the case with California's drought, the wet spell "doesn't guarantee you anything," as one expert said. Sacramento Bee
Tree dangers: Will giant sequoias — such an iconic part of the California landscape — survive the great drought? The Atlantic
CALIFORNIA CULTURE
Holiday tragedy: Officials say three people have died and five were hospitalized after a community Thanksgiving dinner in Northern California. The eight people were described as elderly and all lived in the same residential facility. Los Angeles Times
Loving California more: How California has become a safe space for some trying to process the election results. LA Review of Books
Hippy hangouts: From Bolinas to Mill Valley to Berkeley to Arcata, a guide through Northern California chillest hippy communities. SF Gate
Surfer love: Tributes are pouring in for an unlikely California surfing hero. Dana Brown paddled out to the Huntington Beach Pier, fulfilling a long-awaited journey that began in Florida. But when a large wave slammed him into one of the pier's pillars, he suffered fatal injuries and died in a hospital four days later. Los Angeles Times
Cuban connection: The complicated bonds between Chicanos, Fidel Castro and the Cuban American experience. OC Weekly
CALIFORNIA ALMANAC
Los Angeles: Sunny and in the high 60s through the middle of the week. Bay Area: Temperatures hovering around 60 with partly cloudy skies. Sacramento area: Cloudy in the mid-50s through much of the week.
AND FINALLY
Today's California memory comes from Marlene Johansing:
"The secret sauce on the burgers at the Flying Saucer on Cochran and Wilshire, rye bread at Brown's bakery next door. Thrifty Drugstore's food counter across the street on Cochran. Desmond's and Silverwood's to the west on the Miracle Mile. Farther south, where LACMA now stands, the La Brea tar pits. An untamed, uncultivated, uninhabited piece of land with a couple of large tar pits. The perimeter was ringed by intertwined bushes and twisted trees — a perfect place to play. This section of Los Angeles was my hood in the '40s and '50s."
If you have a memory or story about the Golden State, share it with us. Send us an email to let us know what you love or fondly remember about our state. (Please keep your story to 100 words.)
Please let us know what we can do to make this newsletter more useful to you. Send comments, complaints and ideas to Shelby Grad.
---