4-year-old in Riverside County dies from flu
A 4-year-old child in Riverside County has died of the flu, bringing California's death toll from influenza so far this season to 52.
The child, whose name has not been released by officials, had no underlying health issues and had not been vaccinated against the flu, according to Riverside County public health officer Dr. Cameron Kaiser.
"This is a tragic reminder that the flu can still kill, and that children are particularly susceptible to the illness," Kaiser said in a statement. "Get your flu shot and get protected."
The child, who lived in the southwest part of the county, died outside the county. Local officials were notified this month.
Officials say that the strain of influenza going around this year — H1N1 — tends to be most dangerous for children and pregnant women.
Nationwide, 16 children have died from the flu this season, U.S. Centers for Disease Control and Prevention officials said Friday.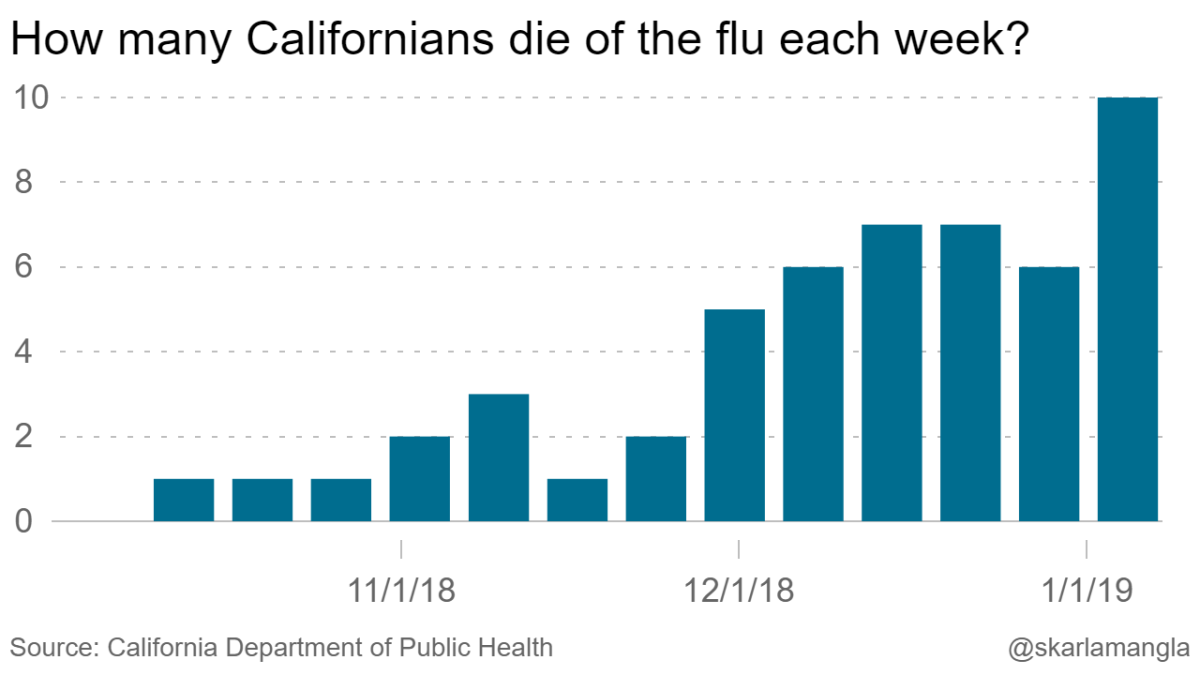 The flu season runs from October through May and typically peaks in February. Flu cases in California appear to be increasing in January, suggesting the season has not yet reached its height.
Officials encourage everyone over 6 months of age to get vaccinated. The vaccine takes about two weeks to take effect.
Last year's flu season killed 185 children nationwide, 80% of whom were not vaccinated, according to the CDC.
The flu shot reduces a pregnant woman's chance of catching the flu by 40% and provides immunity for her baby, experts say. People who receive the shot and then still catch the flu typically experience less severe symptoms.
Overall, this year's flu season is expected to be less severe than last year's, when the deadly H3N2 strain was the most prevalent across the country. Then, so many people fell ill that hospitals overflowed with patients and ran out of medicines.
Still, between October and the end of last week, 52 people in California died of the flu, according to state data. Half of the deaths were of people over the age of 65.
Nationwide, between 6 million and 7 million people have caught the flu this season, half of whom have sought medical care for their illness, federal officials say. Between 69,000 and 84,000 people have been hospitalized for the flu so far, they say.
To prevent the spread of flu, the CDC recommends staying home for 24 hours after a fever ends, covering your nose and mouth with a tissue when you cough or sneeze, and washing your hands often.
---
The stories shaping California
Get up to speed with our Essential California newsletter, sent six days a week.
You may occasionally receive promotional content from the Los Angeles Times.