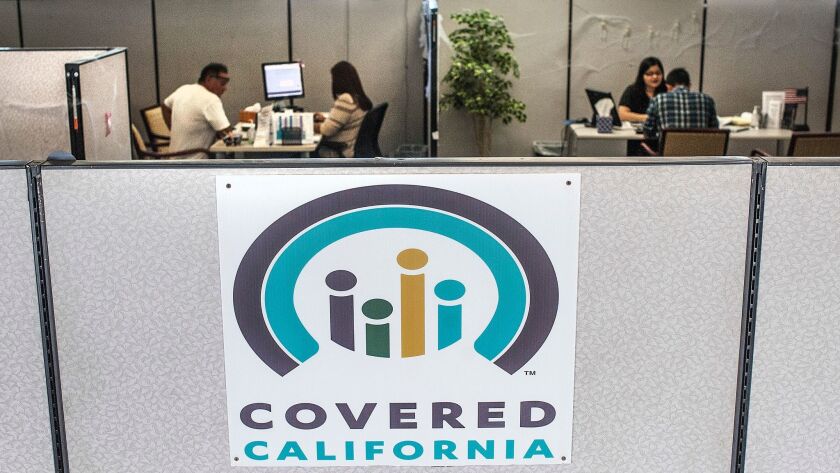 In an aggressive move to dismantle Obamacare, President Trump announced Thursday that the government was ending payments to health insurers that help fund the law.
The approximately $7 billion a year in federal dollars have allowed companies to offer discounted plans to low-income Americans who buy coverage through the healthcare exchanges.
According to experts, withdrawal of the subsidies could lead insurers to drop out of the exchanges, healthcare marketplaces to collapse and premiums to increase. The biggest effect would be on the individual insurance market, through which about 3 million Californians buy a health plan.
Wait, what happened?
Under the Affordable Care Act, there are two kinds of subsides intended to make insurance more affordable in the individual market.
One goes toward premiums and is given directly to consumers. The other reduces co-pays and deductibles, and is paid to the insurance companies so they can afford to lower the cost of their plans.
On California's exchange, Covered California, 90% of the approximately 1.5 million enrollees receive the first kind of subsidy and 50% benefit from the second one, according to officials.
What Trump got rid of was the second subsidy, known as cost-sharing reductions.
How did he do that?
House Republicans sued the Obama administration in 2014, alleging the then-president had broken the law by giving those billions of dollars in payments to insurers. They said the president had failed to get congressional approval to make the payments. The lawmakers prevailed in court last year, and the administration filed an appeal.
When Trump took office, his administration became the defendant in the case. That meant Trump could drop the appeal at any time, and he had threatened to do so repeatedly before announcing that he would indeed end the payments.
Will I be affected if I buy insurance through Covered California?
Not immediately.
Officials at Covered California knew that Trump had been considering this move, so they developed a workaround.
The rates for 2018 health plans that were announced earlier this week include a surcharge on silver-tier plans. Officials were trying to prevent an immediate rate increase if the federal funding disappeared.
The surcharge on premiums for silver plans — one of four options, from bronze to platinum, in which the health plan pays 70% of your medical expenses — will range from 8% to 27%. But most consumers who choose these plans will be shielded from those increases because as their premiums go up, so will their premium subsidies.
"In California — fearing just this turn of events — we took steps to minimize the impact," said Peter Lee, the executive director of Covered California.
Still, the undoing of the funding means that the 11 health plans in the state will not receive payments totaling $188 million over the final three months of 2017, Lee said. The annual cost-sharing reduction payments to California are around $720 million.
"This action will make the health insurance market unprofitable by definition," he said.
Insurance plans for next year will be available for purchase in California from Nov. 1 to Jan. 31, 2018.
What if I don't buy insurance through Covered California?
In the individual market, premiums are likely to increase. A Kaiser Family Foundation analysis found that insurers would increase their premiums on silver plans by about 19% nationwide.
Though Americans who qualify for subsidies are somewhat shielded by the premium tax credits, those who don't could see insurance costs become out of reach.
"This is just one in a long line of decisions by the Trump administration to attack not just the Affordable Care Act, but the health system we all rely on," said Anthony Wright, head of the advocacy group Health Access California. "This latest decision was particularly galling and particularly shocking because it was so destructive."
What now?
California and other states filed a lawsuit Friday challenging the Trump administration's decision.
It argues that the subsidies are lawful, that the administration's action conflicts with federal law and that the president failed to follow proper procedure to change the subsidies that benefit 6 million people, including 700,000 Californians.
"The president can't pick and choose which laws he wishes to follow," California Atty. Gen. Xavier Becerra said. The federal action, he said, is "essentially a $7-billion tax increase for working families trying to hold on to their health insurance."
Times staff writer Patrick McGreevy contributed to this report.
soumya.karlamangla@latimes.com
Twitter: @skarlamangla
ALSO
Trump healthcare move threatens sharply higher premiums, market chaos
California declares state of emergency over deadly hepatitis A outbreak
Bad traffic in L.A.'s toll lanes? Blame the 25% of drivers who don't pay to use them, officials say
---