California declares state of emergency over deadly hepatitis A outbreak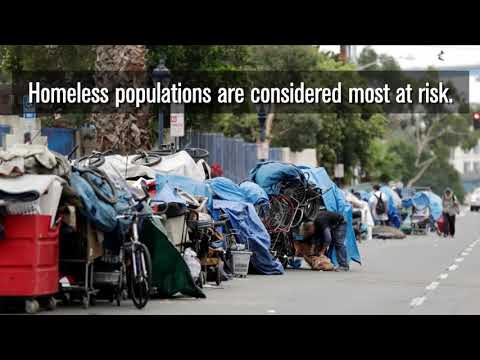 Health officials said Oct. 5 that the outbreak could continue for many months, even years. (Oct. 6, 2017)
California Gov. Brown declared a state of emergency Friday because of a hepatitis A outbreak that has killed at least 18 people in the state.
The declaration allows state health officials to buy additional doses of the hepatitis A vaccine to try to halt the outbreak, which is already the nation's second largest in more than two decades.
"We have the capacity to use as much vaccine as we can get our hands on," said Dr. Gil Chavez, state epidemiologist with the California Department of Public Health.
The outbreak began in San Diego's homeless community late last year, but has since spread outside the region. Los Angeles and Santa Cruz counties are also now experiencing outbreaks.
So far, 581 people in California have been sickened with the liver virus, more than half of whom have ended up in the hospital. The virus is particularly dangerous, and can be fatal, for people who already have other liver diseases, such as hepatitis B or C.
Federal health officials said last week that, even with the ongoing efforts to slow the spread of the disease, California's outbreak could last years.
"Vaccinating people at risk of exposure is the most effective tool we have to prevent the spread of hepatitis A," said California Department of Public Health Director Dr. Karen Smith.
The hepatitis A shot is already required for children, but now health officials are recommending it for people who are homeless and drug users.
"The general population does not have an increased risk of infection at this time," Chavez said.
Hepatitis A is commonly transmitted through contaminated food. The only U.S. outbreak in the last 20 years bigger than California's occurred in Pennsylvania in 2003, when more than 900 people were infected after eating contaminated green onions at a restaurant.
California's outbreak, however, is spreading from person to person, mostly among the homeless community. Unsanitary conditions make the virus more likely to infect more people because it's also transmitted through contact with feces.
State health officials said they had already distributed 81,000 doses of the vaccine this year and some counties had purchased their own additional vaccines separately. But Brown's emergency declaration allows them to be able to buy more directly from manufacturers to up their supply, Chavez said.
Hepatitis A is particularly hard to control because people can spread the disease before they have symptoms and even know that they have the virus. The virus itself is also highly contagious and can survive in the environment for a long time once it's introduced.
Hepatitis A in California

490 cases in San Diego County
71 cases in Santa Cruz County
13 cases in Los Angeles County
7 cases elsewhere in the state
soumya.karlamangla@latimes.com
Twitter: @skarlamangla
ALSO
California's deadly hepatitis A outbreak could last years, official says
Northern California firestorm brings illness, strains healthcare system
West Nile virus has killed 8 Californians this year. In parts of L.A. County, the risk is especially high
---
UPDATES:
3 p.m.: This article was updated with comments from state epidemiologist Dr. Gil Chavez and additional information about hepatitis A and the California outbreak
This article was originally published at 1:10 p.m.
Sign up for Essential California for news, features and recommendations from the L.A. Times and beyond in your inbox six days a week.
You may occasionally receive promotional content from the Los Angeles Times.