Column: The loss of Nipsey Hussle, and the neighborhood's alternative histories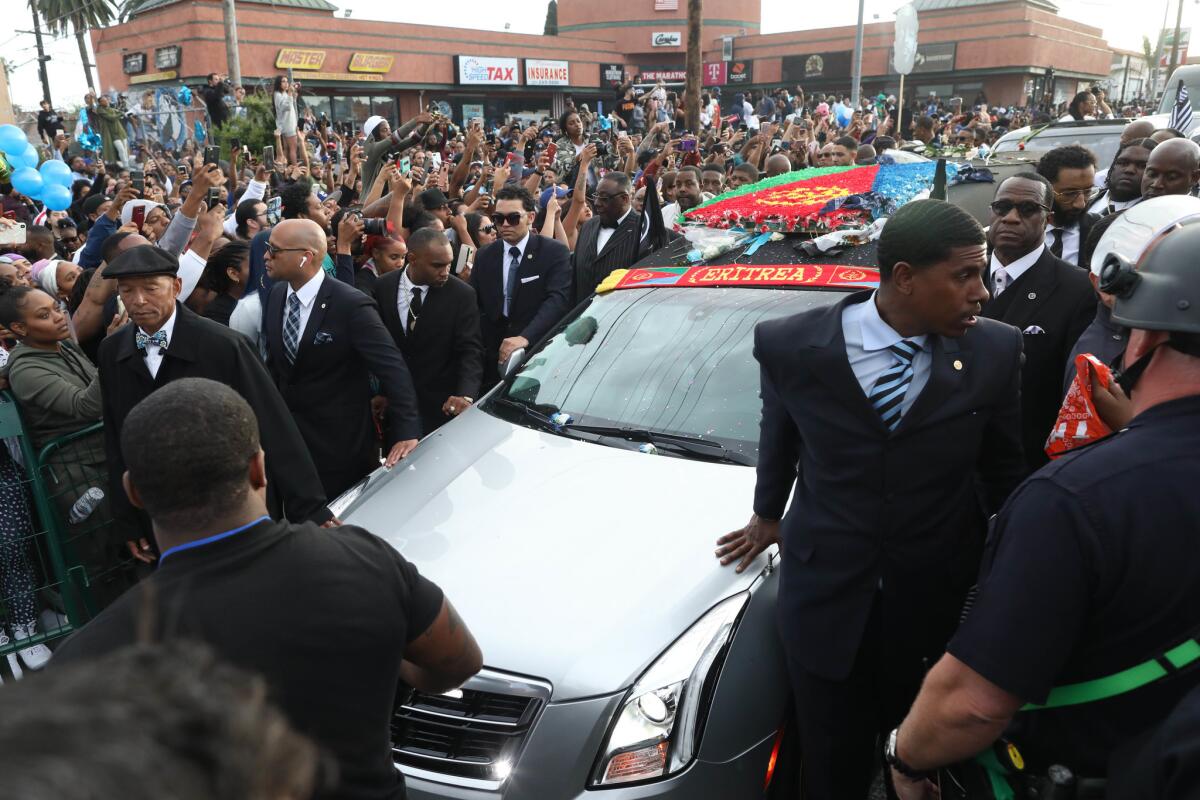 About a week before Nipsey Hussle's death, I was watching these YouTube videos about L.A. gangs on Street TV and Kev Mac Videos, channels with more than 270,000 combined subscribers and several million views.
There are nearly a thousand video interviews with gang members speaking frankly about gang life and its origins. They show what's often left out: men who love their families; dismay, grief and fear at the violence that surrounds them and the trauma that follows; passionate warnings to young men, from men who've had the chance to grow up.
Some of them unearth stories that journalists have missed or gotten wrong. They discuss Tyrone Hardeman, a 15-year-old boy whose slaying many gang members say actually launched the war between the Eight Trays and the Rollin' 60s. (In a July 1987 interview, a gang intervention worker told The Times that it was a dispute over a girl.)
I watched Tylo, a rapper and Rollin' 60s gang member formerly known as Tiny Amp, talk about the trauma of witnessing a triple homicide and the pain of being arrested — and shot by a police officer — just two weeks after his song first played on 92.3 the Beat. (He's out, and opened for Migos recently.)
And in the videos you can even find a young Nipsey, without a beard but with the same powerful sense of urgency and purpose.
I overlooked Nipsey, and, truthfully, so did many of us who don't live south of the 10 Freeway or have friends or family in those communities.
In the alternative histories that have always existed in South L.A., Nipsey was a superhero. But I knew him only by the reverent way other L.A. rappers I followed spoke of him and his work in his neighborhood. I streamed a mixtape of his but missed the album last year because, at 31, I'm already too washed up to follow music closely.
But if you head south, Nipsey's profound love for his community is reflected by everything the sunlight hits. You can read his name on seemingly any concrete surface that takes paint. His music booms from speakers in souped-up Mustangs and shiny silver Priuses. Nipsey gazes upon his neighborhood from more than a dozen new murals erected in the two weeks since his death.
The city grieves, and suddenly I see why.
If you go to Tak's Coffee Shop on Crenshaw, it's in the bowed heads at the lunch counter, in the silence during a TV broadcast about Nipsey's death, the louder silence after. It's palpable at JR's Barbecue, where chef-owner Robert Johnson, who's always cracking jokes, shakes his head and gets quiet whenever Nipsey comes up. He used to come in and order pork ribs, Johnson said.
I live in West Adams, where the world in which everyone is grieving bumps up against the world that doesn't understand why. Some people complain about the helicopter noise, and those who know the bad news shake their heads sadly at it. At my coffee shop, baristas and cooks mourn a man whose name few customers know.
The city mourns, but not everyone gets it.
On Monday, a few hours before a frightened, mourning crowd heard shots and fled Nipsey's memorial on Slauson and Crenshaw, I ran into Street TV's founder, Alex Alonso, a Puerto Rican Cal State Long Beach professor in a heather gray "Crenshaw" T-shirt and camo pants. He came to pay his respects and get footage.
Born in New York City to a family with some street ties, Alonso moved to Los Angeles when he was in middle school. At USC, he studied mapping systems and did a master's thesis on the geography of gangs.
Frustrated by inaccurate reporting and fascinated by gang life, he started recording interviews and posting them to StreetGangs.com, a Wikipedia-style database of gang culture. In 2006, YouTube brought his interviews to a huge audience of people hungry to see their stories told.
Alonso sees himself as an ethnographer telling the story of an impoverished, overlooked region through its gangs. He has interviewed Cambodian, Mexican and female gang members. He's even interviewed Kev Mac.
He wants to emphasize the humanity of the people involved in gangs, in a narrative that often leaves it out. His scholarship argues that black gangs were a defensive reaction by a community facing hostile white neighbors, racist policing and policy.
"These stories had never been documented," Alonso said. "But they are oral histories that are part of the real human geography of this city."
Kev Mac, born Kevin McIntosh, found Alonso's site shortly after getting out of prison in 1997 (he says he was incarcerated for robbing the Baldwin Hills home of former NBA basketball star Benoit Benjamin). A member of the same gang as Nipsey, he typed "Rollin' 60s" into a search bar, and Alonso's site was the first and only result.
McIntosh started his own website and began to make his own videos, driven by a powerful need to change himself and improve his community. Prison changed his priorities: He mourned the lost time with his three children, and his mother and sister, who died while he was incarcerated.
"I said to myself, I gotta be able to do something different. Maybe it'll help people think different and help people put the guns down," McIntosh said.
McIntosh, who recently moved to Las Vegas to escape L.A.'s high rents, says he's both journalist and activist. Sometimes he avoids publishing hostile interviews that could spark violence and instead tries to make peace behind the scenes. He wants to find the truth, but it's more important to get the fighting to stop.
"Nobody's winning the war. Nobody's winning anything. We're causing misery to our parents and other people's parents," said McIntosh. "I want people to get along."
Nipsey had the same goal, both men say.
McIntosh met Nipsey in 2003. A budding filmmaker, McIntosh had created a DVD tribute to the neighborhood, and he discovered that Nipsey had obtained a DVD burner, made his own copies and begun to sell them.
"He made himself a nice little piece of change," McIntosh said. "I was a little mad but also flattered because if someone's copying it, I might be onto something."
McIntosh wrote about Nipsey's music in the first issue of his magazine, All Hood Publications, in 2005 and put him on the cover in 2009. Even then, McIntosh said, Nipsey was particularly beloved because he never condemned his gang roots even as he transcended them. In an interview with a Dallas radio station earlier this year, he showed loyalty.
"I'm not a gangbanger, but I'm still Rollin' 60s. That's something you're never gonna put down," Nipsey said on 97.9 the Beat. "If you put it down, it's like you were never a part of it."
It's no secret that gangs bring violence, fear and crime to communities — Alonso's and McIntosh's videos show that too. But the way we stigmatize gang members can distort our view of the communities they affect and lead to bad policies, said Tyree Boyd-Pates, a curator at the California African American Museum.
"These are not monsters. These are American citizens residing south of the 10 Freeway," Boyd-Pates said.
Nipsey represented much of what we fail to see about gangs, said Boyd-Pates.
He condemned violence without condemning gang members, whom he understood to be the biggest victims of gang violence. He was a careful businessman who paid taxes and shared what he learned: In a 2008 Kev Mac interview, he can be heard breaking down both sides of a record deal. He was diplomatic and lobbied politicians and corporations to bring resources to his neighborhood.
RELATED: At Nipsey Hussle's final 'Victory Lap,' his message of motivation was loud and clear »
And he always showed up. Boyd-Pates was one of the many people who remembered meeting Nipsey on their block.
Even then, Nipsey had the same ideals, said Boyd-Pates, who grew up in Koreatown and attended Hamilton High School a few years after Nipsey did. Tall, lanky, with a drawl and neat cornrows evocative of a young Snoop, Nipsey sold his mixtapes at the gas station across the street from school.
His sales pitch back then, Boyd-Pates said, was the same as his life philosophy when he died: This is for the community.
»
Sign up for Essential California for news, features and recommendations from the L.A. Times and beyond in your inbox six days a week.
You may occasionally receive promotional content from the Los Angeles Times.