L.A. artists prepare to leave converted Fashion District warehouse that was subject of Ghost Ship crackdown
The lockout order, announced in April, comes almost seven months after the city attorney's office sued the owner of the property for fire code violations in the wake of Oakland's Ghost Ship fire. (Video by Claire Hannah Collins / Los Angeles Times)
When Redgi Woods, 30, moved into a spacious loft in a Fashion District warehouse in July, he could not believe his luck. The high ceiling and lighting appealed to him, and he used the space to host parties and meet with clients for his fashion design projects.
"I saw other people living here, I saw other artists," he said, sitting at a table in his loft, now crowded with moving boxes.
"Photographers are great for me to have, models are great for me to have," Woods said, "and when they're all a door knock away it doesn't get better, it doesn't get easier, it doesn't become more beautiful."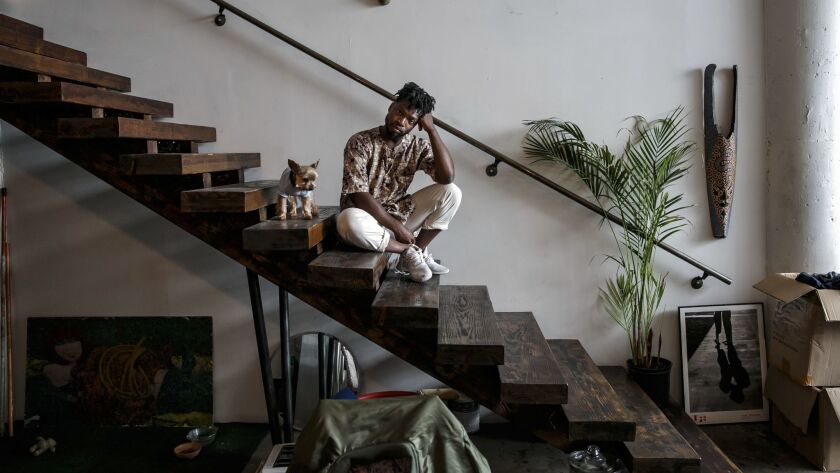 But the dream of living and working in the same place is coming to a bumpy end for the tenants of 931 E. Pico Blvd., who have been ordered by Los Angeles officials to vacate the four-story warehouse by June 28. The order to vacate has been extended twice, with the previous deadline June 22.
The structure was cited in August for illegal residential use. The lock-out order, announced in April, comes almost seven months after the city attorney's office sued the property owner, alleging fire code violations in the wake of Oakland's Ghost Ship fire.
Two weeks ago, about 10 of the tenants attended a City Council committee meeting, asserting that the property owner, Morad "Ben" Neman, was refusing to pay relocation assistance and pleading for help from the city.
On Wednesday, the City Council unanimously voted to approve nearly $400,000 in relocation funds, invoking a rule that allows the council to vote on an item the same day it's put on the agenda. Councilman José Huizar had requested that funds be identified to assist the Pico residents, along with those at 1518 S. Paloma St., who also have been ordered to vacate due to illegal residential use. Both properties have the same owner.
"Today's vote was critical in preventing residents caught in legal proceedings at no fault of their own from becoming homeless," Huizar said in a written statement. "This is exactly what we should be utilizing these type of funds for."
The deadly Ghost Ship blaze in Oakland's Fruitvale neighborhood broke out Dec. 2 in a warehouse that had been converted into artists' residences and a performance space, killing 36 people. The fire prompted many cities, including Los Angeles, to step up enforcement of building codes and crack down on illegally converted warehouses.
The Pico building was singled out by Los Angeles City Atty. Mike Feuer, who on Dec. 5 filed a criminal complaint alleging unpermitted residential use, inaccessible fire escapes and an inadequate fire alarm system. A subsequent inspection found that new electrical circuits had been installed without permits.
Security guards appointed by the landlord also threatened and intimidated residents, the city attorney said.
Robert Mardis, a tenant, said that a guard once yelled at him: "He gotta gun, he gotta gun" when he was outside the building.
Now, tenants of the Pico building are suing the owner for failing to make fire and safety improvements. On March 7 — the same day the tenants filed their suit — a court ordered a receiver to take control of the property.
"We sought a receiver from the court who would … not only assure that the needed upgrades were accomplished to comply with fire code, but also to protect the tenants who otherwise had no one to stand up for them," Feuer said.
The property owner, he said, has appealed the receiver's appointment.
The lawsuit — filed by about 80 current and former tenants against Neman — includes allegations of uninhabitable living conditions, vandalism of tenants' property and intimidation of tenants who filed complaints to city agencies.
"You had no safety, you had no heat, you had no permits," said Harold Greenberg, who represents the tenants. "And when you block off the exit to the roof and when you block off the exit to the outside, you're going to trap people, and that's what happened at Oakland."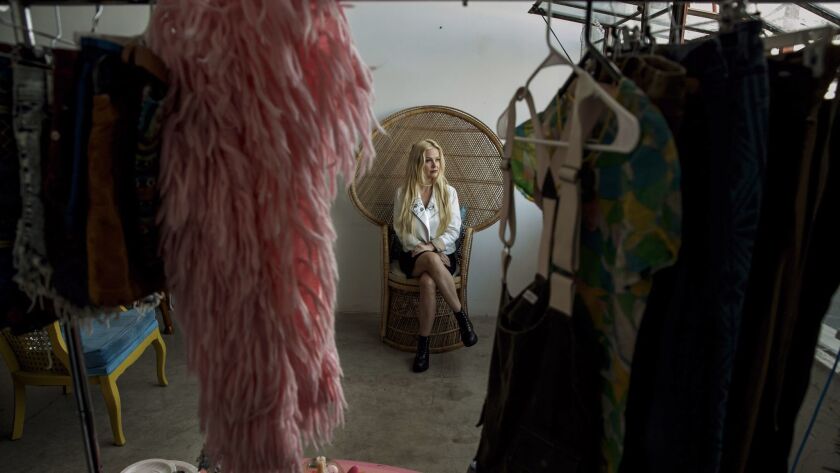 An attorney representing Neman in the tenants' lawsuit declined to immediately comment. Bradley Brunon, Neman's lawyer in the city's criminal complaint, declined to discuss the case, saying that "at this point things are up in the air."
The tenants accuse Neman of constructing the units for use as apartments — pointing to kitchens that were installed before they moved in. Many turned their lofts into galleries, rented out the space for dinner parties and hosted photo shoots. Celebrity sightings were common.
The lofts appealed to Mark Stout, 62, a commercial fashion photographer who moved in after spotting an ad on Craigslist, which he said advertised the space as work-live.
"There's coolness about things here in a rough, falling apart kind of way, and that's how an artist looks at it," he said.
Still, tenants had complaints.
Stout, who said he was evicted from the building and now lives in a motor home, said his photography clients would get stuck in the freight elevator and that he could see the unit above him through gaps in the wooden floor.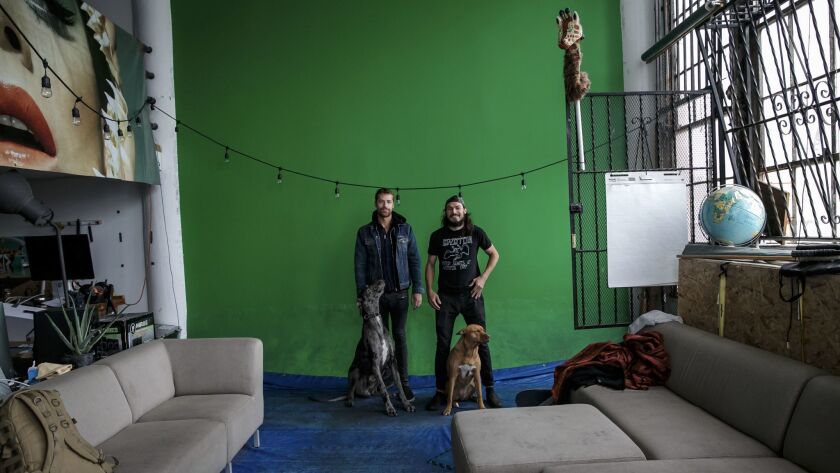 In December, a notice was posted in the warehouse instructing residents to comply with a court order prohibiting filming and gatherings with more than 10 guests. Tenants said this constricted business and their ability to generate an income.
"That pretty much cut off my dinner parties," said D.J. Park, a 30-year-old chef, explaining that he switched from holding events twice a week to three times a month.
When Park moved into the property in November, he built a 15-seat countertop bar and installed new flooring. He prepared products to sell in his shop in Koreatown and provided off-site catering for film and television productions.
He said he paid $4,900 monthly in rent but that "to justify that, I felt I was generating income from multiple businesses." That changed, he said, after the court order.
Teresa Flowers moved into the Pico building more than two years ago and decorated the hallway entrance with albumen prints — photographs made with egg whites that she said can sell for up to $4,500.
"Not only am I in fear of being homeless, I have lost all the means to actually have a business," Flowers said at the council meeting two weeks ago.
Their situation reflects a larger reality: There are few affordable live-work spaces for artists downtown.
The Santa Fe Art Colony, which offers subsidized housing, was established about 30 years ago with a $1.2-million Community Redevelopment Agency loan.
Sylvia Tidwell, head of its tenants association, said that rent for many of the 80 residents will rise from $981 to a range of $1,350 to $1,750 when the financing agreement expires Oct. 1. Another live-work space, Art Share L.A., offers 30 subsidized units in the Arts District with rents ranging from $700 to $900 a month.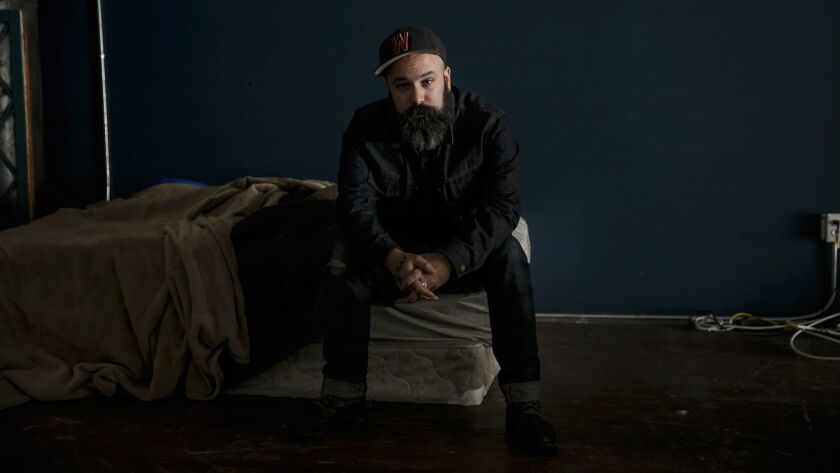 "The need is definitely there, and we saw that with so many people being displaced after the Ghost Ship fire," said Cheyanne Sauter, Art Share L.A.'s executive director.
It's a situation that the Pico warehouse tenants understand.
Eric Cacioppo, 35, decided to leave his loft and move into a two-bedroom house with his girlfriend.
"The bigger issue that I have," said Cacioppo, "is downtown as a whole abandoning the core people that made downtown what it is — and that's artists that can't work down here."
Twitter:@leilamillersays
---
UPDATES:
6:15 p.m.: This article was updated with additional details about when tenants must vacate the building.
June 21, 4:10 p.m: This article was updated with information that the City Council voted to approve relocation funds.
This article was originally published on June 16 at 7:55 p.m.
---
The stories shaping California
Get up to speed with our Essential California newsletter, sent six days a week.
You may occasionally receive promotional content from the Los Angeles Times.