Three women were sexually abused while in a psych hospital. Now, they want their day in court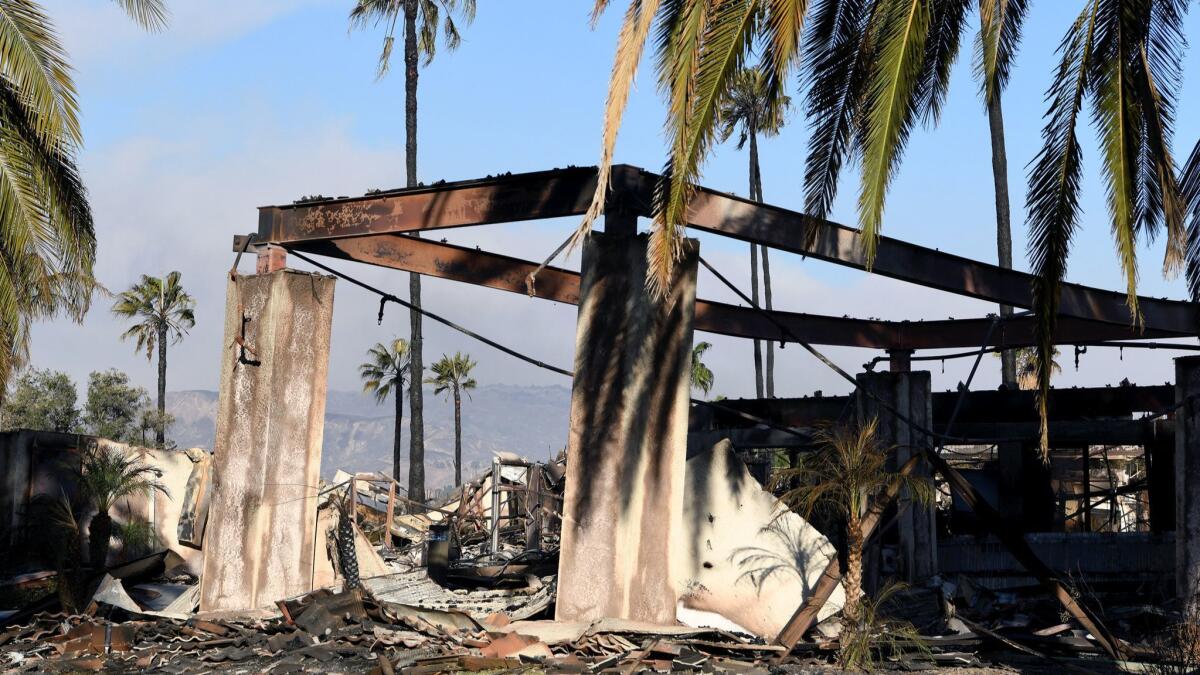 Three years ago, Juan Valencia, a mental health worker at a Ventura County psychiatric hospital, pleaded guilty to sex crimes involving women who were patients there. He was sentenced to more than six years in jail.
Now the women are suing Aurora Vista del Mar Hospital in Ventura and its parent company, Michigan-based Signature Healthcare Services, alleging that Valencia was hired despite a history of sex crimes and was not properly supervised while he worked at the facility.
The staff at Aurora Vista del Mar didn't keep the women safe, David Feldman, the plaintiffs' attorney, said in opening statements Thursday at the Ventura County Courthouse.
"Therefore they're responsible for the harm caused to them," he said.
The women are seeking multimillion-dollar payouts. Experts say it is unusual for such cases to go to trial.
Thomas Beach, the hospital's attorney, argued that it is not responsible for Valencia's crimes. Valencia's sexual contact with the women was done in secret and outside the duties of his employment, Beach said.
The three young women sat in the front row of the courtroom of Ventura County Superior Court Judge Kevin G. DeNoce on Thursday. (They were identified only by their first names in court documents. The Times generally does not name victims of sex crimes.)
The case shines a light on a marginalized group of people who deserve more attention and safeguards, and who are often not believed when they report crimes, said Pamila Lew, an attorney with Disability Rights California, which is not involved in the case.
"It's just one of the most vulnerable populations: first of all, people who are institutionalized, women, and on top of that, having a psychiatric disability," Lew said. "These women are so fearful of retaliation if they don't go along with things. … The consequences could be to be put in restraints, they could be put in isolation, seclusion."
Signature Healthcare Services operates more than a dozen acute psychiatric facilities in California, Illinois, Nevada and Texas. At Aurora Las Encinas in Pasadena in 2008, a patient entered the room of a 14-year-old and raped her while hospital employees slept, The Times reported.
Valencia was a mental health worker at Aurora Vista del Mar between February 2010 and November 2013, when the three women were admitted there.
He was responsible for accompanying patients to doctor's appointments, checking vital signs and picking up dirty laundry, among other duties. (Aurora Vista del Mar closed after it burned down in the Thomas fire in 2017, and reopened late last year.)
One of the women, who was diagnosed with bipolar disorder, alleges that Valencia coerced her into having sex with him multiple times while she was a patient there, which she says she could not consent to because of her mental state.
In 2015, Valencia pleaded guilty to having sex with a patient at a health facility where he worked. He served three months in jail.
"She was at her most vulnerable," Feldman said. "He abused her and betrayed her trust."
In 2016, Valencia pleaded guilty to two felonies — rape of an incompetent person and penetration by a foreign object — involving the other two patients.
But Beach, who represents the hospital, said that although Valencia is "clearly responsible for his bad choices," his actions were done in secret, without other hospital staff being aware.
"The fact that Juan Valencia accepted responsibility for his misconduct does not mean the hospital did anything wrong," Beach said.
Feldman said the women did not have the capacity to understand their decisions because of their mental illness.
But Beach argued that the women were not incapable of understanding their own actions. He pointed out that they did not resist the sexual contact and some continued their sexual relationship with Valencia after being discharged from the hospital.
In his opening statements, Beach compared the allegations to protesting a speeding ticket after driving 100 mph.
"You cannot say, 'I cannot be responsible because I was just not in a good state of mind,'" he said.
In 2000, Valencia, then 18, was convicted of statutory rape after he impregnated his 14-year-old girlfriend, Beach and Feldman said.
The conviction, which has been expunged, did not show up in the hospital's background check of Valencia, but Feldman said the hospital should still be held accountable for hiring someone with a history of sexual misconduct. He said that some hospital staff called Valencia "Rapey Juan."
Beach contended that there is no good way to determine which employees, before they are hired, would be at risk of engaging in sexual misconduct.
"It wasn't a violent or brutal rape," he said. "It was simply statutory rape."
Most patients stay at Vista del Mar for about a week, according to court documents. The facility has 87 beds, Feldman said.
After one of the women was released from the hospital, she and Valencia began talking again, Feldman said. He took her to a party, where a nursing student realized he must have met the woman while she was a patient at the facility. She alerted the hospital and Valencia was fired soon thereafter, Feldman said.
Beach emphasized that the hospital is not responsible for what happened between Valencia and the women, regardless of how it may have harmed the women.
"The hospital didn't do anything to cause that," he said.
The trial is expected to last several weeks.
soumya.karlamangla@latimes.com
Twitter: @skarlamangla
Sign up for Essential California for news, features and recommendations from the L.A. Times and beyond in your inbox six days a week.
You may occasionally receive promotional content from the Los Angeles Times.