The recent storms that have buried the Sierra Nevada in snow have taken a big bite out of the state's five-year snowpack deficit, according to researchers.
Using satellite data, computer models and snowpack measurements, University of Colorado at Boulder scientists estimated the water content of the snow that has fallen since late December. They then compared it with the total snowpack shortfall of the five-year drought.
In less than a month, California appears to have recovered roughly one-third of the water content that it lost during the succession of dreary winters that robbed the state of a critical water source, said the researchers, who released their estimates Friday.
In 2015, the April 1 snowpack was an abysmal 5% of average for the date, the lowest since 1950.
This winter, storms fueled by atmospheric rivers have sent snowpack levels soaring. As of Friday, the statewide snowpack had jumped slightly above the average for April 1, usually its peak date.
Statewide, the snowpack -- which represents the snow's water content -- is 186% of normal for the date. In the southern Sierra, it is a whopping 219% of average for this time of year.
Rain and snow levels up and down the Sierra have been climbing at rates similar to the wettest years on record.
The numbers are putting smiles on the face of water managers, who look to melting snow to help fill reservoirs in the spring. In normal years, the snowpack provides about a third of the state's water supply.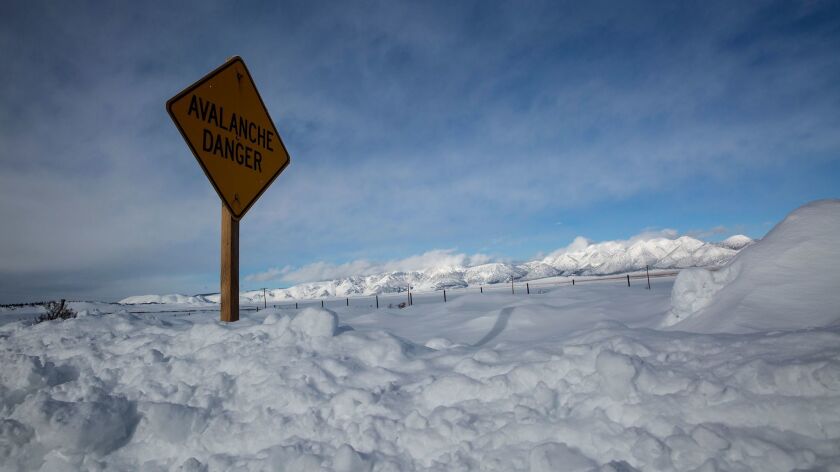 The team at the university's Center for Water, Earth Science and Technology estimated that January snowstorms dumped the equivalent of 17.5 million-acre feet of water. That figure amounts to about a third of what the researchers said was the drought's 54 million-acre feet shortfall in the snowpack.
(One acre foot is enough to supply two average households for a year.)
Runoff from this winter's storms is swelling reservoirs. The two largest in the state, Shasta and Oroville, are both more than three-quarters full.
"The start to winter has been the best California has seen since 2011," said David Rizzardo, the state's snow surveys chief.
Twitter: @boxall
ALSO
Epic rains and snow help the 'inland sea' of Sacramento roar back to life
L.A. tallies its homeless population amid concern about rising encampments
---