Taxpayer money wasted on bar tabs, trips to Las Vegas and expensive electronics in South El Monte, audit shows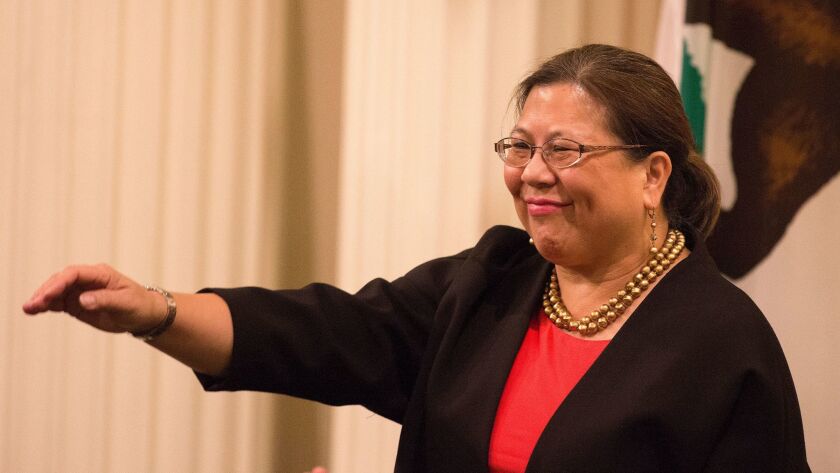 South El Monte officials racked up thousands of dollars on city credit cards for consultants' bar tabs, airfare and pricey electronics. They splurged on hotel stays and a trip to Las Vegas without proof that it was related to city business.
The former city manager charged more than $3,000 for a cheerleading camp, and the city paid $390,000 to a consultant after their contract had already expired.
These are just a few of the findings of a California state controller review of how South El Monte spent money. In a scathing assessment, Controller Betty Yee declared: "South El Monte officials demonstrated a culture of incompetence and blatant disregard for taxpayer dollars."
In a statement released Thursday, Yee also said that she was "especially concerned with exorbitant lobbying and consulting expenses that resulted in undefined benefits to the city and its residents."
The state's blistering review comes just as the city is embroiled in a corruption scandal involving ex-Mayor Luis Aguinaga, who in September pleaded guilty in a federal bribery case. Prosecutors said Aguinaga accepted at least $45,000 in bribes from an unidentified city contractor.
The former mayor also split some of the payoff, delivered in envelopes with cash, with another city official, according to prosecutors. That person has not been charged or publicly identified.
Aguinaga was sentenced last month to a one-year federal prison term.
"I think our city was a mess," said Councilman Joe Gonzales, who has criticized how the city has been run and contracts handed out. "I just don't think there was any type of checks and balances whatsoever."
The city has been taking actions to correct the problems and plans to adopt even more changes, according to the review.
But Gonzales said the city needs to go above and beyond the steps it has taken and is proposing to take. He said South El Monte needs to appoint a special overseer to be a check on the administration. He said he hoped such a step could help the city get its financial affairs in order.
Anthony Ybarra, who had been city manager for more than a decade until he resigned in August, said he couldn't recall some of the expenses highlighted in the review. He also disagreed with Yee's assessment that there was a culture of incompetence. He said he would contact her personally after he reads the report.
The state review of South El Monte's spending found that from July 2013 to June of last year one contractor billed the city $1 million without submitting time cards. The city was negligent about having written contracts for services and employment and sometimes renewed top managers' contracts long after they had lapsed.
In 2009, South El Monte and agencies in four other cities reached an agreement to lobby the Metropolitan Transit Agency on a Metro Gold Line Eastside Extension route.
When two cities stopped paying their share, according to the state review, it cost South El Monte $314,000. But South El Monte was so sloppy in its financial controls, according to the review, that it incorrectly billed a city that was not part of the pact and collected $56,000.
The city had paid $1.4 million to lobbying and consulting firms to fight for South El Monte's preferred Metro Line route. But there was no public airing of the project or costs associated with it.
The controller's review found that the vast majority of South El Monte's internal controls — almost 90% — were inadequate.
Several of the more exorbitant expenses by city officials involved hotel stays. For example, on Jan. 30 of 2013 a former city manager charged $642 to stay at a Wyndham hotel in San Francisco. In October of that year, the manager charged $840 twice for a two-night weekend stay at a Westin hotel in Seattle.
One council member charged the city-issued credit card $378 in June of 2015 for a hotel stay at the Aria hotel in Las Vegas.
In each of these cases, according to the state review, there was "no description, justification, or any type of documentation as to the purpose and necessity of these trips."
Twitter: @adamelmahrek
ALSO
Anaheim high school students arrested in school violence plot
'Promposal' gets a big 'Nope' from Santa Monica Mountains park rangers
Skydiver wearing a wingsuit crashes, dies in Northern California vineyard
---
UPDATES:
4:40 p.m.: This article was updated with comments from former City Manager Anthony Ybarra.
4 p.m.: This article was updated with comments from South El Monte Councilman Joe Gonzales.
This article was originally published at 1:55 p.m.
---
The stories shaping California
Get up to speed with our Essential California newsletter, sent six days a week.
You may occasionally receive promotional content from the Los Angeles Times.