In Little Saigon, scraping out a living, one home-cooked meal at a time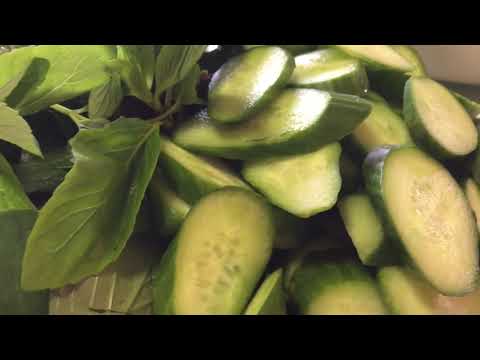 Hue Phan is one of many cooks in Little Saigon who provide a type of food service known as "com thang, " literally translated as "monthly rice."
In the morning darkness, Hue Phan prepared to steam greens and fry meat in the improvised kitchen on her backyard patio in Garden Grove.
The ingredients will fill meal cartons to feed more than three dozen people, at $7 a pop.
Once an accountant in Vietnam, Phan, 55, now helps support her family by catering for those — including millennials and middle-aged professionals — with too little time and a taste for the old country.
To Phan, serving com thang — a popular practice in neighborhoods like Little Saigon that goes back generations in Vietnam — has been indispensable to earning an income.
"For refugees, a new economy requires you to be a new person," Phan said. "You take risks, you learn to adapt, you save a bit here and there to function as part of an immigrant community where most others are doing the same."
Com thang, literally "monthly rice" or "monthly meal," fed soldiers during the Vietnam War and scholars who were far from their families but determined to eat as if they were home. To Vietnamese American subscribers, it's a serving of convenience in a sometimes frenetic life full of work and other obligations.
"You still have to pick up the kids, navigate traffic, drive home and then start to cook a multiple-course meal for several generations living under one roof? What time can you begin to eat?" said Claudia Kolker, author of "The Immigrant Advantage: What We Can Learn from Newcomers to America About Health, Happiness, and Hope."
"This is why the heads of household tell me they must have help. Here's help."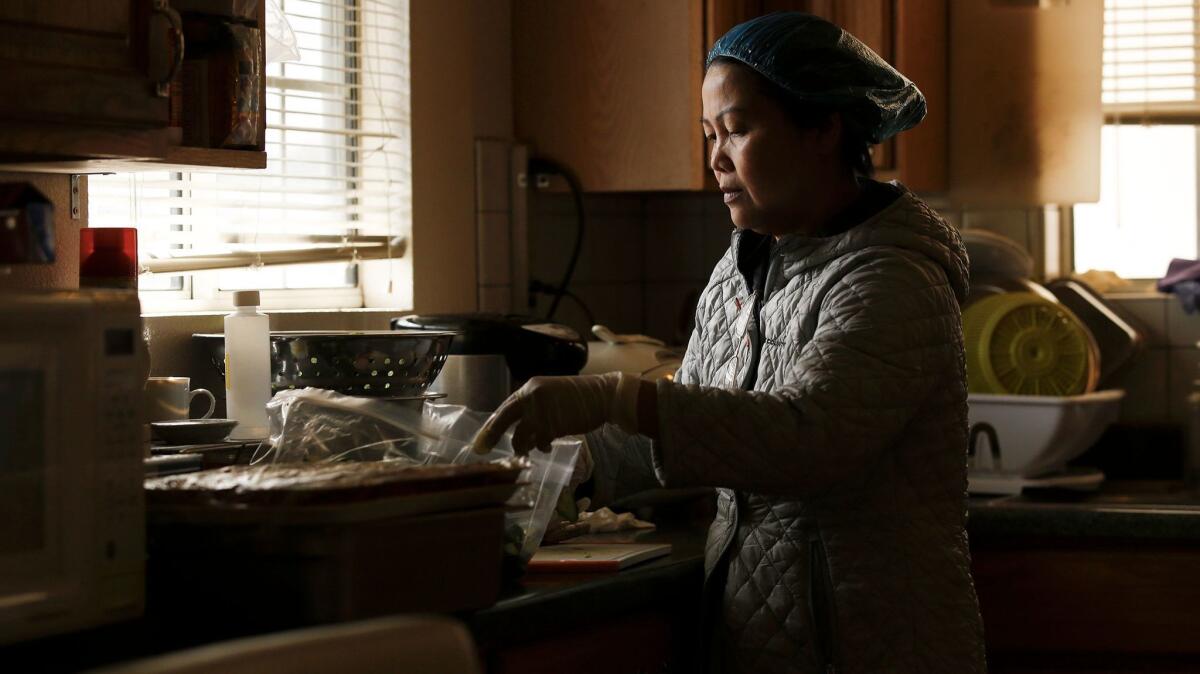 For some immigrants — and virtually all the com thang cooks are women — the practice allows them to press forward without the usual accouterments of success in America.
"I don't have the language. I don't have the degrees. What else can an old woman do in a new land?" Mai Vo, 68, asked. "You fit into the economy of the country where you live, you find a way."
From accountant to cook
Phan rents a four-bedroom home near Bolsa Avenue, the "Main Street" of Orange County's Little Saigon. To supplement her income, she in turn rents out two of those rooms.
In Vietnam, Phan thrived in a large extended family, inheriting a love for cooking from her mother, who would create what she calls "grand meals." Her father worked as an assistant to an army general, and the clan lived in a villa with a maid.
"Every weekend, I would ban that maid from cooking, and I took over," Phan said.
Sponsored by family members who had become American citizens, she arrived in the United States in 2001 with her husband and infant son.
After first living in Minnesota, they moved to California in 2008 to be closer to her father, who had Parkinson's disease, and to help her younger sister with a fast-food Vietnamese eatery.
Three years ago, after her dad's death, Phan found solace in feeding others.
Soon, it became a business.
She cooks on Mondays and Wednesdays, using Tuesdays and Thursdays for grocery shopping, scouring mom-and-pop stores and supermarkets for seasonal goods and sale prices.
Among her specialties is simmered catfish. Phan rinses pork four times to "get all the bad stuff and residue out" and then washes it with Coco Rico soda for a hint of coconut essence.
"We have to pay attention to all the details if we want customers to renew month after month," she explained.
To do this well, Phan said, one cannot just worry about dollars and cents.
"It's no good devoting all this time if the people who eat your food are not fulfilled," she said. "I have to earn a living, that's a fact, but what guides me is providing something that's quality and to leave everyone satisfied."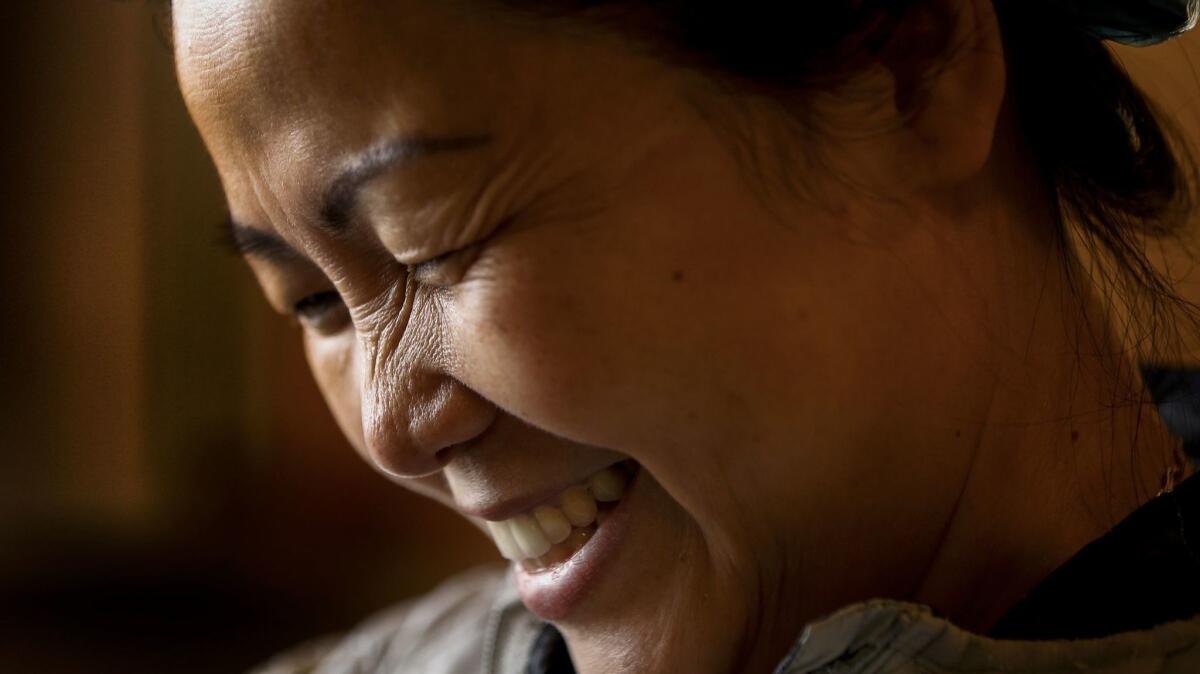 Peter Trinh, 52, of Fountain Valley has ordered com thang for the last 10 years.
"You cannot beat this as a convenience," he said.
Ever since he and his wife began dating, he said, "we had a contract. She said no cooking, no laundry. I wash all the clothes and since we both work, we had to find another way to get Vietnamese home cooking."
At dinnertime, his two daughters make sushi rice to pair with the food delivery. The family sits down to share the day's events.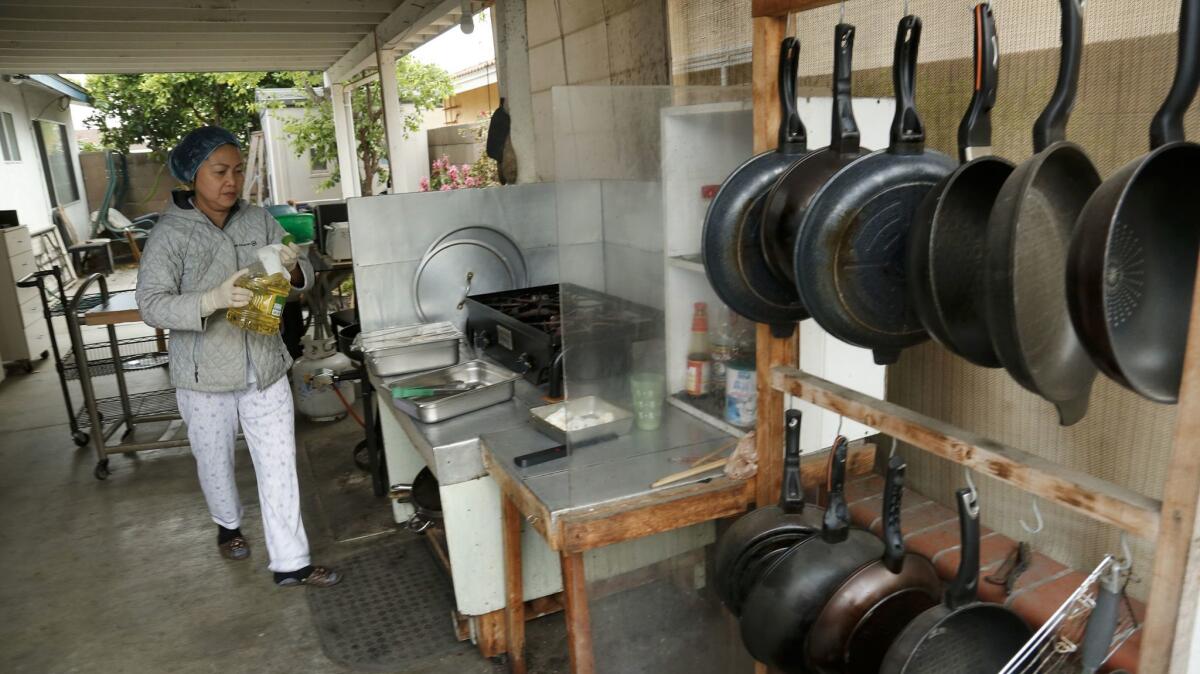 Count on millennials as future customers
Kristin Tran, chef and owner of Garlic & Chives in Garden Grove, predicted the service's popularity will continue to grow.
"As millennials age, they will be pursuing their passions and have less time to cook — and especially cook traditional meals," she said.
When you compare com thang with meal services where fresh ingredients are delivered to customers who then prepare them using enclosed recipes, Tran says there's a big difference. Com thang "is full service — the price, the convenience, you can't compete."
But like most street vending — whether it's tacos or steamed corn on a stick — com thang is an underground economy. Some cooks find legal loopholes, but most reason that their enterprise is only temporary or that they're satisfying a huge need. Especially around Little Saigon, where hundreds of people live as boarders in rented rooms without access to kitchens.
Always, there's the hope that something better will come along.
Dong and Chau Tran, a brother-and-sister team, avoid crackdowns and legitimized their meal delivery service by setting up Com Viet in leased space in Garden Grove's Saigon Supermarket. For $300, their couriers will drop off meals for two, Monday through Friday, for a month. The caveat: Diners must live within a seven-mile radius of Little Saigon.
"Irvine, those folks call me a lot. But you must order 10 portions or more to make it worthwhile," Chau Tran said. "I wish there were a way we can serve everyone. Customers call us even from L.A., but it's out of our reach. The desire for home cooking does not have boundaries."
Customers can order online, and the Trans employ five cooks and three couriers. On a "successful" day, they will sell as many as 200 portions. Chau Tran, 58, who also manages an office downstairs at Saigon Supermarket, estimated they make 30 cents profit per portion.
"You have to keep prices low or they just go to a restaurant to eat," Tran said. "When you factor in the fish sauce, salt, scallions and cilantro and the other spices and garnishes, we're not earning big."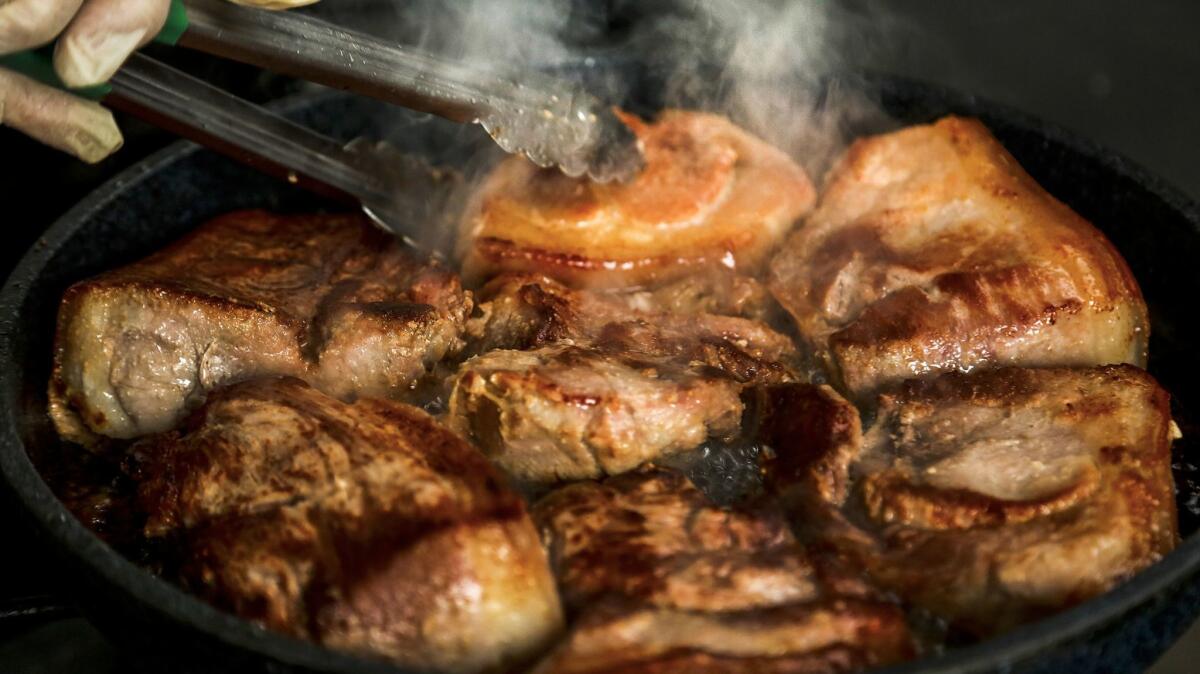 "You think McDonald's is better than this?"
Mai Vo dipped cut squash into the steamer, then set in pieces of tilapia, freshly marinated and fragrant with garlic. The colanders next to her brimmed with water spinach, crisp and ready to unfurl in the sizzle of sesame oil.
Fifty plastic containers lined the counters, soon to be filled with a first course of sauteed tofu in oyster sauce.
Vo spends most days of the year buying produce. As a home cook, she feels responsible for entire households in Garden Grove, Santa Ana and Westminster — the cities bordering Little Saigon where Vietnamese Americans too busy to spend time at the stove turn to her.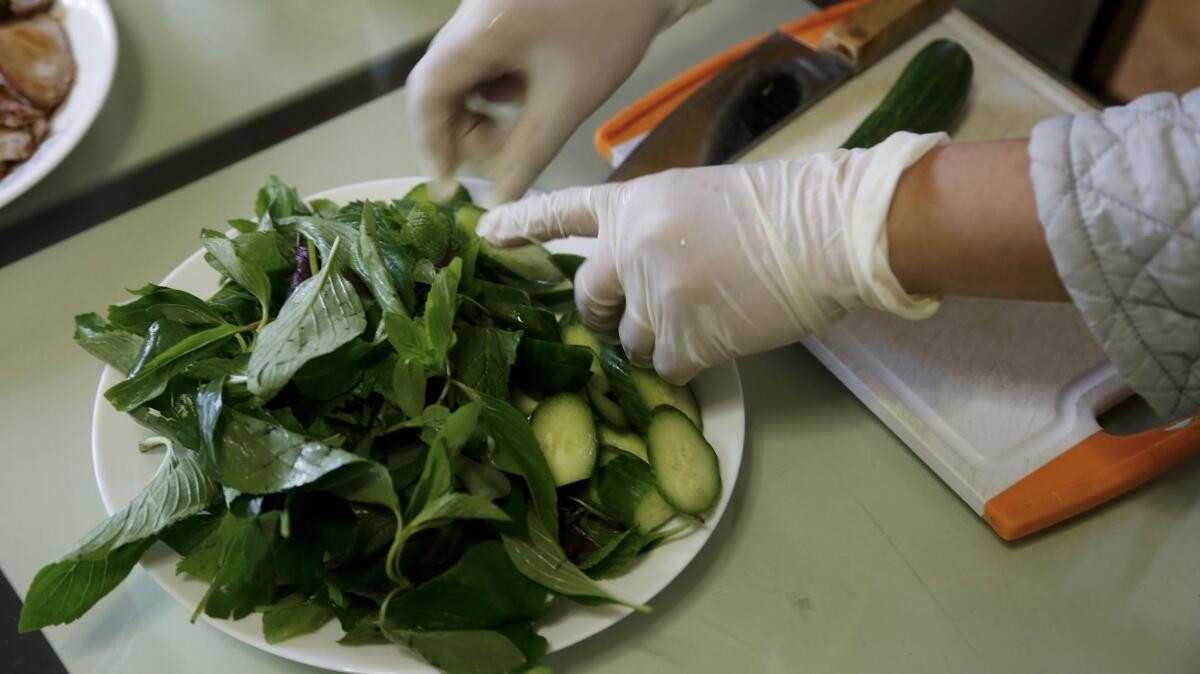 She takes no vacations.
Her son delivers the meals, which cost $8, or customers stop by Vo's rented home to pick them up.
For four years she has run this service with a helper, pocketing around $1,200 a month in cash. Vo uses it to replenish her cabinet of herbal medicine and to contribute to her grandchildren's education.
Her kitchen is her garage, dimly lit, outfitted with shelves and stocked with to-go boxes in assorted shapes and sizes. Her hands are rough and stained. Vo is used to the workload but laments that her grandchildren, and other young people, prefer In-N-Out over her sauteed beef and onions.
"I worry that they will outgrow our culture — and our food. But I keep thinking this is a way to keep them close to it," she said.
"Their parents … need us for the ease of running the household. They sit down with their children at night and wish that they could relax and have dinner served. Well, that's what we handle," Vo said.
"You think McDonald's is better than this?"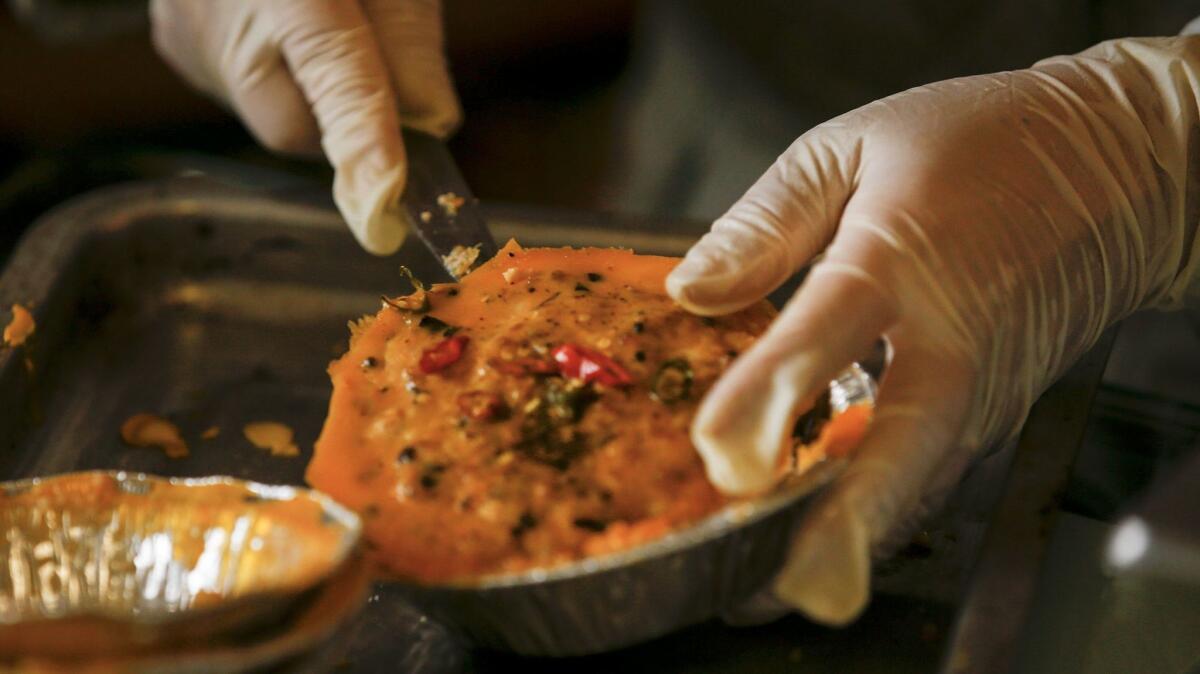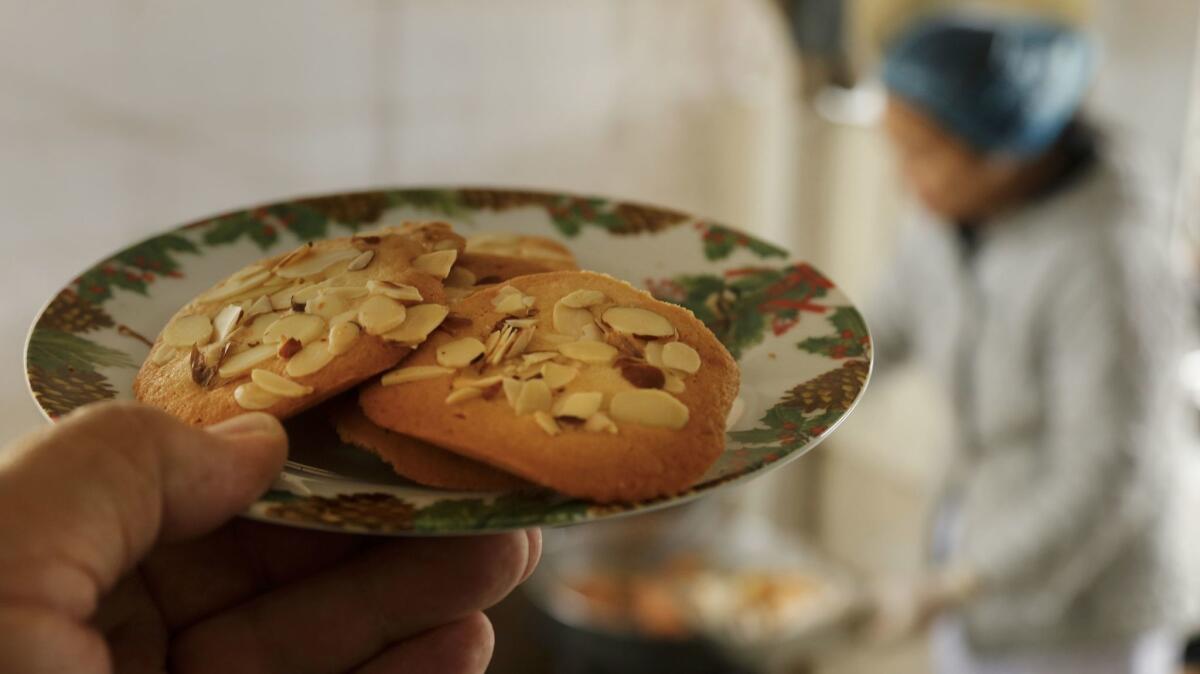 ALSO
Even with Irvine's diverse mix of cultures, some residents feel they don't 'fit'
Muslim and Latino groups unite during Ramadan, breaking fast with tacos at mosques
For Orange County Vietnamese, a film about the war shares a glimpse into their past life
Sign up for Essential California for news, features and recommendations from the L.A. Times and beyond in your inbox six days a week.
You may occasionally receive promotional content from the Los Angeles Times.