Muslim and Latino groups unite during Ramadan, breaking fast with tacos at mosques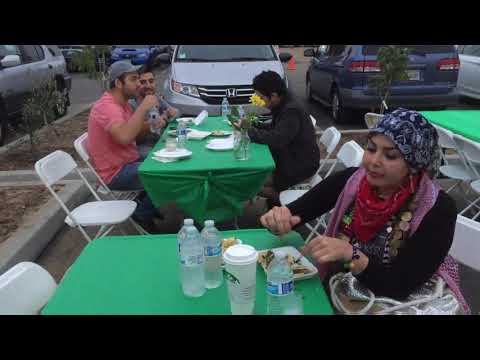 (Video by Brian van der Brug / Los Angeles Times)
Activists Rida Hamida and Ben Vazquez wanted to find a way to promote unity among the region's Muslim and Latino communities, so they came up with a novel idea.
After daily fasting as part of the holy month of Ramadan, dozens of local Muslims joined their Latino neighbors Saturday night in the parking lot of the new Islamic Center of Santa Ana, taking part in the inaugural event of the campaign dubbed Taco Trucks at Every Mosque.
Organizers said the idea is to demystify Islam through the sharing of food and to unite two groups, Muslims and Latinos, facing increasing discrimination in the Trump era. They invited community members to sit down together after sunset — and the breaking of the day's fast — with a meal called iftar.
"This is perfect timing. The purpose of this month is to give charity, to grow our character and our inner lives and to nourish our soul through service. What better way to do that than by learning from one another?" asked coordinator Hamida, whose goal is to host food trucks that will serve halal tacos at every mosque in Orange County. More than 400 people attended the event.
Raising funds to pay for tortilla-wrapped treats is Hamida's response to an oft-repeated statement from Marco Gutierrez, founder of Latinos for Trump, who last year warned that mainstream American culture soon would be swamped by Latino culture, courtesy of tacos.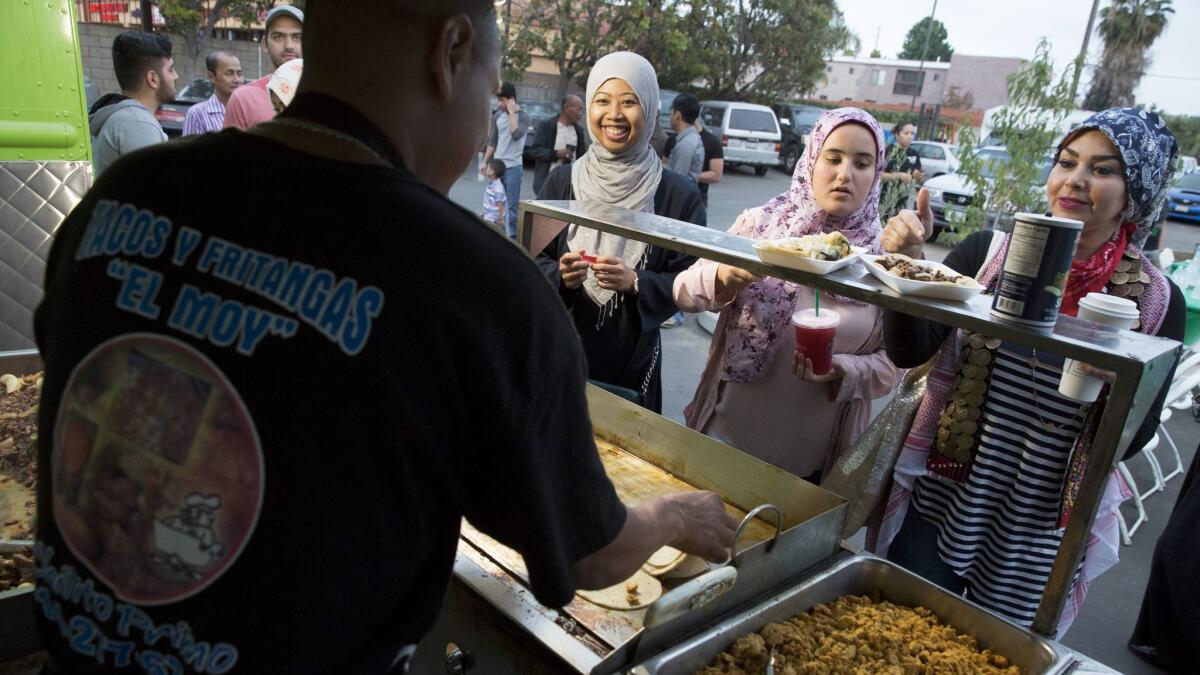 "You're going to have taco trucks on every corner," Gutierrez said.
Hamida and Vazquez, a Santa Ana history teacher, came up with the idea for the first joint Ramadan event after the election of President Trump to highlight faith while hoping to help stem the rise of anti-Muslim hate crimes and attacks.
While munching carne asada tacos Saturday night, Santa Ana resident Michael Abdul, who was born in Peru, said he understands the symbolism.
"You cannot answer hate with hate," said the clothing salesman. "What I figured out is this religion not only unites Muslims but anyone who has mercy and is able to forgive people."
Even young participants such as Idrees Alomari, 13, were encouraged by Saturday's event, which he said was a good way to show how people can appreciate their differences and similarities. He said other youths sometimes "don't get my religion."
"I wish they would listen more instead of being hot-headed about what they think could be right or wrong," said Idrees, who is a Muslim of Yemeni and Mexican descent.
Hamida, a Muslim mother and community organizer from Anaheim, counseled patience — and determination.
"We're building bridges," she said, "one taco truck at a time."
Others echoed her sentiment.
"It takes energy and compassion to live among cultures," said Claudia Perez, 24, a sociology major at UC Irvine. "And because our Muslim community seems to be invisible, that's why I'm here."
Perez said she awoke at 10 a.m. Saturday to begin a fast that would end when she and friends lined up for "rico tacos" at 8:45 p.m.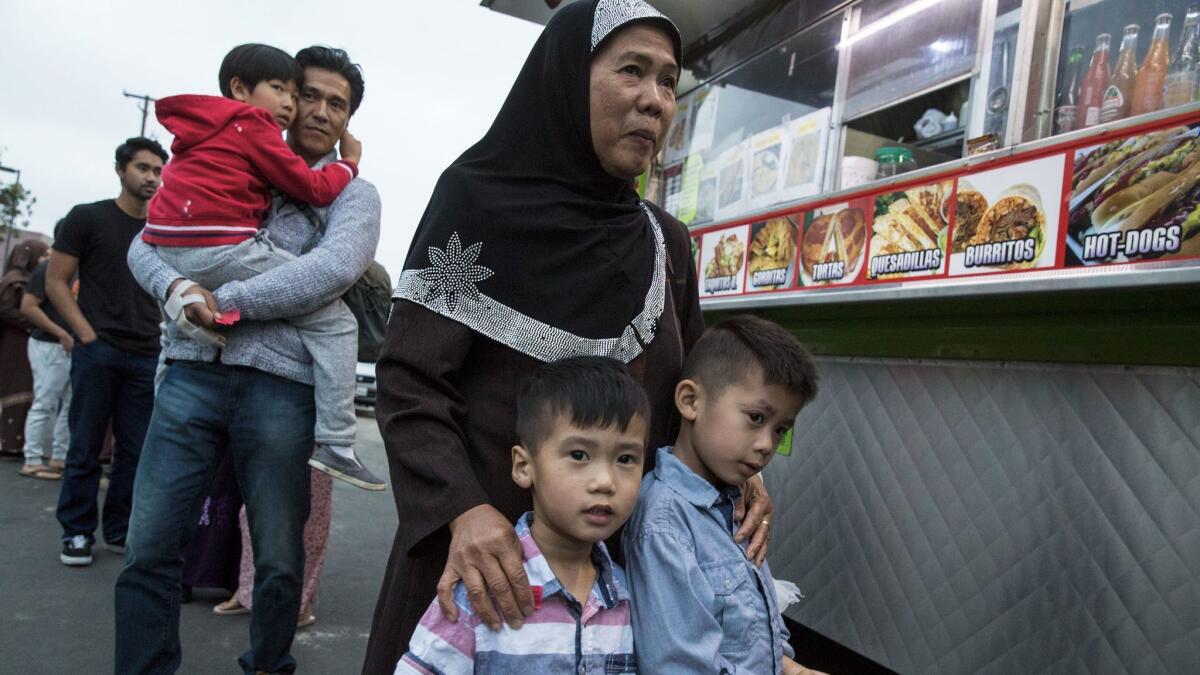 "I think it's a beautiful experience that everyone should really try," she said.
"All the way from the parking entrance to inside, everyone's been like, 'Welcome, welcome, we're so glad to have you here,'" said Dulce Saavedra, 24, Perez's friend and fellow youth organizer for Resilience OC, a nonprofit created from the merging of Santa Ana Boys and Men of Color and Raiz, a group pushing for partnerships between law enforcement and immigrants.
Resilience OC partnered with Hamida and Vazquez for the event, which will soon be extended to mosques in Anaheim, Garden Grove, Irvine and Mission Viejo. There are also requests from Altadena and Pasadena, Hamida said.
Vazquez, rubbing his belly after fasting since 4:50 a.m. Saturday, said, "We have a saying — la cultura cura — the culture cures. There's nothing better than two sides coming together to cure evil thoughts about each other."
The community activist described the evening as "an act of solidarity. Remember these moments."
Issa Edah-Tally, Ramadan event coordinator for the Islamic Center, said he and his team devoted countless hours to make sure their new, 6,000-square-foot building along 1st Street in Santa Ana would be "clean and ready to welcome our guests." Nearly 600 families make up the congregation, where members are largely Cham, with roots in Muslim communities flourishing in Cambodia and Vietnam.
"We will be good neighbors," he promised, "as we join the neighborhood and let the discoveries happen."
To read the article in Spanish, click here
Twitter: @newsterrier
ALSO
Steve Lopez: This is L.A.'s crisis — high rents, low pay and rising homelessness
Former Laker Derek Fisher arrested on suspicion of drunk driving
Big spenders in China are targeting U.S. species of turtles and tortoises as collector's items and cuisine
Sign up for Essential California for news, features and recommendations from the L.A. Times and beyond in your inbox six days a week.
You may occasionally receive promotional content from the Los Angeles Times.