Death toll from West Nile climbs to 7 in L.A. County, officials say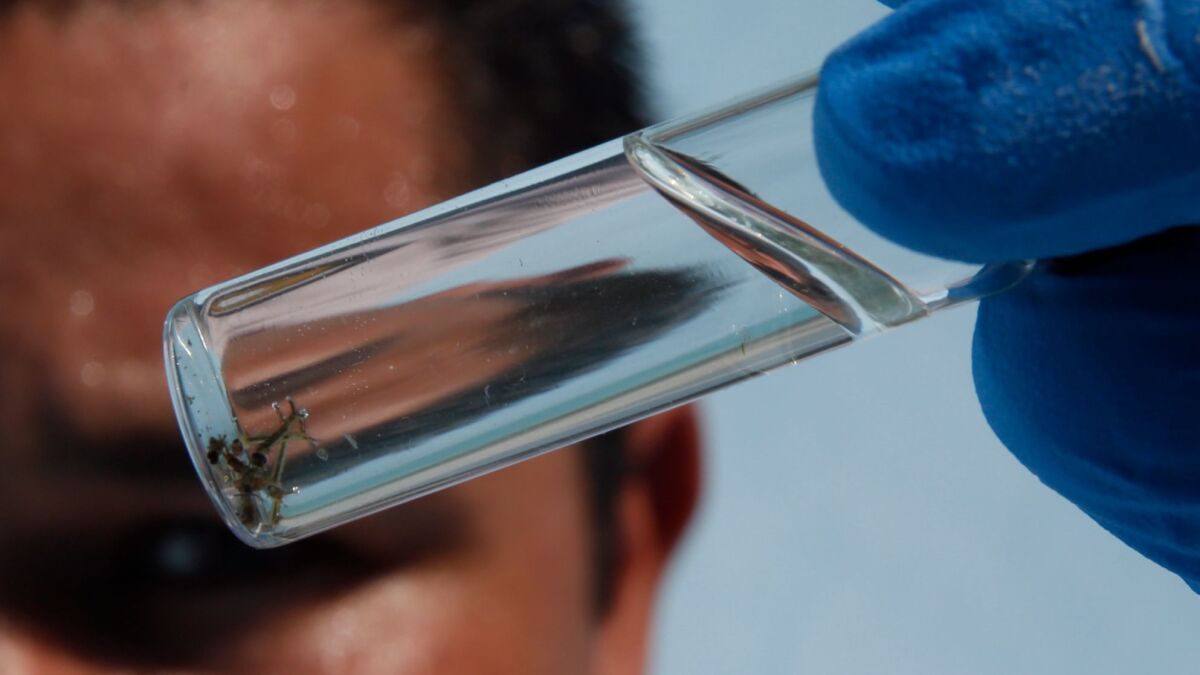 Los Angeles County health officials warned residents Monday to protect themselves against the mosquitoes that transmit West Nile virus, as the number of people killed by the disease in L.A. County this year reached seven.
The department launched a campaign Monday called "It's Not Just A Bite" to try to raise awareness about mosquito-borne diseases, including West Nile.
Though most people with West Nile virus don't have symptoms, a small number experience paralysis and brain damage that can be permanent or fatal. People who are at least 50 years old or have compromised immune systems are the most likely to suffer from these severe consequences, experts say.
L.A. County health department officials reported six deaths this year so far. A resident of Long Beach was also killed by West Nile this year but was not included in the tally because the city has its own health department. State data show that there have also been two West Nile deaths in Yolo County and one each in Kern and San Bernardino counties.
Anyone can contract West Nile, and September is typically when most cases occur in L.A. County. The virus is transmitted to humans through a mosquito bite.
So far, 98 cases have been reported to the L.A. County health department, but the actual number infected is probably much higher because most people don't have symptoms and wouldn't go to a doctor to get tested, experts say.
Most of the cases reported were serious. Health department data show 74 cases of encephalitis or meningitis — a swelling of the brain or the lining of the brain — and five cases of paralysis.
Health officials say there are mosquitoes that transmit West Nile throughout the county. But cities where people are already infected are most likely to have more cases.
West Nile cases have been reported in the San Gabriel Valley, Antelope Valley, the Pomona area, Torrance, the San Fernando Valley, Glendale and Los Feliz. Testing shows that there are abnormally high numbers of mosquitoes carrying West Nile in Glendale, Los Feliz, Atwater Village and Elysian Valley, he said.
Experts recommend wearing insect repellent when outside, especially at dawn and dusk when the mosquitoes that spread West Nile are most active.
Homeowners also should clear out standing water from flower pots or fountains, which can breed mosquitoes, and make sure to check their pool pumps are working so there isn't stagnant water in which insects can breed.
soumya.karlamangla@latimes.com
Twitter: @skarlamangla
ALSO
How a mosquito bite led to paralysis — and turned this teacher's life upside down
Health officials declare hepatitis A outbreak in L.A. County
Knocking on doors, climbing through fences: How L.A. County's health investigators are out trying to stop syphilis
---
The stories shaping California
Get up to speed with our Essential California newsletter, sent six days a week.
You may occasionally receive promotional content from the Los Angeles Times.