He's inclined to believe Angels Flight will get back on track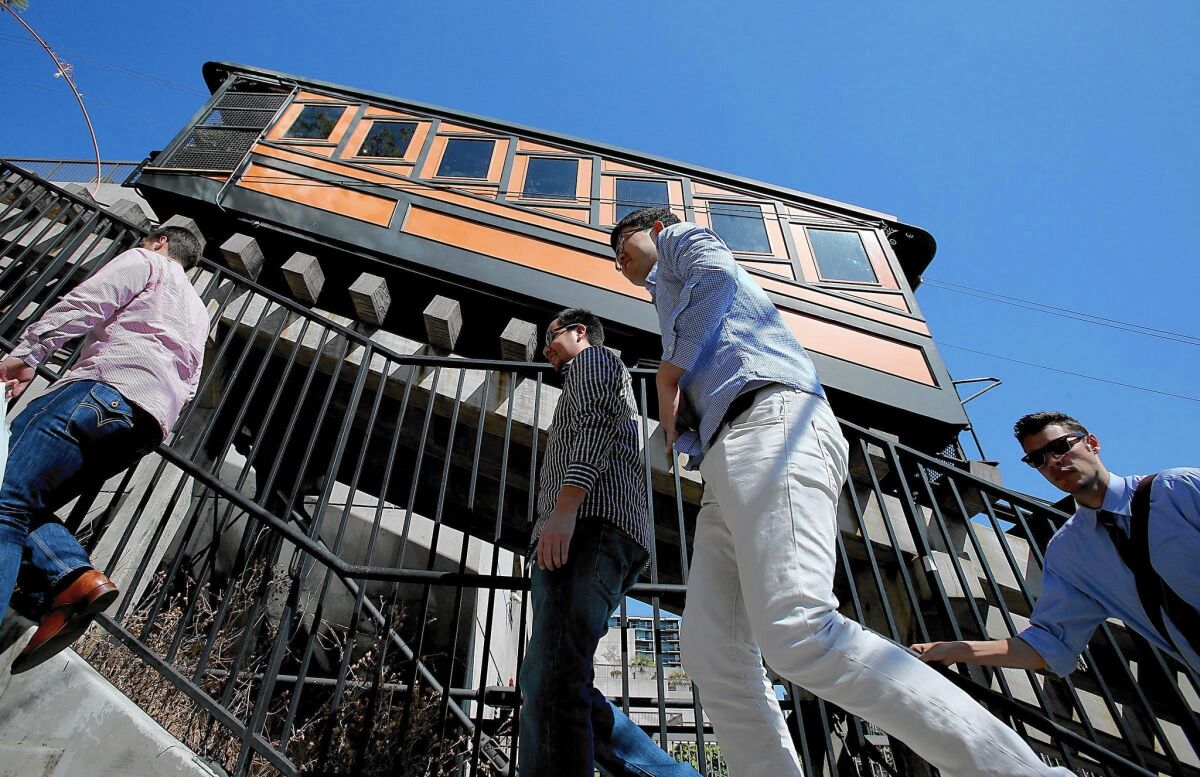 California's bullet train, now under construction in Fresno, may one day carry passengers from Los Angeles to San Francisco, a distance of about 400 miles.
Angels Flight, a two-car railway, may one day carry passengers from the top of Bunker Hill down to Hill Street in downtown Los Angeles, a distance of 298 feet.
At the moment, it is not clear which system will be running first.
Angels Flight has been idle for roughly 16 months, since a derailment and a scathing report from federal regulators put the funicular — sometimes referred to as the shortest railway in the world — out of commission.
Maybe it's karma. Los Angeles dismantled its rail car system decades ago, and this is what we get — instead of a little train that could, little rail cars that can't.
The cars, named Olivet and Sinai, are uselessly parked halfway up the rail line, as if the last stop on Angels Flight was purgatory. Tuesday morning, I watched from Grand Central Market as a procession of pedestrians hoofed it up and down the steep hill on the steps under the elevated tracks.
"Coming down the stairs is nothing, but going back up after lunch is hard work," said Hal Bastian, the new president of the Angels Flight Railway Foundation.
Bastian has been busting his brain trying to figure out how to get the funicular running again, and bear with me as I lay out a little more background before telling you about his latest brainstorm, which was inspired by a golden retriever.
To Bastian, Angels Flight is no amusement park ride or nostalgia trip.
"It's more than a toy," he said. "It is a very critical transportation link."
About 54,000 people now live downtown, and many of them work up the hill. At lunchtime, thousands of people are either going up or coming down, and Angels Flight carried several thousand riders a week when it was running.
Bastian, by the way, is a longtime downtown resident and booster, whose dog Buddy was so well known, the Downtown News wrote an obituary when the retriever died in 2008. Bastian has worked in real estate and economic development for three decades and proudly volunteers that he had a hand in bringing more than 300 restaurants, bars and clubs downtown, and leasing hundreds of residential units.
"Almost everyone said it could not be done," Bastian said of the downtown transformation. "And my attitude was, 'Really? Watch this.' And I feel the same way about Angels Flight."
Bastian, who gives downtown tours, will tell you that the railway goes back to 1901, when it ferried high rollers down the hill and dumped them onto the flats to spend their money. It was dismantled to make way for so-called urban renewal in 1969, then rebuilt a block to the south in the 1990s.
But a tragic 2001 accident — Sinai screamed down the incline and slammed into Olivet, killing an 83-year-old passenger — shut down the trolley for nine years. A couple more brief shutdowns followed, and then came the September 2013 derailment, followed by a damning report from the National Transportation Safety Board.
Inspectors cited wheel and track wear, and as if that wasn't alarming enough, they said operators had used a tree branch to keep the start button pressed — what, no shoe leather or bottle caps available? — bypassing a safety feature designed to halt the cars during a malfunction.
The fixes have been made. But in the 2013 derailment, passengers had to be rescued from the frozen funicular by firefighters, and the state Public Utilities Commission won't let service resume unless an evacuation route is built adjacent to the elevated tracks, according to Bastian.
That seems extreme to me, and as Bastian pointed out, it would cost millions of dollars for a railway that relies entirely on donations and the 50-cent fare. I asked a real railroad guy — MTA chief Art Leahy — about it recently, and he thought the regulatory demands were excessive.
"What about the cable cars in San Francisco?" Leahy asked. "People are hanging off of those things."
Good question. I called and messaged the PUC to ask about that, but no response.
Meanwhile, even if Angels Flight's gears haven't been spinning, Bastian's have. When he looks into the future, he sees empty-nest senior citizens selling their suburban houses, getting rid of their cars and relocating downtown, where they can stroll, take in the arts, and become frequent fliers on Angels Flight.
One day Bastian was at the bottom of the railway trying to figure out how to solve the evacuation problem, and a bolt of inspiration shot down from the heavens.
"It was divine inspiration," said Bastian, who thought of Buddy's senior years, when the retriever needed a portable stairway to get on and off the bed.
While it remains to be seen whether this was a vision or a mirage, Bastian has reached out to an engineering firm that is now sketching out a portable, lightweight, modular staircase with handrails. The stairs would be broken down and stacked under the tracks, and in an evacuation, firefighters would fit the stairs onto the railroad ties and safely escort passengers down the hill within minutes.
The cost would be several hundred thousand dollars, rather than millions, said Bastian, who is trying to line up support from the PUC and the L.A. Fire Department. John Vidovich, LAFD fire marshal and deputy chief, didn't rule out Bastian's idea but said he's waiting on a formal proposal.
"We have a lot of bright individuals in this city, so to come up with solutions and compromises that work for everybody — that's our goal," Vidovich said.
If you've got ideas, send them to me and I'll pass them along to Bastian. I already gave him one from a reader named Michael Rutigliano, who recommended the inflatable slides used for jetliner evacuations.
As to what will run first, the bullet train or Angels Flight, it's no contest.
I'm putting my money on Mr. Downtown.
Twitter:@LATstevelopez
---
Life is stressful. Our weekly mental wellness newsletter can help.
You may occasionally receive promotional content from the Los Angeles Times.