Column: For all his setbacks, he still finds hope and sanity in the music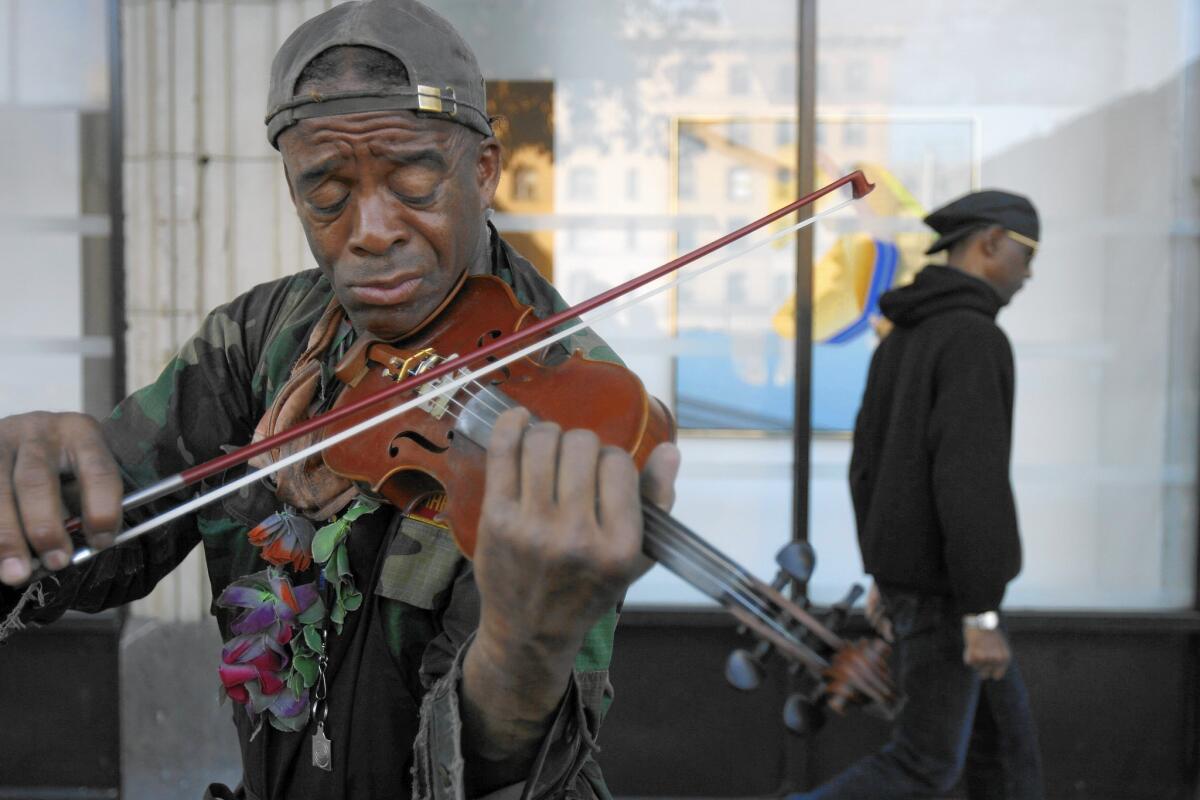 I have been a transporter and caretaker of various musical instruments for nearly 13 years. A clarinet and an electric keyboard sit in corners of my office. There's a cello in my garage at the moment, waiting for a ride to the repair shop.
Nathaniel Ayers asked for an inventory update on Christmas morning, after I picked him up at the South Bay mental health rehabilitation center where he lives.
He brought his string bass and trumpet with him. Like I've said before, he's a one-man band, and he never travels light.
It's been this way since I met the Juilliard-trained musician in 2005, when he lived on skid row with nothing but a two-string violin and a shopping cart containing his clothes and bedding.
So much has changed since then.
Mr. Ayers went from being homeless to living under supervision in various locations.
We've both turned even more gray, though Mr. Ayers hides it by shaving his head.
He has a firm distrust of modern medicine and warned me five years ago not to get knee replacements, but I went ahead with it. I have since passed my limp along to Mr. Ayers.
When I make my regular visits to the rehab center, I feel like I'm stepping into the past. Locked mental health facilities in California once housed nearly 40,000 people, but they were radically scaled back during deinstitutionalization that began a half-century ago.
People usually blame then-Gov. Ronald Reagan, who certainly had a role. But others had complained of patient warehousing, neglect and over-drugging, which helped fuel the rise of patient-rights advocacy.
The problem was that after shutting hospitals, California did not invest in enough community clinics to meet the needs of the former patients. Many ended up homeless and in jails and prison, and all these years later, we've made some amends but not nearly enough.
It breaks my heart to see Mr. Ayers behind locked doors, and I know that mental institutions are far from perfect. No two patients are alike, just as no two cases of schizophrenia are alike, and I don't know whether Mr. Ayers' treatment or that of his fellow patients is always as good as it could be.
But I feel a sense of comfort in knowing he's safe and housed in a place where he has access to doctors, therapists, social workers and medication, and still has the privilege of occasional day passes away from the hospital.
I hope he gets out one day, and is handed back over to the care of the nonprofit Housing Works, so he can live with some independence along with some supervision. In the meantime, I'm glad he sleeps indoors, years removed from a time when he used two sticks — on which he had written Brahms and Beethoven — to shoo rats away from his bedding on skid row.
Not everyone who is homeless has a mental illness, but among the estimated 57,000 people on the streets of Greater L.A., a shocking number do. The disease is a beast, an ever-present, living nightmare that drives some to drink or drugs and even then, there is no escaping the torment that shadows them to the grave.
Our reaction to the sad spectacle ranges from compassion to contempt, and on the policy side, we sputter and flail when the right course is undeniable.
We need more of what Housing Works and similar agencies do to reel people in and help them treat their illness and manage their lives, which means we need much more housing than we have. And for those whose illnesses are too severe, we need smaller, modern, humane versions of the hospitals we closed.
Without that, there can only be shame because a civil society, and a rich one at that, has a duty.
On the way to my house Christmas morning, we switched back and forth from KUSC to KKJZ, our go-to stations when we travel together. Mr. Ayers is classical and I'm jazz, so we mix it up. A piece by Cannonball Adderley blew in and Mr. Ayers, a rhythm man, tapped to the beat.
I hear from people around the country and the world who want updates on the story — the story of a man who played with Yo-Yo Ma at Juilliard and did not give up the dream even when he was homeless and missing two strings on his violin.
The update is that Mr. Ayers remains faithful to what he loves, and reminds all of us of the virtue of finding both a purpose and a passion.
That spirit and determination inspired L.A. Philharmonic violinists Vijay Gupta and Mitch Newman and others — including Adam Crane, an Ayers buddy who is now an executive with the New York Philharmonic — to create Street Symphony. The nonprofit brings classical music to jails and mental institutions and shelters, as it did with this month's performance of The Messiah at the Midnight Mission.
We got to my house at 10 on Christmas morning. I carried the trumpet into the house, Mr. Ayers carried the bass.
He and my wife had played together on Thanksgiving, her on piano. For Christmas, all Mr. Ayers wanted was to do more of the same.
And so they played, meandering through the holiday music songbook unrehearsed, each vowing to be better prepared next time, while I listened in with my son and daughter.
For Mr. Ayers, it is less about how well he plays — though he takes it all rather seriously — and more about the fact of playing.
For him, music is life. It is sanity. It is hope.
To read the article in Spanish, click here
Get more of Steve Lopez's work and follow him on Twitter @LATstevelopez
Sign up for Essential California for news, features and recommendations from the L.A. Times and beyond in your inbox six days a week.
You may occasionally receive promotional content from the Los Angeles Times.