Column: TV's Catwoman battles rude customers obsessed with ultra high-end street wear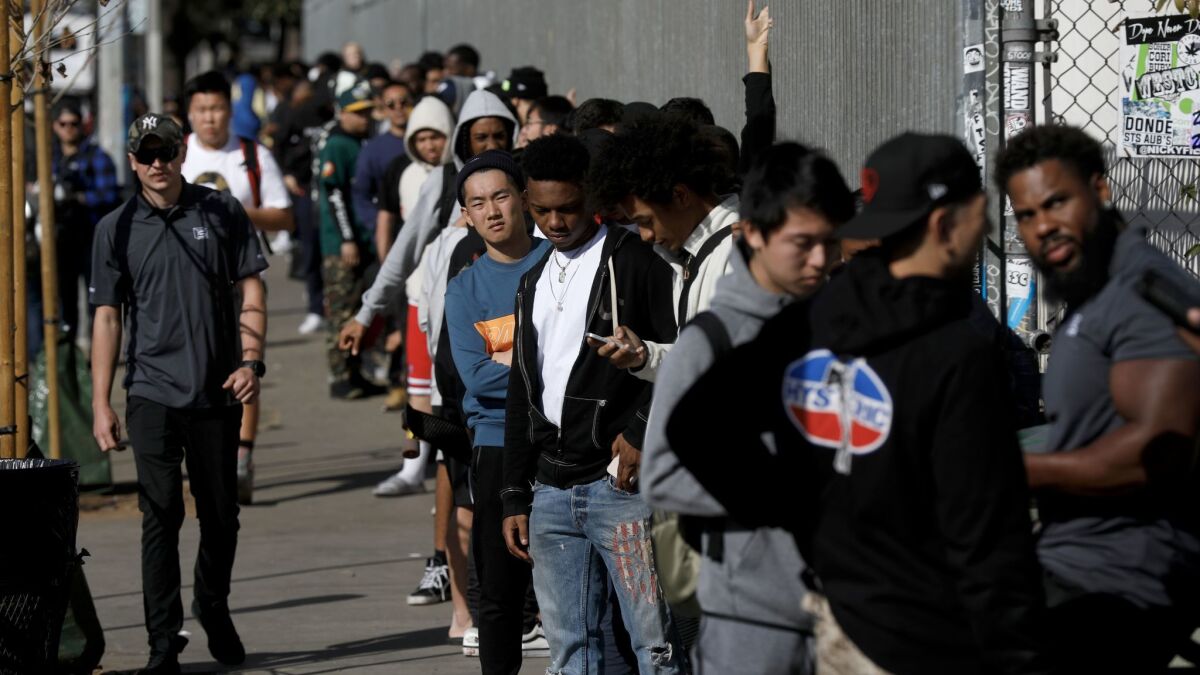 On Fairfax Avenue, where young shoppers camp for days outside a skateboard apparel store and nearby merchants scream about the ruckus, Catwoman is on the case.
"We love all people," Catwoman said Monday morning while sharpening her claws, "but they have to go."

For the record:
9:40 a.m. Feb. 16, 2018In an earlier version of this article, two photo captions identified the Supreme store as being in West Hollywood. It is on Fairfax Avenue in Los Angeles.
Julie Newmar, the Tony-award winning actress whose many roles included a purring, slinky Catwoman on the "Batman" TV series, owns real estate on Fairfax. This is the storied street that for generations was the heart of L.A.'s Jewish community — lined with delis, bakeries, Jewish music stores and judaica gift shops — but in recent years has transformed into a hip hub of urban street wear and trendy eateries.
She and her litter of tenants have been up a tree about the crowds and the trash they leave behind.
"I have a tenant who had to close, another who hasn't been able to pay the rent for three months," said Newmar, 84, who showed me a spread of letters she's fired off to city officials imploring them to do something. "It's a cancer. I'm not against anyone, but you can't destroy this wonderful neighborhood called Fairfax."
The store in question is Supreme, which has been around for years and has outlets in New York, London and Paris. As far as I can tell, the marketing strategy is to create hysterical demand by occasionally releasing limited supplies of new hoodies, jackets, shirts and other apparel for $100 and more, and crowds march in as if they're under hypnosis.
Supreme drew crowds at a downtown L.A. pop-up bazaar last summer, collaborating with Louis Vuitton to peddle clothing and bags with price tags into the thousands. The Times reported, in a near certain sign of the apocalypse, that bandannas were going for $370.
A collaboration between French luxury label Louis Vuitton and New York-based streetwear brand Supreme won't officially launch for another few weeks, but some pieces from the capsule collection are available at eight pop-up shops around the globe, in
The next big "drop," as Supreme calls its latest offerings, will be this Thursday on Fairfax, which means young shoppers with fat wallets have already begun assembling as if summoned by a cult leader. For some, it's not just about wearing the clothes, but grabbing all they can and reselling to the consumptively addicted at a ridiculous profit, similar to the way ticket scalpers operate.
Newmar reached out to me through her publicist after Wehoville.com ran a story under this sassy headline: "The Hip Punks in Line for the Dope Merch on Fairfax Are Driving the Neighbors Crazy."
Newmar told me her father owned property at the intersection of Fairfax and Rosewood Avenue as early as the 1940s, and she took over the business while still dancing and acting. When I rolled up Monday morning, young folk were milling about, it smelled like a bud farm was on fire, and two dozen people stood in line near Fairfax High School as Supreme security guards watched over them.
That's right. It was Monday, and the store wouldn't open until Thursday. But there they were, our future, prepared to live like homeless people for a shot at the latest designer T-shirts.
The Supreme gear worn by the kids on Fairfax looked unremarkable to me. But I'm someone who didn't see much difference between Levis and Wrangler back in the day, so I may not be your best red carpet correspondent.
At a coffee shop called Open Space, manager Jonathan Klein said the headaches have become migraines in the last year or so, with fisticuffs, piles of trash, the commandeering of sidewalks and parking spaces, as well as other mayhem.
"I had one kid who OD'd in my bathroom," said Klein, one of Newmar's tenants. He said he called 911 and doesn't know if they kid survived.
"I've broken up fights," said a merchant who stopped in for coffee.
But Klein said Newmar and others have been pushing back for months, and he saw signs on Monday that the complaints may finally have been heard.
"It's a new security team," he said, pointing to a battalion of uniformed guards outside his shop.
Klein said he'd been told Supreme would begin cracking down on customers, telling them anybody caught camping outside would not be allowed to enter the store when the doors open Thursday.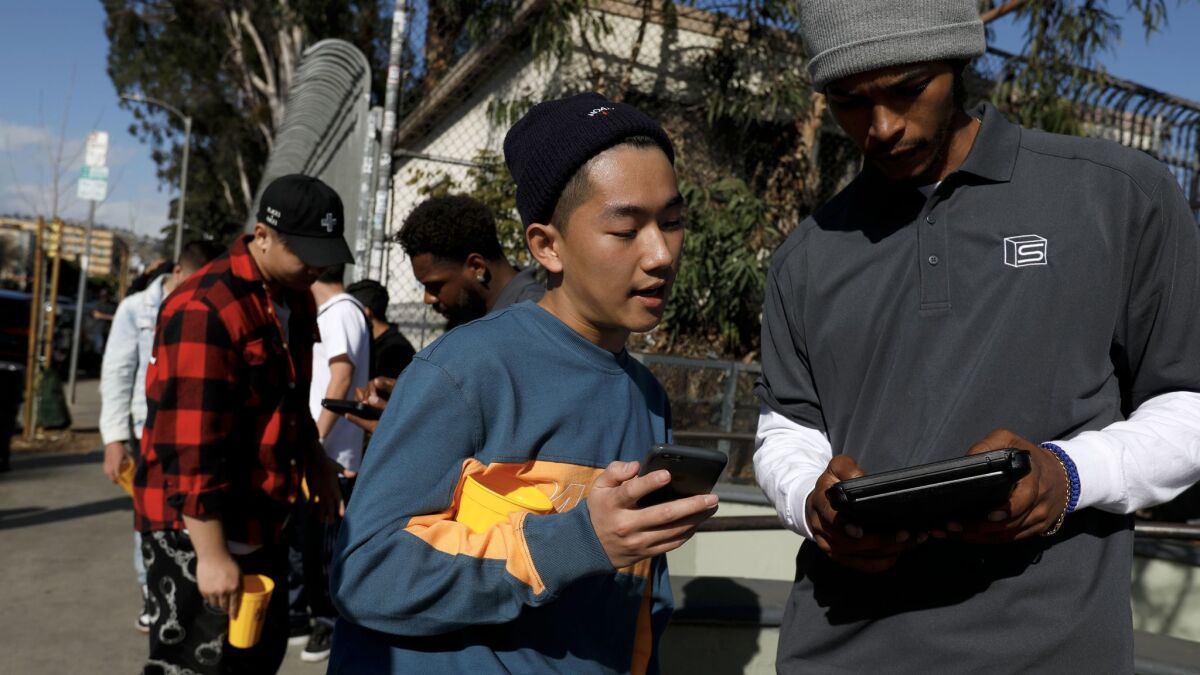 Word was spreading quickly. A 24-year-old named David told me he stood in line, then gave his name and phone number to Supreme representatives who said they'll call him when it's his turn to shop on Thursday. He said he liked the sound of the new system, which meant he didn't have to sack out in the neighborhood for three nights, but he was withholding judgment until he gets his call.
David, by the way, told me he was studying business in college but dropped out because he's already making a handsome living as a clothing flipper. He said he buys between $2,000 and $10,000 worth of Supreme merchandise at Thursday drops, keeps a couple of items and sells the rest.
For how much?
He bought the Supreme pants he was wearing for $128 and could have sold them for $400, he said. His $110 sweatshirt would go for $250 and his $52 hat for $100. You can buy and sell online, he said, or on the street, with no shortage of takers.
Ron Castro, manager of a Fairfax clothing store called Clsc, said he used to play the game in college. He'd buy three Supreme hats, keep one, sell the others and make a tidy profit.
The owner of Clsc, Asi Ifrah, marveled at the Supreme business model.
"These kids are basically the wholesalers," he said of Supreme, which got a $500-million infusion from Carlyle Group last year and was valued at $1 billion.
Carlyle is a private equity giant that has invested big in defense contracting and aerospace. It has been known to buy companies, pump up their value and sell them, so the young Supremes on Fairfax may think of themselves as hoodie culture rebels, but they're more like capitalist soldiers, working for the man. No offense to Catwoman, but saving the world from evil plots may be a job more suited for Batman.
Jordi Hernandez and Teejay Williams got numbers 8 and 4, respectively, for the Thursday drop, then took a break in Williams' Mercedes C240. Williams said he picked it up after getting into an accident in his BMW.
"I have clients who are artists and rappers," said Hernandez, who told me he makes between $400 and $2,000 at every drop.
Williams said he and Hernandez flip other clothing lines, too, so it's steady work with annual profits of between $50,000 and $100,000, depending on how coveted the drop items are.
Hernandez and Williams seemed impressed that one of the actresses who tangled with Batman on the TV series was a Fairfax landlord, and they admitted things get out of hand at times. But they think the new system will help.
Supreme representatives have been talking to city and Fairfax officials and local merchants for several weeks, according to a store spokesman. He said a meeting of all the parties was held Monday while I was snooping around on Fairfax.
"We want to be good neighbors to everybody," said the Supreme spokesman, who attributed some of the neighborhood's problems to homeless people rather than customers. But he admitted the number of Supreme followers has grown in recent months, so there's a new rule on the street.
"No camping," he said, "and no lining up before Thursday."
Great, but what took so long?
L.A. City Councilman Paul Koretz said in an email that his staff has been on the case for months, "but there are legal challenges in holding a company responsible for the actions of its customers."
Koretz said Supreme has agreed to add security, limit the lines, clean up the streets and maybe help beautify a pocket park in the area.
So we'll see how it goes. Constant change is part of the bargain in this crazy town, where the new collides with the old, neighborhoods are transformed as some cheer and others cringe, Catwoman takes on skateboarders and nobody knows what next week might bring. L.A. is never dull and ever diverse, and for those of us who love living in a place with that kind of energy, it takes work for all of us to get along.
I wondered if Catwoman — whose felonious feline forays were often foiled by Batman — would consider Supreme's promised cooperation to be at least a partial victory for the forces of good. So I drove to her cottage in Brentwood to find out.
Newmar welcomed me into her parlor, where her computer was open to the Supreme website and copies of her letters and notes were spread across her desk.
I told her about the new security team and the camping ban, but rather than gloat, she was catlike in her aloof disregard.
"We all want to make money, but you've got to have some responsibility," said Newmar. "I say get rid of them. Just go to a warehouse downtown or to a vacant lot."
I asked if she thought the new rules would help.
"You can't put lipstick on a pig," said Newmar, very much the cat watching the mouse's every move, ready to pounce as needed.
Get more of Steve Lopez's work and follow him on Twitter @LATstevelopez
---
The stories shaping California
Get up to speed with our Essential California newsletter, sent six days a week.
You may occasionally receive promotional content from the Los Angeles Times.