Column: Beyond the music, the Coachella you probably don't know
I went to Coachella and had a swell time, although I overindulged a bit.
But it's not what you think.
I went to explore the valley beyond the world-famous music festival, and I ate too many dates.
So I missed Beyonce, but I saw Big Donna Fish, who got into the date business in 1958 and is still going strong. I missed Eminem, but I met Fernando Chavez, who works in patient transfer at the Torres Martinez Indian Reservation and pockets extra money by ferrying festival-goers in his pickup.
And I visited an alfalfa farmer who mowed his crop to make room for a pop-up resort with $300-a-night tents, three-night minimum required.
My traveling companions were novelist Susan Straight and photographer Douglas McCulloh, Riverside neighbors who love music and have no issue with the Coachella or Stage Coach festivals. But to them, the most interesting attractions are beyond the headliners and throngs of sweaty fans, out along dusty roads where hard work is the only work, tribal customs endure and the geography is a map of time.
Straight and McCulloh began visiting the Coachella Valley as kids, and their fascination followed them into adulthood. Given their familiarity and love of the area, it seemed only right to them that they share their knowledge in a project they worked on for months, so the rest of the world would know about the "real" Coachella.
"There may be nowhere in America where the ancient and the new coexist so closely, and where multimillion-dollar enterprises like music festivals and golf course communities and desert mansions are within sight of beet fields, date palm gardens, migrant workers and residents of mobile home parks," Straight wrote in an essay published just in time for the festival, which continues this weekend.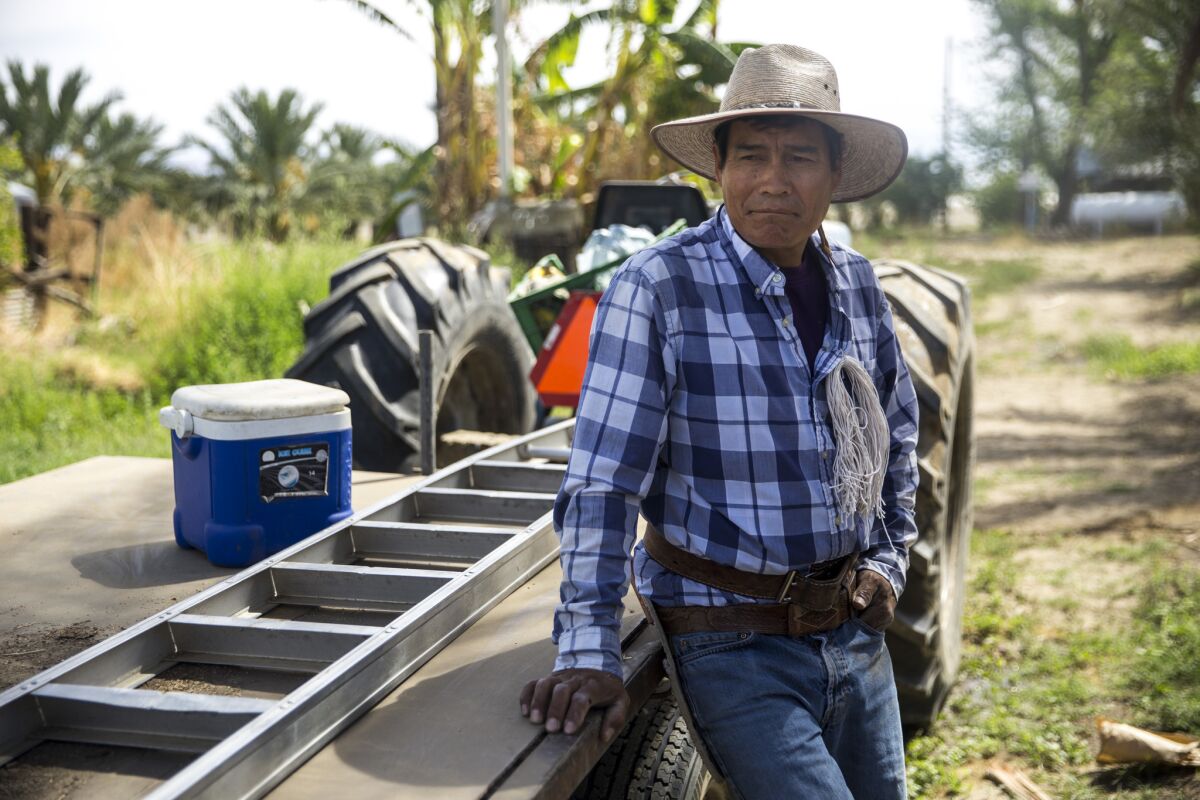 "There is beauty everywhere in this valley surrounded by riven mountains, laid out in geometric precision with streets named for some presidents and avenues crossing green fields and silver crowns of palm."
Her lyrical words are illustrated with McCulloh's photography and with regional maps of a land framed by the Salton Sea, the Mexican border and rows of peaks that rise like desert coral. Their elegant work can be found at storymaps.esri.com.
As we drove to the valley from Straight's home in Riverside, I was unclear on how she and McCulloh were compensated for their years of knowledge and months of work. I assumed the project had been underwritten by someone.
They laughed.
"It was a labor of love," Straight said.
Our first stop was Dino Mart in Thermal, which looks like and is indeed a gas station, but that's not half the story. Sometimes it gets so busy, women stand outside and direct traffic as locals come by to cash their checks; pay their bills; buy work gloves, baby bottles and lottery tickets; and order $1.99 tacos before returning to work in the fields.
The business of the shop, and the region, is conducted almost entirely in Spanish. There exists a raging national debate about immigration, about who belongs in this country and who doesn't. But here, where it is assumed that the fields are full of undocumented workers, politics seem abstract. What's present, and urgent, is unfinished work, families to be fed, national appetites to serve.
Yolanda Guereca has been at the Dino Mart cash register for decades, and before that she worked across the street at Valerie Jean Date Garden, where her father was a baker.
"My dad worked there 52 years," Guereca said.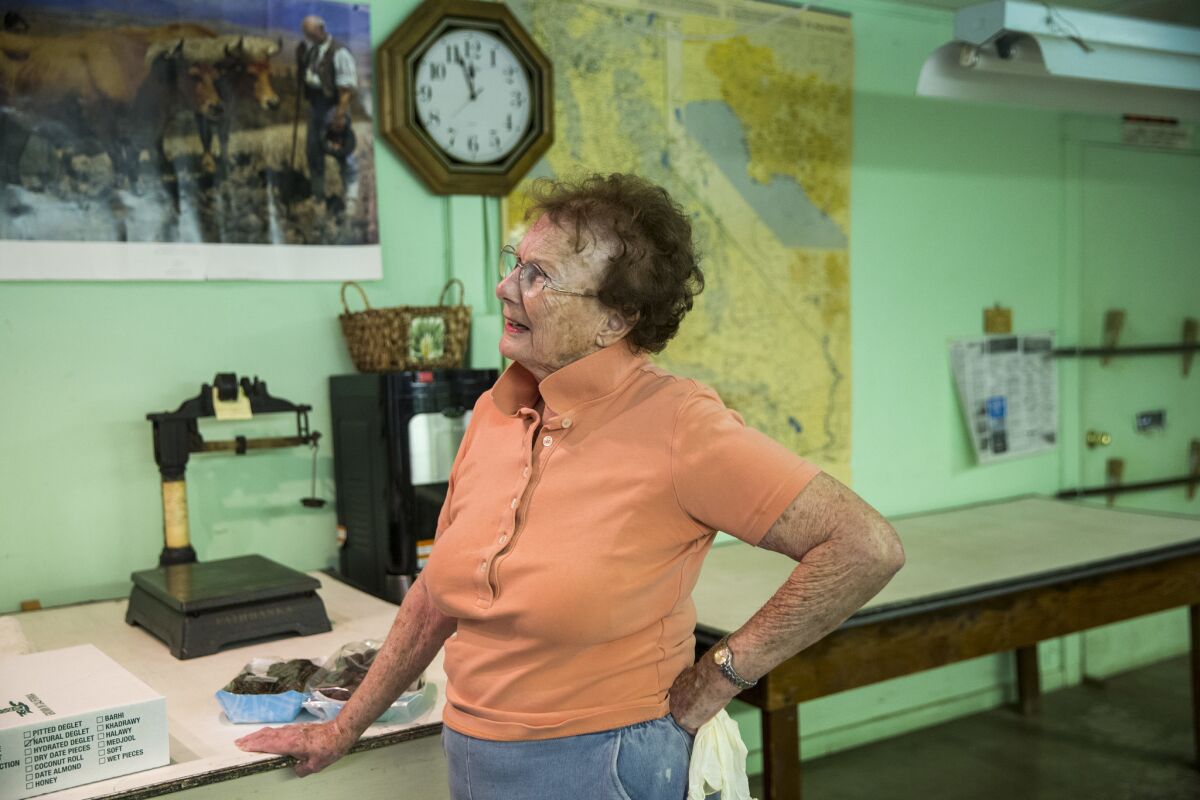 These are the kinds of people you meet in a place where, Straight said, she has never met anyone who was unwelcoming or wanted to live anywhere else. Or maybe they tried but returned despite the dreadful summer heat and even though per capita income can be less than $10,000 a year. In nearby Indian Wells, it's more than $80,000.
Success, in some of the farm labor communities, is survival, and there are folks who seek nothing more.
We drove out to Donna Fish's Brown Date Garden, where Gonzalo Magana toiled in a garden of 1,000 date palms, climbing a 20-foot ladder and wielding a machete. He told me that thinning the fronds, with their pea-size dates, will make the remaining fruits grow larger. He said that he's had this job for 20 years, that he and his family live in a small house on the property, and that his oldest of three is now earning a teaching credential.
The drive-up date stands have just closed for the season, but a sign on the wall of the Brown Date Garden shop said to call Donna if you wanted to buy dates. That's Donna Fish, known as Big Donna, who is quoted in Straight's essay saying, "I've never seen a gringo go up a palm tree. Never."
I called and told her what I was working on, but that didn't interest Fish too much.
"You wanna buy some dates?" she asked.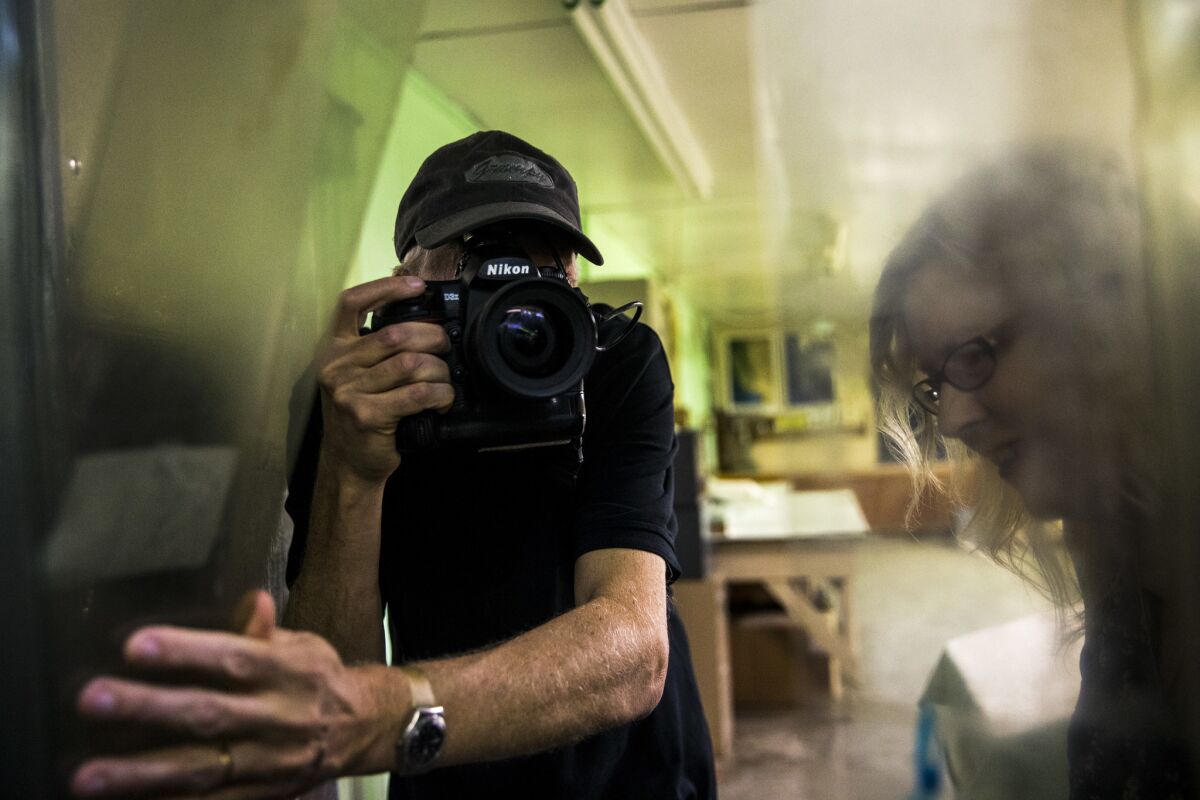 Minutes later, she pulled up in her car and let us into the shop, where I bought $22 worth of Medjool and Deglet Noor dates. They were the best I've ever tasted, which is why I couldn't stop eating them on the way home.
I don't know why, exactly, but I'll never forget the red-haired Fish, 86 years old and still working hard, say that it's about to get crazy because "Ramadan is coming," and dates are traditionally served after fasting.
At the Torres Martinez reservation, the patient transport man, Fernando Chavez, had some news to share.
"Check this out," he said. "I was driving this weekend, and I made almost $1,000."
Chavez isn't an Uber or Lyft driver, or a taxi driver, but he went to the music festival, and toured party sites, offering rides in his pickup. One fare gave him a $100 tip for a short ride to a liquor store to pick up "some bottles of Moet."
He handed out his phone number and was awakened by calls as late as 4 a.m. from clients needing to get from one party to another.
Straight has found working people in the "real" Coachella vicinity who try to avoid the mayhem of the festival, or who have felt all the more excluded over the years as fans ferry in by private plane to a spectacle that grossed $114 million last year, with general admission tickets beginning at $429.
Chavez said he has no problem with the festival and met cool people while driving them around, including people from Australia and Egypt, which made him all the more curious about the places in the world he does not know. He said he plans to work the festival hard again this weekend and put all his earnings away in a family emergency fund.
On our way out of the valley, we stopped at the pop-up resort — on a mowed alfalfa field a few miles from the festival grounds in Indio — where Chavez had found a lot of his fares. A hundred or so tents were being partially dismantled and the grounds cleaned up in preparations for next weekend's throngs.
The owner of the property told me he does much better renting the space for tents than he does selling alfalfa.
A woman in a thong bikini, lounging next to a silver trailer, said she set up her swimsuit shop next to the pop-up swimming pool in the center of the resort, and she sold $1,000 worth of bikinis the first weekend.
The crowds will soon return, and music will again ride desert breezes beyond the festival grounds and into the real Coachella.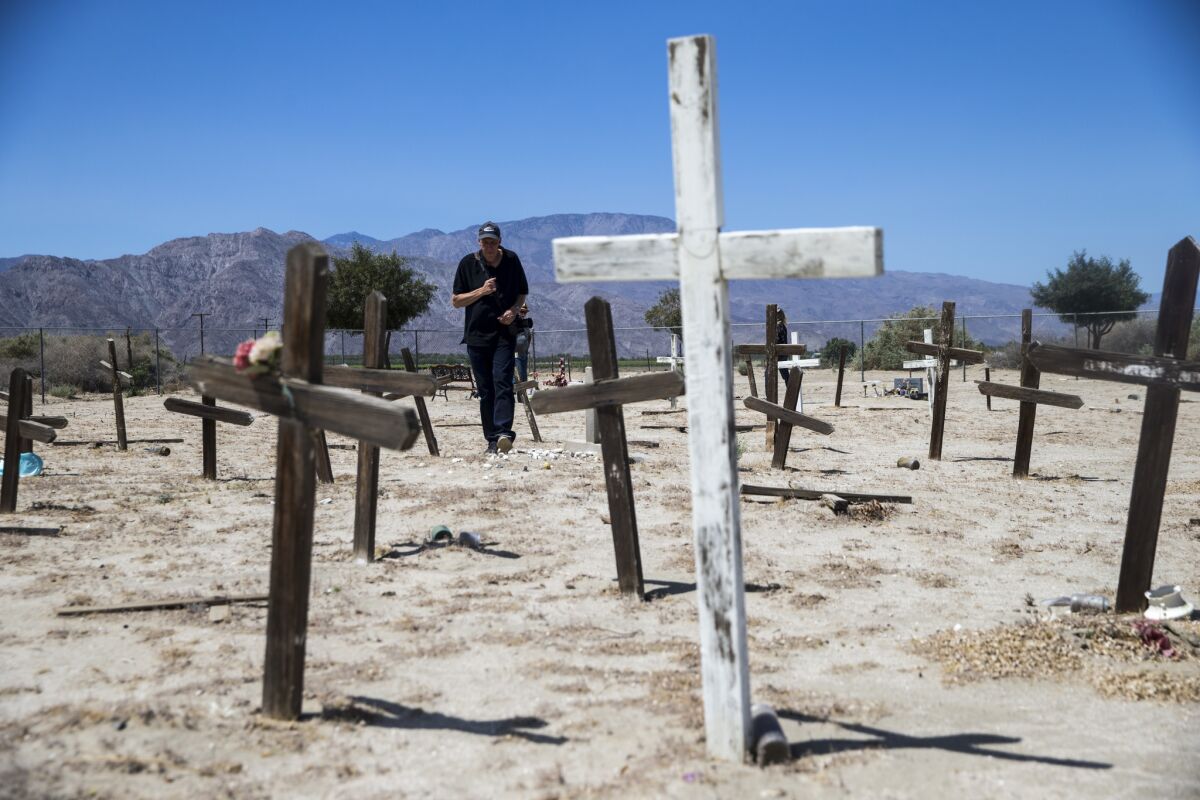 Get more of Steve Lopez's work and follow him on Twitter @LATstevelopez
---
Life is stressful. Our weekly mental wellness newsletter can help.
You may occasionally receive promotional content from the Los Angeles Times.