Column: No crying in their beer: Dodgers give Highland Park fans a workout and a win
From left, Arturo Favela, 42, of Los Angeles; Natalie Lemus, 28 of Pasadena and her boyfriend Jaime Ramirez, 28, also of Pasadena; and Renee Avila Habermehl, 30, of Highland Park, celebrate a Dodger victory at the Greyhound Bar & Grill.
(Rick Loomis / Los Angeles Times)
Natalie Lemus and her boyfriend Jaime Ramirez celebrate with Renee Avila Habermehl.
(Rick Loomis / Los Angeles Times)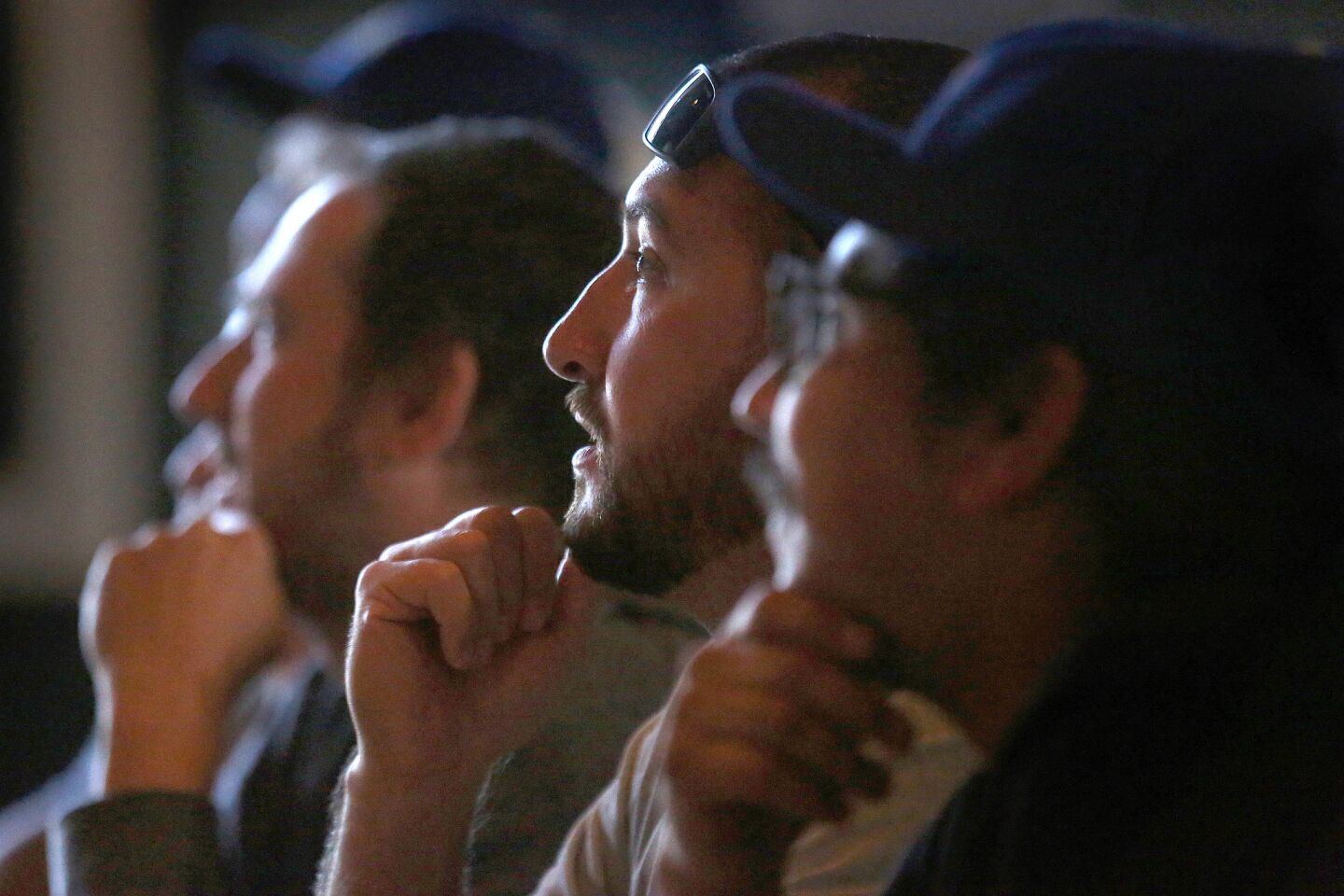 Geroge Montejano, 33, of South Pasadena, center, watches the game at the Greyhound Bar & Grill.
(Rick Loomis / Los Angeles Times)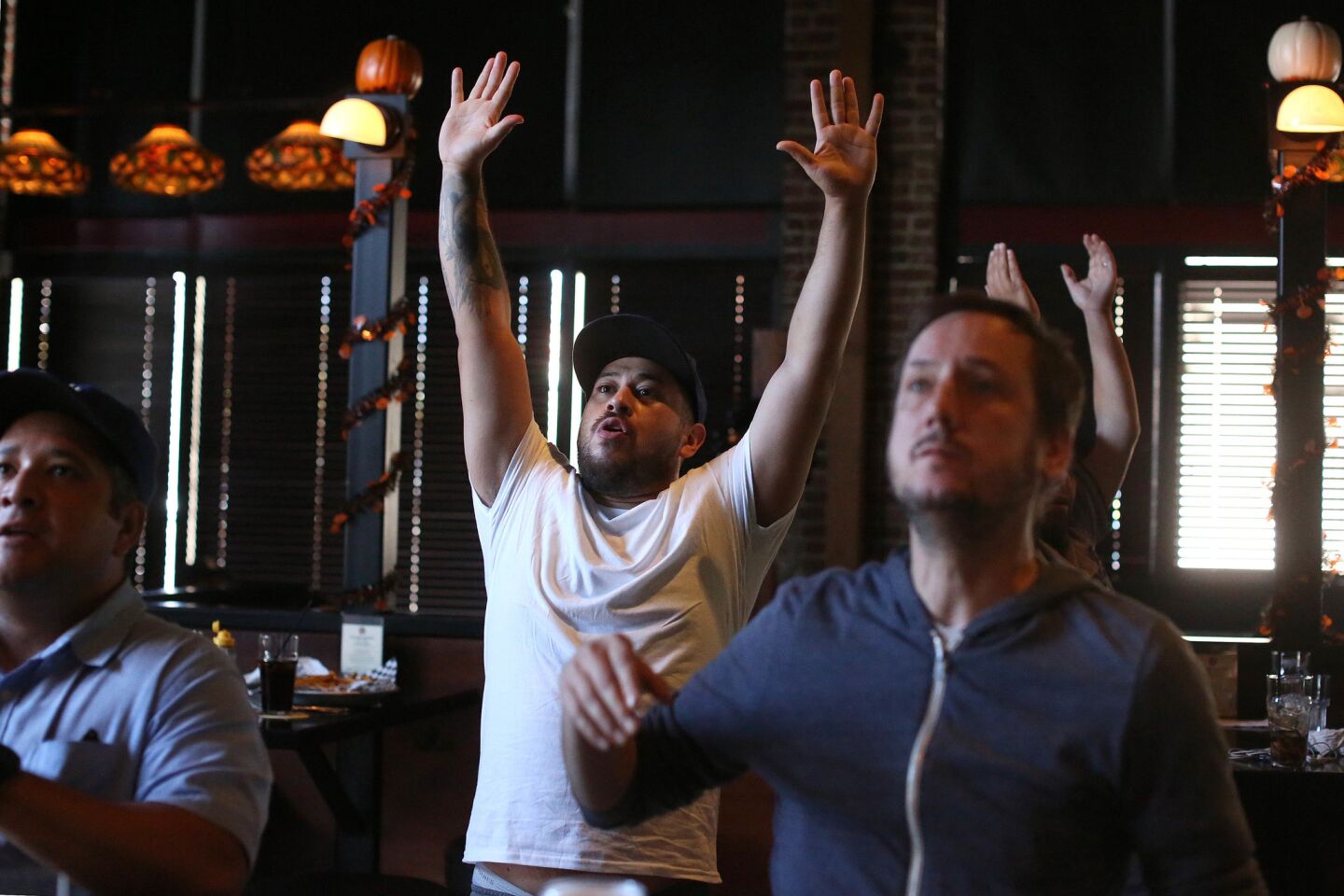 Kevin Vargas, 28, of Los Angeles, watches a play develop while cheering for the Dodgers.
(Rick Loomis / Los Angeles Times)
Fans cheer on the Dodgers as they watch the game against the Washington Nationals at the Greyhound Bar & Grill.
(Rick Loomis / Los Angeles Times)
George Montejano, 33, of South Pasadena, can't bear to watch as the Dodgers temporariliy lose their lead against the Nationals.
(Rick Loomis / Los Angeles Times)
George Montejano, 33, of South Pasadena, and Jorge Pallares, 35, of Eagle Rock, cheer on the home team.
(Rick Loomis / Los Angeles Times)
The Greyhound Bar & Grill in Highland Park has a "blue hour," offering discounted beer and food from the first pitch to the last of every Dodger game. And the special of the month is the Kershaw Corn Dog, named after the Dodgers' lefty ace.
So it's hard to think of a better place, other than Dodger Stadium, to watch a game.
And this was no ordinary game.
It was do or die Tuesday, Dodgers and Nationals, win or go home.
One guy at the bar had the Jimmy leg, twitching like a wounded animal.
Two guys played gin rummy because they couldn't bear to watch.
A husband and wife ran outside between innings to light smokes.
Were those wrinkles on the face of a 9-year-old boy sitting with his mother, both of them wearing Dodger blue? Maybe so. The poor kid's team gets close every year and then folds.
Good lord, this beats work, and I can't complain. When you're eating fried food and drinking beer in the middle of the afternoon, and you've already died once, it's comforting to know that two of the Dodger fanatics at the bar are surgical RNs.
"I know we're going to win today," said Natalie Lemus.
Her buddy Renee Habermehl, who wore a Dodger jersey, wanted to believe. Habermehl said the Dodgers needed to win for retired announcer Vin Scully. And if they make it all the way to the World Series, she added, maybe Scully would cut his retirement short and call the games.
But she couldn't shake away her fears.
"If we lose," Habermehl said, "it's going to be devastating."
I told the nurses I had to be resuscitated once after surgery. The nurses said they were off duty but would step in if things went badly and one or more patrons keeled over and turned Dodger blue.
Mateo Glassman, one of the owners of the Greyhound, confessed that he's from Ohio and he's a Cleveland Indians fan.
For some reason, Dodger fans keep coming back anyway. Probably because Glassman's favorite National League team is the Dodgers.
"I'm not saying the people in Santa Monica don't like the Dodgers. They do," said Glassman. "But this part of town has a little more of an ingrained connection with the team."
I think he may be right. Having the stadium so close makes the team a part of the physical and psychic landscape. Glassman listed his bar alongside Canter's Deli and Dodger Stadium as one of the great melting pots in Los Angeles, and looking around the joint, I couldn't argue.
But when the Dodgers fell behind, early in the game, the Greyhound was muzzled.
"It's already troublesome," said Ernie Rodriguez, 33, who went to his first Dodger game at the age of 1, when Dodger pitching sensation Fernando Valenzuela could have gotten elected mayor.
Rodriguez and his wife, Rachel Moore, said they had a shot at tickets to Tuesday's game. But the Greyhound is like an extension of Dodger Stadium for them.
"He baited and switched me," Moore said of her husband's love of the Dodgers.
When they dated, she explained, he was a fan and so was she, but they were normal about it. Then Rodriguez stepped up his devotion and pulled her in with him.
"Now it's a lifestyle," Moore said, as if she were suffering a disease with no cure.
They hang with like-minded people, said Rodriguez. That makes it easier. Like being in a cult, where no one has to apologize.
Lifelong buddies Victor Lovely and Jonathan Minkoff grew up in the neighborhood and both have been Dodger fans since birth. They were the ones playing rummy to take the edge off.
Lovely, a respiratory therapist, said he had the day off.
Minkoff told me he's vice president of sales for a marketing company. So he had the day off, too?
"No," he said. "I'm working right now."
Who am I to judge?
They have a minor running feud about the Dodgers' long World Series drought.
"He's Mr. Negativity," said Lovely, who wore a "Win for Vin" Scully T-shirt he had made. "We went to the game Monday, and it's oh, they're going to blow it, they're going to blow it."
Even if he feels the same pangs of doubt, Lovely said, "I'm not going to put it out in the universe."
That could jinx it, they agreed.
Minkoff knocked on wood.
John Martinez, 34, told me he went to his landscaping job two hours early so he could be off in time to watch the game. He kibitzed with Eric Aguilar, 35, who put in an honest day of work but told his employer — the Los Angeles Department of Water and Power — he had to leave a little early on personal business.
"If they lose," said Martinez, "I'll be angry. I'll be frustrated."
George Montejano and Jorge Pallares had more concrete plans than that.
"If the Dodgers blow it," said Pallares, "we'll have to drink more."
The Dodgers must be part owners of the Greyhound.
They caught up and went ahead, so more beer was ordered to celebrate. Then the Nationals caught up, so more beer was ordered so everyone had a fresh mug to cry into. Then the Dodgers took what looked like a commanding 5-2 lead with their ace digging out of trouble like a blue-collar Highland Park guy.
But that fell apart, and the Greyhound was a quiet, suffering pup.
Until the bottom of the eighth, when Dodger infielder Chase Utley smacked a liner into right center and drove in the go-ahead run.
It's possible that the cheering at the Greyhound drowned out the cheering at nearby Dodger Stadium.
Then to the top of the ninth, two outs, and a National batter hit a little dribbler that looked like it might turn into a cheap hit.
"Somebody get it!" a patron screamed.
Somebody did.
Victory in hand, demons defeated, the screaming got louder.
Let's do it again.
Get more of Steve Lopez's work and follow him on Twitter @LATstevelopez
ALSO
Who will be the next U.S. president? These astrologists may predict the answer
In downtown Santa Ana, some Latino merchants try to surf wave of gentrification
L.A. Police Commission approves proposals to increase transparency, training for how LAPD officers use force
---
Life is stressful. Our weekly mental wellness newsletter can help.
You may occasionally receive promotional content from the Los Angeles Times.