Column: Some Dana Point residents say free meals just encourage homeless people to stay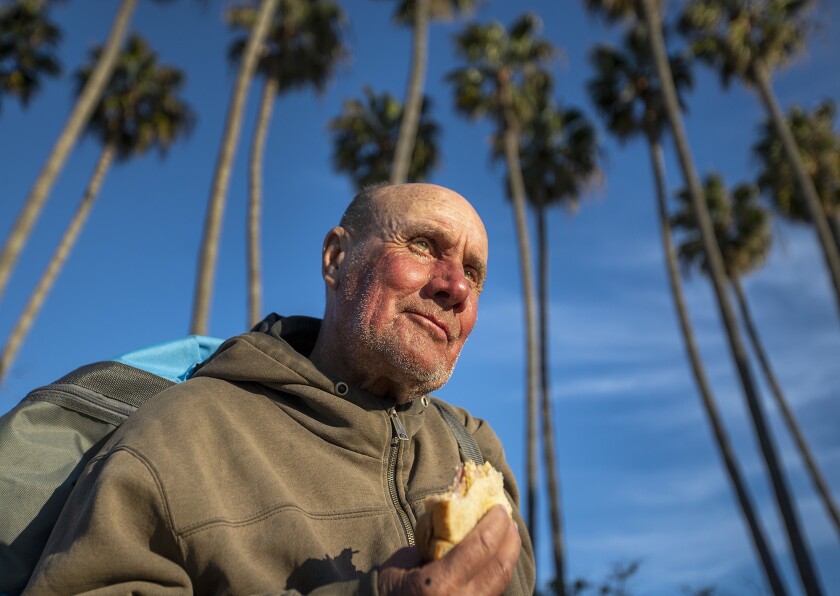 They came on bikes, on foot and in vehicles for the nightly dinner at Doheny State Beach. Some of them work, some have homes but most don't, and all of them were grateful for the ham, chicken and sandwiches dished out by volunteers from local churches.
"It helps because it means I save on groceries," said Mandy Pittock, a jewelry designer who arrived in a small motor home that she has slept and worked in since bailing out of an $1,800-monthly apartment she could no longer afford.
Many people work hard to avoid the homeless. These volunteers embrace them »
But this act of charity, a ritual for roughly two decades in the affluent Orange County beach community of Dana Point, has been under attack by city officials and some residents. And there's sharp disagreement on whether a free meal is a help or a hindrance.
"A sandwich enables people to stay exactly where they are on the streets," one resident wrote on the Facebook page of Capo Cares, a nonprofit community advocacy group. "Wouldn't it be great to get them into shelters or housing where they can make their own sandwich?"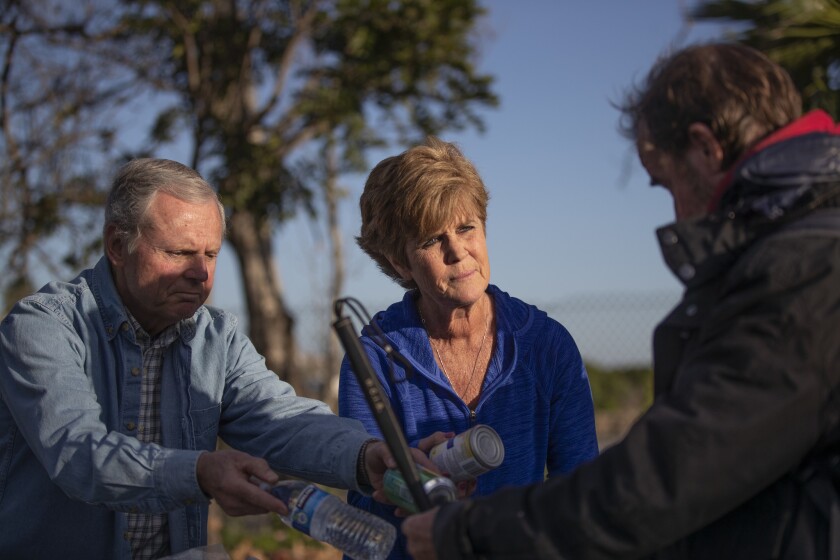 "Feeding the hungry always helps," another person responded, and then there was this take:
"Enables. Most don't want to work. Make panhandling illegal and stop feeding them and they will leave our city."
And go where?
On Wednesday, the same day I visited the nightly beach dinner, a lawsuit was filed against Dana Point, San Clemente, San Juan Capistrano, Aliso Viejo and Irvine, alleging that those communities — and Orange County — have criminalized homelessness without providing alternatives. The only emergency shelter in the area is in Laguna Beach. The lawsuit follows one last year that led to the opening of shelters in Anaheim and Santa Ana.
The volunteers I met at the beach dinner were not swayed by critics who say their contribution creates an unhealthy reliance in those who wait in line for the 4:30 p.m. feasts. They have no illusions about what they can and can't accomplish.
"Our mission is to feed the hungry," said Don Lemly of Welcome INN, the nonprofit that organizes the dinner, with different church and community groups taking turns providing the food.
"And we're not going to stop," said Don's wife, Kathy, who recruits and organizes the volunteers.
As the dinner buffet was being prepared, county outreach workers showed up to check on clients they knew were likely to turn out, and a representative of IHope, an interfaith homeless outreach agency, told me her group offers links to housing and other services. So there's more for the taking than just a hot meal.
Jan Rainbird, a retired attorney, said he helped prepare the 55 meals distributed the night I was there. He didn't put much stock in the notion that those who come to dinner would be housed and working if not for the motivation-sapping availability of a free meal.
Last summer, Dana Point Councilman Paul Wyatt sent a letter to Lemly imploring him to stop the feed. Wyatt said the city had some supportive and addiction-recovery services in place, had contracted with nonprofits for outreach services, and had a plan to end homelessness.
Wyatt suggested Lemly's good intentions were counterproductive, and he argued that the focus should be on trying "to move people out of desperate circumstances, not let them wallow in those circumstances." He said sheriff's deputies had observed the dinner crowd and concluded that 67% of the recipients were "known criminals."
In his letter, Wyatt recommended the do-gooders read a book called "Toxic Charity," and he provided an excerpt that included the admonition: "Mercy without justice degenerates into dependency and entitlement, preserving the power of the giver over the recipient."
Pardon me, but that's a narrow and cynical take on both givers and recipients. Isn't it possible that people do acts of kindness simply to help others — especially those ravaged by poverty, mental illness, addiction and combat fatigue — rather than because they expect any radical transformation?
"Denying hungry people food does not cure homelessness or poverty," Lemly wrote on a list of talking points he distributed to volunteers in response to the letter from City Hall.
Despite the opposing views, I got the sense that there's some common ground and shared objectives.
Wyatt told me that about two-thirds of Dana Point's homeless people have ties to the community, and he wants to address them not as a group but as individuals with names and different needs. The housing-first model is the way to go, he said, and he thinks the city has an obligation to build more units and fold in services that can help transform lives.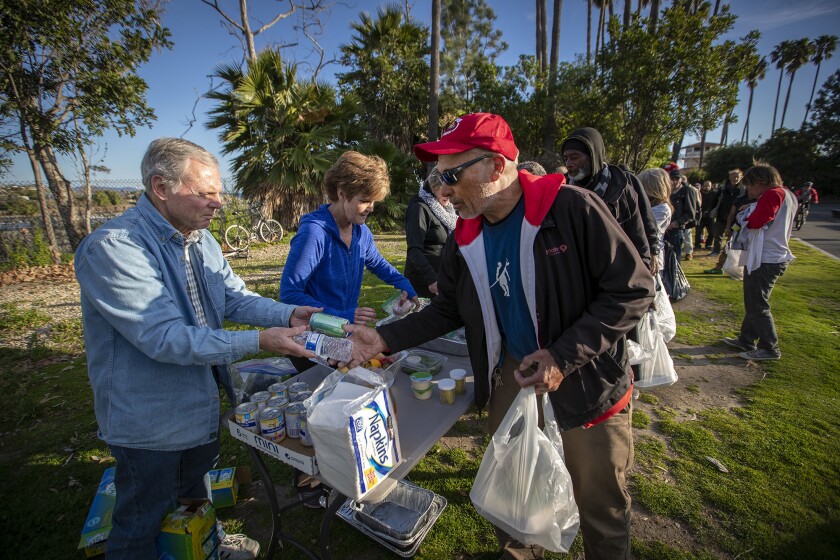 "If you're looking for a NIMBY story, that's not what this is," said Toni Nelson, cofounder of Capo Cares. She called the dinners in the park "a Band-Aid on a gaping wound" and said, "I think homes are the answer to homelessness."
A retired CPA, Nelson said she did the math and determined that if every adult in Dana Point donated roughly $60 to a housing fund annually, the area's several dozen homeless people could all be housed. She also said she had recommended that Capo Cares members donate to the nonprofits trying to address homelessness in the area.
At the dinner in the beach-side park, Steve Larson told me he lives in a nearby field, and if not for the meal, he'd get more of his food out of garbage cans. A man named Fred told me he pulled two tours of duty in Vietnam and said "it was an honor to serve."
Denis Winsby said a nightly meal helps because "it's almost impossible" to find the kind of carpentry and electrical work he's done in the past, and he's been living in a hut constructed of cardboard, pallets and a discarded door. It's been cold, he said, but he's surviving.
Joe Perez, 61, told me he has cerebral palsy. He lives in subsidized housing nearby, and said he had a horrible accident as a boy and suffered brain damage.
"I was hit by a train," he said, "so I come here because it's hard for me to make food."
Perez is the guy who says the prayer for dinner each night, then holds out a tray of mints at the end of the food line.
"Our father who art in heaven," he began as the sun fell behind the trees. "...Give us this day our daily bread; and forgive us our trespasses, as we forgive those who trespass against us..."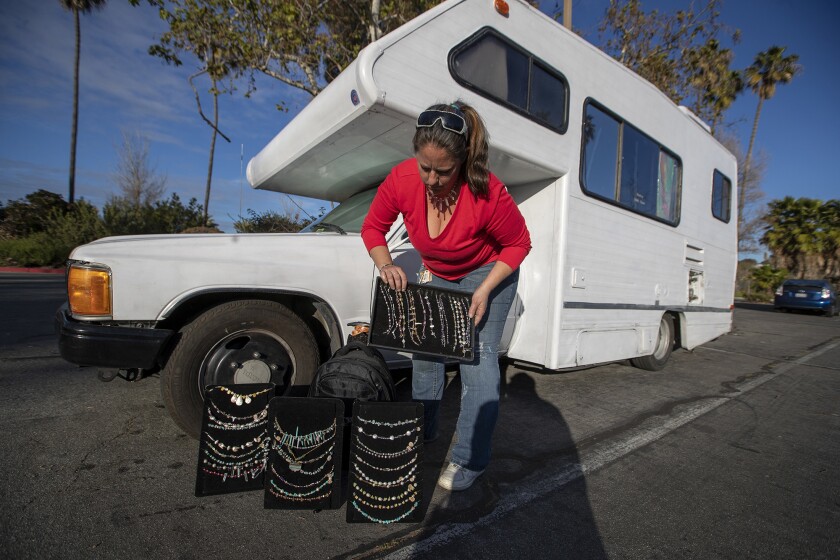 Get more of Steve Lopez's work and follow him on Twitter @LATstevelopez
---
The stories shaping California
Get up to speed with our Essential California newsletter, sent six days a week.
You may occasionally receive promotional content from the Los Angeles Times.