Column: It's hard not to be hopeful about the future when you meet Miriam Antonio, who hurdles barriers and keeps dreaming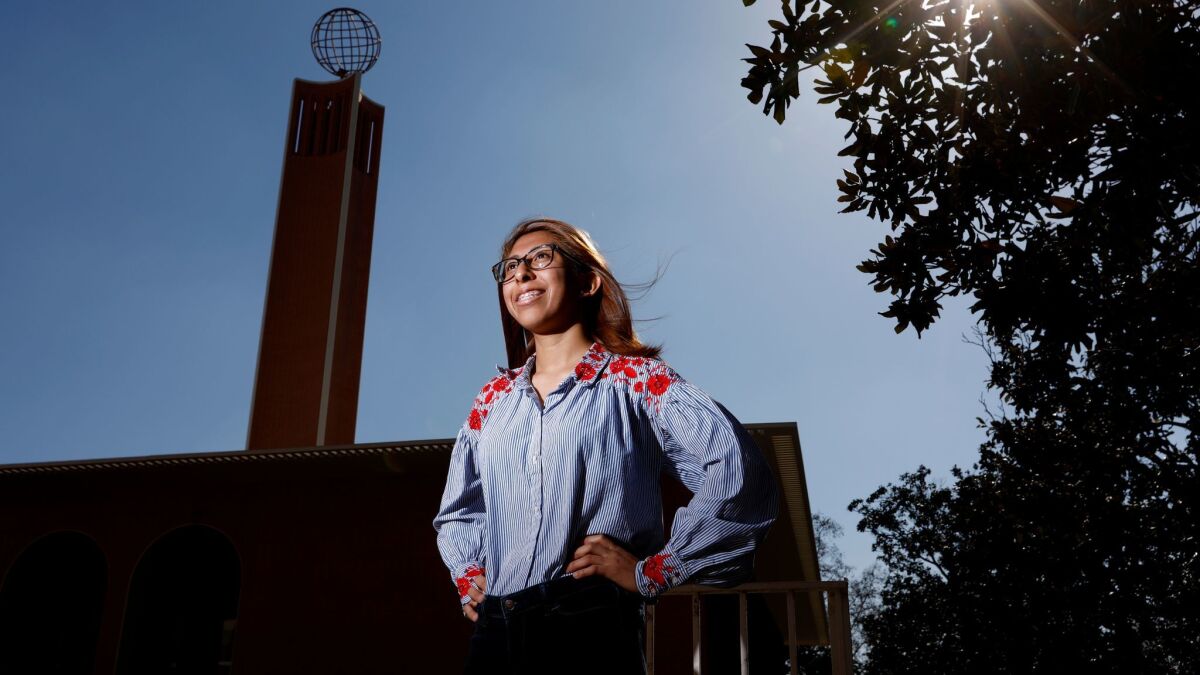 As the father of a teenager, I've got to make myself believe that even in crazy and scary times, it's going to be OK, the world will survive, and today's young folks will lead the way.
That's just the way it is for a parent. You're a worried, cynical mess half the time and naively optimistic half the time. The Florida school massacre Feb. 14 was horrifying; the crusading response by young survivors was uplifting.
"I think they're amazing," said Miriam Antonio, who's not so old herself. She just turned 21.
"Their speeches are inspirational and it gives me hope for a new generation that's going to be turning 18 and voting."
If her name sounds familiar, you may have seen it here previously. And some of you have asked me whatever became of Miriam Antonio.
Today I've got your answer.
I met Antonio in early 2015 at a school board candidate forum where two of the three candidates didn't bother to show up. The Fairfax High student and member of the United Way Student Leadership Program was properly indignant, and very well spoken, so I kept tabs on her.
In November of that year, I dropped into Antonio's life for a day. I met her at the Koreatown apartment she shared with her mother and siblings, as well as with another family. Her mother supported the family with a seven-day-weekly janitorial job, which meant that Antonio often had to help care for her siblings.
I tagged along as she took one bus, then another, to get to Fairfax. She read Oscar Wilde on the way and talked about her goals. She wanted badly — for the sake of pride, a quality education and the opportunities that might bring — to get into UCLA or USC. She wanted to study law and go into politics, so she could fight for communities like the one she grew up in.
"To be successful," she wrote in her college application essays, "we must be greater than what we suffer."
Dozens of readers were impressed by Antonio's hard work and fierce determination, and they donated to an education fund managed by the United Way. She was writing thank-you notes for months.
But she didn't get into either of her top two choices, so she went to Santa Monica College instead. She says she loved it there, but applied again to USC during her first year. Last May, she sent me a message.
"GOOD NEWS!" said the subject line.
She'd been accepted to USC for the 2017-2018 school year.
A combination of financial aid, work, a scholarship and donations from readers have combined to pay her tuition, room and board. In addition, one local family has offered an annual stipend.
"I was impressed with the fact that she's a fighter," said attorney Luis Carrillo, who told me he'd like Antonio to work for his law firm when she gets her degree. "She's fighting for an education and to overcome her difficult circumstances, so my wife [Beni] and I decided to help her."
Since I met her, Antonio has always juggled school, work, volunteering, political causes and family. She was so busy in the fall semester at USC, I delayed a visit. But the political activism of young folks in Florida offered a reminder that I wanted to reconnect.
When I called again, she went through her schedule in search of an opening, but there wasn't much to work with. And her evenings are booked, too. She's often up until 2 a.m. or later doing homework, and averages five hours of sleep each night. She said she made the dean's honors list, but she wants to boost her grade-point average.
We settled on a Thursday afternoon visit at the USC office of the Jesse Unruh Institute of Politics, where she works part time. Antonio was manning the front desk, but her regular duties include translation, student outreach and event coordination, such as the upcoming appearance by President Trump's former communications boss, Anthony Scaramucci.
As part of her interdisciplinary major — philosophy, politics and law — she's working as a volunteer for the gubernatorial campaign of Antonio Villaraigosa. And she's a member of the campus Democrats club and the Society of Women and Law.
I always feel like such a loafer around her.
"She's constantly volunteering at our events and she's all over campus. She's everywhere," said Unruh communications and outreach boss Kristy Plaza, who was editing a video about Antonio as a way to motivate other students to get involved.
The USC campus hasn't had a reputation as a hotbed of political activism, but Unruh director Robert Shrum said the rise of Trump and his effect on various issues has led to more student engagement.
And then there's Antonio. Her engagement began with what she called a "life-changing" tour of the civil rights trail in the American South, where, as a teen, she became inspired by Martin Luther King Jr. and Rosa Parks, among others.
"She's deeply engaged in political issues .. .I mean, she cares," said Shrum.
"I think this whole younger generation is going to change America, and the big thing is, they're not listening to adults who are telling them what to do," he said. "They're deciding for themselves."
He was referring not just to Antonio, but to the Florida students who confronted their legislators and have refused to accept a corrupt political system that protects access to military-style weapons, putting students in the line of fire. Shrum said he was reminded of young people whose protests were the beginning of the end of the Vietnam War.
I used to tell people I thought Miriam Antonio would be governor one day, but she says her goals have changed. She still loves politics, but partisanship and the surrender of privacy don't appeal to her, and she thinks she could make a bigger difference as an activist or a civil rights attorney than as a politician. She might also want to start a nonprofit with a focus on getting more low-income students into great universities.
But she's a sophomore, and all of that is a long way off.
"My goal here, by the time I graduate, is to make this campus a little more politically active," she said.
This weekend she's at the state Democratic Party convention in San Diego. Next weekend she's headed to the Women Achieving Greatness conference in Sacramento.
Sara Mooney, Antonio's mentor at the United Way, said Miriam told her on a recent weekend that she was attending a political event in Hollywood and handing out burritos on skid row. Mooney says she suggested that Antonio schedule some downtime and make sure to enjoy her college experience, because it'll be over too soon.
I told Antonio the same, but like Shrum said, she's of a different generation, and she's finding her own way.
"This is me enjoying college," she told me. "Getting involved is what makes it fun for me."
One last thing. I wanted to know about the day last year when she got the news.
"I came home from school and it was pretty late. No one was home, then my mom arrived with my brother, and she had a huge smile on her face," said Antonio. "She was holding something behind her back, and she showed me this huge white package from USC that had come in the mail.
"I knew what it meant and we both started crying. I was crying uncontrollably. It was my dream come true."
To read this article in Spanish, click here
Get more of Steve Lopez's work and follow him on Twitter @LATstevelopez
---
The stories shaping California
Get up to speed with our Essential California newsletter, sent six days a week.
You may occasionally receive promotional content from the Los Angeles Times.