Column: Amid the hipster foodies of Grand Central Market, one longtime chile vendor tries to hang on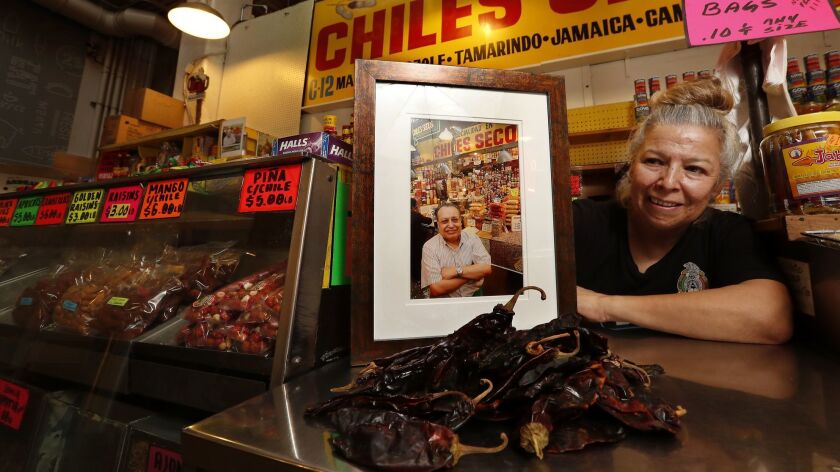 As I strolled through Grand Central Market in downtown Los Angeles one day, one of the longtime vendors flashed her big smile at me, so I stopped to ask how things were going.
Rocio Lopez, who owns Chiles Secos, said business was OK. But the more we talked, the more clear it became that she's struggling. We'd talked in the past about how the modernization of the market the past few years has brought a younger, hipper crowd to what was once downtown L.A.'s market for working-class shoppers.
The market is hotter than ever since a new owner took over late last year. Tourists, office workers and downtown millennials wait in long, long lines at gourmet food stalls, pay as much as $9 for an organic peanut butter and jelly sandwich, and $47.99 a pound for filet mignon at the butcher shop.
It doesn't help, Lopez said, that her stand's visibility has been blocked by the wall of the peanut butter and jelly stall — where last week's special PB&J was the $8 Moroccan, with Ras El Hanout spiced pistachio butter, fig and rosewater jam and fresh mint.
It's another twist on L.A. gentrification, and like all such stories, the transformation of the market has its pros and cons. I like some of the changes, even as I wonder how some vendors will survive, and whether the market risks losing the diversity and character that make it so special in its 101st year of operation.
"They say I owe a lot of money, and they might move me to another location," said Lopez, who inherited the business from her late father.
I asked how much she owed.
"Ninety-thousand and something," she said.
I thought I misunderstood, so I asked Lopez if she had any paperwork. She returned with a bill from November of last year that listed her outstanding tab at $97,986.73.
"Is this accurate?" I asked.
"I think so," she said. "With the changes they've made, I've lost a lot of my customers."
Lopez said she is supposed to be paying $3,000 a month in rent. But for years, she said, she's only done enough business to pay about half that amount, so the bill keeps growing. She routinely works 10 hours a day, five days a week, and pays a helper to run the store the other two days while Lopez goes to her other job. She cleans houses on Mondays and Tuesdays.
But for all her work, the market is a business, not a charity, and clearly, Chiles Secos has been carried for a while.
"You have to update," said Paul Serrano of Grand Central Jewelry, a stall his mother opened in the 1980s. Serrano told me he changed his merchandise to meet the tastes of downtown's booming population of young folks, and he's worked to capitalize on the market's use of social media to drive customers his way.
In the center of the market are two produce businesses that represent the old and the new. District Market sells mostly organic goods, and Granny Smith apples are $4.15 a pound. At nearby Torres Produce, Granny Smiths are $1.69 a pound.
It's like West L.A. vs. East L.A., Whole Foods vs. El Super. Maybe both can survive. But when it comes to mole and bulky dry goods, Chiles Secos has a larger competitor — Valeria's — in the market, even as the clientele for such goods dwindles.
Can Rocio Lopez hold on?
I called the new owner of Grand Central Market, who agreed to meet with me and talk it over.
Adam Daneshgar, who grew up in Beverly Hills, owns the real estate investment company Langdon Street Capital, which bought the market last fall. He is only 34 and said he's been a fan of Grand Central since he was 21, worked on Bunker Hill and visited the market for lunch.
Daneshgar told me he doesn't anticipate big changes except for structural improvements — lighting, flooring, plumbing and things like that. He said he likes what the previous owner did to make the market a celebration of L.A.'s diverse food choices, and he wants Grand Central to maintain a mix of the old and new, offer something for everyone, and hold on to its originality.
There will be no Starbucks, he said. And although he has loved their burgers since he was a kid, there will be no Johnny Rockets.
"If I had my way, every stall in here would be the only one in existence," he said. "As I look for new tenants, I'm looking for someone with … connections to the city — a good mom-and-pop story."
That's what Chiles Secos is. Rocio Lopez's father, Celestino, came up from Aguascalientes, Mexico, looking for work to support his family. He worked for two different vendors in the same Grand Central location he eventually bought, then turned the business over to family members.
"We're not putting pressure on these guys," Daneshgar said of Chiles Secos and the other so-called legacy vendors. "But we offered them help to explore and evolve their business models."
In the case of Chiles Secos, he said, he and his team suggested that Lopez keep track of what sells and what doesn't, and focus more on the former while getting rid of the latter.
Rocio Lopez was pleased to hear that the owner had no immediate plans to move her stall or to ease her out of the market. As we spoke, a family from Newport Beach bought some mole with almonds, and Martha Martinez told me they drive all the way up three or four times a year because they haven't found better mole anywhere else.
"It's difficult for my aunt," said Claudia Armendariz, who works at Chiles Secos on occasion and helps her aunt with the paperwork. "She's doing things the way my grandfather did them, even if it's not working any more. She's a creature of habit."
Armendariz, who began working at the stall as a child, said she's open to tinkering with the model or even moving to another space in the market if it helps grow the business. She also said she believes both the old and the new can survive in Grand Central Market.
"People downtown need groceries," Armendariz said, and the Whole Foods and Ralph's are several blocks away. "We'd love to sit down with the owners and come to some agreement to pay off the debt and come up with a plan to make it work, because we love it there and we want to be there. That was my grandfather's second home."
A day after my visit with Daneshgar, I checked in with Lopez again. She was bent over outside her stall, cleaning display case windows. She showed me some dusty canned goods she'd removed from the shelves, and she had also rearranged a countertop display.
She didn't have much time to talk. It was the lunch hour, the market was mobbed, and three customers eyed the mole offerings, wondering which to buy.
Get more of Steve Lopez's work and follow him on Twitter @LATstevelopez
---
The stories shaping California
Get up to speed with our Essential California newsletter, sent six days a week.
You may occasionally receive promotional content from the Los Angeles Times.