Column: Touring L.A.'s old Chinatown before it's too late with a man who knows all the secrets
On a recent day with a rare threat of rain, I forgot my hat at home. So I stopped in Chinatown on the way to work.
There must be three dozen places that sell hats in the tiny neighborhood, and I don't know one from another. So I walked a couple of blocks and then stopped at a small place run by an elderly couple.
"How much for this one?" I asked.
"Five dollars," said the woman.
It was made in Taiwan and was not of the highest quality, but still, that seemed like a good price. I handed her a $5 bill as I thought about the supply chain.
A hat, made for pennies overseas under who knows what conditions, travels by ship with millions of other hats and lands with a distributor, who sells wholesale to a shop owner, who peddles it for just five bucks but still makes a profit here in a city with thousands of similar mom and pop outlets.
I asked the woman about that economic pipeline, and how there can be enough of a profit margin in a $5 hat for a tiny shop to survive, but she didn't speak English. So I thought I'd go look for Jimmy Wong to see if he could translate.
I hadn't seen Wong since 2006, when I met the men who play Chinese chess in Central Plaza and Wong volunteered to be my translator and tour guide, as if he were the mayor of Chinatown. Wong said he had been a chef, a gaming hall operator and a gambling columnist. He said he'd tipped a glass with Henry Miller and Clark Gable at Chinatown watering holes, and that he was trying to raise $15 million to build a Taoist temple.
Was he still around?
I wandered through the alleys that border the Central Plaza and soon came upon a man on a bench, yacking to someone. But I wasn't sure.
Before I could ask, he looked up and said:
"Steve?"
"Jimmy?"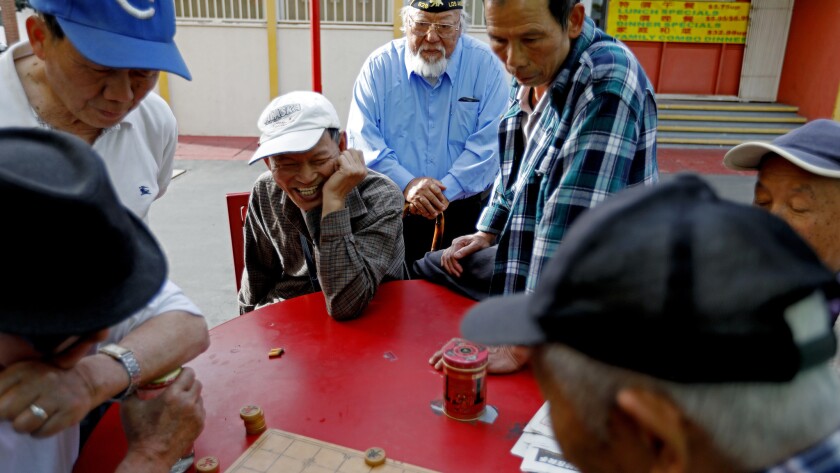 He walks with a cane now, at 83, and the U.S. military veteran wears an American Legion dress cap with Chinatown Post 628 sewed onto it. When I asked how much of the $15 million he had raised for his temple, he said $300, as if he was pleased with the progress.
"A 1,000-mile journey begins with a first step," he said.
If I hadn't eaten, he said, I should go put some money in the meter and meet him at the Golden Dragon restaurant on Broadway, a popular spot for immigrants like Wong, who came over in 1946.
"They probably bought the hat for three of four dollars," Wong said over lunch, referring to my $5 purchase.
If they made only a dollar or two, I said, it must be hard to pay the bills. It didn't look like they were getting much business, and merchants up and down the street were selling the same stuff.
"These people immigrated for food and safety," Wong said. "You learn how to suffer, and you conquer life."
Speaking of doing whatever you have to do to get by, Wong told me about the gambling hall he ran decades ago in Chinatown, and about the thugs who visited him to demand that he pay them $200 every Monday.
"For what?" he asked.
"Protection," they said.
"So I told them, 'OK, sounds good. I'll pay you $200 on Monday, and you pay me $400 on Tuesday?'"
"What for?" they asked.
"So I can protect you," he told them, and they never returned.
After lunch we walked the streets of Chinatown. This is what Wong does almost every day of the week. He and his wife, Suyan, take the bus up from their home in South Los Angeles. Suyan plays mahjong for hours while her husband looks for friends, sits in the plazas, talks about horse racing and local changes, like the fancy modern apartment buildings and the new restaurants.
At a shopping center, he opened a door to a mahjong hall and introduced me to Suyan. On Broadway, he introduced me to merchants who politely declined to talk about what they pay for the hats and other things they sell, and the same was true of the lady from whom I'd bought my hat.
"People are very private," Wong said. In the case of my hat, the woman said her daughter does the purchasing from a supplier in the garment district.
George Yu of the Chinatown Business Improvement District said multiple stores selling identical tchotchkes and cheap garments might do well to rethink their business plan. He said businesses and restaurants that draw new customers and residents will make Chinatown more sustainable over the long haul. His office is above Chego, a Roy Choi restaurant that's a big attraction, and Howlin' Ray's Nashville Hot Chicken, which had a line of about 100 people the day I visited.
Right now, the old and new seem to coexist comfortably, even as Chinatown evolves. French Hospital, which served the community's medical needs for 157 years, just closed in December and it's not clear what will replace it.
"We definitely need some financial infusion into the area," said Peter Ng of the Chinatown Service Center.
But at the same time, Ng said, tradition still matters in Chinatown, where 27 family associations still exist. Formed decades ago in response to discrimination, the family associations are part of the Chinese Consolidated Benevolent Assn.
The Ng and Wong names are big in Chinatown, said Ng, and the members think of each other as brothers, just as he and Wong do. This dates back to a time in China when a boy from one family drowned and a member of the other family offered the aggrieved parents one of his own two sons.
"We still have folks on both sides trying to do some research on exactly what happened," said Ng, "but it did happen."
I revisited Wong on Tuesday as he made his rounds. He said he likes Ray's hot chicken and he's eaten at Chego, he wears western clothes and he happily adapts to change. He said he switched to a mostly vegetable diet and went from 400 pounds to 280, so how's that for a big change?
"But I like the old," he said while sitting near a statue of Sun Yat-sen near the Eastern gate of Chinatown. "There's a feeling of respect among people here. You meet someone who knew your grandmother or cares about your uncle."
We walked less than 50 yards and bumped into someone who grew up in his region of China. A minute later we met Fred Wong, 78, who lived in a nearby village in China.
As we walked and talked, the conversation turned back to the local economy and my hat. Fred Wong said the merchants probably made $1 on the sale. Many such shop owners don't live in Chinatown, he said. They rent single rooms, for a few hundred dollars a month, from middle-class Chinese homeowners in the San Gabriel Valley.
For lunch, tradition prevailed, and we went back to the Golden Dragon, where everybody seemed to know Jimmy Wong and his pal Fred.
Get more of Steve Lopez's work and follow him on Twitter @LATstevelopez
---
The stories shaping California
Get up to speed with our Essential California newsletter, sent six days a week.
You may occasionally receive promotional content from the Los Angeles Times.