Nikias' tenure as USC president was marked by growth and scandal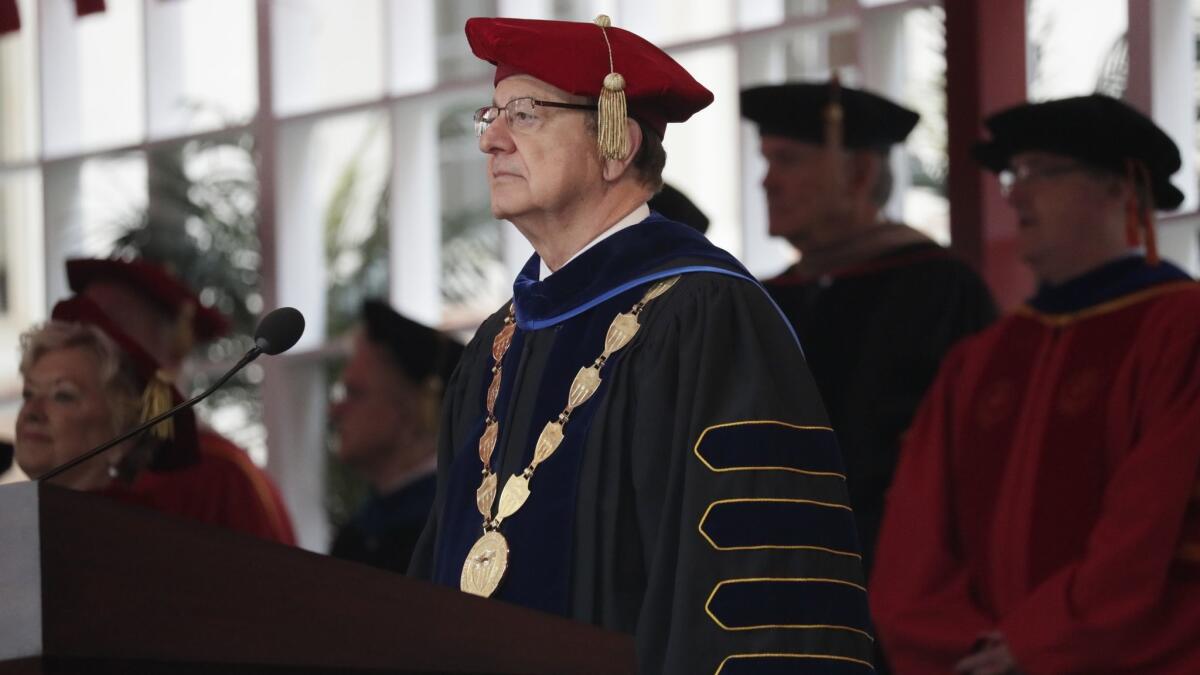 Just as C.L. Max Nikias was about to assume the responsibilities as the University of Southern California's president in 2010, the university was reeling from NCAA sanctions levied against its athletic program.
Citing a lack of institutional control and unethical conduct, the NCAA erased the accomplishments of nine years — two national football titles, a winning basketball season — with four years of penalties and the loss of millions of dollars.
Faced with angry alumni and a scornful public, Nikias managed to settle the crisis with calls for more transparency and tougher ethical standards.
Eight years later, the lack of transparency and attention to ethical standards led to Nikias' departure.
The announcement late Friday marked an ignoble end for the embattled university executive, whose tenure had been overshadowed by recent scandals tarnishing the reputation of one of Southern California's premier educational institutions.
Nikias' departure came in the aftermath of The Times' investigation into allegations of misconduct and inappropriate behavior toward students by Dr. George Tyndall, former gynecologist at the university's student health clinic.
The move also came almost a year after USC was shaken by another Times investigation detailing the abusive behavior, drug use and criminal associations of Dr. Carmen Puliafito, dean of the university's medical school and one of the university's leading fundraisers.
After Puliafito's resignation, Nikias named Dr. Rohit Varma to head the medical school, and in less than a year, Varma stepped down after accusations of sexual harassment surfaced.
The scandals raised questions about Nikias' leadership on both administrative and moral grounds. Despite reports from colleagues and students, he denied knowing about the behaviors of Tyndall, Varma and Puliafito — and the payouts tendered to keep the victimized employees silent — until too late.
On Wednesday, the executive committee of the university's Board of Trustees had issued a brief letter of support for Nikias, expressing "full confidence" in his ability to "guide our community forward."
With an annual income of $1.1 million — and more than $2 million in bonuses and benefits — Nikias was one of the highest-paid university executives in the country, respected not only for his academic acumen but also his skills managing one of the country's most influential educational institutions.
He now joins the ranks of disgraced officials whose legacy seemed at one time beyond reproach. Like Cardinal Roger Mahony, who was relieved of public duties over his mishandling of the sexual abuse of children by clergy, Nikias failed to confront the problems in an open and public manner.
His reticence suggested less of an interest in students' well-being than in protecting the university's reputation and ability to attract wealthy benefactors.
At a time when healthy endowments are the measure of a university's success, Nikias, a Cyprus-born electrical engineer who joined USC's faculty in 1991, had proven to be adept at raising money, a skill that recommended him as the successor to President Steven B. Sample, who retired in 2009.
During his 19 years as the top administrator — and often cited at the time as one of the university's most effective fundraisers — Sample was credited for having transformed USC from a local university to a national powerhouse.
As dean of USC's Viterbi School of Engineering from 2001 to 2005, Nikias understood the mission of the university under Sample's leadership.
Promoted on the strength of a presentation outlining a strategy for winning government and corporate money, Nikias became a respected rainmaker for the engineering school, bringing in more than $250 million from an oil company and an airline. If he blurred the line between research and funding, he seemed untroubled by it.
"Without compromising academic integrity," he told The Times in 2003, "we can be very flexible in how we negotiate with industry."
Two years later, Nikias was made provost, and in 2010, the Board of Trustees named him as Sample's successor and the university's 11th president. It was an unusual appointment. Universities rarely turn to an insider to become president, but Nikias was so favored a candidate that some trustees reportedly argued against conducting a national search.
Even as the NCAA sanctions cast a shadow over his inauguration as president, he wasn't about to let it deter him from his goals.
"We want other universities to learn from our experience because the dangers out there are real," he said during a 2010 interview with The Times in which he announced the ambitious goal to triple the university's $3-billion endowment in the next 10 to 15 years.
"This is not a change in direction," he said at the time, "but an acceleration" to move the university into "the pantheon of undisputed elite universities."
Richard Lee Colvin, former head of the Hechinger Institute at Teachers College, Columbia University, and a nationally recognized expert in education policy, argues that Nikias was following in Sample's footsteps.
"Sample made a commitment to diversity and serving the neighborhood, which is all good. But he was bound and determined to raise money and elevate the reputation of USC to the upper ranks of universities in America," Colvin said. "That ambition — and that all-out goal of elevating the status of an institution — has downsides. You look at the bottom line a different way."
Nikias' early initiatives included improving the academic standing of the medical school and hospitals and strengthening ties with Asian nations and colleges. Both goals have been jeopardized by the recent scandals involving Puliafito, Varma and Tyndall, who faces a number of allegations by Asian students.
As sizable donations flowed into the university — $50 million from trustee and alumnus Ming Hsieh, $50 million from the Annenberg Foundation, $200 million from alumnus David Dornsife, $110 million from alumnus John Mork and his wife, Julie — Nikias launched what was believed to be the largest fundraising effort in American academia: to raise $6 billion by 2018.
The goal set in 2011 was ambitious, especially as the economy was just heading out of the recession, but Nikias was undeterred, striking an almost cavalier tone.
"I'm not afraid to take that risk because I believe in the strategies and in the Trojan family," he said at the time. "I know it is more pressure on me and the rest of us. But hey, why not?"
He would accomplish the goal with months to spare.
In 2015, he appointed neuroscientist Michael Quick as provost and No. 2 administrator.
Under Quick's leadership, the faculty's role in making administrative decisions was increased, a move toward a "federated system," which gives greater autonomy among individual units in the university.
With his eye on fundraising, Nikias took to the road, charming philanthropists and the leaders of foundations and corporations with his old-world manners and the red and gold regalia of the university. USC's ranking in the influential U.S. News and World Report's ranking of national universities climbed from 51 in 1995 to 23rd in 2017.
But the ascent was not without problems. When it emerged that USC head football coach Steve Sarkisian was struggling with alcohol and substance abuse, the university issued a series of terse comments explaining his behavior and plans for treatment. Sarkisian was soon let go, and through it all, Nikias declined repeated interview requests.
At the time, he was focused on cultivating relationships with Silicon Beach, hoping to take advantage of the money and innovation that was coming out of the technology companies planting their flag in Los Angeles.
He has claimed to be unaware of the problem behaviors of his faculty members.
He reappointed Puliafito as dean of the School of Medicine with a five-year contract of more than $1 million annually. And he has said that he didn't know of secret deals made to Varma's accuser — $135,000 for her silence — and Tyndall, who when faced with termination, threatened to sue USC for age and gender discrimination and accepted a settlement in exchange for his quiet departure.
In early 2017, Nikias met his goal of reaching $6 billion, a milestone in the history of the university that some believe insulated him from the scandals that soon emerged.
The university currently has an endowment of $5.1 billion, according to federal tax documents, and recently announced an initiative called Project Renewal, an attempt to trim expenses by 5% within three years. A spokesman said that the plan was in place before the Puliafito controversy.
As Nikias departs, USC now braces for lawsuits from students claiming mistreatment at the hands of Tyndall. The example set by Michigan State in its $500-million settlement of the lawsuits filed by survivors of Larry Nassar's sexual assaults is not encouraging for a university whose reputation has been so tied to its fund-raising abilities.
"When you are so dedicated to reputation that you bury things — when you think that your reputation is dependent upon hushing things up and not address moral issues — then you've gone astray," Colvin said.
Twitter: @tcurwen
Sign up for Essential California for news, features and recommendations from the L.A. Times and beyond in your inbox six days a week.
You may occasionally receive promotional content from the Los Angeles Times.