Nikias is out as USC president: A timeline of his troubled tenure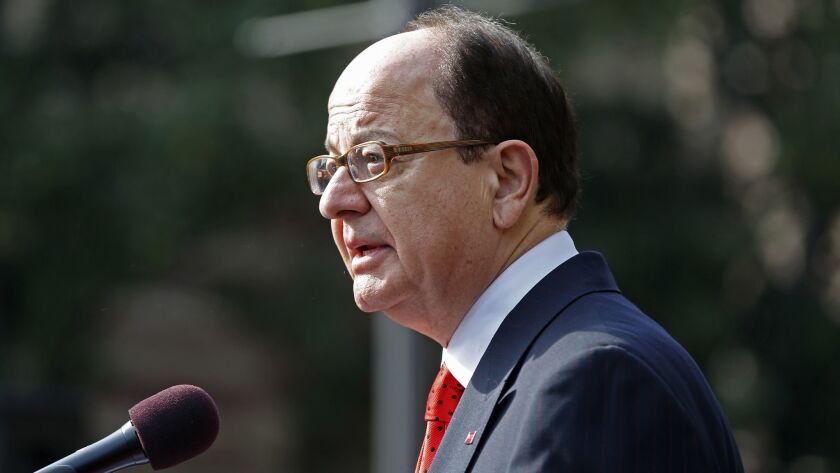 C.L. "Max" Nikias began his tenure as the president of the University of Southern California with an effort to clean house at a scandal-tinged athletic department. But soon after the school emerged from that dark period, new troubles arose.
Athetics scandals
March 2010
USC announces that Chrysostomos Loizos "Max" Nikias, the school's provost and second-in-command since 2005, will become its next president.
June 2010
The NCAA imposes severe penalties on USC for violations involving gifts given by agents to star football player Reggie Bush and basketball player O.J. Mayo. The NCAA, which has been investigating the school since 2006, cites USC's "lack of institutional control."
July 2010
Nikias, as president-elect, announces an overhaul of USC's athletic department. He replaces athletic director Mike Garrett with Pat Haden and orders all displays recognizing Bush and Mayo be removed from campus and sports facilities.
August 2010
Nikias officially becomes the 11th president of the University of Southern California.
March 2011
USC receives its largest donation ever, a a $200-million gift from alumnus David Dornsife.
June 2014
USC's four-year NCAA probation ends.
August 2015
USC football coach Steve Sarkisian appears at a preseason family banquet apparently intoxicated, slurring his words and shouting an expletive.
October 2015
After continuing questions about Sarkisian's alcohol use, he is fired. He later sues the school.
February 2016
Athletic director Pat Haden, criticized for his handling of Sarkisian and for collecting a half-million dollars per year from seven corporate boards and charitable foundations, announces that he will step down.
Scandal at the medical school
July 2017
A Los Angeles Times investigation shows that Carmen Puliafito, longtime dean of USC's Keck School of Medicine, had used methamphetamine and other drugs while running the medical school and had partied on several occasions with a circle of criminals and prostitutes in hotels, apartments and even his campus office. The inquiry also shows that the school had elected to keep Puliafito as dean despite complaints from employees about his hair-trigger temper, public humiliation of colleagues and perceived drinking problem.
October 2017
The man chosen by USC to replace Puliafito, Dr. Rohit Varma, resigns after it is revealed that he had behaved inappropriately toward a female medical school fellow 15 years earlier.
Contributions fall
February 2018
An internal accounting at USC shows that contributions to the school plunged by nearly $100 million in the period after the Puliafito scandal emerged.
Gynecology scandal
May 2018
A Times investigation shows that Dr. George Tyndall, a gynecologist at the USC student health clinic, was allowed to continue practicing for years despite years of complaints that he had been making sexual comments and touching patients inappropriately during pelvic exams. Nikias says in a letter to the campus that Tyndall "should have been removed and referred to the authorities years ago. I am struggling with the question -- as you are: How could this behavior have gone on for so long?"
FULL COVERAGE: USC former gynecologist Dr. George Tyndall accused of inappropriate behavior
Already a subscriber? Thank you for your support. If you are not, please consider subscribing today. Get full access to our signature journalism for just 99 cents for the first four weeks.
---
The stories shaping California
Get up to speed with our Essential California newsletter, sent six days a week.
You may occasionally receive promotional content from the Los Angeles Times.