Steve Sarkisian sues USC, alleging discrimination and breach of contract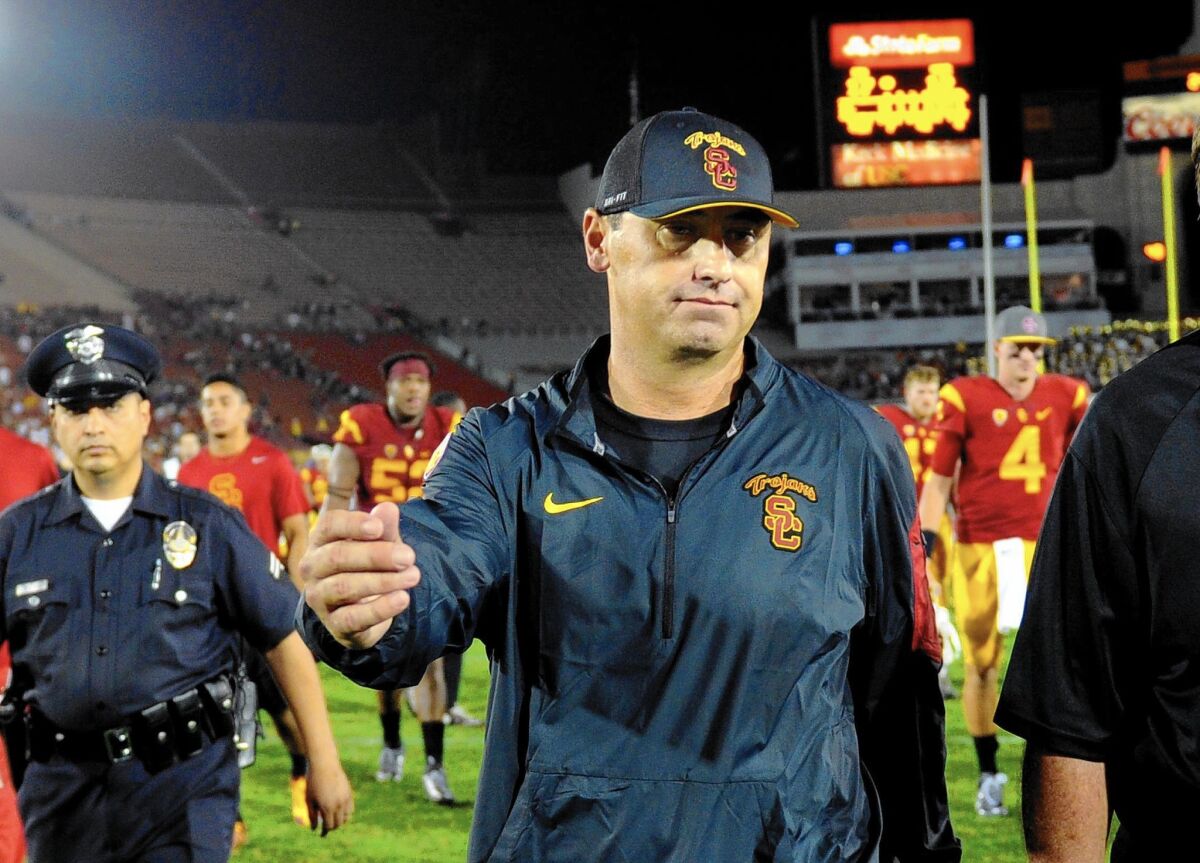 Turmoil followed Steve Sarkisian into a routine meeting almost two months ago.
The USC head football coach's anxiety, depression and alcohol use outside of work spiked in the three days after his team's upset loss to the University of Washington, according to a lawsuit filed Monday by Sarkisian.
He had been drinking the night before a team meeting Oct. 11 and didn't sleep well. Shortly before the 11 a.m. gathering, Sarkisian took unspecified prescription medication. The coach didn't seem himself.
Barely 24 hours later, USC Athletic Director Pat Haden fired Sarkisian via email and touched off a tumultuous series of events that continued when the coach sued the school over his dismissal.
"Instead of accommodating Steve Sarkisian's disability, USC kicked him to the curb," the lawsuit said.
Sarkisian alleges that the school discriminated against him because of his alcoholism and breached his contract, according to the suit, which was filed in Los Angeles Superior Court.
The 31-page complaint provides Sarkisian's first public account of the events that led to his ouster after less than two years as USC's head coach. Among the details are the chaotic final 24 hours — alleged tears, combative phone calls and the realization that something wasn't right.
"That weekend ... Sarkisian began to finally come to grips with the fact that he had a problem with alcohol, needed serious help and needed it now," the lawsuit said.
In a written statement, USC general counsel Carol Mauch Amir assailed the lawsuit and said the school would "vigorously" defend itself.
"Much of what is stated in the lawsuit ... is patently untrue," the statement said. "The record will show that Mr. Sarkisian repeatedly denied to university officials that he had a problem with alcohol, never asked for time off to get help and resisted university efforts to provide him with help."
Alan Loewinsohn, Sarkisian's Dallas-based attorney, said during a phone interview that his client had "no choice but to sue."
"Steve at this point lost his team, lost his income, lost the job that he loved," Loewinsohn said.
The issue first entered public view during the "Salute to Troy" booster event in August. The lawsuit said that Sarkisian drank two light beers hours before the event and took prescription medication for anxiety. When the coach addressed the crowd, he slurred words, insulted opponents and uttered a profanity.
Gary Klein and Lindsey Thiry discuss Steve Sarkisian's lawsuit against USC. 
In the aftermath, Haden required Sarkisian to sign a letter agreeing to apologize for his behavior, meet weekly with a therapist at USC and avoid future situations that could embarrass the school. At a news conference three days after the event, the coach said he didn't think he had a drinking problem, but expected to find out through the counseling. The sessions consisted of one-hour weekly sessions with a psychologist in Sarkisian's office and occasional visits to a psychiatrist who could prescribe medication.
The lawsuit said Sarkisian had no further alcohol-related incidents after "Salute to Troy."
With Sarkisian already struggling to cope with a pending divorce and the stress from leading one of the country's premier football programs, the lawsuit said, the coach's problems worsened after the 17-12 loss to Washington, where he coached for five seasons before USC hired him in December 2013.
After the Oct. 11 team meeting — where the lawsuit said the coach's anxiety and depression were "spiraling out of control in his mind" — an administrative staff assistant drove Sarkisian home before the scheduled 12:30 p.m. practice. The coach had decided that he needed professional help.
Haden phoned the assistant and demanded to speak to Sarkisian. Surrounded by family members, the lawsuit said, the coach was "upset, teary and nearly hyperventilating" as he returned Haden's call on a speaker phone.
"I'm not right, I need time off to get well," Sarkisian said.
"Unbelievable," Haden responded, according to the lawsuit. "Can't you even go back to the office to finish the day?"
"No, I need to get help," Sarkisian said. "I'm not right."
Haden placed Sarkisian on indefinite leave and instructed him to speak to a sports psychologist at USC. The psychologist's suggestions included doubling Sarkisian's medication and having him take a few days off.
"The medications were making [Sarkisian] feel and act abnormally and were not stopping his drinking," the lawsuit said.
The next day, Oct. 12, Sarkisian departed on a noon flight to an inpatient treatment facility at an undisclosed location.
The same day, The Times published a story detailing Sarkisian's alcohol use at Washington. Documents obtained by The Times and accounts from former players showed a man who favored Coors Light beer and Patron Silver tequila and frequented several Seattle-area bars with fellow staff members.
A former player said Sarkisian smelled of alcohol at some morning meetings while expense records showed, for example, the coach and three assistants ordered eight shots of liquor and five beers before noon during a 2013 convention in Nashville.
When Sarkisian landed, the lawsuit said, he saw an email with a termination letter attached. Haden had fired him.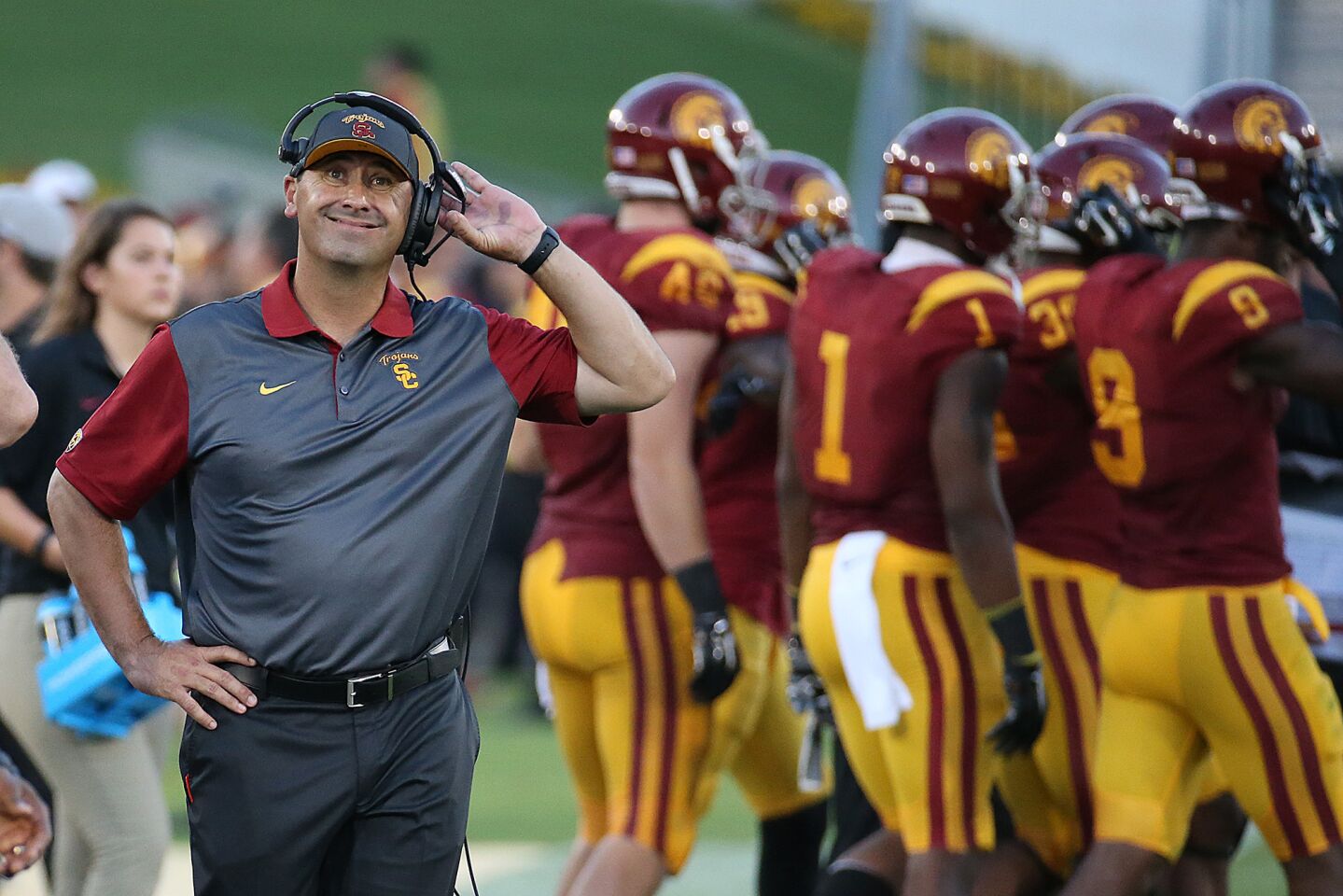 USC Coach Steve Sarkisian looks at the scoreboard after Stanford scored a touchdown on Sept. 19, 2015.
(Robert Gauthier / Los Angeles Times)
USC football Coach Steve Sarkisian addressing the media on Aug. 25, 2015, about his behavior and language during a booster event on campus days earlier.
(Al Seib / Los Angeles Times)
USC football head Coach Steve Sarkisian looks on during action against Utah at Rice-Eccles Stadium.
(Robert Gauthier / Los Angeles Times)
USC Coach Steve Sarkisian leads practice at Howard Jones Field.
(Robert Gauthier / Los Angeles Times)
USC football Coach Steve Sarkisian takes to the practice field after addressing the media about his behavior and language during a booster event days earlier.
(Al Seib / Los Angeles Times)
USC football Coach Steve Sarkisian addresses the media on Aug. 25, 2015, about his behavior and language during a booster event on campus days earlier
(Al Seib / Los Angeles Times)
USC Coach Steve Sarkisian watches his Trojans squad warm-up before the game against Idaho on Sept. 12, 2015.
(Luis Sinco / Los Angeles Times)
"Not once did Haden ask ... what happened at the team meeting nor even whether he had been drinking shortly before the meeting," said the lawsuit, which claimed USC retaliated against Sarkisian because of his desire to seek inpatient treatment. "That is because Haden did not care what had happened or what the facts were."
USC fired Sarkisian with cause, the lawsuit said, meaning the school won't pay more than $12 million remaining on the coach's contract that ran through 2018. Sarkisian is also seeking damages for "extreme mental anguish," lost wages and other factors, though no amount is specified.
"Disability law is a complicated area ... and it often doesn't have easy, predictable outcomes, especially in the context of drugs and alcohol," said Michael McCann, a sports law professor at the University of New Hampshire. "A key issue will be whether Sarkisian was actively abusing alcohol while on the job."
Michael Waterstone, a professor who specializes in disability law at Loyola Law School, believes Sarkisian faces an uphill battle to prove his case.
"The law is pretty clear that if someone is currently abusing drugs or alcohol in the workplace, it makes it very, very hard for them to take advantage of the laws that protect disability," Waterstone said.
Sarkisian is sober after completing more than 30 days at inpatient treatment, the lawsuit said. He is not taking prescription medication. He can sleep without trouble for the first time in 20 years.
"Steve Sarkisian was now ready and equipped to move forward with his life, understanding his disability and how to treat and control it," the lawsuit said. "Unfortunately, there was no job waiting for him."
Twitter: @nathanfenno
Times staff writer Gary Klein contributed to this report.
---
Get the latest on L.A.'s teams in the daily Sports Report newsletter.
You may occasionally receive promotional content from the Los Angeles Times.