California DMV cracks down on misuse of disability parking placards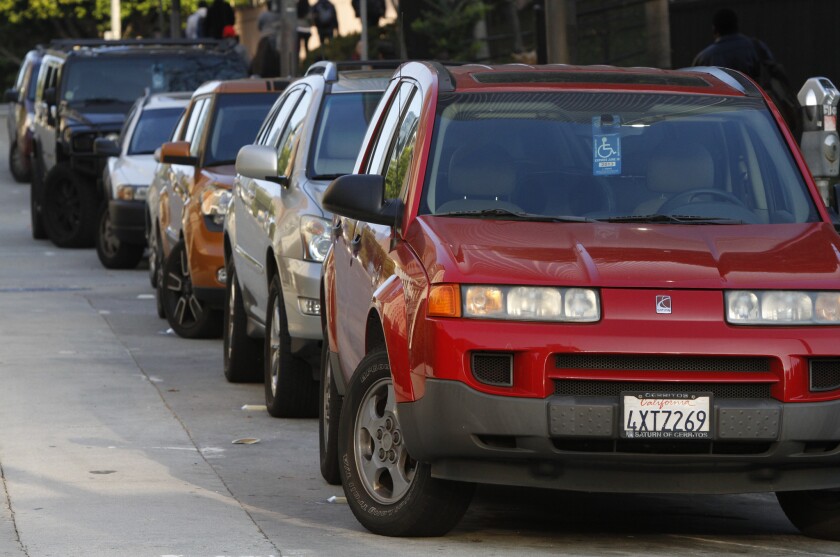 Reporting from SACRAMENTO —
The Department of Motor Vehicles is cracking down on drivers who improperly apply for disability parking placards so they can use specially marked parking spots, officials said Wednesday.
In February 2014, the department launched "Operation Blue Zone," which has DMV investigators searching applications for telltale irregularities — including requests that all have the same medical diagnosis, the same handwriting and the same doctor's signature.
Agency enforcement actions in cases of improper use of disability placards have more than doubled over the last year, when crackdowns were prompted mostly by citizen complaints.
"We are consistently trying to find innovative ways to reduce this kind of fraud, but it is difficult at times," said Frank Alvarez, chief of the DMV's investigations division.
Officials on the California Commission on Disability Access, which advises the Legislature on issues affecting the disabled, said they were so concerned about placard abuse that they asked DMV officials to testify at their Wednesday meeting.
As of July 24, the DMV's new crackdown has generated 98 investigations. Six suspects have been arrested, and investigations have led to 16 convictions. Charges have included perjury, filing false information with the agency, forgery, unauthorized use of personal identifying information and commercial burglary, officials said.
DMV Cmdr. Mary Bienko said the agency is trying to be more proactive to stop the fraudulent disability parking placards from being issued.
Drivers can receive a placard from the DMV allowing them to park in blue-marked spaces if they complete an application and get a signature from a licensed medical professional.
In the past, the DMV primarily investigated complaints about drivers misusing the placards.
During these investigations, officers visit the scene and ask drivers to show paperwork for the placard. If officers determine that a driver does not have a right to the placard, they could take enforcement action, including a verbal warning, a citation, an arrest or a vehicle impound.
Interested in the stories shaping California? Sign up for the free Essential California newsletter >>
In many of those cases, the driver is using a placard that belongs to a relative or friend, Alvarez said. Some buy the placards on eBay or Craigslist, he said.
While less than 30% of complaints led to enforcement actions in the last fiscal year, around 65% did this fiscal year, DMV figures show.
Advocates for the disabled say fraudulent placards have become so pervasive that it can be difficult for people who really need those parking spaces to find one.
Shira Leeder, who sits on Berkeley's Commission on Disability, testified Wednesday that those spots always seem to be taken by drivers who, unlike her, appear to be able to walk.
DMV officials said one hitch in their new crackdown is getting doctors to verify an applicant's disability. Some doctors refuse to cooperate, citing medical privacy laws.
"It brings to mind there are doctors out there who might be over-prescribing," said R. Michael Paravagna, a member of the Commission on Disability Access. "Maybe they are handing them out like candy."
kurt.chirbas@latimes.com
Twitter: @kchirbas
MORE ON CALIFORNIA:
Californians back new policies to fight climate change, poll says
Drought now Californians' top concern, poll finds
Keeping up with the Joneses' drought-friendly yard boosted MWD's tab for rebates
---
The stories shaping California
Get up to speed with our Essential California newsletter, sent six days a week.
You may occasionally receive promotional content from the Los Angeles Times.