Life near the Aliso Canyon gas leak: 'When it's breezy, I'm lethargic'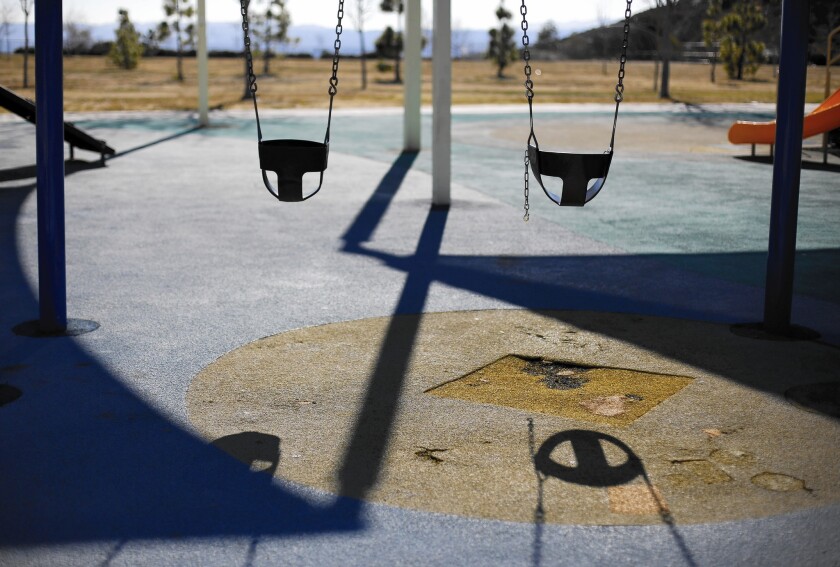 One resident reported getting bloody noses for the first time in 40 years. Another described Christmas Eve vomiting in urgent care. Others say they've not felt any ill effects.
This is how Porter Ranch-area residents responded to a Los Angeles Times questionnaire about how they believe their health has been affected by the massive Aliso Canyon gas leak. Dozens of readers from the San Fernando Valley community and the surrounding neighborhoods reported dizziness, nausea and nosebleeds, among other health impacts. A nontoxic chemical compound added as a warning for methane, commonly known as an odorant, is making residents ill. Some, though, said they felt no different and were concerned lawyers were inflating the health concerns.
Here's how several residents of the area described the leak's effect on their health:
I have headaches, runny nose, cough, blurry vision, diarrhea. I had smelled gas one day when I was in the garage and went out and bought a gas detector at Wal-Mart before I was even aware there was a gas leak. We have two dogs and three grandchildren.... My wife and I are both in our mid- to late sixties, and have health concerns for us and our small pets. —Gary Rubin
On several occasions all of a sudden have felt like I need to just throw up, out of nowhere. Also, my 10-year-old has complained of being dizzy, and she has never complained of that. We live in Chatsworth, less than five miles from the leak. —Kristina Zitkovich
Chatsworth is also affected by the gas leak. When the wind blows, you can smell the gas at my home, which is a horse ranch adjacent to Stoney Point — the rock formation. I've been keeping a diary at my doctor's request for another condition, and consistently, when it's breezy, I'm lethargic and from time to time get nosebleeds. —Susan Eskander
My husband has had severe headaches, nausea, a rash and upward of 50 nosebleeds since this all began. Our 12-year-old has nausea and severe headaches. She is super-lethargic and can barely stay up to complete homework. She is a straight-A student and this has posed a serious threat to her and her learning. Myself, it's been the common nausea, headaches, always tired and mild paralysis on my right-hand side of my face. —Walter Arwood
We have two young kids, 4 and 2 years old, that have suffered nosebleeds since the leak started. My wife and I have both felt sluggish and have had constant headaches. —Gibby Katigbak
Wife — nausea, kids — headaches and throwing up and myself — my first nosebleed since I was a kid. All out of nowhere. —David Duran
My wife and I are in our 70s.... We've encountered no untoward effects whatsoever. —Hal Bass
Our family is divided. My wife thinks that her health and my kids' health have been adversely affected. I spend time away at work and I have not been feeling anything. My wife has had bloody spotting from her nose and muscle spasms. Our kids initially hid from us that they had experienced dizziness because they thought we would blame the iPad. My daughter has had headaches. The kids have had coughs also. I'm still more skeptical. Is it that or is it seasonal? The science says there is only trace amounts of any toxins. But even trace amounts are too much. —Patrick Perez
My business is suffering majorly as I have not been able to work much from my home office and have not been able to work from my Chatsworth warehouse.... I am also a landlord in Porter Ranch and my tenant wanted a 40% rent reduction during the duration of the gas leak. I cannot say no as he will leave, leaving me no choice of dropping the rate. This also affects my current financial situation due to the leak. This is a disaster. —Gabriel Khanlian
My wife and I typically walk 10 to 12 miles daily. Since the leak was announced on Oct, 28, we have stopped walking, and our well-being has been affected negatively. Also, we live and work in Porter Ranch. We are here 24/7. Since the leak was announced, we have kept our doors and windows closed, increasing our energy costs. —Daniel Guimera
I can't go outside and play baseball with my sons. I can't go on walks with my family. My youngest son has been moved to another school. My property value has dropped dramatically. I get headaches, stomachaches....
[We moved here because] Porter Ranch is a community. One that values the access to the open land and trails that are available.... Its clean air is the freshest in the Valley. And the best part: Up until two months ago, not many people knew about it. —Scott McClure
Responses have been lightly edited for clarity.
ALSO
Three more arrests at Oregon refuge as some holdouts leave voluntarily
Alleged gang members arrested in O.C. jailbreak probe, but 3 escapees still at large
Good time turned ugly after teasing for Blake Griffin and Clippers assistant
---
The stories shaping California
Get up to speed with our Essential California newsletter, sent six days a week.
You may occasionally receive promotional content from the Los Angeles Times.