Big change starts small as Lyft arrives at LAX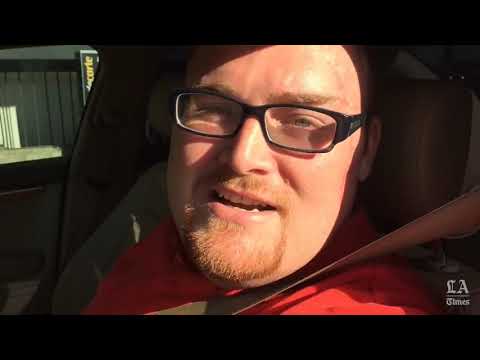 In December, Lyft became the first ride-hailing service to pick up passengers at Los Angeles International Airport.
With dozens of cars nosing toward curbs and long lines of passengers toting bags, Los Angeles International Airport didn't feel much different Wednesday even though Lyft became the first app-based ride service to legally pick up passengers there.
Business appeared relatively slow for the new Lyft service as passengers and drivers showed some confusion about how it all works. But given the experience of other California airports, officials expect such ride-hail companies soon will have a significant effect on LAX and its passengers, especially after Lyft's much larger rival, Uber, starts service in upcoming weeks.
Airports that allow ride-sharing have found rising passenger use of the services, resulting in increased revenue for the airports. At the same time, some airports have seen parking revenue drop, while Lyft and Uber competitors such as taxis and shared-ride vans have struggled.
------------
FOR THE RECORD:
Ride-sharing: In the Dec. 24 Section A, a photo caption with an article about Lyft beginning ride-sharing service at LAX referred to the airport's upper arrivals level. The upper level is the departures level, though that is where ride-sharing services are to pick up passengers. —
------------
Join the conversation on Facebook >>
Last fall, San Francisco International Airport introduced a pilot program for the low-cost versions of Uber and Lyft for pickups and drop-offs. As at LAX, drivers are only allowed to operate on the upper level.
In September, the Bay Area airport recorded 300,000 trips by Uber and Lyft drivers, airport spokesman Doug Yakel said. About 60% were drop-offs. The airport, which charges $3.85 per UberX and Lyft trip, is bringing in more than $1 million a month in revenue from the services, Yakel said.
In contrast, prearranged shuttles that carry travelers to Sacramento and the East Bay have reported a 30% decrease in business since Uber and Lyft began operating at the San Francisco airport, Yakel said, and some of those companies have shut down.
A Lyft driver leaves Terminal 1 on the first official day that the ride-hailing service is allowed to pick-up passengers at Los Angeles International Airport.
(Mark Boster / Los Angeles Times)
Some Lyft drivers and passengers at LAX seemed confused about how the process worked. Above, travelers on the departure level of Terminal 1.
(Mark Boster / Los Angeles Times)
Business seemed slow for Lyft during its first day of being allowed to pick up passengers at Los Angeles International Airport.
(Mark Boster / Los Angeles Times)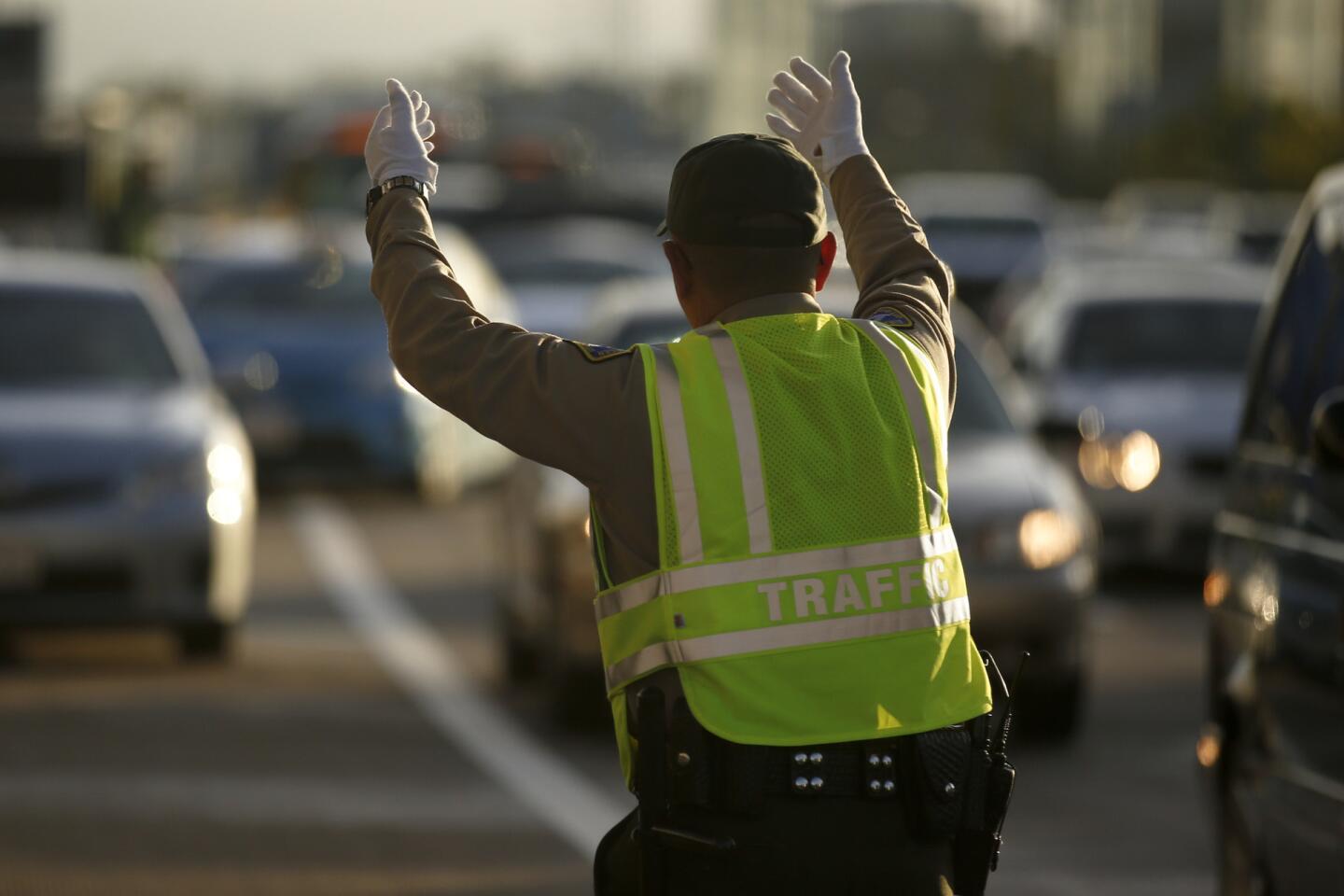 Lyft drivers can operate on only the upper level at LAX. Above, keeping traffic flowing.
(Mark Boster / Los Angeles Times)
Lyft driver Carlos Van Deusen gets into the spirit of the first day of service at LAX by wearing a furry pink hat.
(Mark Boster / Los Angeles Times)
With the experience of other airports, officials expect that ride-hail companies such as Lyft soon will have a significant effect on LAX and its passengers. Above, passengers in security lines at the airport.
(Mark Boster / Los Angeles Times)
Lyft's much larger rival, Uber, will start service at LAX in coming weeks. Above, passengers at Terminal 1 wait in line to enter the departure level.
(Mark Boster / Los Angeles Times)
Many Lyft drivers working at LAX are also drivers for Uber.
(Mark Boster / Los Angeles Times)
Shared-ride vans such as PrimeTime and Super Shuttle, which can be hailed at the curb, have reported an 8% drop in trips over the same time period, and taxi companies saw a 4% decrease.
Bob Hope Airport in Burbank has imposed fewer regulations on Uber and Lyft drivers than LAX has. But officials have asked ride-hail drivers to wait for their passengers inside a short-term parking garage in the terminal area.
The Sunday after Thanksgiving, the airport issued more than 1,000 receipts at that garage, where the minimum charge is $3 for 30 minutes. That reflects, officials said, an uptick in Uber and Lyft activity.
At LAX on Wednesday, brown signs on the departure level announcing "ride services" marked the curbside spots where travelers for the first time could hail a Lyft using the company's mobile app. And, while business was slow, the change promises to have an impact on LAX and its passengers, as the experiences of other California airports show.
On the first day that the Silicon Valley-based ride service was allowed to pick up passengers at LAX, few travelers slid into the back of cars marked with Lyft's signature pink decals. Some drivers and passengers seemed confused about how the process worked.
Activity probably will increase, officials said, once drivers learn the ropes and Angelenos return to LAX at the end of the holiday weekend. Business is expected to grow in a few weeks, when Lyft's larger rival, Uber, is approved for airport pickups there.
Lyft representative Chelsea Wilson declined to share specific numbers on how many rides were provided from LAX Wednesday. But Wilson said "it was an extremely busy day."
Lyft drivers still faced a learning curve Wednesday at LAX as they figured out where to wait for rides (a parking lot east of Sepulveda Boulevard), where to pick up passengers (at one of six marked curbside spots on the upper level) and what to do after the passenger was in the car (leave immediately, and don't pick up anyone else).
Sara Davis-Murray, a 33-year-old Lyft driver from Whittier, waited near 93rd Street and Airport Boulevard for a passenger. She arrived at LAX to work at 7 a.m., and by 12:45 p.m., she had done two drop-offs at the airport, but no pickups.
Tuesday night, she had received an email from Lyft with instructions on how to pick up passengers. But during two quick loops through the terminal area Wednesday morning, she didn't see the ride service signs.
"I guess I'll use my winning smile, and if I get in trouble, hopefully the airport people will be patient with me," Davis-Murray said, alluding to her confusion about where she was supposed to go.
Outside the Tom Bradley International Terminal, passenger Ramon Ballesca, 39, downloaded the Lyft app.
He'd just stepped off a flight from the Philippines, where Uber is popular. The information desk told him that, as of Wednesday, Lyft could pick him up.
As he waited for the app to download, a Lyft driver, Angelo Miranda, pulled up to the curb, got out of his car and asked if he was in the right place to pick up passengers. Miranda said he was confused by the instructions sent by Lyft—but couldn't pick Ballesca up, because Lyft drivers are only allowed to pick up passengers if the trip has been pre-arranged.
After Ballesca downloaded the Lyft app, it took about seven minutes to get picked up by another Lyft driver. He said he always thinks of ride-hailing services over taxis because of their simplicity and affordability.
"You can dispatch through the phone versus calling a cab," Ballesca said. "You know when they're going to arrive. Planning is easier. You can tell them where you're going."
Asked whether he'll take ride-hail service back to LAX when he leaves, he said, chuckling: "We'll see how Lyft goes."
At LAX, Lyft will be charged $4 per drop-off and per pickup, a fee that the company says will be passed on to the passengers. Airport officials expect to see an increase in revenue similar to SFO's once customers become more familiar with the services.
The typical taxi trip from LAX to downtown is more than $50, not including tip. A ride with Uber or Lyft is closer to $30, although prices can climb during high-demand periods.
Until Wednesday, pickups by the companies' low-cost services were banned, but travelers could request a higher-end Uber or Lyft car service operated by a state-licensed livery driver.
That change has taxi drivers on edge. Like Lyft and Uber drivers, cabbies in the City of Los Angeles are independent contractors, and depend on long-haul trips from LAX to cover the costs of their vehicles and their commercial insurance—particularly because they are losing fares to their start-up competitors in other areas of Southern California.
After several years of increasing ridership, the City of Los Angeles' nine licensed cab companies reported a 24% drop in trips from the last quarter of 2014 compared to the same period in 2012, the steepest two-year decline on record. Overall, taxi trips dropped 19% from 2012 to 2014.
Times staff writer Paresh Dave contributed to this report.
Sign up for Essential California for news, features and recommendations from the L.A. Times and beyond in your inbox six days a week.
You may occasionally receive promotional content from the Los Angeles Times.