San Gabriel reaches immigrants on Chinese network Weibo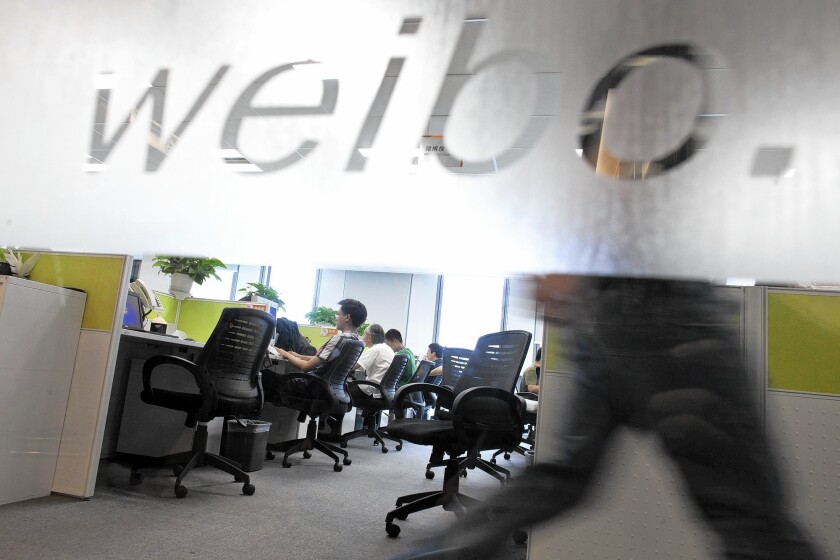 As California's immigrant populations grow, it's not just neighborhoods that are seeing demographic change — online worlds are growing more diverse as well.
Social networks like Line in Japan, KakaoTalk in South Korea and Chinese networks Weibo and WeChat are popular with Southland immigrants trying to stay in touch with friends and family back home — and agencies and elected officials are increasingly opening accounts to improve communication with their constituents.
Last week the city of San Gabriel became the latest to hop onto the bandwagon, announcing an official Weibo account that would be updated daily. The account, active since May, now has about 1,700 followers, far more fans than the city's 5-year-old Twitter account, which has about 1,000. The city's first official post, replete with a clapping emoji, has gotten 19 re-blogs and 32 likes.
"Check out our microblogging account to get the latest news and information from City Hall!" the update reads in Chinese.
Interested in the stories shaping California? Sign up for the free Essential California newsletter >>
The Alhambra Police Department was the first U.S. agency to join Weibo, in late 2013, and police departments in Arcadia, San Leandro and Waterloo, Canada, soon followed.
San Francisco Mayor Ed Lee and Alhambra Mayor Stephen Sham also have accounts with thousands of followers. And other agencies, including the California Highway Patrol, are experimenting with the service to tap a potentially huge Chinese immigrant audience in California.
The service, which works like a hybrid of Facebook and Twitter, has more than 400,000 users in the state, according to Danica Xu, a staffer at Weibo's offices in Northern California.
Across the state, Chinese social networks such as Weibo and WeChat and other Chinese-language Web services have mobilized unprecedented immigrant civic engagement.
Chinese social networks were instrumental in organizing protests to Senate Constitutional Amendment 5, which would have allowed voters to decide whether to restore affirmative action to California colleges and universities. The amendment was eventually shelved.
Government Weibo accounts are often the best way to reach a Chinese immigrant population that struggles to navigate life in America, said Walter Yu, a part-time court interpreter who has helped launch Weibo accounts in Monterey Park, Alhambra and San Gabriel.
It's not just a language barrier, he said. Chinese immigrants are also trying to understand democratic governments, which offer more participation than they may be accustomed to.
Disseminating information on Chinese social media helps present information not only in the right language but in a context that users can understand, Yu said.
In Alhambra, the result has been a significant increase in engagement from the Chinese community. The Police Department saw a 60% increase in the number of service calls requiring Chinese translation after the Weibo account was launched.
Social media users in China have greeted American government Weibo accounts with fascination — and follows.
Many American agencies and government officials have become minor Chinese social media celebrities. More than half of the Alhambra Police Department's 40,000 followers are overseas, Yu estimates.
The San Leandro Police Department has a whopping 218,000 Weibo followers; the city's population is 87,000.
Government agencies are trying to communicate with Chinese immigrants on other platforms, including WeChat, a mobile-based social network that has about 600 million monthly users — about three times that of Weibo.
But it's harder to build an audience. WeChat posts are seen only by an account's followers, while Weibo updates come with a Web address that anyone with an Internet connection can navigate to, Yu said.
Nearly half of San Gabriel's population is Chinese, and officials say the city's new Weibo account is part of a larger effort to conduct city business in a language the residents understand. News conferences and releases are increasingly using Mandarin as well as English.
Officials hope to use Weibo to get the word out about bulky-item pickup policies, explain construction traffic delays and attract immigrants to city-sponsored events such as summer concerts and cultural festivals. Promoting Chinese tourism is also a major goal, with multiple hotels under construction in the city and an increasing reliance on tourism revenue, said San Gabriel Mayor Jason Pu.
"This is about reaching our Chinese population where they're already spending time and in a language they're most comfortable with," Pu said.
Twitter: @frankshyong
---
The stories shaping California
Get up to speed with our Essential California newsletter, sent six days a week.
You may occasionally receive promotional content from the Los Angeles Times.